Exploring the Enigmatic Beauty of Ancient Green Marble For Indoor Floor and Wall Projects
Ancient Green Marble Slabs are a recent addition to the world of natural Chinese marble materials, and offer an exceptional choice for interior decoration projects. With their unique apple-green translucent color and whitish veins, these marble slabs create a captivating visual effect that will add a classic charm to any room.
The geological makeup of Ancient Green Jade Marble is what makes it so special. It is a material that is perfect for flooring, cladding, or even customized marble countertops. It can be cut into any shape or size, making it ideal for customized solutions that fit any space.
The Ancient Green Marble Slabs are versatile and lend themselves well to both total-look aesthetic effects and surprising material combinations through creative mixing and matching. This allows for the creation of one-of-a-kind design experiences that are sure to impress in any space.
From worktops to consoles, vanity tops to shower trays, doors to stairways, and vertical backdrop panels, Ancient Green Marble is a perfect fit. The material can be used to create a diverse range of architectural details, furnishing elements, and accessories that are perfect for both commercial and residential spaces.
Its unique characteristics make it a natural choice for workplaces, hotels, cafes, restaurants, spa and wellness facilities, and domestic spaces. This high-quality natural material is both functional and beautiful, perfect for any project where durability and style are required.
Why Choose This Chinese New Green Marble
Ancient Green Marble Slabs are a must-have for those who want to add a touch of unique beauty and natural luxury to their interior decoration projects. Whether you're looking for flooring, cladding, or customized countertops, this material offers endless possibilities for creating beautiful and practical spaces.
Chinese New Marble-Ancient Green/Melbourne Green Marble:
The ancient green marble is a testament to nature's raw power and beauty. This natural green marble's surface is adorned with mesmerizing deep and shallow black, gray, and white twill lines that are layered on top of each other to create a sense of movement and energy. It is a perfect representation of nature's untamed spirit, and as such, it is the ideal choice for those who want to bring the outdoors inside and create a truly immersive and one-of-a-kind environment.

The ancient green jade marble is a perfect choice for luxury decoration, as it exudes elegance, sophistication, and refinement. The bright and rich colors of the stone are a feast for the eyes, and the wild and unrestrained texture adds depth and character to any space. When used as a background wall, the patterns formed by the pairing of the slabs often have unexpected effects, creating an atmospheric and imaginative environment that is sure to leave a lasting impression on anyone who sees natural green marble-Melbourne Green Marble.
Basic Info of Natural Marble
| | | | |
| --- | --- | --- | --- |
| Model Number: | Ancient Green Marble | Density: | 2600kgs/m3 |
| Warranty: | More than 5 years | Surface Finishing: | Polished |
| After-sale Service: | Online technical support | Project Solution Capability: | Graphic design, 3D model design |
| Application: | Hotel, School, Supermarket | Design Style: | Modern, Farmhouse, Rustic |
| Place of Origin: | Fujian, China | Stone Form: | Big Slab |
| Brand Name: | Ancient Green Marble Stone | Stone Name: | Ancient Time Green Marble |
| Marble Type: | Calcite | Color: | Green |
| Surface: | Polished | Slab Size: | 1200upx2400up |
| Certificate: | CE ISO9001 | Advantages: | Own factory |
Marble Specification In Slabs and Cut-to-Size Tiles
Natural Marble Slabs and Tiles Wholesales by FOR U STONE

Slabs

3000*2000*18mm

3000*2000*20mm

It can be customized according to your requirements.

Tiles

600*300*18mm

800*400*18mm

1200*600*18mm

600*300*20mm

800*400*20mm

1200*600*20mm

It can be customized according to your requirements.

Mosaics

It can be customized according to your requirements.

Quality Control

Thickness Tolerance: +/-0.5mm, +/-1mm;




Polished Degree: 85°or up.
This exquisite natural stone is not only suitable for home decoration, but it is also ideal for use in public places, where it can draw visitors' attention and instill a sense of awe and wonder. The ancient green decorative background wall has a linear, modern shape that is ideal for use as a facade, drawing the attention of anyone passing by. Its vibrant colors, combined with the wild and unrestrained texture, create an unmistakable sense of movement and energy.
Natural Marble Slabs Inventory and Factory | FOR U STONE
Polished Natural Green Marble Slabs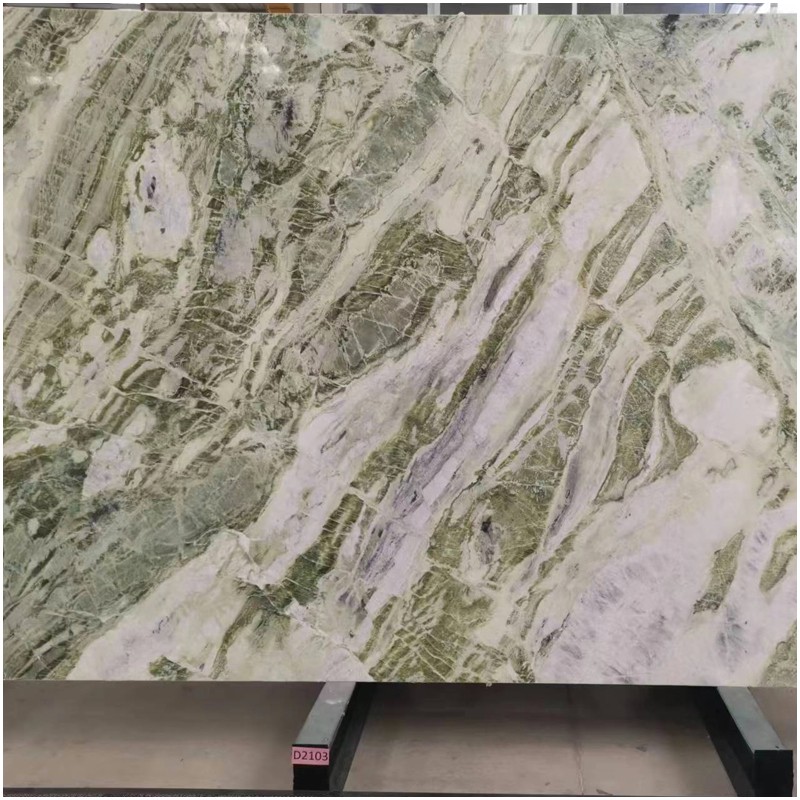 Melbourne Green Marble
Green Marble For Indoor Applications
The ancient green marble tiles are a true wonder of nature, embodying the raw power, beauty, and untamed spirit of the natural world. Its unique patterns, bright colors, and wild texture make it the perfect choice for those who seek luxury, individuality, and originality in their home or commercial space décor.
Recommendation of Green Marble from FOR U STONE
Ice Jade Green Marble For High-End Indoor Projects
Ice Jade Green Marble(White beauty marble is the same material which our clients prefer to name it) is a luxurious material that adds sophistication and elegance to any space. It is ideal for use on floors, countertops, and other high-traffic areas where its beauty can be appreciated. In the Chinese stone market, it is also known as Ice Jade Green Marble, White Beauty Luxury Marble, Cool Jade, Ice Green Marble, Color Jade Marble, and Primavera Marble.
Ming Green Marble | Mint Green
Ming Green Marble is a Chinese green marble with bright light green tones and white flecks. a true focal point for your interior design.
Green Ming marble Slabs are hard and colorful, with a rich, clear, and natural structure pattern. Green Ming Marble is a high-quality stone that is well-known in the international market.
MING GREEN marble is a stunning green marble with hints of mint, sea green, and pale emerald. Verde GREEN marble brings the essence of a new spring season and bold pastel hues to any room.
Chinese Professional Marble Factory
Quality Control
| | |
| --- | --- |
| Quality Control | Safe and strong packing. |
| | Color difference control. |
| | Thickness tolerance: +/-1mm. |
| | All products are checked by experienced QC piece by piece and then packed. |
Delivery, Shipping And Service
Packing and Loading about emperador marble slab
Marble tiles by carton then to wooden crate.
Marble Cut to size by crate.
Marble slabs strong fumigated wooden bundle
FAQ
Q1. Can I get a sample first? And how does it charge?
A1. Yes, a free sample is available by freight payable at your cost.
Q2. How do you ensure the quality of products?
A2. QC of the factory checks the quality when producing the tile. The QC team from the export department will check the quality again before loading. And the high solution detailed photos would be sent to you.
Q3. How about your payment terms?
A3. T/T (30% deposit, the balance needs to be paid off before loading)L/C
Q4. When can you deliver the goods?
A4. Our factory has stock for mostly 80% of products. We can deliver them within 7 days. If not, it will be 15~20 days after getting the deposit.
Q5. Can you provide a quality inspection certificate?
A5. Sure, our company has been exported to many countries and regions. We are experienced in dealing with import certificates, such as SGS, BV, TUV etc.
If you're interested in our ancient green marble slabs, welcome to buy the quality products at an affordable price with us. As one of the leading Marble Slabs manufacturers and suppliers in China, we also support wholesale service. For more info, contact us now.