Indulge in Luxury: Premium Italian Statuario White Marble from FOR U STONE Factory
When it comes to the world of luxurious natural stone, one type emerges as the undisputed champion – the Italian Statuario White Marble. Sourced from the mountain quarries above Carrara, Italy, Statuario marble is known for its unmatched whiteness and beautifully intricate gray veining. It's not just a marble; it's an artistic expression – a manifestation of nature's grandeur and our timeless pursuit of beauty and luxury.
FOR U STONE Factory is proud to provide this truly rare and prized marble, perfect for deluxe residences, hotels, and commercial luxury interior projects. We're your trusted provider of the world's finest marble-white statuario marble, elevating your architectural and interior design concepts to a whole new level of opulence.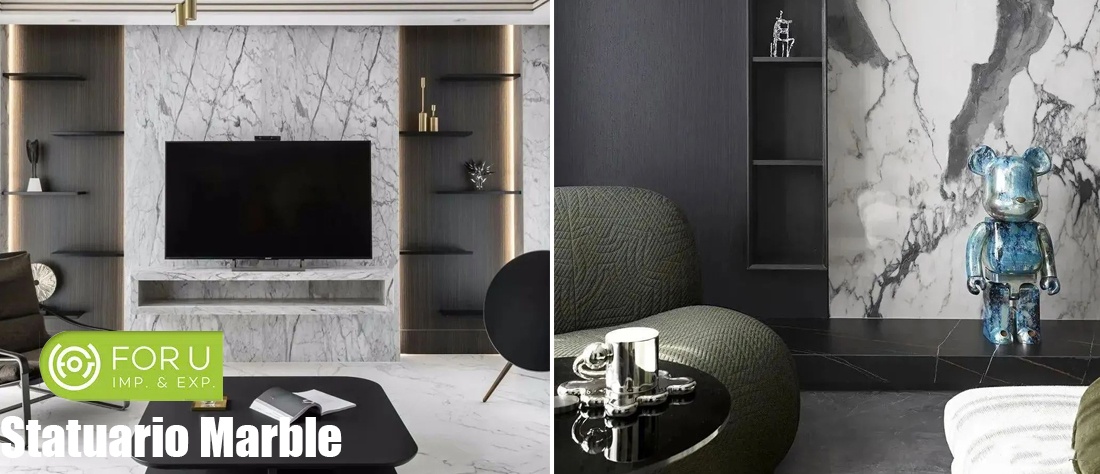 Luxury meets Elegance – Features of Italian Statuario White Marble
Known as one of the world's most exquisite marbles, Calacatta Statuario Marble is renowned for its dazzling white background, punctuated by elegant grey and gold veining[2][4]. The enchanting veins dance across the marble, creating a unique visual symphony. Its unmatched whiteness, a rare feature, sets it apart from other marbles, making it one of the most desired stones in the world.
In addition, statuary marble slabs is not just about aesthetics; it's about practicality and performance too. It's robust, lightweight, and adapts well to varying temperatures, embodying the perfect fusion of functionality and style.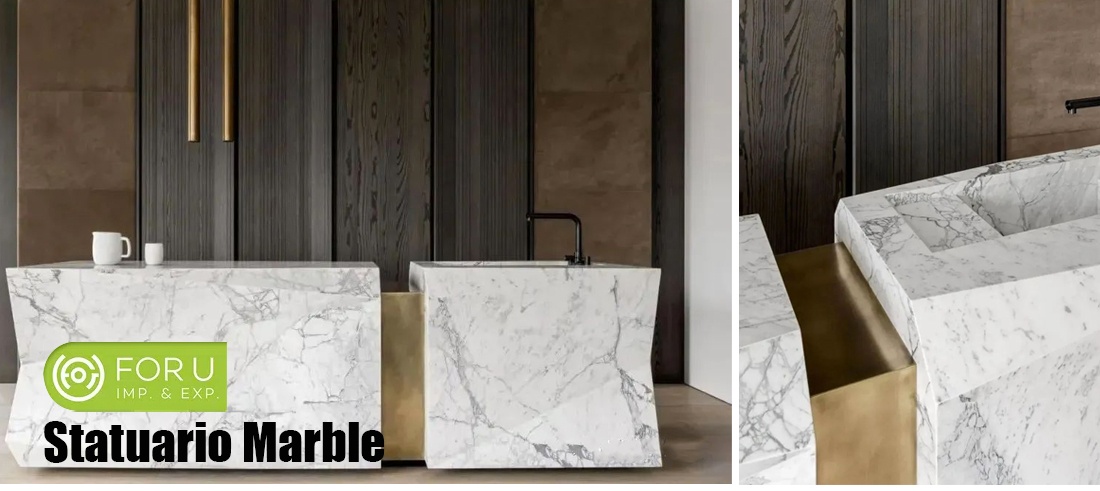 An Array of Applications – From Countertops to Wall Cladding
Thanks to its unrivaled elegance and versatility, Statuario marble is extensively utilized for a myriad of applications. Its polished, glossy finish adds a touch of grandeur to countertops, wall cladding, and bathroom interiors.
The Statuario polished marble from our FOR U STONE Factory will elevate any space, whether it's the smooth countertops of a modern kitchen, the impressive cladding of a luxurious bathroom, or the ornate flooring of a sophisticated living room.
Caring for Your Marble – Maintain its Luxurious Appeal
The beauty of Statuario White Marble Tiles can be preserved for generations with proper care and maintenance. As the stone is naturally porous, it's crucial to protect it from acidic substances and to use specialized cleaning solutions designed for natural stones like marble.
At FOR U STONE Factory, we provide in-depth guidance to our clients on marble care. We believe that nurturing your marble is part of the experience of owning this luxurious natural stone.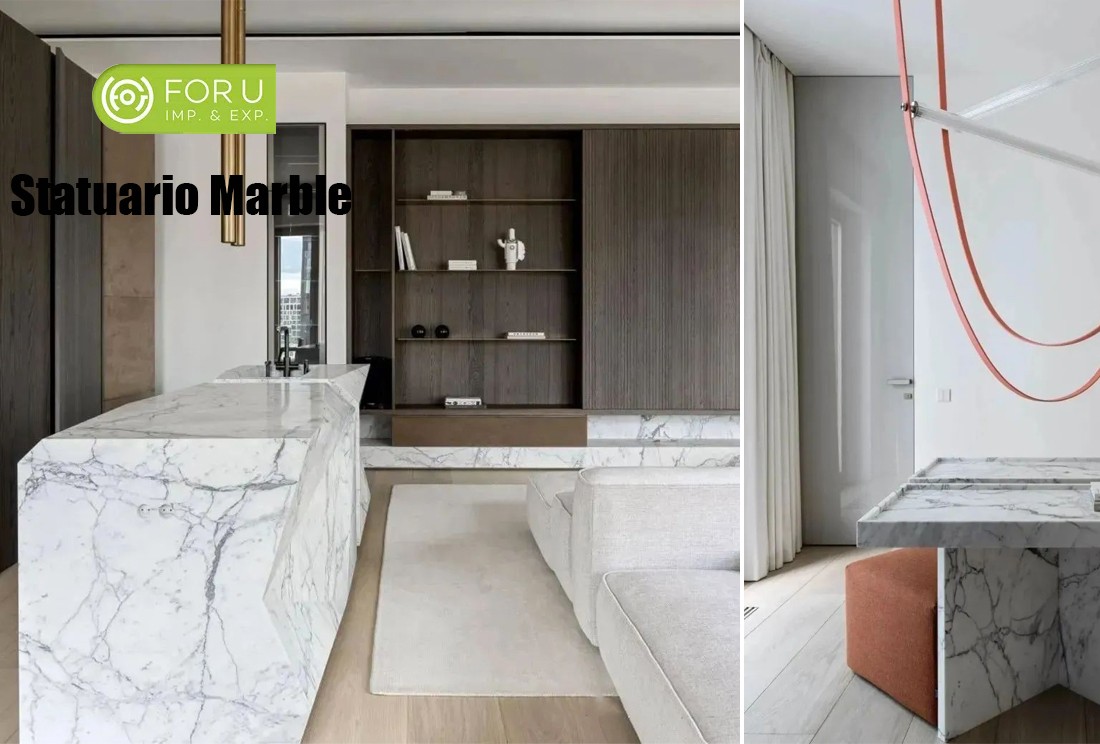 Experience the Statuario Difference with FOR U STONE Factory
The elegant charm of Italian Statuario White Marble Tiles and Statuario Marble Countertops is beyond compare. Its dazzling whiteness, intricate veining, and supreme quality set it apart from other natural stones. For those in pursuit of true luxury and timeless elegance, Statuario marble is the definitive choice.
The Statuario White Marble from Italy has carved a unique niche for itself in the world of luxury interior design. This distinguished marble, often cited as the finest in the world, has soared in popularity for a variety of premium applications, from floor and wall installations to countertops and even columns [3].
What sets Statuario Marble apart is its unmistakable aesthetic allure. Quarried in the mountains above Carrara, Italy, it boasts a bright white background interspersed with medium-grey veins. The end result is a timeless, elegant look that elevates any space it graces. Its brightness and the grey veining add depth without overwhelming, creating an ideal balance for sophisticated interior design.
Aside from the visual appeal, Statuario White Marble is renowned for its durability. Its polished surface is resistant to stains and scratches, making it not only a luxurious but also a practical choice for areas with high footfall. Despite its refined appearance, maintenance is relatively simple, making it an attractive option for those desiring the elegance of natural stone without significant upkeep.
Additionally, Statuario Marble has the remarkable quality of being able to regulate temperatures, qualifying it as an all-weather material, making it suitable for various environments.
Whether you are considering flooring or countertops, this marble can provide a soft, glossy finish that resonates with luxury. It can also be found with a slightly rough finish, which makes it perfect for flooring applications, combining beauty with functionality. This ability to cater to different finishes further cements its versatility.
What's more, Statuario Marble's design versatility extends to a spectrum of décor styles. Whether paired with black, grey, or beige materials, its evergreen lustre allows it to stand out, transforming any space into an epitome of luxury.
Statuario White Marble's blend of breathtaking aesthetics, durability, and versatility has positioned it at the forefront of luxury interior design. Its inherent elegance and timeless appeal make it a highly sought-after choice for premium and luxury interior projects worldwide. This exquisite Italian marble continues to be a symbol of sophistication, gracing a myriad of spaces with its stunning presence.
FOR U STONE Factory is here to make this premium luxury available to you. Our Italian Statuario White Marble, renowned for its excellence and rarity, is ready to grace your interiors, making every space a spectacle of sheer opulence. Choose FOR U STONE Factory and indulge in the luxury of premium Italian marble. Embrace the difference. Experience the exceptional.

Related Products