Dark Grey Granite G654 Flamed and Brushed Flooring Tiles
There are countless ways to put grey granite floor tiles in Chinese G654 Grey Granite into your home or commercial exterior project. Its flexible nature and durability make G654 Grey Granite Tile a famous desire for various initiatives.
Flooring Usages of G654 Grey Granite Tiles
Another commonplace of G654 Grey Granite Floor Tiles. Its dense and durable nature makes it perfect for high-site visitors in regions consisting of entryways and hallways. The stone's natural texture and shade offer any area a unique and fashionable look.
Outdoor Spaces with Flamed and Brushed Granite G654 Tiles
Due to its excessive resistance to weather and moisture, G654 Grey Granite Flooring Tile in flamed and brushed surfaces is also a popular choice for outside spaces. It can be used for patios, walkways, exterior of buildings, plazas, and even pool decks. The stone's natural texture and color versions also give any door space a stunning and natural appearance.
Wall Cladding of Flamed Grey Granite Tiles
G654 Grey Granite Flamed Tile makes a terrific preference for interior or exterior wall cladding. Its sturdiness and resistance to climate make it ideal for outdoor partitions, even as its stylish and sophisticated appearance makes it a widespread desire for indoor walls.
Other Usages of Chinese Grey Granite G654
Countertops of Kitchen and Bathroom
One of the most popular uses is G654 Grey Granite as a countertop material. Its durability, resistance to scratches, and warmth make it a super choice for kitchen countertops. The stone's darkish palette also gives a sleek, modern look that complements many kitchen designs.
Maintaining G654 Grey Granite
Despite its durability and resistance to wear and tear, the G654 Grey Granite Tile requires the proper upkeep to ensure its durability and beauty. Here are some tips for retaining your G654 Grey Granite:
1. Clean up spills and stains immediately to prevent them from being placed in.
2. Use a pH-neutral cleanser to clean your G654 Grey Granite.
3. Avoid using abrasive cleaners or equipment that scratches or harms the stone.
4. Regularly seal your G654 Grey Granite to save you staining and to keep its herbal beauty.
G654 Grey Granite Flamed and Brushed Floor Tile is a stunning and sturdy herbal stone that gives many uses both indoors and outdoors. Its unique texture and color make it widely preferred for various initiatives, from countertops to flooring to out-of-door areas. This Chinese Grey Granite stone can last decades with proper protection while retaining its herbal beauty and elegance.
Chinese Santiago Grey Granite Floor and Wall Slabs
| | |
| --- | --- |
| Product Name | China flamed G654 light grey 60×90 cm granite flamed and brushed floor tiles |
| Material | granite G654 |
| Thickness | 15mm, 16mm, 18mm, 20mm or customized |
| | 1800-2400upx600mm, 1800-2400upx650mm, 1800-2400upx700mm |
| Tile sizes | 300x300mm, 600x600mm, 450x450mm and any size available |
| Surface | Polished, honed, or customized |
| Edge processing | Machine cutting, round edge, etc |
| Packing | Seaworthy wooden crate, pallet |
Flamed and Brushed Granite Tiles For Building Facades and Floor
Versatile Applications of G654 Granite
Residential and Commercial Uses: Given its herbal energy and aesthetics, G654 granite serves multiple purposes in home and business environments. It seamlessly integrates into kitchen countertops, subway flooring, corridors, parking plenty, and building exteriors. However, its extensive weight makes it less appropriate for wall installations. However, it emerges as a pinnacle desire for paving.
Project Recommendations: Whether it is a villa, condominium, school, office complex, or mall, the G654 Grey Granite's adaptability is commendable. It's trendy in the hospitality sector, locating its location in accommodations, hotels, and recreational facilities. It's equally desired for infrastructure projects like parking areas, sidewalks, and courtyards.
Surface Options and Detailed Dimensions
The attraction of the G654 Grey Granite is more significant using the options available in floor finishes. The flamed and brushed end is famous for rendering a natural, rustic appearance. Depending on the venture's wishes, this granite is available in satisfactory, medium, and coarse versions,
In terms of dimensions, the G654 granite is adaptable to numerous requirements. Whether it's massive slabs for expansive regions or particular tile measurements for described areas, there is flexibility in sourcing this fabric to exact dimensions.
Chinese Granite Tiles Factory
Quality Control
Quality details:

1) Polished degree: 95 degrees or up.

2) Thickness tolerance: +/-0.5mm.

3) Diagonal tolerance: +/-1mm.

4) Surface flatness tolerance: +/-0.3mm.

5) Adjacent edge verticality tolerance: +/-0.5mm,

Precise Cutting by infrared-ray-cut machine.
Delivery, Shipping, And Service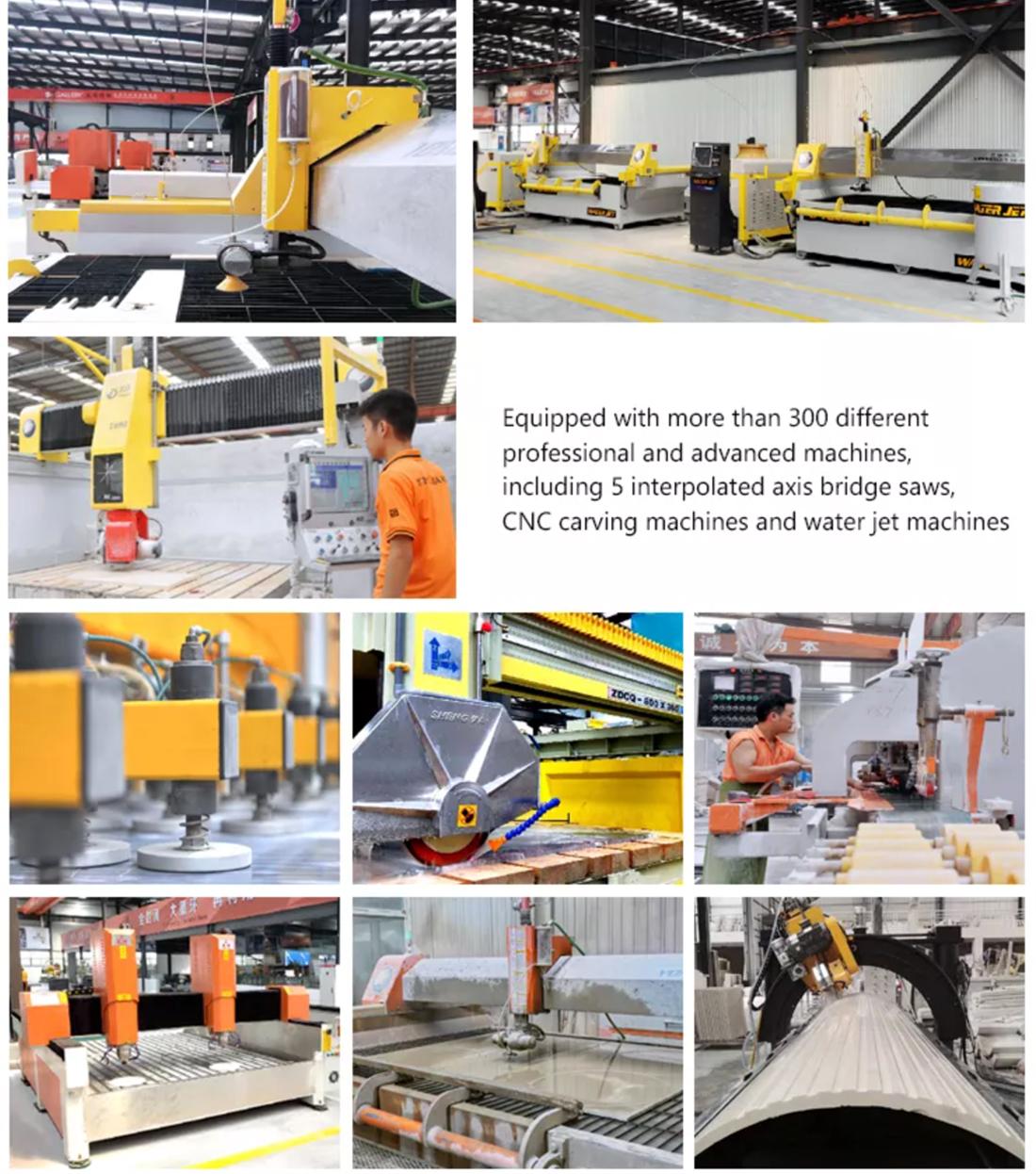 Packing and Loading of Labradorite Lemurian Blue Granite Slabs
1)For Tile: packed in a crate, every 6-10 pieces are in one foam/paper box, foam in the bottom of the crate
2)For Slab: packed in pallet, suitable for 240 * 120cm, etc. And this packing costs less than a crate.
3)For Countertop: packed with foamed plastics, then packed in fumigated wooden crates, reinforced with metal
FAQ of Granite Factory In Chi. a
1. what are your payment terms?
We accept 30% T/T in advance and 70% in the period of shipment.
2. what is the location of your company?
Our company is located in Nanan, China. If you would like to have a visit, you are very welcome.
3. what are your main products?
Our main products are countertops, tiles, stairs, window sill coping, pool coping stone, paving stone, curbstone, stone sinks, tombstones, etc. And also we offer OEM service.
4, How about the samples?
We could send you the samples, but the freight is charged. After the order is confirmed, we will pay back the express fee. Please be rest assured of that.
G654 Grey Granite Floor Tile captures the essence of natural beauty combined with unrivaled strength. Its particular characteristics and extensive range of packages make it an invaluable desire for designers and homeowners. Each piece of G654 granite floor tile brings nature's undying splendor into their space.
FOR U STONE often can-sized Grey Granite G654 Floor and Wall Slabs to meet specific project requirements. It offers competitive prices due to the volume of materials they make and the direct relationship with quarries.