Brazilian Gaya Green Exotic Quartzite Slabs
It was seeking a way to feature a unique contact with real estate or commercial building projects. Gaya green Quartzite is a stunning desire that is sure to electrify. With its tender green hue and white veins, this Gaya Quartzite Slab creates a serene environment that is best for any environment. Whether you want to decorate the aesthetics of your living room, kitchen, or bathroom, Gaya Green Quartzite is a flexible preference to provide long-lasting durability.
One of the standout features of the Gaya Quartzite Slab is its range of warm sun shades that blend seamlessly to create tranquil surroundings. This Emerald Green Quartzite will be in various sizes, allowing you to customize your design precisely. Whether or not you're searching to release an announcement piece to be the centerpiece of your kitchen or a diffused touch to feature for your bathroom arrogance, Gaya green Quartzite is an excellent preference.
Crafted with care, Gaya green Quartzite offers durability that stands the check of time. Its polished finish provides a touch of class to any space, while its robust nature ensures longevity in high-visitor areas. This distinct stone enhances the aesthetics of your dwelling areas, and its inexperienced color and super hardness make it a standout desire for any venture.
At the same time, Gaya Brazilian Quartzite is a versatile preference for residential and commercial building projects. However, it's critical to note that its use in outdoor settings isn't advocated because of the ability of color fading. But, its application spans a range of projects, from the grandeur of a motel foyer to the coziness of a farmhouse kitchen. Whether you are seeking to upload a touch of beauty in your workplace area or create luxurious spa-like surroundings in your bathroom, Gaya green Quartzite is a canvas expecting your creative, imaginative, and prescient to come to lifestyles.
The Gaya green Quartzite is a lovely preference for any challenge. Its lush shades, gentle styles, and heat shades create a serene atmosphere that soothes the senses. Whether or not you are looking to beautify the aesthetics of your residing areas or add a hint of class to your industrial project, Gaya inexperienced Quartzite is a flexible preference to offer long-lasting sturdiness and beauty.
Dimension of White Quartzite Stone
Products

Natural Marble

Color

White, Yellow, Brown, Red, Black, Light Grey, Medium Grey, Dark Grey, Green etc.

Items

Slabs, Tiles, Skirting, Countertops, Vanity tops, Tread, Riser, Bar tops, Dining Table, Mosaic, Borders, etc.

1. Gangsaw slabs:240up x 120up cm in thickness of 2cm, 3cm, 4cm, 5cm etc

2. Half Slabs: 180~240×60/70/80/90cm in thickness of 2cm, 3cm, 4cm, 5cm etc

3. Cut to size: 30x30cm, 40x40cm, 30x60cm, 60x6cm, 120x60cm etc

4. Tiles: 30.5×30.5x1cm, 40x40x1cm, 45.7×45.7x1cm

5. Countertops: 96"x26", 108"x26", 96"x36", 108"x36" or custom size

6. Vanity Tops: 25"x19"/22", 31"x19"/22", 37"x19"/22", 43"x22", 49"x22", 61"x22", 73"x22"

Edge Process

Flat Polished, Half Bullnose, Full Bullnose, 1/4" bevel, 3/8" Round, Ogee, Dupont, Waterfall, Pencil, Miter edge, Chiseled Edge, etc

Surface

Polished, Honed, Flamed, Sandblasted, Chiseled, Bush Hammered, Pineapple, Water Jet.

Package

Wooden Crate, Plywood Pallet, Carton, subject to materials.

Payment

30% Deposit, 70% against copy of B/L.
Luxury Brazilian Quartzite Slabs
Each Gaya Quartzite Polished Slab is a testament to the union of the present-day generation and nature's wonders. The polish brings out luxurious colorings while preserving the stone's innate characteristics, ensuring each slab stays as specific as a fingerprint. Gaya Exotic Quartzite's aesthetic and modern finishes make it a sought-after choice for indoor design aficionados. FOR U STONE, retaining its reputation for pleasantness and aesthetics brings forth the Gaya Emerald exotic Quartzite for many applications. Its robust nature, accented with its soothing color palette, makes it a favorite for kitchen countertops and bathroom vanities. Its excessive hardness ensures durability, even in spaces that experience excessive footfall.
Be it the foyer of a grand hotel, the kitchen of a country farmhouse, or the bathroom of a sublime condo, the Gaya Emerald Quartzite Slab enhances spaces with its unparalleled charm. Its adaptability extends to department stores, sports activity venues, places of work, faculties, and even hospitals. Whether wall cladding in a present-day villa or ground tiles in a quaint courtyard, the wonderful Gaya quartzite makes a mark.
Specification Insights
While the beauty of Gaya is undeniable, it's the specifications that make it an architect's dream:
Size Availability: Gaya Quartzite is versatile, from smaller tiles for intricate spaces to more giant slabs for expansive areas.

Durability: The Gaya Quartzite Stone boasts a high hardness, making it resilient against wear and tear, especially when installed in interiors.

Color Preservation: Despite its robustness, keeping the Gaya Quartzite indoors is advisable, as prolonged outdoor exposure might lead to color fading.
Luxury Quartzite Stone Factory
Quality Control
One/ Gloss degree 45 or up
Two/ Thickness tolerance: ( ±1mm)
Three/ Diagonal tolerance: ( ±1mm)
4/Surface flatness tolerance: ( ±0.3mm)
Quality Assurance: During the production process, from material choice to fabrication to packaging, our quality assurance people will strictly control every process to ensure quality standards and punctual delivery.
All our products are thoroughly inspected one piece by one piece.
Delivery, Shipping, And Service
Packing and Loading about gray quartzite countertops
| | |
| --- | --- |
| Package | (1) Slab: Seaworthy wooden bundles; |
| | (2) Tile: Styrofoam boxes and seaworthy wooden pallets; |
| | (3) Vanity tops: Seaworthy, wooden solid crates; |
| | (4) Available in Customized packing requirements; |
| | All the above packages will be fumigated and stamped for export orders; |
| | 2cm slabs: 15-18 pcs / 75 sqm / 4100kgs per bundle |
| | 3cm slabs: 10-13 pcs / 50 sqm / 4100kgs per bun |
FAQ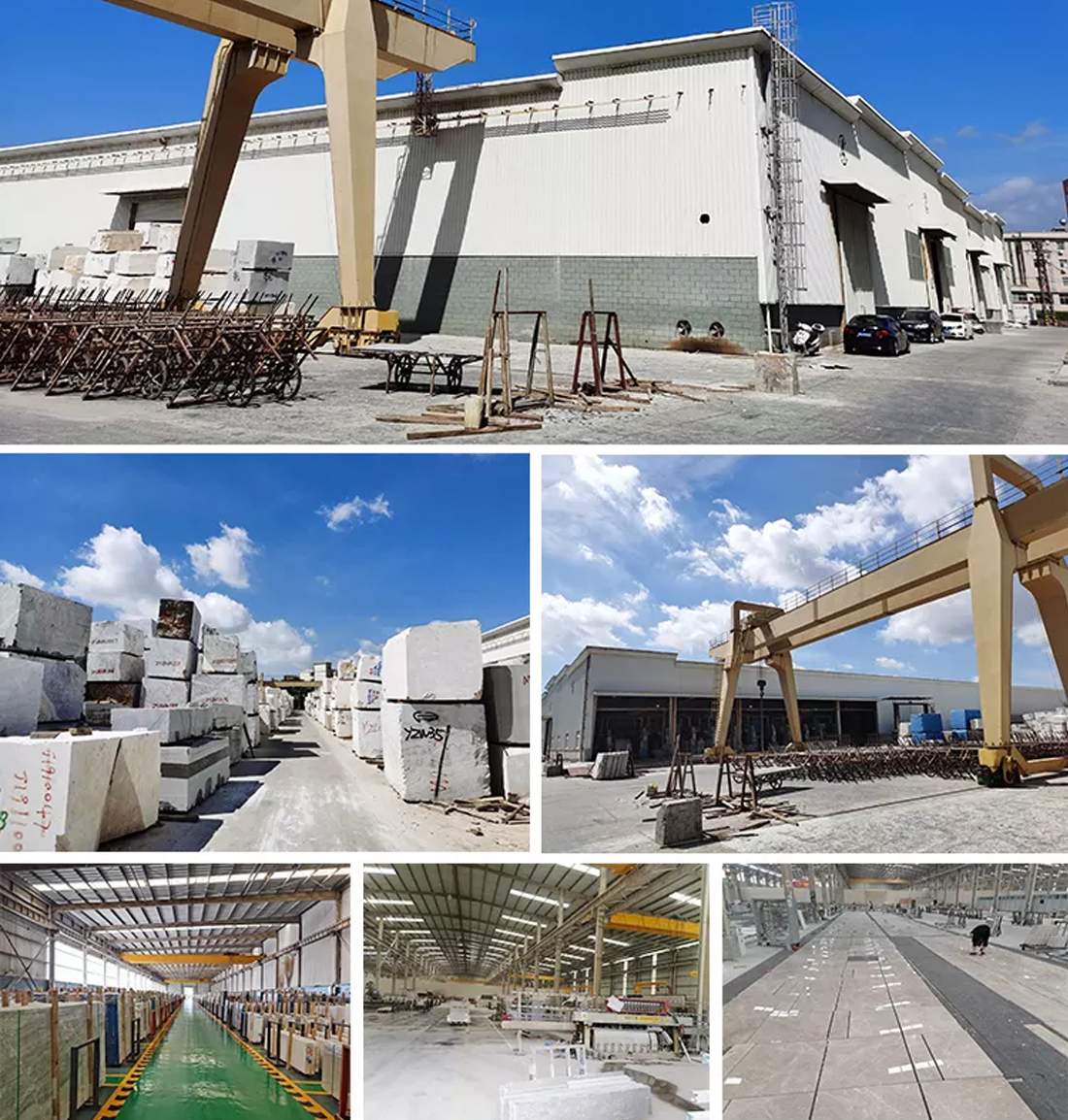 01. How to get a sample?
The sample will be provided on the condition that:
* Sample requests less than 200*200mm can be sent for quality tests free of charge.
* Sample delivery cost will be at the buyer's account.
02. When to start production?
* Right after our bank confirms the arrival of the L/C or the advance payment.
03. Delivery Leadtime
* Lead time is around 2-3 weeks per container.
04. Packaging
* Packing in export standard quality wooden crates, hardboard carton boxes, or pallets based on request.
05. Guarantee & Claim?
* Replacement or repair will be done when any manufacturing defect is found in production or packaging.
Gaya Green Quartzite is a masterpiece that blends nature's artistry and man's craftsmanship. Each slab tells a story, waiting to become a part of homes, offices, and spaces that seek harmony, elegance, and durability for those pursuing the exquisite Gaya Green Quartzite awaits.

Suppose you're interested in FOR U STONE's luxury and popular decoration materials like Brazilian Gaya Quartzite slabs, tiles, tables, and countertops. In that case, you are welcome to buy quality products at an affordable price with us. As one of China's leading Gaya Green Quartzite manufacturers and suppliers, we also support wholesale service. For more info, contact us now.