Large Aggregate or Marble Chips of Yellow Inorganic Terrazzo Slabs | FUW-506
Terrazzo is an undying material that has been used for hundreds of years in a number of the sector's most incredible architectural systems. Terrazzo Stone Floor Tile has a wealthy history that dates back to the marble quarry workers in Italy, who used it to pave their terraces. Terrazzo Stone is made by mixing marble crumbs with mortar, and it has been considered an iconic symbol of beauty and sturdiness.
Nowadays, yellow terrazzo stone is one of the most popular varieties of precast cement terrazzo. It has a colorful beige undertone and a complex mix of white, grey, and brown tones, which use large marble chip sizes or aggregate chips. This makes it a flexible material that may be used in an expansion of the architectural design of interior and exterior projects.
Due to evolving strategies, the production of Yellow Precast terrazzo-FUW-506 Item has come a long way. Cutting-edge techniques include casting large-sized terrazzo blocks and slabs, which go through stringent and exceptional tests to satisfy present-day architectural demands. Those Yellow Terrazzo Stone Slabs may be used to create floor tiles and countertops that can be as expansive as 2400*1600mm and 3200*1600mm, ensuring a seamless appearance.
For folks who require extra customized necessities, the Precast Yellow Terrazzo tiles can be exactly reduced to sizes up to 1200×1200 mm. This means that designers and architects can create particular and intricate patterns that are tailored to their customer's wishes. Furthermore, there are tile sizes of two hundred x two hundred x 12mm and particular hexagon codecs like 200 hexagon x 12mm for those who want to experiment with exceptional styles and sizes.
Inorganic Terrazzo Stone is a cloth that has stood the test of time. Its beauty, sturdiness, and versatility make it a famous choice for architects and designers alike. Whether or not you're trying to create a traditional or modern-day layout, precast cement terrazzo is an artificial stone that lets you acquire your vision. With its rich records and evolving techniques, there is no doubt that Terrazzo will continue to be a popular choice in future years.
Dimension of Precast Terrazzo Stone Slabs and Tiles
Material:

Artificial stone Precast Yellow Terrazzo slabs

Style No.

FUW-506, Pastoral

Item:

Tiles, Cut-to-size, Slabs

Slabs

Sizes

2400 x 1600mm

3200 x 1600mm

Customized sizes

Popular

Tiles

size:

305x305mm, 305x610mm, 457x457mm, 400x400mm,

300x300mm, 300x600mm, 600x600mm, 900x900mm,

400x800mm, 800x800mm, 900x900mm, 1200x600mm,

1200x1200mm, or other sizes according to the customer's request.

Usual Thickness:

2cm, 2.5cm, 3cm, etc…

Finished:

Polished, Honed, Flamed, Leathered, Sandblasted, etc…

Package:

Strong Seaworthy fumigated wooden bundles or wooden crates etc.

Samples

FREE SAMPLES will be provided once the request
FUW-506 Pastorali Yellow Terrazzo
Inorganic cement terrazzo stone has an extensive range of applications in both commercial and residential areas. Yellow Cement Terrazzo Stone is particularly popular, with the Cream Yellow Precast Terrazzo Stone being desired in lots of hotel lobbies because of its pricey appearance and durability. For those looking for a more nuanced look, the inorganic yellow cement Terrazzo Stone from FOR U STONE is gaining popularity. This stone is enriched with natural marble chips and quartz sand, resulting in an impeccable finish that can be used for both interior and exterior installations.
One of the most thrilling uses of terrazzo stone is for floors. Imagine walking on foot into a grand inn lobby with light yellow terrazzo stone floors or stepping into a current residential space with inorganic terrazzo stone walls. The possibilities are certainly endless about Terrazzo Stone. But it's essential to observe that terrazzo stone slabs aren't just limited to flooring. They can be used innovatively for wall claddings, countertops, vanities, stair treads, risers, and even bespoke furniture surfaces.
The use of terrazzo stone for wall cladding is a splendid way to add texture and visible interest to an area. The natural marble granules and quartz sand within the terrazzo stone create a unique and exquisite appearance that can't be replicated with different materials. Additionally, terrazzo stone is especially long-lasting, so it could stand up to the wear and tear that includes being a wall cladding.
Countertops and vanities crafted from precast terrazzo stone are also becoming increasingly popular. The fabric is non-porous, which makes it proof against stains and easy to clean. Plus, the herbal speckling inside the Terrazzo Stone creates a stunning, one-of-a-kind look that cannot be replicated with other countertop substances.
Stair treads and risers crafted from terrazzo stone aren't only functional but also quite fashionable. The material may be reduced to any length or shape of stairs, and the natural marble granules and quartz sand create a lovely, non-slip floor that is perfect for excessive-traffic areas. Additionally, Terrazzo stone stair treads and risers are quite long-lasting and can withstand heavy foot traffic without showing symptoms of wear and tear.
Sooner or later, using Cream Beige Terrazzo Stone for bespoke furniture surfaces is an amazing way to add a hint of luxury and class to any area. The material can be reduced and shaped to fit any piece of furniture, whether it's an espresso table, an eating table, or even a sculpture. The natural marble granules and quartz sand inside the terrazzo stone create a stunning, specific appearance that is certain to impress.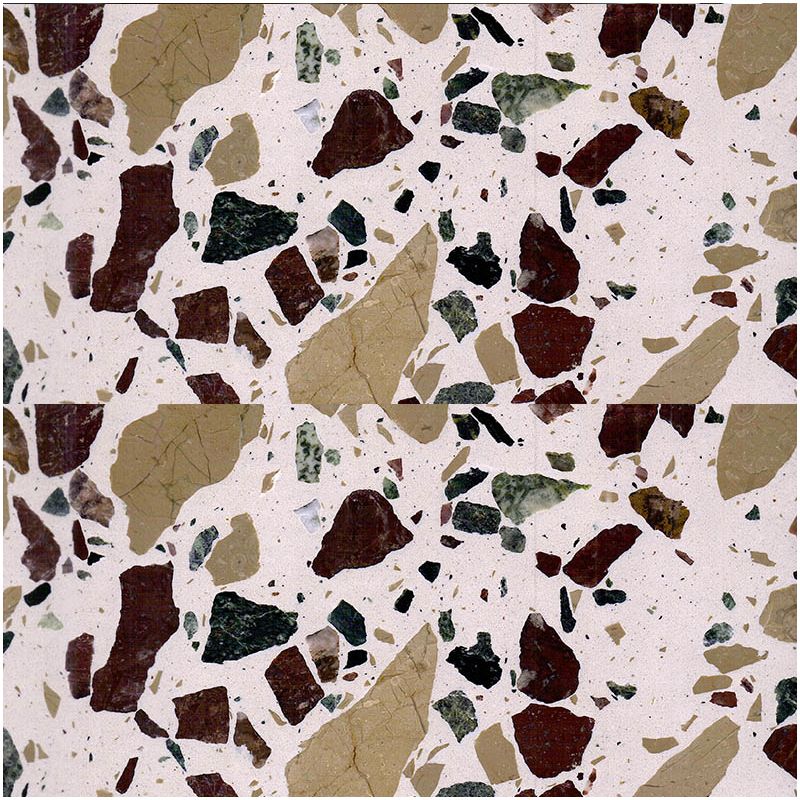 In the end, Yellow Terrazzo Tile is a versatile and beautiful fabric that has a huge variety of packages in both industrial and home areas. Whether or not it's used for flooring, wall cladding, countertops, vanities, stair treads, risers, or bespoke furnishings surfaces, Terrazzo Stone is sure to add a touch of luxury, fashion, and class to any area. With so many opportunities, the simplest restriction is your creativity!
The main advantages of precast terrazzo stone:
Durability: Precast terrazzo is a very durable material that is resistant to scratches, stains, and wear and tear. This makes it a good choice for high-traffic areas, such as kitchens and bathrooms.
Low-maintenance: Precast terrazzo is very easy to clean and maintain. A simple wipe-down with a damp cloth is all that is needed to keep it looking its best.
Customization: Precast terrazzo can be customized to match any décor. You can choose the colors, patterns, and finishes that you want to create a unique look for your space.
Cost-effectiveness: Precast terrazzo is a cost-effective alternative to natural stone. It is also more affordable than other types of custom flooring, such as marble or granite.
Eco-friendly: Precast terrazzo is made from recycled materials, making it a more sustainable option than natural stone.
Products Description
1. What is precast terrazzo?
Precast terrazzo is a type of terrazzo that is cast in molds and then cured. It is made from a mixture of cement, aggregate, and pigments. It is a durable and versatile material that can be used for a variety of applications, including countertops, flooring, and walls.
2. What are the different types of precast terrazzo?
There are two main types of precast terrazzo:
Standard precast terrazzo: This is the most common type of precast terrazzo. It is made from a mixture of cement, aggregate, and pigments.

Resin terrazzo: This type of precast terrazzo is made from a mixture of resin, aggregate, and pigments. It is more durable than standard precast terrazzo, but it is also more expensive.