Decoding the Opulence of Matrix Black Quartzite | Deluxe Hotel Projects
As you step into the sprawling stone processing base of For U Stone, you're instantly greeted with a flurry of activity. Workers are meticulously arranging finely cut slabs of Matrix Black Quartzite, preparing them for calibration before they find their way to their destined locations. Among these projects is a high-end hotel in Xi'an, where this exquisite stone will grace the lobby floor with its unique charm.
The Quartzite Matrix, also referred to as Versace Black or Matrix Leathered Quartzite, is a natural embodiment of elegance and nobility. Sourced from the rich terrains of Brazil, each slab is selected with precision, ensuring the stone's grand atmosphere and extraordinary temperament are preserved.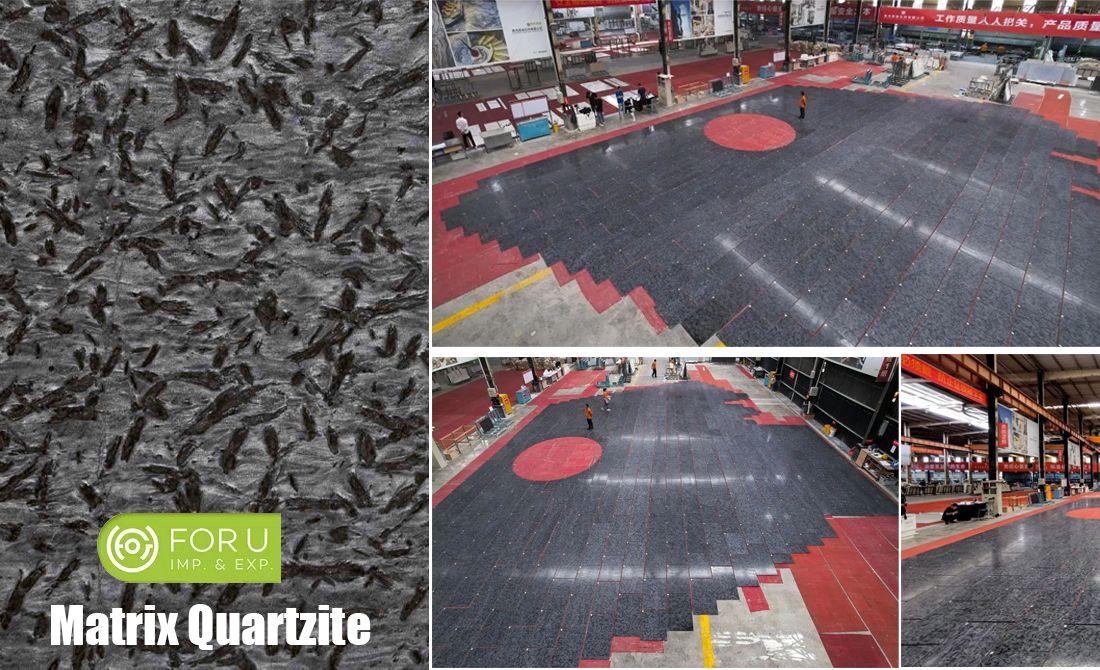 -The Most Important Processing Steps of W Hotel Projects-Dry Lay Processing of Leathered Matrix Quartzite Tiles
Black is an evergreen hue in the realm of fashion aesthetics, a symbol of sophistication and class. The Matrix Quartzite Stone perfectly captures this essence, presenting a depth of colour that radiates luxury. Its inherent textures add a touch of artistic appeal to any space it adorns, be it a home, a hotel lobby, or a designer showroom. Underneath the gentle touch of light, the stone takes on a glittering personality, reminiscent of a starlit night sky – dreamy and stunningly beautiful. It's this magical allure that has made Matrix Brazilian Quartzite a favourite among homeowners, fashion enthusiasts, and designers alike.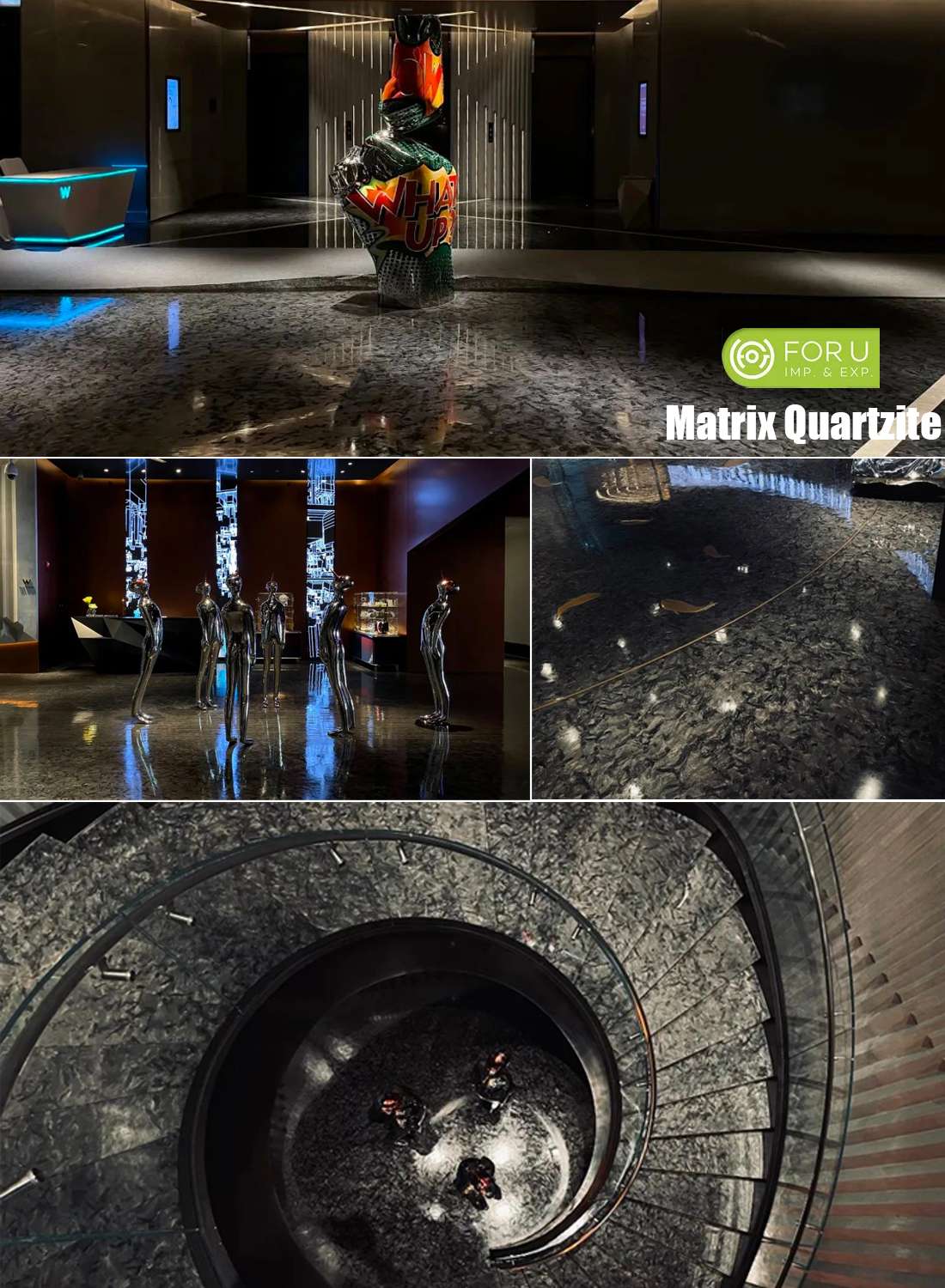 Matrix Leathered Quartzite is not just about aesthetic appeal; it's a testimony to strength and durability. The surface, polished to perfection, exhibits a near-metallic sheen that adds a new dimension to its visual impact. Leatehred Matrix Quartzite's rich palette of dark grey, black, and silver hues creates a focal point in any room, demanding attention and admiration.
Black Matrix Quartzite doesn't just transform a space; it creates an experience. Its unique surface finish, almost metallic and three-dimensional, enhances its allure. This Black Quartzite Tiles' exclusive textures and tones present opportunities for creative exploration, enabling architects and designers to bring their visions to life.
The FOR U Stone warehouse houses a generous stock of high-quality Matrix Quartzite Tiles and Jumbo Slabs. Their commitment to quality extends to their customer service. Dealers, designers, real estate developers, and luxury homeowners are all welcome to explore and experience the magic of Matrix Black Quartzite in person. This luxury stone not only accentuates the aesthetic appeal of any space it adorns but also mirrors the refined taste of its residents. Herein lies the beauty of Matrix Black Leathered Quartzite – it's a classic masterpiece that never ceases to amaze.
Leathered Matrix Quartzite tiles and countertops are luxurious and unique additions to high-end interior decoration projects, such as hotels, mansions, spas, and other commercial estates. This material represents a harmonious blend of nature's grandeur, resilience, and aesthetics, which can elevate any space into an epitome of opulence and elegance.
Derived from natural quartzite, a stone renowned for its strength and durability, leathered quartzite tiles and countertops offer a unique matte finish, differing from the more traditional polished or honed finishes. This particular treatment produces a pebbly, textured surface reminiscent of leather, hence the name 'leathered' quartzite. The surface is crafted using various techniques such as sanding, buffing, brushing, and applying water jets, which accentuate the stone's rich texture.
Unlike other finishes, leathering reveals the unique characteristics of the quartzite stone in a visually arresting manner. The technique does not reflect light in the same way as polished surfaces, allowing more of the natural grain of the stone to be appreciated, which might otherwise be lost. This provides the stone with more depth and dimensionality, making it particularly eye-catching.
The subtle yet captivating veining in quartzite, coupled with a myriad of shades ranging from pale neutrals like white, beige, and gray, to darker hues, adds an inherent sophistication and charm. It offers a unique tactile experience, presenting a combination of raw authenticity and refined artistry that sets leathered quartzite apart from other countertop and tile options.
In high-end interior decoration, the use of leathered matrix quartzite tiles and countertops can be seen in various applications such as kitchen islands, backsplashes, and countertops. Their unique and luxurious appearance provides a bold yet refined aesthetic that pairs well with other high-end materials, adding visual interest and depth to any space.
Furthermore, quartzite tiles and countertops are an excellent choice for kitchen and bathroom applications due to their durability and resistance to pressure exerted over millions of years. The result is a resilient material that exudes a unique personality and enduring charm that can withstand heavy use while maintaining its allure, which is of utmost importance in commercial estate projects.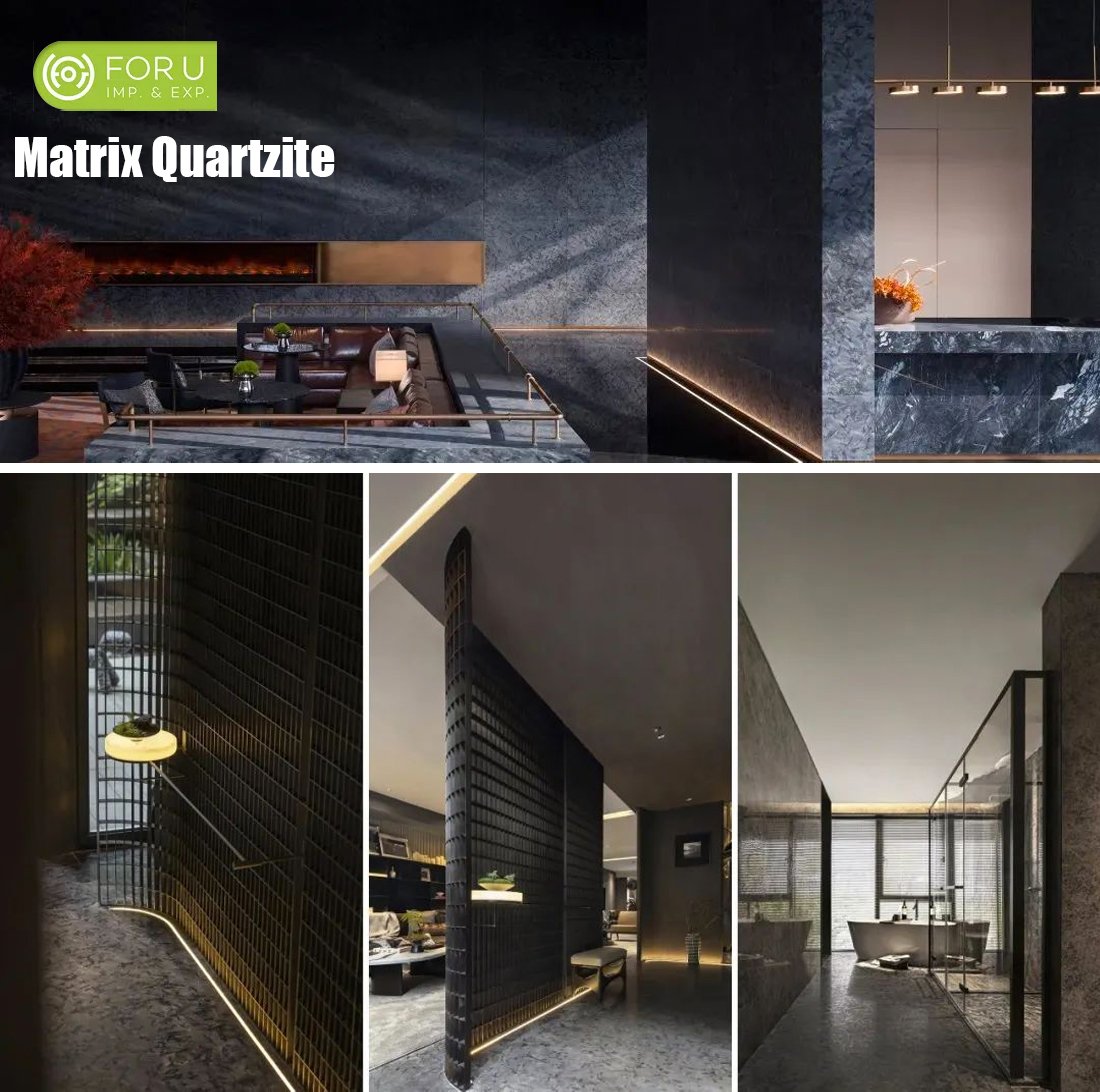 In conclusion, the luxurious and unique nature of leathered matrix quartzite tiles and countertops is attributed to their natural strength, the beauty of their unique veining, the intricate process of leathering, and the aesthetically pleasing depth and dimensionality they offer. These elements come together to create a stunning and timeless material, making them an ideal choice for high-end interior decoration.
In the world of stone, Matrix Black Quartzite is a king. It's a testament to the beauty of natural elements and the finesse of human craftsmanship. It's the touch of luxury that every space deserves, and For U Stone is committed to making this luxury accessible and sustainable for everyone. After all, in the end, it's not just about creating spaces; it's about crafting experiences.
Related Products