Brazilian Tourmaline Exotic Granite Slabs For Kitchen Countertops 
Tourmaline Granite is a natural stone imported from Brazil and is extensively trendy for its high-priced appearance and versatility in numerous layout applications. This Tourmaline Granite Slab showcases enthralling white-green, red tones, decorated with black brush stroke veins, creating a charming visible display that makes each slab a unique artwork.
Unveiling the appeal of nature's artistry, Tourmaline Granite emerges as a masterpiece, combining resilience with delicate aesthetics. This herbal granite, speckled with green and enveloped in a calming beige, tells memories of the earth's fantastic evolution, turning into an epitome of durability and layout brilliance. With its intricate blend of colors and styles, Tourmaline Granite adds a touch of class and drama to any area far hooked up.
Tourmaline Exotic Granite Countertops projects FOR U STONE

Rich Palette: Beyond beige and green of Brazilian Tourmaline Granite Slab

Tourmaline Granite Slab inspires a vivid visual reveal. In contrast to well-known granites, Tourmaline does not simply forestall at beige and green. It mimics a turbulent typhoon, capturing deep blacks, silvers, and complex grays. These whirlwinds of colors make it a preference to feature a touch of drama in minimalist designs or to harmonize with bolder palettes. The richness of the colors and styles of Tourmaline Granite Slabs cause them to be the precise preference for designers searching out a unique and luxurious declaration piece.

Tourmaline Granite Countertop: including elegance and capability for your kitchen

FOR U STONE 's fabricated Tourmaline Granite countertops are the ideal addition to any kitchen. These countertops aren't only beautiful, but they're additionally surprisingly durable and smooth to preserve. 
The square edge sandwich laminated fringe of the countertop provides an additional layer of protection at the same time as the overall thickness of 3/four" (18mm) and the edge thickness of 1-1/2″ (36mm). Could you make sure that the countertop is solid and long-lasting? The composition of granite and the polished finish of the floor make it proof against scratches, stains, and heat, making it a perfect preference for any kitchen.
Tourmaline Granite Kitchen Countertop: The coronary heart of your house
The kitchen is the coronary heart of any domestic, and a Tourmaline Granite Kitchen Countertop adds elegance and capability to this vital space. The splendor and sturdiness of Tourmaline Granite make it the appropriate preference for busy kitchens where it's miles exposed to warmth, spills, and scratches. As a result, it has emerged as a famous desire for homeowners who want a countertop that looks extremely good and can withstand the rigors of daily use.
Tourmaline Exotic Granite Slab: making a formidable statement

Luxury Brazilian Tourmaline Exotic Granite Slab is for those who want to make a bold assertion with their layout choices. This granite slab is a beautiful mixture of darkish colors and colorful tourmaline veins that create a fascinating visible show. The product color and pattern might also vary barely due to the natural formation of the stones, but this most effectively provides for the individuality of each slab. The versatility of Tourmaline Granite Slabs is evident in its great packages, from countertops to wall panels, enhancing each interior and exterior.

Branco Tourmaline Granite: a blend of beauty and durability

Branco Tourmaline Granite Slab is a lovely combination of beauty and durability. This granite slab showcases spellbinding white-inexperienced, crimson tones embellished with black brush stroke veins. 
It creates a captivating, visible display that makes it a widespread desire for homeowners and architects alike. The composition of granite and the polished finish of the floor make it immune to scratches, stains, and warmth, making it a super preference for any space.
1: Specification of Brazilian Tourmaline Granite Slabs and Countertops
Natural Granite Flooring Tiles Lemurian Labradorite Blue Granite

Interior & Exterior Decoration. Be widely used in countertops, washing basin, bar counter, and also suitable for exterior wall

paneling, flooring and etc.

300 x 300mm, 600 x 600mm,

800 x 800mm and etc

10mm, 15mm, 18mm, 20mm and etc

96″ x 25.5″, 108″ x 26″, 96″ x26″,

108″ x 25″ and etc

20mm;30mm;20mm+20mm laminate and etc

96″x36″,108″x36″,96″x40″,72″x36″ and etc

31″x22″,37″x22″,49″x22″,61″x22″,73″x22″ and etc

1000-1300x300x20/30mm & 1000-1300x150x20mm

Polished, Flamed, Honed, Split, Tumbled, Sandblasted,

Chiselled, Bush-hammered, Mushroom, etc.
2: 18mm Polished Surface Tourmaline Granite Slabs 
Tourmaline Granite Slab: The Epitome of sturdiness and design Brilliance

Tourmaline Polished Granite Slab epitomizes durability and layout brilliance. This herbal granite, speckled with green and enveloped in a relaxing beige, tells memories of the earth's astounding evolution. Its power is well-complemented in business settings, rendering an experience of timelessness. The stone's appeal extends to backsplashes, wall panels, stairs, and floors, enhancing interiors and exteriors.

The Tourmaline Granite Slab is a superb natural stone that exudes splendor and forte. Its versatility and sturdiness make it a perfect choice for numerous layout usages, along with tourmaline granite slab, tourmaline polished granite slab, tourmaline granite countertop, tourmaline granite kitchen countertop, tourmaline distinct granite slab, Branco Tourmaline Granite, Branco Tourmaline Granite Slab, and Tourmaline extra Granite Slab. Whether or not used for kitchen countertops, lavatory vanities, flooring, or accent walls, Tourmaline Granite adds a hint of class and drama to any area.
Collaborating with FOR U STONE guarantees that Tourmaline Polished Granite Slab keeps its authenticity and sturdiness. This granite variant is Tailor-made to diverse task requirements, be it in tiles or as countertops, and unearths its rightful region in motels, villas, shops, faculties, or even expansive farmhouses. Its adaptability underlines its remarkable popularity in architectural marvels internationally.
Sizes: Customizable to assignment needs, this granite is available in varying dimensions, becoming spaces of all magnitudes.
Applications: With huge-ranging applications, this Tourmaline Granite stone is ideal for inner and outside decoration, redecorating countertops, vanities, wall claddings, and more.
3: Chinese Leading Tourmaline Granite Slabs and Countertops Factory | FOR U STONE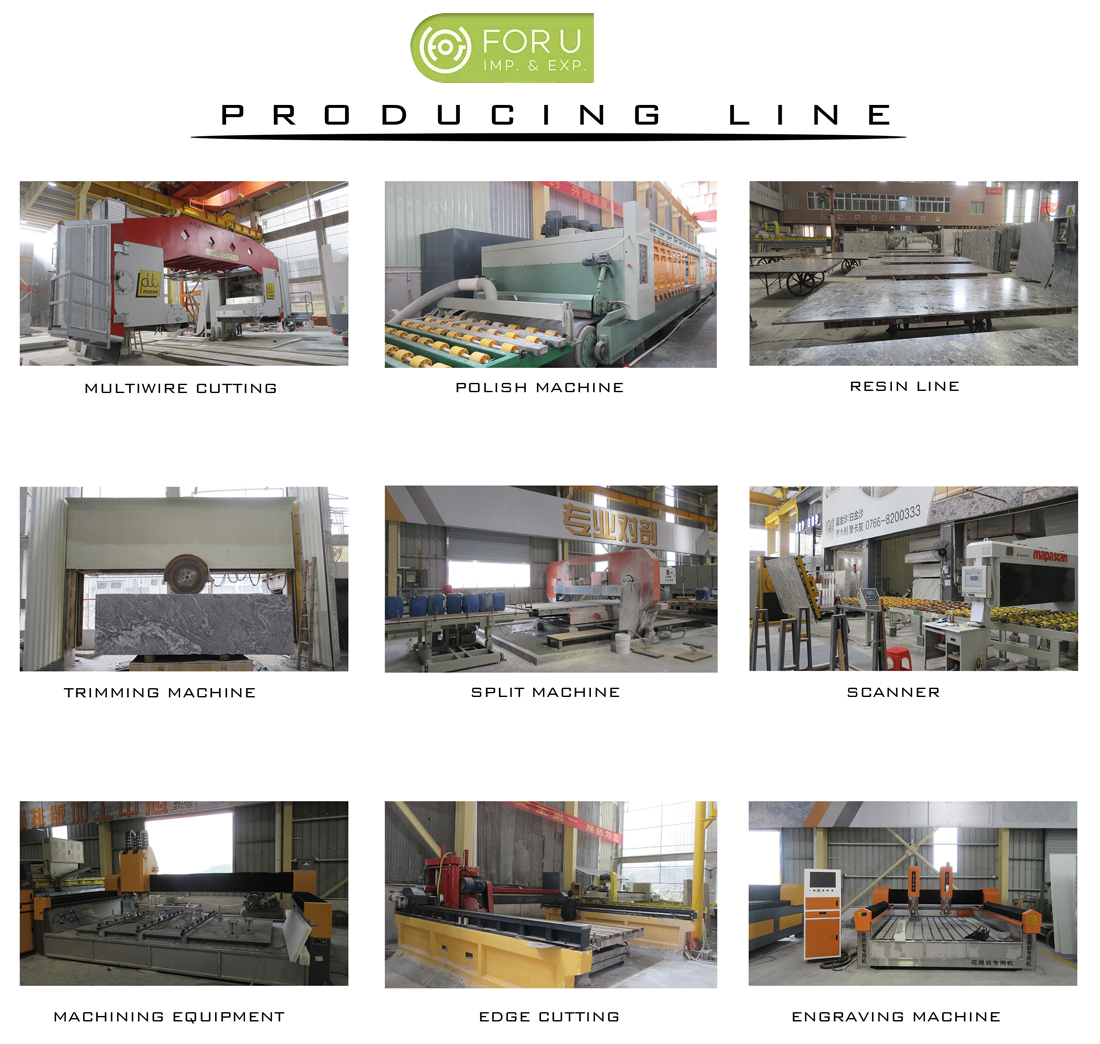 Branco Tourmaline Granite and Tourmaline More Granite Slab are a testament to Tourmaline's enduring legacy in luxury interiors. These editions uphold the granite's recognition of fusing elegance with enduring energy. It isn't merely a stone but an enjoyable, reworking mundane space into high-priced realms.
Choosing Tourmaline Granite from FOR U STONE Factory is funding nature's unheard-of wonder, ensuring a blend of durability and comfort and embracing this stone method, selecting an ageless marvel, an ode to the earth's fascinating chronicles, and a promise of class for years yet.