Exclusive Leathered Surface Phoenix Feather White Quartzite Slabs
Leathered quartzite Slab has become a popular choice for grand interiors due to its unique tactile revelry that emphasizes the natural divots and fissures of the stone. Unlike its polished surface option, the leathered treatment of exotic quartzite stone, such as Phoenix Feather White Quartzite, presents a more profound appreciation of the innate grains and patterns of the rock. This texture creates a visual and sensual reveal unequaled by using other surfaces.
The Black Leathered Quartzite Slab is one of the most outstanding alternatives for leathered quartzite slabs. This slab sticks out because of its oyster-colored base, accentuated by deep black textures, which create an astonishing, feather-like appearance that complements the Phoenix Feather Quartzite Stone's depth. The three-dimensional impact evokes the beauty of chook feathers, making it an excellent preference for folks searching for a balance between luxuriousness and nature's uncooked splendor.
The other stunning option is the Phoenix Feather White Leathered Quartzite Slab. This unique leathered 3D effect Quartzite slab is a tribute to nature's exceptional craftsmanship, characterized by an individual pattern that mirrors the grace and beauty of a phoenix's feathers. The grey and oyster historical past, decorated with recommendations of deep black, creates a three-dimensional impact that transforms the slab into a bit of artwork. This slab isn't always just a material; it is a panoramic masterpiece that can elevate any interior design.
The Leathered quartzite stone is particular because of the method it undergoes. The stone is honed with diamond brushes, creating a smooth, matte, elegant, modern finish. This end emphasizes the herbal characteristics of the rock, such as its fissures, pits, and veins, making every slab a one-of-a-kind introduction.
Leathered quartzite stone isn't just aesthetically eye-catching; it is also durable and proof against scratches, stains, and heat. This makes it an excellent choice for excessive-visitors areas, including kitchen countertops, bathroom vanities, and flooring.
Ultimately, leathered quartzite stone is an expensive and fashionable choice for any indoor layout. Its specific texture, blended with its durability, makes it an ideal desire for people searching for a balance between beauty and practicality. The Leathered Phoenix Feather White Quartzite Slab is a lovely option with particular patterns and characteristics. Select a leathered quartzite stone for a
It was complicated and undying, in addition to your indoor layout.
Dimension of Luxurious Quartzite Stone
Phoenix Feather White Quartzite Leathered Slabs

(3)Strong corrosion-resistance

(4)High temperature resistance

(5)Non-toxic and non-radioactive

Interior & Exterior Decoration. It is widely used in countertops, washing basins, and bar counters and is also suitable for exterior wall

paneling, flooring, etc.,

300 x 300mm, 600 x 600mm,

800 x 800mm etc,

10mm, 15mm, 18mm, 20mm, etc

96″ x 25.5″, 108″ x 26″, 96″ x26″,

108″ x 25″ etc

20mm;30mm;20mm+20mm laminate and etc

96″x36″, 108″x36″, 96″x40″, 72″x36″ and etc

31″x22″, 37″x22″, 49″x22″, 61″x22″, 73″x22″ etc

1000-1300x300x20/30mm & 1000-1300x150x20mm

Polished, Flamed, Honed, Split, Tumbled, Sandblasted,

Chiseled, Bush-hammered, Mushroom, etc.

(1)Standard Exporting Seaworthy Package

( Inner: plastic film and foam; Outer: Solid Wood crates or pallets.)

(2) Color Difference Control

(3) Thickness tolerance:+/-0.5mm,+/-1mm

(4) All Products Checked by Experienced QC

Welcome Small Trail Orders
18 mm Leathered Quartzite Slabs
The appeal of individual quartzite slabs
Each uncommon quartzite slab is a testament to nature's unpredictability and attraction. The multitude of colors, textures, and intricate styles guarantees that no two slabs are the same. This distinctiveness makes them a prized choice for high-stop indoor designs, especially when the goal is to create a bold declaration.
Sizes and specifications
Leathered quartzite slabs, whether or not they are the Phoenix Feather or the more distinctive variants, typically come in sizes ranging from 65 x 130 inches to approximately 70 x 150 inches. The thickness can vary, with the maximum commonplace being 2 cm and three cm, catering to extraordinary design needs and packages.
Applications and Project Utilization
Leathered Phoenix Feather Quartzite, with its robust nature and captivating aesthetics, finds applications in numerous projects:
Countertops: The unique patterns and durable Surface of the Phoenix Feather White Leathered Quartzite Slab make it an ideal choice for kitchen and bathroom countertops.

Wall Claddings: The Black Leathered Quartzite, with its deep, contrasting textures, can elevate the ambiance of a room when used as wall claddings.

Flooring: The Exotic Quartzite Slab, known for its unparalleled resilience, is suitable for flooring in high-traffic areas, including hotels, malls, and office buildings.

Outdoor Spaces: The natural toughness of Leathered Exotic Quartzite Slabs makes them apt for outdoor applications like pavings, staircases, and park pathways.

Specialized Spaces: Spaces like spas, art galleries, and private dining rooms can benefit from the serene aura exuded by these stones.
Luxury Quartzite Stone Factory
Quality Control
One/ Gloss degree 45 or up
Two/ Thickness tolerance: ( ±1mm)
Three/ Diagonal tolerance: ( ±1mm)
4/Surface flatness tolerance: ( ±0.3mm)
Quality Assurance: During the production process, from material choice to fabrication to packaging, our quality assurance people will strictly control every process to ensure quality standards and punctual delivery.
All our products are thoroughly inspected one piece by one piece.
Delivery, Shipping, And Service
Packing and Loading about gray quartzite countertops
| | |
| --- | --- |
| Package | (1) Slab: Seaworthy wooden bundles; |
| | (2) Tile: Styrofoam boxes and seaworthy wooden pallets; |
| | (3) Vanity tops: Seaworthy, wooden solid crates; |
| | (4) Available in Customized packing requirements; |
| | All the above packages will be fumigated and stamped for export orders; |
| | 2cm slabs: 15-18 pcs / 75 sqm / 4100kgs per bundle |
| | 3cm slabs: 10-13 pcs / 50 sqm / 4100kgs per bun |
FAQ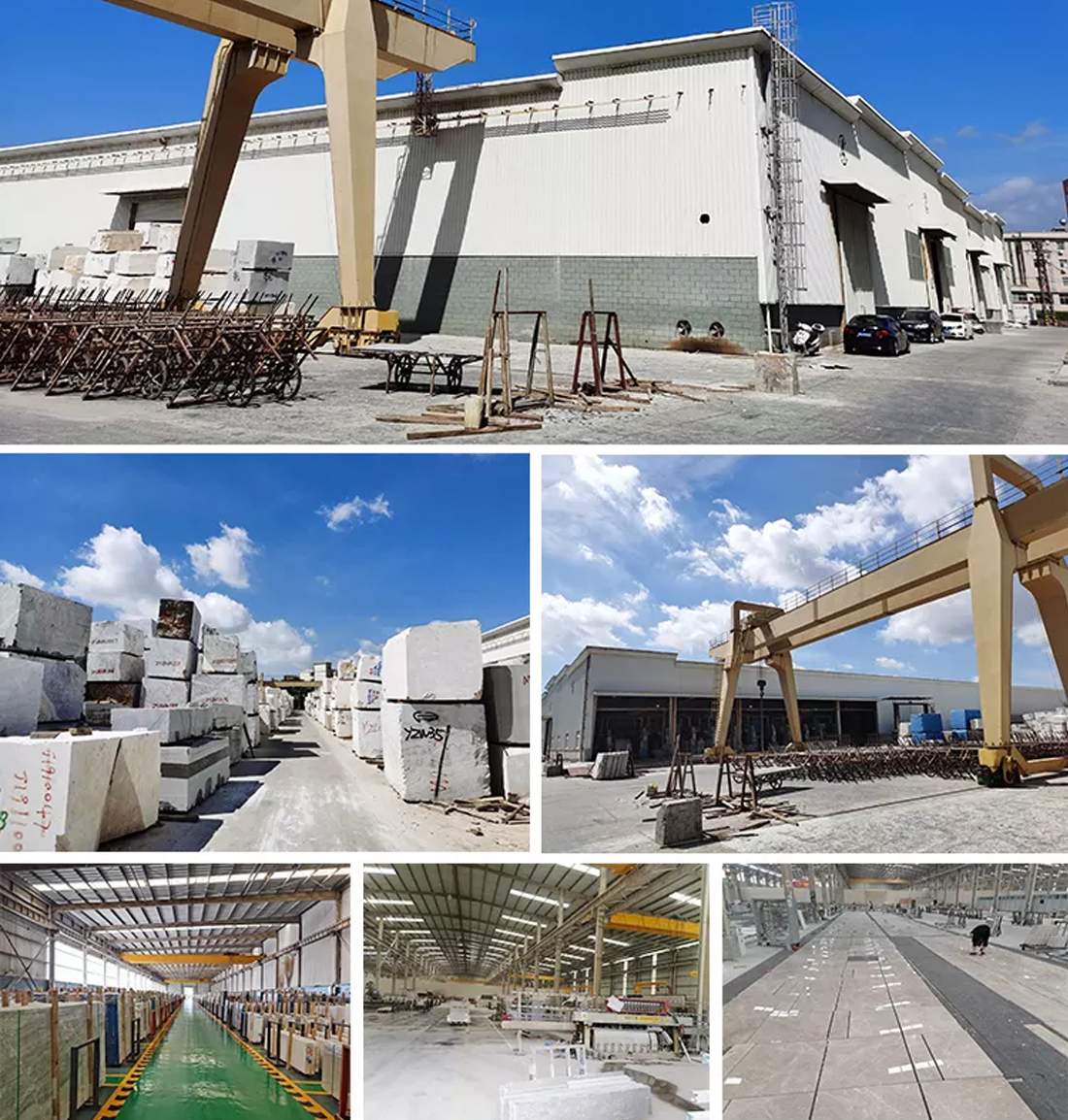 01. How to get a sample?
The sample will be provided on the condition that:
* Sample requests less than 200*200mm can be sent for quality tests free of charge.
* Sample delivery cost will be at the buyer's account.
02. When to start production?
* Right after our bank confirms the arrival of the L/C or the advance payment.
03. Delivery Leadtime
* Lead time is around 2-3 weeks per container.
04. Packaging
* Packing in export standard quality wooden crates, hardboard carton boxes, or pallets based on request.
05. Guarantee & Claim?
* Replacement or repair will be done when any manufacturing defect is found in production or packaging.
With its plethora of variants like Phoenix Feather White Quartzite, Leathered quartzite is not just a stone; it's a manifestation of nature's artistry. Whether for a residential space or a commercial project, a leathered quartzite stone slab promises a blend of luxury, durability, and timeless beauty.

If you're interested in our Exclusive Phoenix Feather White Quartzite Slabs, you are welcome to buy quality products at an affordable price with us. As one of China's leading Exotic Quartzite Slab manufacturers and suppliers, we also support wholesale service. For more info, contact us now.