Brazilian Light Blue Calcite Polished Marble Slabs
Blue Calcite Marble is a beautiful natural light blue marble(quartzite) stone with a serene blue hue and unique pattern. It is prized for its beauty, durability, and flexibility. Brocatel samples of this stone feature small, white streaks through soft gray-blue lenses and waves. Huge vascular ripples are visible on large Calcite Blue Marble slab layouts, bringing color, movement, beauty, and simplicity to any interior space.
Calcite Blue Marble Wall Projects FOR U STONE

Slight Blue Color Tones of Calcite Blue Slabs: A Symphony of Metal Blues

Hailing from the treasure troves of calcium carbonate formations, Calcite Blue Slabs are a symphony of metallic blues, slight pastel sun shades, and pearly grays. The stone's brocatel-kind morphology lends to various designs, each Calcite Azul Marble slab boasting unique white veins such as a pro artist's etchings. Those placing styles evoke pictures of turbulent seashores, taking snapshots of the essence of a stormy sea.

Calcite Azul Marble: A Testament to the Wonders of the Earth

Brazilia Navy Blue Color Extra Stone-Calcite Azul Marble is a stone steeped in luxurious and unrivaled beauty. With its serene colors and complicated patterns, this stone stands as a sworn statement to the wonders of the Earth. Its miles are composed of a mild blue history with white veins walking via it, giving it a particular and elegant look.
Calcite Blue Marble Tile: a bendy preference for your private home
Customized Sizes of Calcite Blue Marble Tile from FOR U STONE are versatile for interior space real estate. The stone's blue hues can create a secure and fun environment, while its complex styles upload a hint of splendor to any vicinity. It's far a preference for flooring, partitions, and backsplashes, and it can be used in every indoor and outside region.
Calcite Blue Marble Countertop: A statement Piece in your Kitchen

A High-quality and backlit effect Calcite Blue Marble Countertop is an announcement piece that would redecorate your kitchen into paintings. The stone's blue colors and complex styles make it a lovely addition to any kitchen. It's also heat-resistant, making it a sensible desire for a countertop.

Calcite Azul Extra Marble Slab: a remarkable and precise Stone

Jumbo Sizes of Calcite Azul extra Marble Slab is a remarkable and particular stone that is positive to announce in any location. Its colorful blue hues and elaborate patterns make it a one-of-a-type stone, which is fantastic for creating a stylish region.
3: Standard Sizes of Calcite Blue Marble Slabs and Tiles
* Natural Granite Flooring Tiles Lemurian Labradorite Blue Granite for Wall Panel and Floor Tiles

About Labradorite Blue Granite

Uniqueness—Dazzle blue fluorescent areas. The typical textures and features of this precious stone are strongly highlighted.

Surface Finishes—Polished, Sawn Cut, Sanded, Rock faced, Sandblasted and Brushed (Antique), Tumbled, Honed, Bushhammered

Usage—suitable for both residential and commercial projects. It is widely applied for tile, panels, kitchen countertops, island tops,

vanity, paving, and fireplace, etc

Small slab–1800(up)×60-90(up)mm

Big slab–2400(up)×120(up)mm

Cut to size–300 x 300mm, 600 x 600mm, 800 x 800mm etc,
2: 3100×1800 mm Calcite Blue Marble Polished Slabs
Calcite Blue Marble Wall Tiles: a tremendous choice for your bathroom

Vein Flow or Bookmatched designs of Calcite Blue Marble Wall Tiles are the right desire for your toilet. The stone's blue sun shades and complex styles create calming surroundings, making it a top-notch ardor for a spa-like lavatory. The white veins jogging via the stone endorse beauty and sophistication to any region.

Azul Calcite Blue Quartzite(Marble) is a natural stone that embodies splendor and durability. Its beauty lies in its complex patterns and serene blue solar sunglasses, making it terrific for each current-day and classic interior. Whether you choose Calcite Blue Marble Tile, Countertop, Slabs, or Wall Tiles, you could create an announcement with this adorable stone.
Applications and Dimensions of Calcite Blue Quartzite
FOR U STONE caters to an extensive range of initiatives, be it residential or commercial. Their Calcite Blue Quartzite (Marble) offerings seamlessly integrate into areas like resorts, villas, flats, workplace homes, hospitals, department stores, sports arenas, leisure hubs, supermarkets, workshops, parks, farmhouses, and courtyards. Mainly designed for each inner and external project, the Calcite Blue slabs may be transformed into wall panels, floor tiles, stairs, paving, claddings, countertops, and vanities.
3: Professional Calcite Blue Marble|Quartzite Stone factory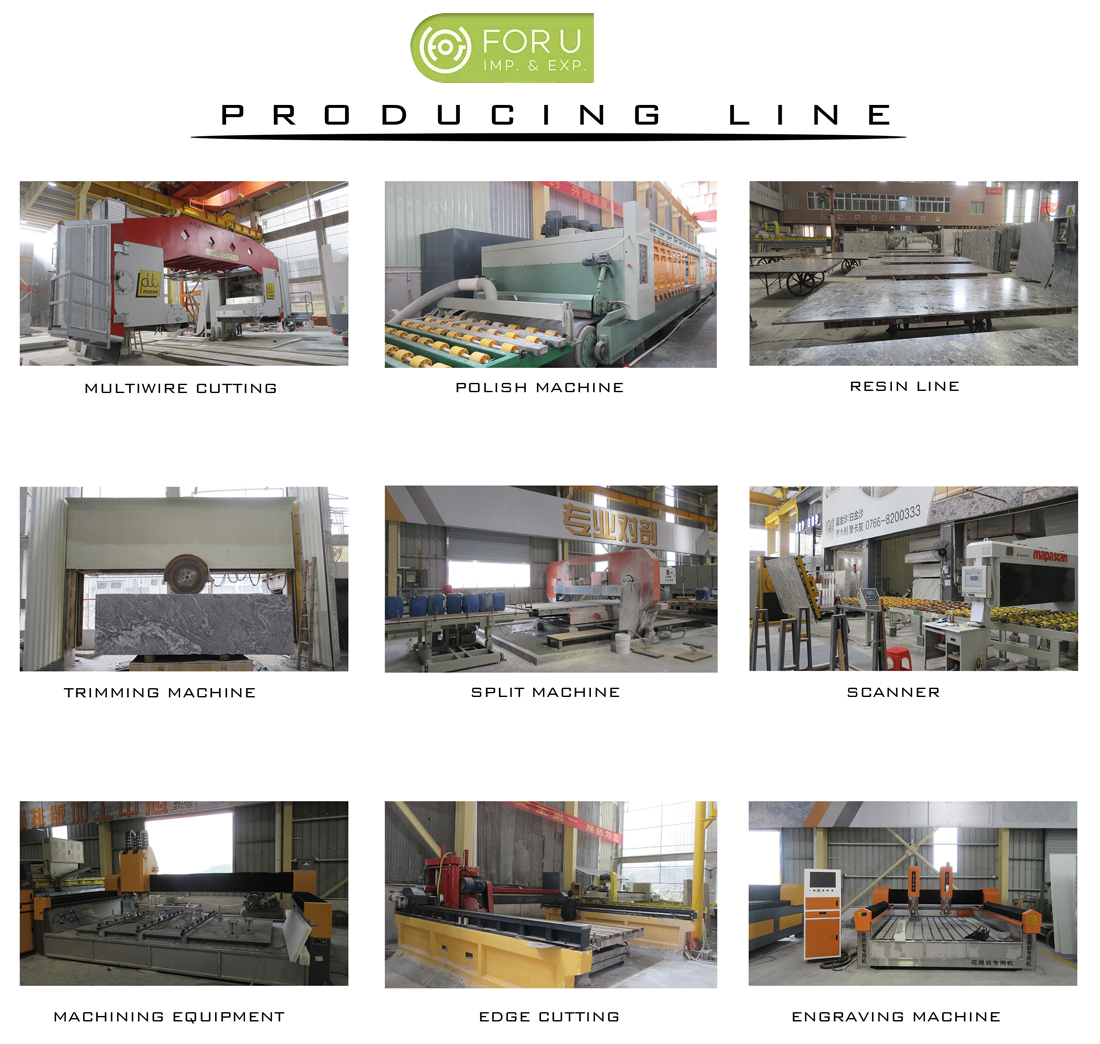 Calcite Blue Marble (Calcite Azul Quartzite) encapsulates the harmonious combo of nature's serenity and humanity's pursuit of luxury. With its widespread packages and enthralling appearance, the stone promises to stay a timeless addition to any area. Whether you envision a costly toilet, a sprawling foyer, or a statement kitchen countertop, Calcite Blue Marble from FOR U STONE is the proper preference for those who wish to intertwine beauty with sturdiness.