Chinese Rose Red Rojo Alicante Spanish Red Marble Slabs
In the pantheon of marbles, the Rojo Alicante Classic Marble stands as a distinguished member, coveted for its robust personality and unmistakable Mediterranean warmth. This compact, fine-grained limestone rock is marked by an arresting red background, adorned with scattered veins of crystallized calcite, lending each slab a distinct, unique character.
A unique quality of the Rojo Alicante Marble is its versatility in finishing. For those who seek a luminous, reflective surface, the polished finish is the ideal choice. In contrast, a honed finish provides a matte, natural look that beautifully complements rustic decors. Whether polished or honed, the Alicante Rosso Marble is available in various formats, including slabs, tiles, and cut-to-size blocks, catering to a wide range of applications, from expansive flooring to detailed mosaics.
Particularly well-suited for interior floors, walls, and staircases, the Alicante Marble Tiles can instantly transform a room into a Mediterranean haven. With their warm, earthy tones, these tiles infuse any space with an inviting, cozy ambiance, making them a perfect addition to living rooms, dining areas, and hallways. Furthermore, the Alicante Red Marble Tiles, with their eye-catching streaks, serve as an excellent choice for statement walls or central kitchen islands, where their vibrant hues can truly shine.
The red colour background with the striking white veins.
It catches the designer's eyes for its special pattern.
It is suitable for flooring tiles, wall tiles, vanity tops etc.
1. Our Features:
a. We are a big natural stone manufacturer in China Shuitou town;
b. We can supplier any kind of size you need for your project, Customized design;
c. An independent quality control team;
2. Usage:
CHINESE ROSE RED Marble is popular used for interior and exterior decoration, wall tiles and floor tiles, vanity top, countertops, etc.
DETAIL INFORMATION of FOR U STONE Natural Marble

Item

Red Marble with white veins

Materials

100% of Natural Marble

Surface Finishes

Polished, Flamed, Honed, Split, Tumbled, Sandblasted,

Chiselled, Bush-hammered, etc.

Dimension

12″x12″x3/10″ (305 x305 x 8mm)

12″x12″x3/8″ (305 x 305 x 10mm)

12″x12″x1/2″ (305 x 305 x 12mm)

18″x18″x1/2″ (457 x 457 x 12mm)

24″x24″x3/4″ (610 x 610 x 20mm)

Random slab size:

130upx250upx2cm, 130upx250upx 3cm,

130upx250upx4/5/6/8/10cm

Small slab size: 240-280×65/70x2cm, 240-280×65/70x3cm

Other Customized Size are Available

Color

White, Black, Yellow, Rusty, Red, Pink, Green, Grey, Brown, Blue etc.

Hot sale

Arabescato, Bianco Carrara, Ariston, Volakas,Staturio,Century Beige, Moon Cream, Moon Beige,Turkish Beige, Bianco Perlino, Thunder Beige, Middle-East Beige, Crema Marfil, Peach Rose, Moca Cream, Royal Botticino, Galala Beige, Romance Red, Golden Spider, Rosalla, New Crema Marfil, Perlato, Botticino Classic, Sunny Beige, Sahama Beige, Amasya Beige, Roma Beige, Cappuccino, Silvia Beige, Serpeggiante, Light Emperador, Dark Emperador, Lnous Gold, India Green, Portoro, Tropical Rain Forest, Tropical Rain Green, Rosso Levanto, Rosa Verona, Rojo Alicante, etc

Usage

Interior & Exterior Decoration
High Quality Natural Marble Slabs
Marmol Rojo Alicante goes beyond its decorative potential, exhibiting a remarkable set of physical properties. With a low absorption coefficient, high flexural strength, and excellent resistance to compression, this marble is a durable choice for areas exposed to frequent use or heavy foot traffic, such as kitchen floors, bathroom countertops, and commercial entryways.
The Red Alicante Marble, also known in the market as Marmol Roter Alicante or Marbre Rouge Alicante Marble, holds the power to elevate your space to new aesthetic heights. Ideal for use on countertops, the marble's crystalline textures and red hues, interspersed with lighter veins, make it a focal point of any room. Paired with subdued wall colors, Rojo Alicante Marble Vanity Countertops can create a captivating contrast, bringing an air of elegance and sophistication to your bathroom or kitchen.
Rojo Alicante Marble
Rojo Alicante Red Marble
Rojo Alicante Marble Slabs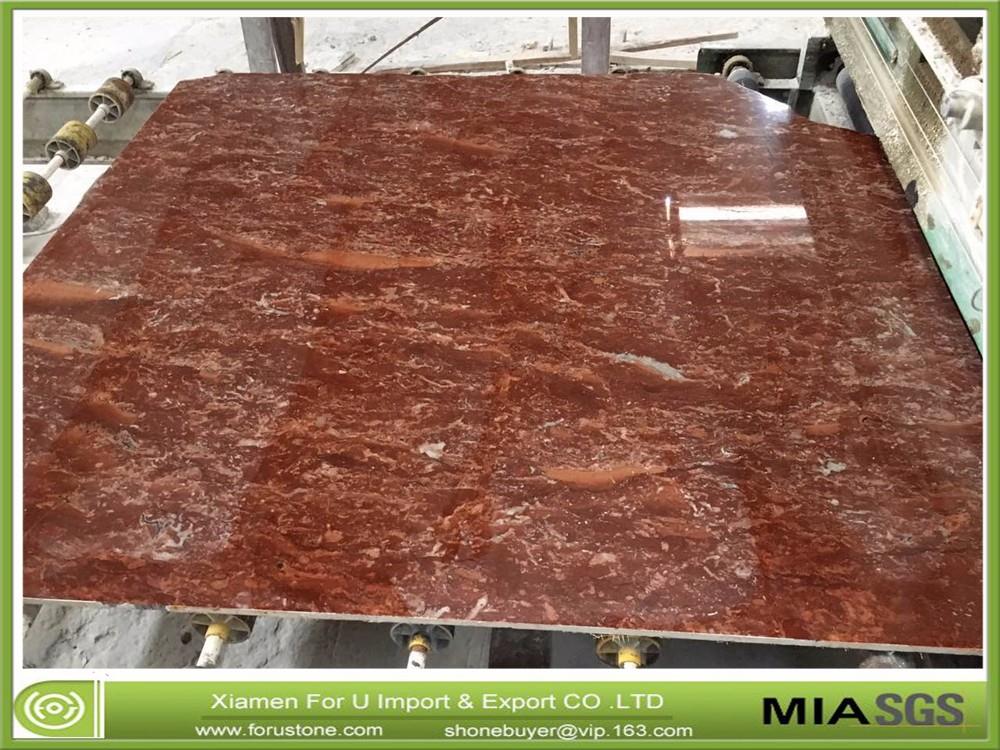 Rojo Alicante Marble Polished Slabs
Similarly, Spanish Red Marble serves as a fantastic material for exterior applications. With its excellent durability and unique visual appeal, this marble can be used for wall claddings, paving, and even decorative monuments, contributing an air of grandeur to any outdoor setting.
For larger projects, the Rojo Alicante Marble Tiles can be used in a variety of sizes. Ranging from the standard 12 x 12, 12 x 24, to larger formats such as 24 x 48, these tiles provide flexibility in designing expansive floor areas or complex mosaic patterns. For specialized applications, cut-to-size formats are available, enabling bespoke solutions for unique project requirements.
Professional Red Marble Slabs and Tiles Factory
RELATED WHITE PRODUCTS
Whether you are a homeowner seeking to infuse warmth into your living space, or a commercial developer aiming to impress, the Rojo Alicante Classic Marble offers a perfect blend of aesthetic charm and practical resilience. Its radiant hues and distinctive veining patterns are bound to leave a lasting impression, while its durability ensures that its beauty can be appreciated for years to come. So, embrace the Mediterranean spirit with Rojo Alicante Marble, and let its organic charm captivate you and your guests alike.
If you're interested in our Chinese rose red rojo alicante french red marble slabs, welcome to buy the quality products at an affordable price with us. As one of the leading New Marble manufacturers and suppliers in China, we also support wholesale service. For more info, contact us now.