Product Details
Products Specification
Chinese Ice Emerald Jade Marble Slabs For Tiles and Countertops
Ice Green Marble Slabs, produced in the south of China, natural with jade stone, the main color combination of black, white and green, evenly distributed, the Ice Green Marble Slabs have a blackish, greenish and other differences, loved by customers over the world wild markets.
Ice Jade Green Marble Slabs are mainly composed of black, white and green, with evenly distributed panels, distinctive and moving textures, dreamy and ethereal colors, showing nobility and stability, showing fashion and quality of life attitude. Ice Green Jade Marble Slab is especially good for wall cladding, commercial and residential flooring, countertops, stairs, fireplaces, sinks and other design projects. Each Ice Green Polished Slab is completely unique due to the alternating bright green ground with white inlays and thin black veining.
For U Stone provide a premium luxury Chinese Ice Cold Green Marble Slabs, Tiles, Countertop for residential, commercial, and industrial applications. Nomally China Primavera Green Marble For Indoor floor and Wall surface for use in a wide range of applications. Such as residential applications include garages, basements, mudrooms, kitchens, and rooms, as well as commercial applications such as office floors, stores, retail locations, restaurants, warehouses, and military – anywhere a durable marble is required. Basic Info
SPECIFICATIONS
Slabs
3000*2000*18mm
3000*2000*20mm
Tiles
600*300*18mm
800*400*18mm
1200*600*18mm
600*300*20mm
800*400*20mm
1200*600*20mm
It can be customized according to your requirements
Mosaics
It can be customized according to your requirements
Quality Control
Thickness Tolerance:+/-0.5mm,+/-1mm;
Polished Degree:85°or up.
Jumbo Slabs, Cut-to-Size, Kitchen and Bathroom Countertops For High End Commercial Projects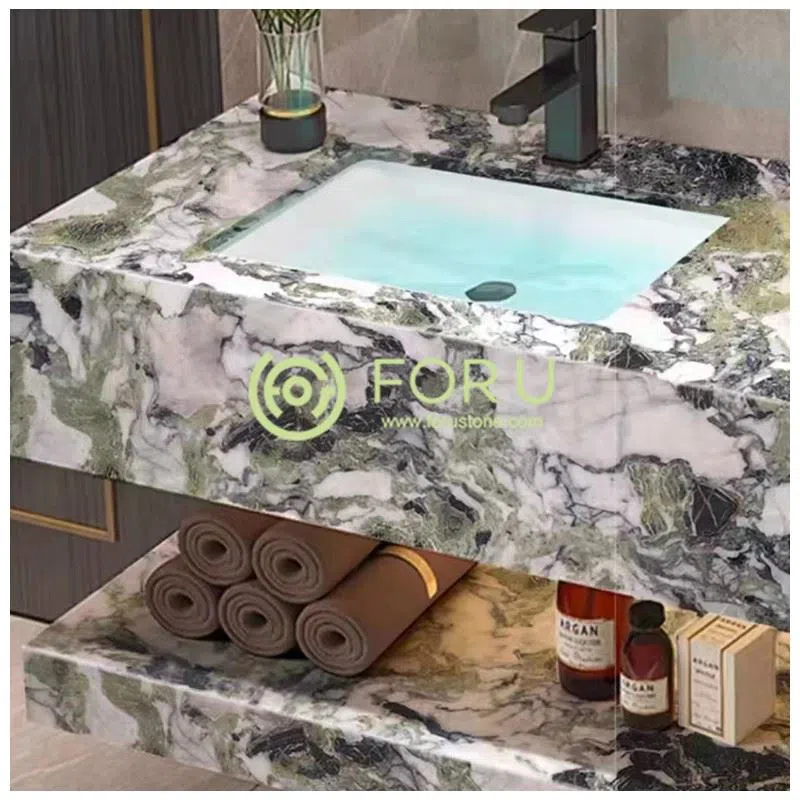 Quality Control
First Inspection:
Selection of raw material.
Second Inspection:
Monitoring the whole process.
Third Inspection:
Checking pcs by pcs, Color Difference Control. well packed to prevent damage during long-distance transportation high solution detailed photos and free samples will be able to verify our quality. All our products are insured, if the tiles are broken during the transition, our after-sales will sort out the reasons and will sure you'll be properly compensated.
Packing and Loading about Marble Slab
Boxes + plywood crates with reinforced straps outside, Alternate films between every sheet.Customized Packing box is also available
pencil 12''x3/4''x3/4''–75pcs/box,36box/Crates
Chairail 12''x2''x1 1/5''—28pcs/box,36box/crates
Baseboard 12''x5''x3/4''—10pcs/box,36box/crates
FAQ
How about sample and charge?
The sample is free, but freight costs. After the order is confirmed, we would pay back the express cost.
Sample delivery
Samples are usually for free, but the freight would be charged. After the order is confirmed, we would pay back the express cost.
What is your MOQ?
Our MOQ is usually 50 square meters, depending on different types.
How long is the lead time?
The time of delivery is about 10~30 after the deposit arrival, also depending on quantity. union, Moneygram.
What about the payment?
30% deposit in advance, 70% balance before shipping
What are your main products?
Our main products are Granite Slabs, countertops, vanity tops, marble tiles, quartz countertops, slate culture stone, basalt stone, paving stone, etc, And also offer OEM services.
If you're interested in our ice green marble slabs, welcome to buy the quality products at an affordable price with us. As one of the leading Marble Slabs manufacturers and suppliers in China, we also support wholesale service. For more info, contact us now.