2023 New Marble Arrival-Oriental Calacatta Marble Slabs
As a white marble from China, Oriental Calacatta Marble is no surprise that it has caught the attention of architects, interior designers, and homeowners alike, thanks to its unique elegance and versatility. Its delicate texture and clean, white background exude an aura of sophistication and luxury, making it the perfect fit for any design style.
This natural Oriental Calacatta Marble Slab's beauty is derived from the combination of the intricate patterns on its surface and its transparent white base. The fine gray, black, and golden veins that adorn the marble give it a Chinese ink painting-like appearance, adding a cultural touch to its already outstanding beauty. The texture of Oriental Calacatta White Marble is refined and elegant, making it the perfect choice for high-end spaces.
One of the most remarkable characteristics of this Chinese white marble is its similarity to the Italian Calacatta White Marble. However, the Oriental Calacatta White Marble has a unique identity that sets it apart from its Italian counterpart. The Italian Calacatta White Marble has a milky-white texture, with rough gray or golden lines that run through it. On the other hand, the Chinese Calacatta White Marble has a gray, black, and golden fine line texture, which is reminiscent of the strokes of a Chinese calligraphy brush. This makes the Oriental Calacatta White Marble more versatile than the Italian Calacatta Marble in terms of design style and application.
This new star among the white marble collection has already found its place in many interior floor and wall applications. Oriental Calacatta Marble Tile is a perfect choice for commercial projects such as hotel lobbies, office building lobbies, and other high-end public spaces. In addition, it can also be used for residential applications, such as kitchen countertops, bathroom vanities, and floor tiles, adding a sense of luxury to any living space.
Marble Specification | FOR U STONE
Model Number

Chinese Calacatta Marble Slabs and Tiles

Brand Name

FOR U Stone

Material

Natural stone

Surface finished

Polished, honed or customized

Slab Size

1800upx600mm; 1800upx650mm; 1800upx700mm etc 2400upx600mm; 2400upx650mm; 2400upx700mm etc

Tile sizes

12″x12″(305X305 or 300X300); 24″X12″(610X305 or 600X300); 24″x24″(610X610 or 600X600); 18″X18″
(457X457); 400*400;800*800; customized

Thickness

10mm; 12mm; 15mm; 18mm; 20mm; 25mm; 30mm; 35mm; 40mm; 45mm; 50mm; customized

Application

For building decoration, like interior floor, stair railing, service counter, window sill, and wall, etc.

Sample order

Available

OEM

Available

Supply ability

10000 sq.m./month

Place of Origin

China(Mainland)
White Marble Inventory | FOR U STONE
Chinese Calacatta Marble Slabs
Calacatta Marble From China
Oriental Calacatta White marble Polished Slabs
Calacatta Oriental Marble Slabs
Oriental Calacatta Marble Slab is known for its durability and low maintenance. Its high resistance to heat, water, and staining make it a perfect choice for kitchen countertops and bathroom vanities. Its polished finish is perfect for adding a touch of sophistication to any space, as it enhances the natural beauty of the marble and its intricate patterns.
In terms of its application, Oriental Calacatta White Marble can be used in a wide range of design styles. Its neutral color and fine texture make it versatile enough to be paired with a wide range of materials such as wood, metal, and glass. It can also be used in combination with other marbles to create a unique and distinct look. Its fine texture and smooth surface make it a great choice for creating accent walls and large format tiles, which can be used to create seamless and harmonious designs.
White Marble Options for High-End Interior Designs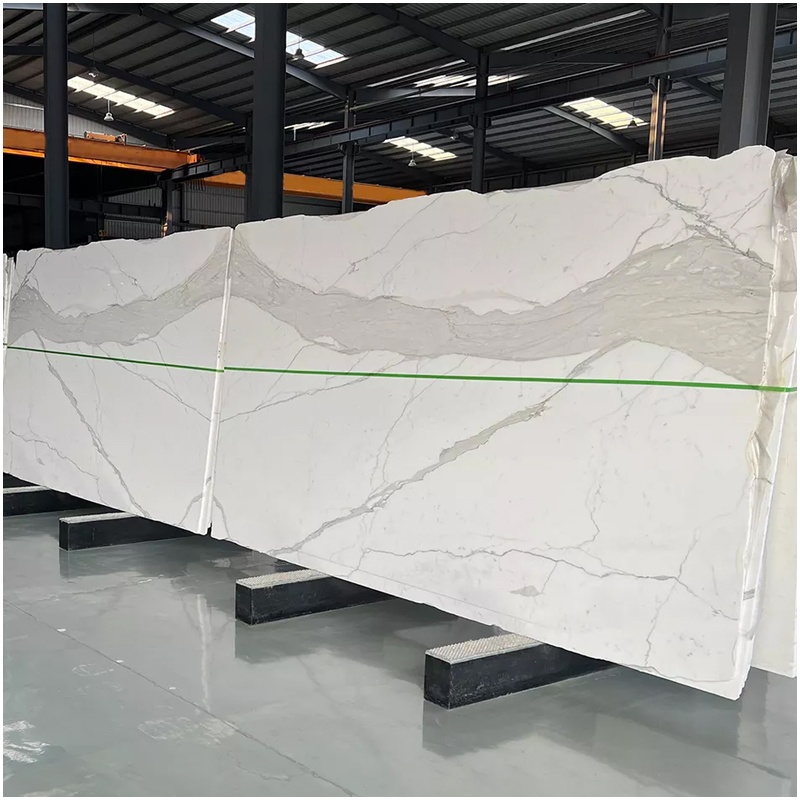 Calacatta Italian Marble Slabs
With a superficial gray vein paired with a pure white marble background, this Italian natural white marble slab Calacatta brings the minimalist interior aesthetic design to the forefront, either mixed and matched or used alone to give the interior space a luxurious and rustic feel. This white marble is the only one in the world that can be used to create a variety of interior designs, and decoration companies are enthralled. The white calacatta slab's minimalist natural texture and white snow background complement each other.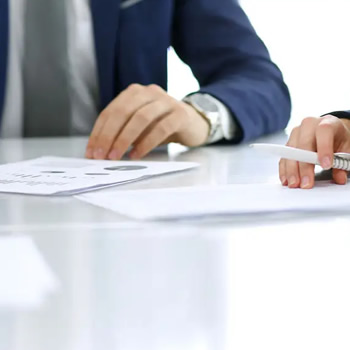 Statuario White Marble | Luxury Marble
Statuario White Marble from Italy is of higher quality and luxurious. It has distinct gray and gold stripes as well as a striking bold pattern. This marble is regarded as one of the most important white marbles. Heavy, bold gray lines are interspersed with lighter patterns in Bianco Statuario Marble. Statuario marble can also be found in Italy. White Marble, Natural Statuario is in short supply and in high demand. This marble is more difficult to find due to its scarcity. As a result, it is a costly stone.
Natural Marble Factory | FOR U STONE
For U Stone is a professional stone product manufacturer with White Marble slabs and tiles, marble mosaic tile, water jet mosaic tile, marble inlay, countertop, vanity top, table top, sink, stone artworks, and other stone materials are used for floor, wall, decoration, hard landscaping, and construction. Our products have been exported to over 60 countries, including the United States, Europe, Southeast Asia, the Middle East, Australia, and Africa.
We keep professional relationships with customers, builders, designers, fabricators, architects, and contractors, as well as retailers all over the world. Our professional team offers full project design, customization, and processing services for a variety of key projects including hotels, hospitality, commercial, restaurant, residential, airports, subway stops, railway stations, squares, villas, interior and exterior decoration, and more.