Black Mist Granite Pattern Sintered Porcelain Glossy Slabs For Wall and Countertops 
Black Mist Sintered Stone Slab is a lovely advent from FOR U STONE that mixes beauty and sturdiness in an unmarried. The fusion of dark grey and black palettes, complemented by using light whitish-gray waves, creates a unique visible appeal that exudes luxury and sophistication. This Black Sintered Porcelain Slab is a versatile desire for numerous surfaces, countertops, walls, and floors, both interior and exterior.
This Granite Effect Black sintered porcelain slab is ideal for folks with a soothing and muted look. Its herbal black mist granite appearance is finished with advanced technology, ensuring sturdiness and longevity. This black sintered porcelain slab is recommended for interior and outside duties, mainly in areas with freezing climates. It's a flexible preference for packages 3 mm to 12 mm thick.
Black Sintere Stone Countertop Salsb

Black Mist Granite Effect Sintered Stone: An Epitome of expensive and staying power

The Unique Natural Stone Look design, Black Mist Granite Effect Sintered Stone, epitomizes luxury and endurance. This sintered stone is crafted using advanced generation, creating a unique visible appeal that resembles a mist enveloping the middle of the night sky. The dominant dark grey-to-black spectrum, complemented with slight whitish-grey waves, creates a canvas of profound beauty that exudes sophistication and comfort. Its sturdiness and versatility make it popular for several surfaces, such as partitions, flooring, and countertops.

Black Mist Granite pattern Sintered Stone: diverse surface options

For bendy floor options, Black Mist Granite pattern Sintered Stone is a top-notch desire. It's available in numerous finishes, which consist of smooth and matte, that cater to specific tastes and options. The easy quit resonates with luxury and beauty, even as the matte finish creates a more muted and complicated appearance. With this sintered stone, you can make the environment you pick out, whether or not it is for a conventional build.
Black Granite Porcelain Slab: A undying conventional
Black Granite Porcelain Slab is a timeless convention that does not exist in favor. This sintered stone has crafted the use of the superior generation, which creates a natural black granite appearance that is cute and robust. It's a famous choice for numerous surfaces, interior and outside flooring, walls, and countertops. Its versatility and sturdiness make it a terrific choice for excessive web page visitors in areas of business spaces and public homes.
Black Granite Sintered Wall Tiles: A modern-day Twist on a traditional

Vein Matched or Bookmatched with Black Granite Sintered Wall Tiles is a modern-day twist on a conventional. Those sintered wall tiles have a lovely and durable natural black granite look. With their versatility and sturdiness, they desire diverse wall programs, showers, backsplashes, and accent walls. Those wall tiles are available in notable sizes, finishes, and thicknesses, making them a bendy preference for exceptional design applications.

Black Mist Granite Sintered Porcelain countertops: a superbly stylish preference

Natural Granite Look in Black Mist, Granite Sintered Porcelain countertops, are a wonderfully fashionable desire for any kitchen or lavatory. These sintered porcelain countertops function as an herbal black mist granite look that exudes luxury and sophistication. They are long-lasting, scratch-resistant, and easy to maintain, making them famous for residential and industrial packages. With their several finishes and thicknesses, you can create a unique appearance that enhances your design fashion.
Black Mist Sintered Stone offers a bendy and durable preference for numerous surfaces. Diverse alternatives exist, from black sintered porcelain slabs to black mist granite effect sintered stone slabs. Whether or not you choose a smooth or matte stop, a current-day or traditional appearance, a Black Mist Sintered Stone meets your design desires. With advanced technology and craftsmanship, these sintered stones can last many years.
1. Standard Sizes of Black Sintered Porcelain Slab and Countertops
 Black Granite Effect Sintered Stone Slab & Countertops

Like Quartz, Sintered Stone is a manufactured product made from a natural stone base. Depending on the manufacturer, Quartz has

a base of 88%-95% natural quartz stone mixed with pigments, polymers, and resins, which is what bonds the slab together

Popular Color of Sintered Stone from FOR U STONE

White, black, pink, red, blue, beige, grey, brown, multicolor

800x2600mm, 900x1800mm, 1200x2600mm, 1600x3200mm, any size can cut

a)-Surface Finish: Polished, Honed, Leathering Etc

Kitchen countertops, kitchen tops, bathroom vanity tops, worktops, laundry, table tops, bench tops, island tops, bar tops, backsplash, shower stalls, tub surrounds, wall tile, wall cladding, and floor tile.

Countertops, Bath Vanity Tops, Wall Tiles, Floor Tiles, etc

1) Inner packing: Cartons or foamed plastics (polystyrene).

2) Out packing: Seaworthy wooden crated with fumigation
2. 12mm Granite Effect Black Sintered Porcelain Slab
Timeless programs: beyond just countertops




Mission beyond conventional applications with the Granite appearance Porcelain Slab. At the same time as it stands unparalleled as a countertop material, its elegance is equally suitable for fire mantels, hearths, vanity tops, and even desk surfaces. Its inherent sturdiness and visible enchantment make it a becoming desire for each home and industrial area.

An Architect's Dream: The Multifaceted application




The Black Granite Sintered Wall Tiles serve as a flexible canvas for those inside the actual property and indoor layout. Perfect for several programs, from kitchen countertops to wall panels, flooring, and stairs, it seamlessly blends aesthetics with capability. Whether or not you envision a minimalist condo, a sprawling villa, or an industrial space like a lodge and office, the Black Mist granite sintered porcelain gives an unparalleled visible and tactile level.
| | |
| --- | --- |
| | |
3. Chinese Leading Granite Effect Black Sintered Porcelain Slab and Countertops Factory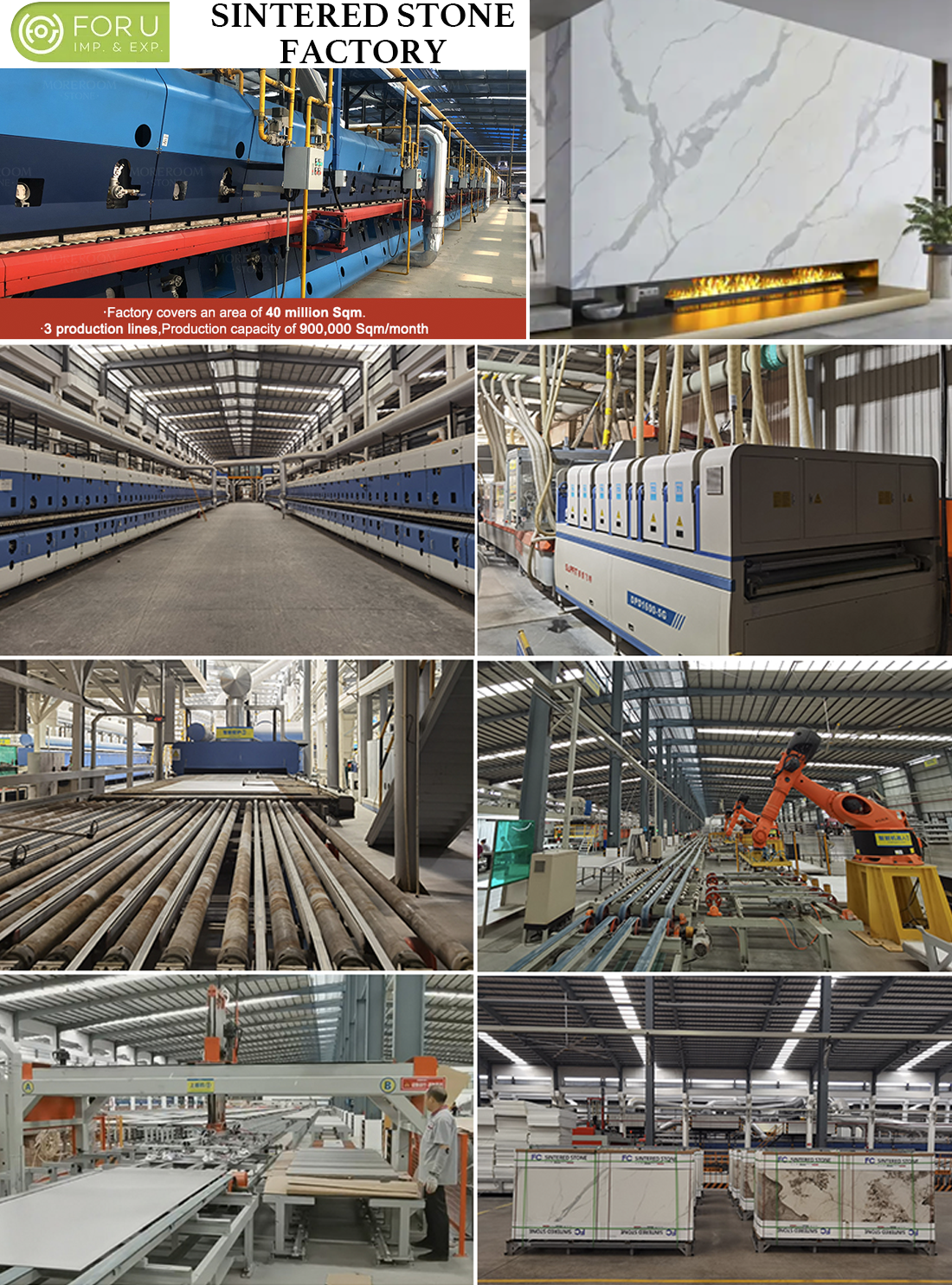 While you think about durability merged with extraordinary beauty, Black Mist Granite Sintered Porcelain countertops come to the vanguard. As one of the state-of-the-art entrants in FOR U STONE's sintered stone collection, it epitomizes energy, making it resistant to wear and tear, regardless of where it's installed. Such enduring beauty makes it a funding worth making.
The Black Mist Granite effect Sintered Stone is more than only a surface; it is enjoyable. A unique amalgamation of artwork, luxury, and staying power, it is a testament to FOR U STONE's commitment to refinement and elegance.