Brazil Exotic Cosmopolitan Backlit Quartzite Slabs
Cosmopolitan Quartzite is a luxury natural Brazilian stone with a unique individual and style. Its vibrant tones and intricate merlot veins testify to nature's artistry and resilience. This stone is more significant than just a floor; it's an experience that transforms any area.
Quarried in Brazil, The Cosmopolitan Quartzite Slab is a gem that embodies the country's rich geology. Acknowledged by its myriad names, such as Cosmopolitan Red Quartzite Cristallo Cosmopolitan Quartzite, this pink-tone exotic quartzite stone captures the essence of nature's palette.
Its colorful tones, ranging from sangria-crimson to silvery crimson, come alive with intricate merlot veins, giving every slab of Cosmopolitan Red Quartzite an incredible person. When backlit, the stone unveils a charming translucence, a characteristic that elevates it from being just some other stone to an art piece.
Cosmopolitan Quartzite Slab – The Unique Stone from Brazil
This fantastic Cristallo Cosmopolitan Quartzite is unrivaled in its splendor and utility. It's a favorite amongst architects and indoor designers because of its consistent and expansive utility. The slab dimensions of 3160x1730x20mm or other jumbo sizes make it feasible to create big surfaces with an unbroken look.
The Cosmopolitan Quartzite Slab is meticulously crafted to perfection, to be had in a polished finish. This end accentuates the stone's natural splendor and shade, making it an appealing addition to any area. The slab's length suits large-scale projects, including countertops, flooring, and backsplashes.
The Backlit Cosmopolitan Pink Quartzite Slab is a grandeur piece that brings an unequaled style to any space. Whether or not it is used vertically or horizontally, this stone provides a touch of beauty and class to any room. Its translucent first-rate makes it a high-quality choice for lighting fixtures featuring its splendor.
Cosmopolitan Quartzite Polished Slab is a stone that could remodel any space into artwork. It is a versatile cloth that blends well with different natural stones and granite, marble, and travertine. This first-rate makes it viable to create particular designs and patterns that replicate the owner's fashion and character.
The Cristallo Rosa Cosmopolitan Quartzite's sturdiness is another preference amongst architects. It can resist heavy foot visitors, making it an excellent alternative for excessive site visitors areas, including lobbies, hallways, and residing rooms. Its resistance to warmth, scratches, and stains makes it ideal for indoor and outdoor spaces.
The Cosmopolitan Exotic Quartzite is a unique stone that captures the essence of nature's palette. Its vibrant tones, complex veins, and translucence make it an incredible desire for architects, designers, and owners. It is a stone that transforms any space, adding beauty, sophistication, and fashion to any room. Its sturdiness, versatility, and herbal beauty make it a super funding for any project.
Dimension of Wine Rose Color Quartzite Stone
Brazilian Exotic Quartzite Cristallo Cosmopolitan Backlit Slab For Villa TV Wall Design

(3)Strong corrosion-resistance

(4)High temperature resistance

(5)Non-toxic and non-radioactive

Interior & Exterior Decoration. It is widely used in countertops, washing basins, and bar counters and is also suitable for exterior wall

paneling, flooring, etc.,

300 x 300mm, 600 x 600mm,

800 x 800mm etc,

10mm, 15mm, 18mm, 20mm, etc

96″ x 25.5″, 108″ x 26″, 96″ x26″,

108″ x 25″ etc

20mm; 30mm; 20mm+20mm laminate and etc

96″x36″, 108″x36″, 96″x40″, 72″x36″ and etc

31″x22″, 37″x22″, 49″x22″, 61″x22″, 73″x22″ and etc

1000-1300x300x20/30mm & 1000-1300x150x20mm

Polished, Flamed, Honed, Split, Tumbled, Sandblasted,

Chiseled, Bush-hammered, Mushroom, etc.

(1)Standard Exporting Seaworthy Package

( Inner: plastic film and foam; Outer: Solid Wood crates or pallets.)

(2) Color Difference Control

(3) Thickness tolerance: +/-0.5mm, +/-1mm

(4) All Products Checked by Experienced QC
Semi-Precious Exotic Quartzite Slabs
A Wide Range applications of Cosmopolitan Quartzite:
Countertops: With its sturdiness surpassing many natural stones, Cosmopolitan Quartzite Stone is a high-quality preference for countertops. Whether or not in kitchens, where resilience is a high requirement, or in bathrooms, where aesthetics play a critical function, this stone sticks out. Its spell-binding patterns focus on every countertop, while its sturdiness ensures durability.
Walls and floors: Whether or not you choose the polished Cosmopolitan Quartzite Slab or the diffused Cosmopolitan Honed Quartzite Slab, partitions and floors embellished with this Brazilian Exotic Quartzite end up an instant communique starter. Its versatility ensures it complements conventional and current decors, making it a sought-after preference for homes and commercial spaces.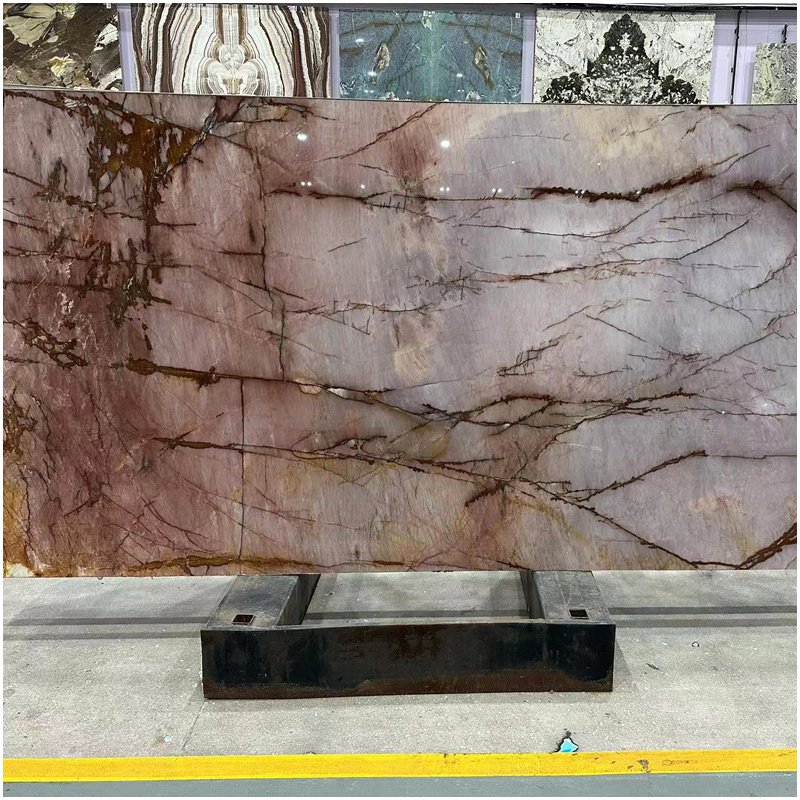 Unique projects: The Backlit Cosmopolitan pink Quartzite Slab brings a hint of magic to specialized initiatives. Think about a feature wall in a luxurious inn lobby or a statement ceiling in a high-cease eating place; the backlit effect brings out the stone's translucence, creating an enthralling environment.
Outside Decor and Construction: The Cosmopolitan Exotic Quartzite isn't always constrained to interiors. Its power and resilience make it best for external packages. From wall claddings of a current villa to the steps of a grand inn front, its beauty stays undiminished, even in the face of external factors.
Luxury Quartzite Stone Factory
Quality Control
One/ Gloss degree 45 or up
Two/ Thickness tolerance: ( ±1mm)
Three/ Diagonal tolerance: ( ±1mm)
4/Surface flatness tolerance: ( ±0.3mm)
Quality Assurance: During the production process, from material choice to fabrication to packaging, our quality assurance people will strictly control every process to ensure quality standards and punctual delivery.
All our products are thoroughly inspected one piece by one piece.
Delivery, Shipping, And Service
Packing and Loading about gray quartzite countertops
| | |
| --- | --- |
| Package | (1) Slab: Seaworthy wooden bundles; |
| | (2) Tile: Styrofoam boxes and seaworthy wooden pallets; |
| | (3) Vanity tops: Seaworthy, wooden solid crates; |
| | (4) Available in Customized packing requirements; |
| | All the above packages will be fumigated and stamped for export orders; |
| | 2cm slabs: 15-18 pcs / 75 sqm / 4100kgs per bundle |
| | 3cm slabs: 10-13 pcs / 50 sqm / 4100kgs per bun |
FAQ
01. How to get a sample?
The sample will be provided on the condition that:
* Sample requests less than 200*200mm can be sent for quality tests free of charge.
* Sample delivery cost will be at the buyer's account.
02. When to start production?
* Right after our bank confirms the arrival of the L/C or the advance payment.
03. Delivery Leadtime
* Lead time is around 2-3 weeks per container.
04. Packaging
* Packing in export standard quality wooden crates, hardboard carton boxes, or pallets based on request.
05. Guarantee & Claim?
* Replacement or repair will be done when any manufacturing defect is found in production or packaging.
While the Cosmopolitan Quartzite is in a league of its own, the Cristallo Rosa variation merits a unique mention. The name also incorporates a soft red hue, paying homage to a serene sunset. Whether or not utilized in a bedroom to rouse an experience of tranquility or in a spa to decorate the atmosphere of rest, Cristallo Rosa by no means fails to electrify. Selecting Cosmopolitan Quartzite Slabs, Accent Wall, and countertops from FOR U STONE, be it the conventional or the Cristallo Rosa variation, is deciding on extraordinary splendor, sturdiness, and versatility. Each slab tells an utterly unique tale, waiting to be part of houses, motels, offices, or any area that deserves nothing but the pleasant. So, while contemplating a stone that effortlessly blends artwork with functionality, Cosmopolitan Quartzite stands as an unrivaled desire. Include it and let every area tell a story of timeless beauty.

Suppose you're interested in FOR U STONE's luxury and popular decoration materials like Cosmopolitan Quartzite slabs, tiles, tables, and countertops. In that case, you are welcome to buy quality products at an affordable price with us. As one of China's leading Cosmopolitan Quartzite manufacturers and suppliers, we also support wholesale service. For more info, contact us now.