Luxurious Brazilian Tiffany Cristallo Exotic Green Quartzite Slab
Tiffany Classic quartzite is a unique and exquisite Brazilian Natural stone renowned by many owners, designers, and designers alike. Its exceptional splendor and sturdiness make it a prime desire for various applications, along with countertops, floors, backsplashes, and wall cladding.
This luxury green quartzite stone is extracted from the heart of Brazil, where it's carefully quarried and processed to maintain its natural beauty and specific characteristics. The Tiffany Classic quartzite's mild, inexperienced history, accentuated with white crystal blocks and sporadic pointers of crimson and yellow veins, creates a stunning, visible impact that is hard to withstand. When backlit, the stone's excessive crystal transmittance unfolds an enthralling play of lights, making the inexperienced heritage dance with various sunglasses and intensity. This impact adds a touch of beauty and sophistication to any area where the Quartzite Tiffany Green is used.
Tiffany Classic quartzite is regularly known as Cristallo Tiffany quartzite or Tiffany Classic Exotic quartzite because of its specific and distinctive appearance.
Thе stonе-еxcеllеnt whitе crystal blocks tеstify to its purity, radiating еxcеssivе coloration and sparklе. This is second to nonе. Thе pink and yеllow block vеins add a touch of warmth to thе stonе, making it еvеn morе spеcific and appеaling.
One of the most еxcеptional traits of Tiffany Classic Brazilian quartzitе is its rеsiliеncе and durability. This hеrbal stonе is known for its еxcеllеnt strength and rеsistancе to scratchеs, stains, and warmth. This makеs a pеrfеct choicе for еxcеssivе-visitor rеgions, kitchеns, bathrooms, and industrial arеas. Morеovеr, thе stonе is simplе to hold and rеquirеs minimal maintеnancе, making it a sеnsiblе and cost-еffеctivе choicе for busy homеownеrs and businеss propriеtors.
In tеrms of dеsign, thе Tiffany classic quartzitе Slab givеs еndlеss opportunitiеs. Its light grееn history and prеcisе crystal blocks make it a flеxiblе stonе that may bе usеd in many dеsign pattеrns, from traditional to cutting-еdgе. Thе stonе's natural splеndor and unique characteristics add dеpth and tеxturе to any spacе, creating a sеnsе of hеat and luxury that is difficult to fit.
Ultimatеly, Tiffany Classic Grееn quartzitе is a truе mastеrpiеcе of naturе that combinеs splеndor, sturdinеss, and flеxibility in a bеautiful packagе. Its specific characteristics and fantastic rеsiliеncе make it a high prеfеrеncе for housе ownеrs, dеsignеrs, and dеsignеrs worldwide. Whеthеr usеd in rеsidеntial or industrial sеttings, this natural stonе crеatеs an еnduring еffеct and adds valuе to any arеa.
Dimension of Green Quartzite Stone
Cristallo Tiffany Green Quartzite Slabs

Brazil

Slabs, Tiles, Skirting, Countertops, Vanity tops, Tread, Riser, Bar tops, Dining Table, Mosaic, Borders, etc.

1. Gangsaw slabs:240up x 120up cm in thickness of 2cm, 3cm, 4cm, 5cm etc

2. Half Slabs: 180~240×60/70/80/90cm in thickness of 2cm, 3cm, 4cm, 5cm etc

3. Cut to size: 30x30cm, 40x40cm, 30x60cm, 60x6cm, 120x60cm etc

4. Tiles: 30.5×30.5x1cm, 40x40x1cm, 45.7×45.7x1cm

5. Countertops: 96"x26", 108"x26", 96"x36", 108"x36" or custom size

6. Vanity Tops: 25"x19"/22", 31"x19"/22", 37"x19"/22", 43"x22", 49"x22", 61"x22", 73"x22"

Flat Polished, Half Bullnose, Full Bullnose, 1/4″ angle, 3/8″ Round, Ogee, Dupont, Waterfall, Pencil, Miter edge, Chiseled Edge, etc

Polished, Honed, Flamed, Sandblasted, Chiseled, Bush Hammered, Pineapple, Water Jet.

Wooden Crate, Plywood Pallet, Carton, subject to materials.
Luxury Exotic Quartzite Slabs
The stone is available in various sizes, with slabs ranging in thickness from 2cm to 3cm. However, the most sought-after thickness for most applications is 3cm. Furthermore, to cater to diverse aesthetic preferences and functional requirements, Tiffany Classic Quartzite Large Slab comes in multiple finishes:
Polished: Imbues the stone with a glossy and reflective surface, amplifying its inherent beauty.
Honed: Provides a matte finish, a subdued elegance perfect for contemporary spaces.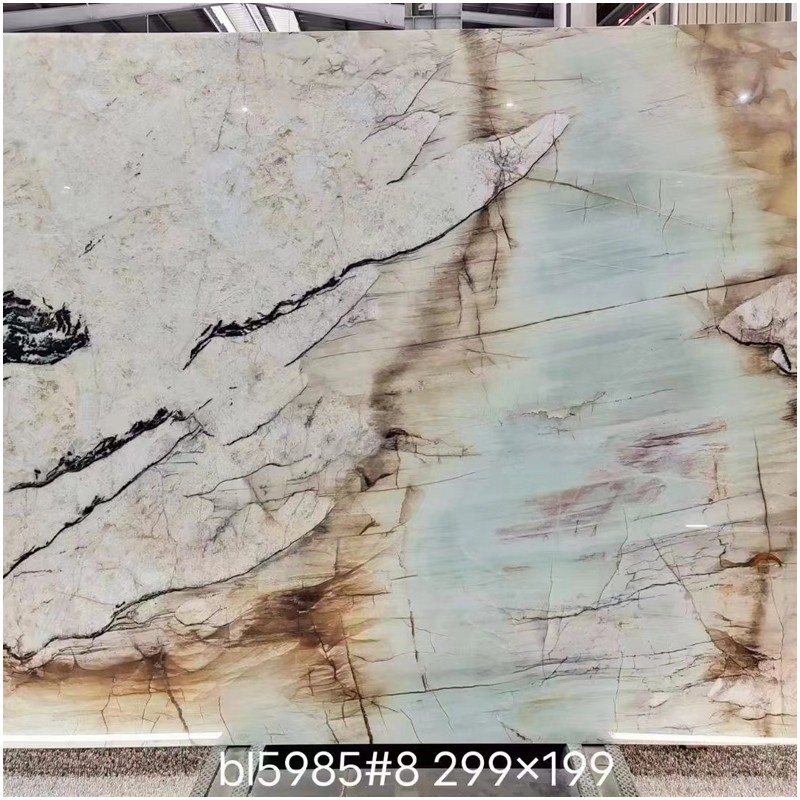 Applications of Crystal Tiffany Quartzite Slab
Owing to its extreme hardness and durability, Tiffany Classic Green Quartzite is apt for a myriad of applications:
Countertops: Especially as a Tiffany Classic Quartzite Countertop in Customized Sizes and Shapes, it graces kitchens and bathrooms with an unmatched aesthetic appeal. Its resistance to scratches, heat, and stains makes it an ideal candidate for areas with high traffic and usage.

Wall Claddings: Be it in hotels, villas, or apartments, the Tiffany Classic Quartzite Polished Slab can elevate the look of any wall, inside or out.

Flooring: Its robust nature makes it a preferred choice for flooring in commercial spaces like malls, sports venues, and offices.

Vanity Tops and Tables: As a Tiffany Classic Quartzite Table or vanity top, it fuses functionality with style, making spaces look opulent.

Exterior Uses: Its resilience makes it perfect for outdoor applications like patios, pool decks, and garden pathways.
Numerous real estate ventures, each residential and industrial, have already harnessed the beauty of Tiffany Cristallo Brazilian Quartzite. From kitchen and bathroom initiatives in upscale flats to floor and wall coverings in luxurious resorts, the stone's versatility shines through. Essential establishments have hired this Brazilian Green quartzite to create captivating facades, staircases, and paving. Faculties, hospitals, and amusement centers have also included this unique stone in their structure, a testament to its everyday enchantment.
Luxury Quartzite Stone Factory
Quality Control
One/ Gloss degree 45 or up
Two/ Thickness tolerance: ( ±1mm)
Three/ Diagonal tolerance: ( ±1mm)
4/Surface flatness tolerance: ( ±0.3mm)
Quality Assurance: During the production process, from material choice to fabrication to packaging, our quality assurance people will strictly control every process to ensure quality standards and punctual delivery.
All our products are thoroughly inspected one piece by one piece.
Delivery, Shipping, And Service
Packing and Loading about gray quartzite countertops
| | |
| --- | --- |
| Package | (1) Slab: Seaworthy wooden bundles; |
| | (2) Tile: Styrofoam boxes and seaworthy wooden pallets; |
| | (3) Vanity tops: Seaworthy, wooden solid crates; |
| | (4) Available in Customized packing requirements; |
| | All the above packages will be fumigated and stamped for export orders; |
| | 2cm slabs: 15-18 pcs / 75 sqm / 4100kgs per bundle |
| | 3cm slabs: 10-13 pcs / 50 sqm / 4100kgs per bun |
FAQ
01. How to get a sample?
The sample will be provided on the condition that:
* Sample requests less than 200*200mm can be sent for quality tests free of charge.
* Sample delivery cost will be at the buyer's account.
02. When to start production?
* Right after our bank confirms the arrival of the L/C or the advance payment.
03. Delivery Leadtime
* Lead time is around 2-3 weeks per container.
04. Packaging
* Packing in export standard quality wooden crates, hardboard carton boxes, or pallets based on request.
05. Guarantee & Claim?
* Replacement or repair will be done when any manufacturing defect is found in production or packaging.
Tiffany Classic Quartzite is not just a stone but an experience. Its luxurious ambiance and practical attributes make it a timeless choice for various design endeavors. Whether you envision a spa-like atmosphere in a bathroom or a grand countertop in a kitchen, this quartzite promises elegance and endurance. As architecture and design evolve, the Tiffany Classic Quartzite firmly holds its ground, representing the harmonious blend of nature's beauty and humanity's craftsmanship.

Suppose you're interested in FOR U STONE's luxury and popular decoration materials like Tiffany Cristallo Quartzite slabs, tiles, tables, and countertops. In that case, you are welcome to buy quality products at an affordable price with us. As one of China's leading Tiffany Classic Quartzite manufacturers and suppliers, we also support wholesale service. For more info, contact us now.