Brazilian Acquarella Backlit Exotic Quartzite Slabs
If you're searching for a natural stone that will captivate your eye and leave you in awe, Acquarella Quartzite Slabs, which you can order from FOR U STONE, are the right choice. Mined in Brazil, this beautiful purple exotic Quartzite is more than just a rock; it's a real piece of artwork. With its combo of colors and variations that mirror nature's best, Aquarella Quartzite Slabs portray an elegant fusion of purple, blue, green, and dark orange colorings as a way to leave you breathless.
Each slab of AQUARELA Quartzite guarantees a unique experience, paying homage to Brazil's airy landscapes. The stone is a testament to Brazil's colorful geology, and it does not genuinely have color; it has depth, motion, and existence. The veining throughout its floor, which varies in depth, creates an enthralling dance of colorations that will keep you captivated for hours.
Basic Information of Quartzite Aquarella
Aquarella quartzite, also called Aquarella Exotic quartzite or Aquarella Brazilian Quartzite, is a true wonder that should be explored more deeply. The stone's herbal formation is seen in its veining, creating an enthralling combo of colors and versions unique to each slab. A few slabs lean heavily on smoky blue-grays, while others embody sun shades of rusty orange, deep purples, and rich veggies.
Wide Range Usages of Brazilian Purple Quartzite
If you want to add a touch of natural beauty to your home or business, Aquarella Exotic quartzite is an ideal choice. Its lovely colors and herbal versions suit various programs, from countertops and flooring to wall cladding and exterior facades. Acquarella Quartzite Slabs is long-lasting, making it a top-notch choice for excessive-traffic areas.
Aquarella Brazilian quartzite is a natural stone that is unique and breathtaking. AQUARELLE Purple Quartzite is worth considering if you're seeking a way to add beauty and elegance to your property or enterprise. Its stunning blend of colors and natural versions makes it an actual work of art that is certain to have an enduring impact.
Here are some of the critical features of Aquarella quartzite:
Color: Aquarella quartzite has a unique ivory cream, greyish purple, and Bordeaux-colored waves patterned appearance. The veining can be subtle or pronounced, varying in color and intensity from piece to piece.

Hardness: Aquarella quartzite has a Mohs hardness of 7, which makes it a hard and durable stone.

Density: Aquarella quartzite has a thickness of 2.65 grams per cubic centimeter, which makes it a relatively dense stone.

Care and maintenance: Aquarella quartzite is relatively easy to care for. It can be cleaned with a mild soap and water solution. It is essential to avoid using harsh chemicals or abrasive cleaners, as these can damage the stone.
Dimension of Purple Quartzite Stone
| | |
| --- | --- |
| Product name | Brazilian Acquarella Purple Quartzite Backlit Slabs |
| Thickness | 18mm |
| Finished | Polished |
| Slab size | 3300upx 1900 up, 3100 up x1900 up, 3300 up x1900 up, 2900 up x1800 up, etc. |
| Tile size | According to customers' requirements |
| Payment terms | L/C at sight or TT(30% advance by TT, the balance be paid on the copy of B/L |
| Package | Export standard wooden bundle package |
| Application | Countertop, table, background wall, bathroom, vase etc |
| Market | North America, Europe, Asia, South America |
16mm Brazilian Exotic Quartzite Backlit Slab
AQUARELA Quartzite includes Aquarella Macaubas Polished Quartzite Slabs or Aquarella Backlit Quartzite Slabs, which are versatile in size and finish. Typical dimensions include measures like 2900×1900, making it apt for grand designs. Whether you seek a glossy, polished finish to light up a luxury setting, a honed matte look for understated elegance or a leathered texture for a touch of rustic charm, Aquarella Macaubas Polished Quartzite Slabs cater to all desires.
How to Choose the suitable Sizes of Aquarella backlit Quartzite For your coming projects?
Here are some additional tips for choosing Aquarella quartzite:
Consider the size of the area where you will be using the stone: If you are using Aquarella quartzite for a large extent, such as a countertop, you will need to choose a large slab to cover the entire region.

Think about the style of your home or business: If you have a traditional home, you may want to choose a slab of Aquarella Quartzite with a more subtle veining. If you have a modern home, you may want to select a slab with a more pronounced veining.

Consider your budget: Backlit Aquarella quartzite can be more expensive than other materials, so it is essential to set a budget before shopping.
Applications and Projects



The electricity and beauty of AQUARELA Quartzite make it a top desire for a plethora of projects, including:
Kitchen: As Aquarella Quartzite kitchen countertops, they turn out to be the centerpiece of any culinary space. Their heat resistance and low porosity guarantee they will continue pristine even under heavy use.
Bathroom: imagine a toilet with Aquarella natural Quartzite Slab vanity tops or Aquarella Quartzite Stone backsplashes, including intensity and luxury to your non-public space.
Outdoor and commercial areas: Given its durability, Aquarella is apt for indoor and outdoor ventures. Commercial spaces can immensely benefit from its beauty, be they resorts, spas, or workplaces. Aquarella Quartzite Stone slabs are ideal for wall panels, floor tiles, stairs, paving, and wall cladding.
Specialized projects: Creative minds can leverage Aquarella for hearth cladding, book-matched wall programs, or even for the grandeur of backlit slabs.
Property Project: Corporations like FOR U STONE have showcased the opulence of Aquarella Quartzite in diverse actual estate ventures, especially in kitchen and toilet tasks. They have also located resonance in areas like accommodations, villas, flats, department shops, and sports venues.
Luxury Quartzite Stone Factory
Quality Control
One/ Gloss degree 45 or up
Two/ Thickness tolerance: ( ±1mm)
Three/ Diagonal tolerance: ( ±1mm)
4/Surface flatness tolerance: ( ±0.3mm)
Quality Assurance: During the production process, from material choice to fabrication to packaging, our quality assurance people will strictly control every process to ensure quality standards and punctual delivery.
All our products are thoroughly inspected one piece by one piece.
Delivery, Shipping, And Service
Packing and Loading about gray quartzite countertops
| | |
| --- | --- |
| Package | (1) Slab: Seaworthy wooden bundles; |
| | (2) Tile: Styrofoam boxes and seaworthy wooden pallets; |
| | (3) Vanity tops: Seaworthy, wooden solid crates; |
| | (4) Available in Customized packing requirements; |
| | All the above packages will be fumigated and stamped for export orders; |
| | 2cm slabs: 15-18 pcs / 75 sqm / 4100kgs per bundle |
| | 3cm slabs: 10-13 pcs / 50 sqm / 4100kgs per bun |
FAQ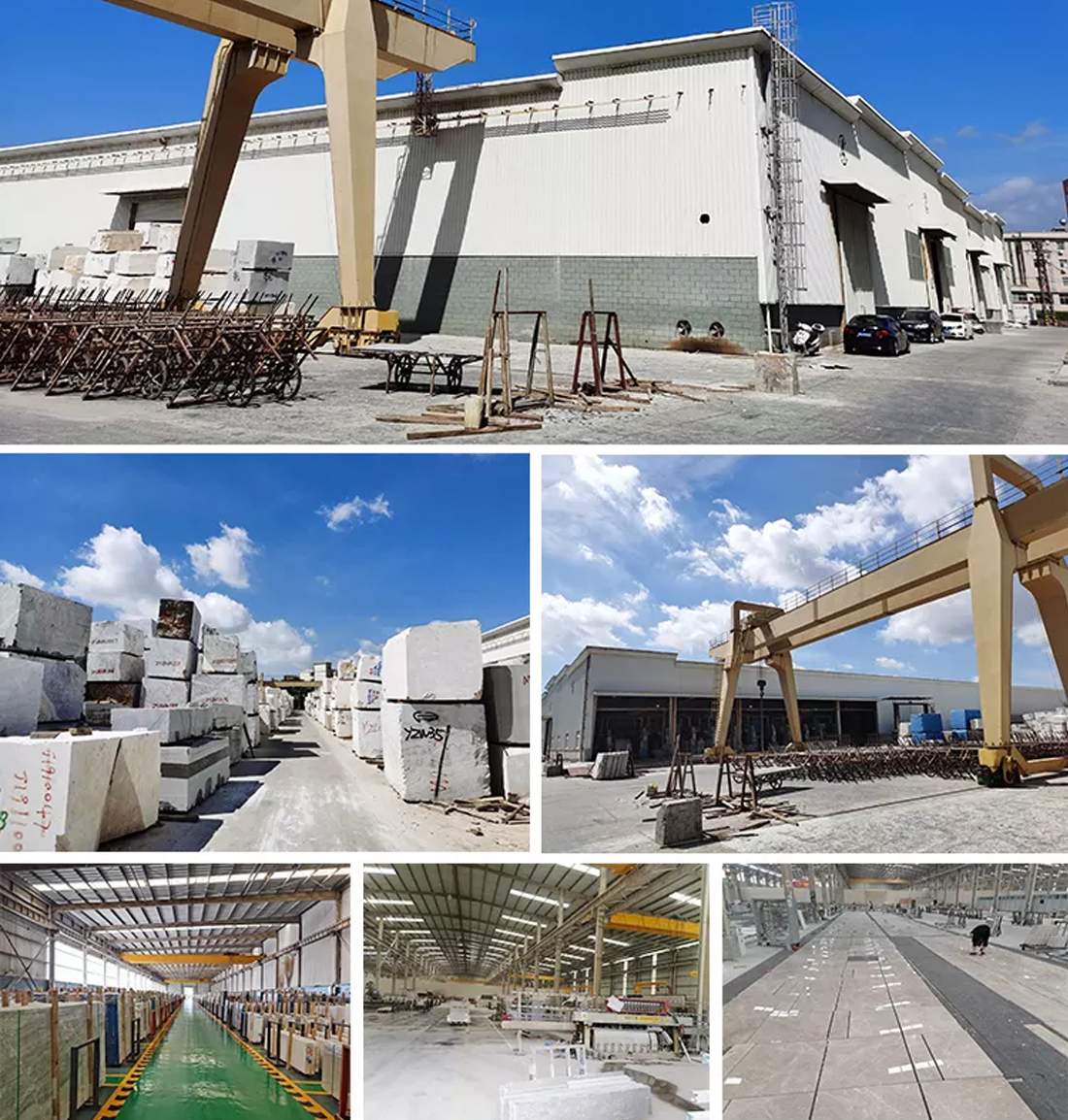 01. How to get a sample?
The sample will be provided on the condition that:
* Sample requests less than 200*200mm can be sent for quality tests free of charge.
* Sample delivery cost will be at the buyer's account.
02. When to start production?
* Right after our bank confirms the arrival of the L/C or the advance payment.
03. Delivery Leadtime
* Lead time is around 2-3 weeks per container.
04. Packaging
* Packing in export standard quality wooden crates, hardboard carton boxes, or pallets based on request.
05. Guarantee & Claim?
* Replacement or repair will be done when any manufacturing defect is found in production or packaging.
The luxury, and timeless beauty of Aquarella Brazilian Quartzite Stone. As a canvas of nature's most breathtaking hues, every Aquarella slab narrates a story, waiting to be a part of your architectural dreams. Explore the magic of Aquarella Quartzite and let nature's artistry elevate luxurious interior spaces to new heights in FOR U STONE Exotic Quartzite Factory.

Suppose you're interested in FOR U STONE's luxury and popular decoration materials like Brazilian Purple Aquarella Quartzite in slabs, tiles, tables, and countertops. In that case, you are welcome to buy quality products at an affordable price with us. As one of China's leading Backlit Exotic Aquarella Quartzite manufacturers and suppliers, we also support wholesale service. For more info, contact us now.