18mm Vivid Green Brazilian Exotic Quartzite Slab
The Vivid GreenQuartzite is a lovely and luxurious Brazilian stone that captivates with its brilliant shade and difficult veining. Each piece of Vivid Green Quartzite is a fantastic Brazilian quartzite with a deep green base, white and grey veins, and natural movements. It is making this stone an ode to nature's craftsmanship. As a testament to time, pressure, and the alchemy of minerals, this unique Brazilian stone is a surprise to behold.
Its dynamic backdrop and difficult veining, shiny, Vivid Green Exotic Quartzite is a symphony of design opportunities. Starting from subtle light colors to profound, deep green resonances, this stone can be used in various settings to create a precise aesthetic in reality. Vivid green Quartzite's flexibility is also superior using its range of sizes, with options ranging from expansive slabs that grace steeply-priced lobbies to intimate tiles for residential sanctuaries.
At FOR U STONE, we recognize the allure of shiny, Vivid Green Quartzite's potential to transform any area. Our selection of vivid green Quartzite is curated to ensure the best exceptionalness and consistency in shade and sample. We offer a wide range of sizes to house any design vision, and our group of experts is constantly available to help with any questions or worries.
Whether or not you're seeking to add a touch of luxury to your house or create a beautiful announcement piece in an industrial area, brilliant Brazilian Vivid Green Quartzite has the precise desire. It is a natural green quartzite stone; it is stunning and practical, imparting sturdiness and easy protection. With its hanging shade and complex veining, the Vivid green Quartzite Slab has the potential to have a lasting effect.
Dimension of Green Quartzite Stone
Vivid Green Brazilian Exotic Quartzite

White, Yellow, Brown, Red, Black, Light Grey, Medium Grey, Dark Grey, Green etc.

Slabs, Tiles, Skirting, Countertops, Vanity tops, Tread, Riser, Bar tops, Dining Table, Mosaic, Borders, etc.

1. Gangsaw slabs:2 40up x 120up cm in thickness of 2cm, 3cm, 4cm, 5cm etc

2. Half Slabs: 180~240×60/70/80/90cm in thickness of 2cm, 3cm, 4cm, 5cm etc

3. Cut to size: 30x30cm, 40x40cm, 30x60cm, 60x6cm, 120x60cm etc

4. Tiles: 30.5×30.5x1cm, 40x40x1cm, 45.7×45.7x1cm

5. Countertops: 96"x26", 108"x26", 96"x36", 108"x36" or custom size

6. Vanity Tops: 25"x19"/22", 31"x19"/22", 37"x19"/22", 43"x22", 49"x22", 61"x22", 73"x22"

Flat Polished, Half Bullnose, Full Bullnose, 1/4" bevel, 3/8" Round, Ogee, Dupont, Waterfall, Pencil, Miter edge, Chiseled Edge, etc

Polished, Honed, Flamed, Sandblasted, Chiseled, Bush Hammered, Pineapple, Water Jet.

Wooden Crate, Plywood Pallet, Carton, subject to materials.

30% Deposit, 70% against copy of B/L.

Xiamen, Tianjin, Chongqing, Qingdao, Shanghai etc
16mm Brazilian Green Quartzite Backlit Slab
Slabs: These can range impressively, with some reaching dimensions of 2800x1700mm to as expansive as 3400x1950mm, suitable for grand installations.

Tiles: For those seeking modularity, tiles come in sizes like 300x300mm and 600x600mm, perfect for intricate designs and spaces.
Project Applications of Brazilian Dark Green Quartzite Stone-Quartzite Vivid Green
Given its inherent beauty and durability, the Vivid Green Brazilian Quartzite becomes an architect's dream, finding applications in various projects:
Residential Realm: The Brazilian Vivid Green Quartzite Slab can redefine living spaces, from kitchen countertops to bathroom vanity tops. The Aqua Verdevivo Quartzite Slab, with its slightly different hue, can be a perfect centerpiece for living rooms, radiating an aura of sophistication.
Commercial Edifices: In spaces like hotels, villas, and offices, the Exotic Vivid Emerald Quartzite not only exudes luxury but also stands robust against high footfall, making it ideal for lobbies and conference rooms.
Outdoor Grandeur: Given its resilience, the Green Quartzite Stone can be used in outdoor settings, be it for wall cladding in sports venues or as paving in parks. It remains unfazed by the elements, retaining its sheen come rain or shine.
Retail & Recreational Spaces: Malls, leisure facilities, and even supermarkets can elevate their ambiance using the Brazilian Green Quartzite. Its versatility makes it apt for everything, from wall panels and floor tiles to staircases.
Luxury Quartzite Stone Factory
Quality Control
One/ Gloss degree 45 or up
Two/ Thickness tolerance: ( ±1mm)
Three/ Diagonal tolerance: ( ±1mm)
4/Surface flatness tolerance: ( ±0.3mm)
Quality Assurance: During the production process, from material choice to fabrication to packaging, our quality assurance people will strictly control every process to ensure quality standards and punctual delivery.
All our products are thoroughly inspected one piece by one piece.
Delivery, Shipping, And Service
Packing and Loading about gray quartzite countertops
| | |
| --- | --- |
| Package | (1) Slab: Seaworthy wooden bundles; |
| | (2) Tile: Styrofoam boxes and seaworthy wooden pallets; |
| | (3) Vanity tops: Seaworthy, wooden solid crates; |
| | (4) Available in Customized packing requirements; |
| | All the above packages will be fumigated and stamped for export orders; |
| | 2cm slabs: 15-18 pcs / 75 sqm / 4100kgs per bundle |
| | 3cm slabs: 10-13 pcs / 50 sqm / 4100kgs per bun |
FAQ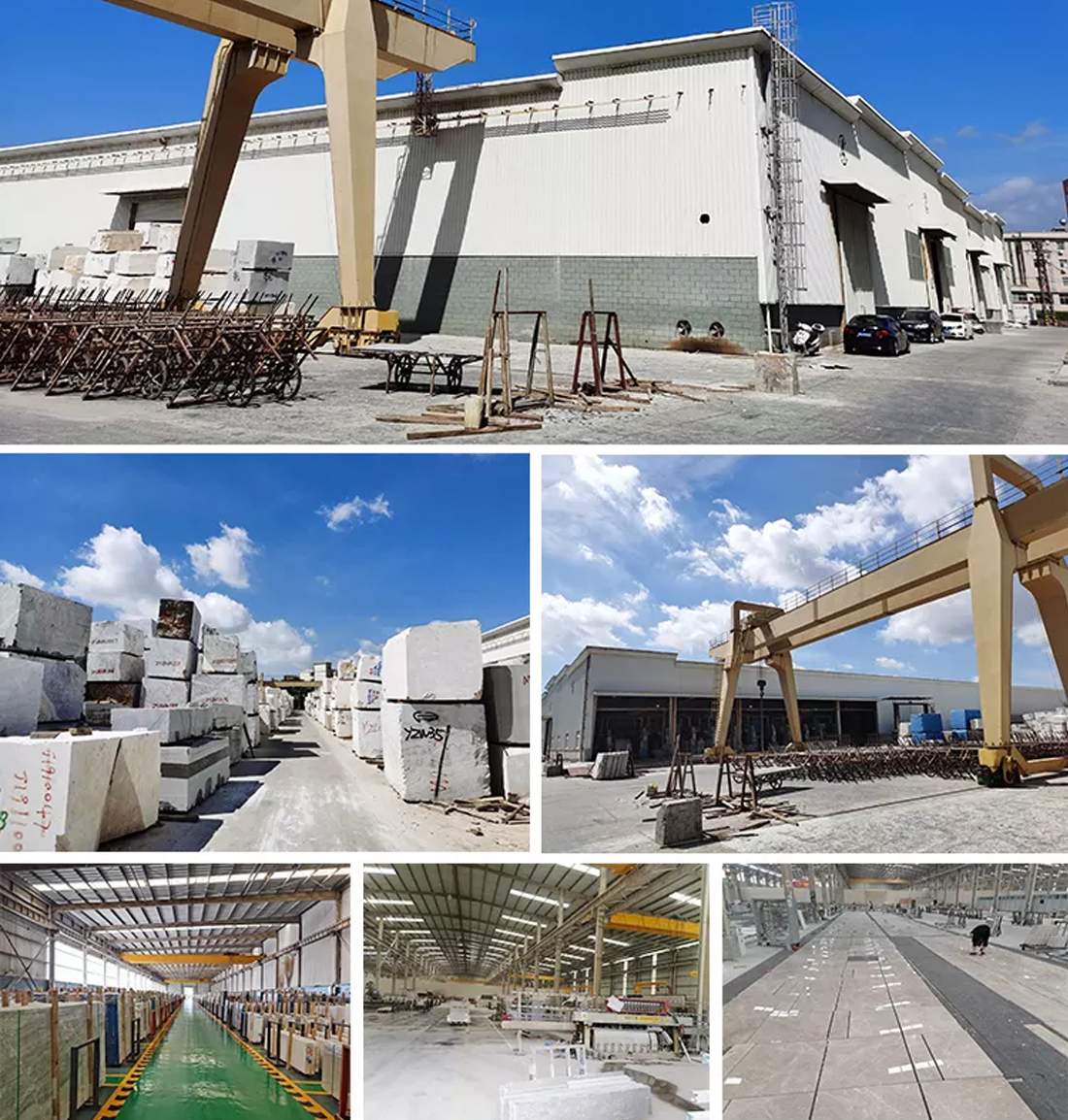 01. How to get a sample?
The sample will be provided on the condition that:
* Sample requests less than 200*200mm can be sent for quality tests free of charge.
* Sample delivery cost will be at the buyer's account.
02. When to start production?
* Right after our bank confirms the arrival of the L/C or the advance payment.
03. Delivery Leadtime
* Lead time is around 2-3 weeks per container.
04. Packaging
* Packing in export standard quality wooden crates, hardboard carton boxes, or pallets based on request.
05. Guarantee & Claim?
* Replacement or repair will be done when any manufacturing defect is found in production or packaging.
Whether you're an architect, a homeowner, or simply a connoisseur of beauty, this quartzite promises to transform spaces and stories alike. Embrace the Vivid Green Quartzite Tiles, Countertops and let nature's grandeur flow through your designs.

Suppose you're interested in FOR U STONE's luxury and popular decoration materials like Brazilian Vivid Green Quartzite Stonein slabs, tiles, tables, and countertops. In that case, you are welcome to buy quality products at an affordable price with us. As one of China's leading Backlit Vivid Green Quartzite manufacturers and suppliers, we also support wholesale service. For more info, contact us now.