Product Details
Volakas Marble Flooring Tiles For Hotel and Commercial Estate Projects
Volakas White Marble Tiles are an elegant natural stone featuring a white background accented with veins of grey and swatches of pale burgundy. This versatile natural white and grey vein marble material compliments many design styles. Volakas White is a dolomitic marble quarried in northern Greece near the town of Volakas. It has a white background and diagonal vein structure ranging from light to thick and vein colors of grey, purple, pink, or even brown. Volakas White Marble Tiles are also very popular as a book-matched finish for accent walls.
Volakas Marble Polished Tiles are Classic in nature and modern in presentation. With the unique ability to tie together rustic and modern de_cor schemes, or to stand alone in its brilliance. Classically timeless, Volakas Polished Marble Tiles contains an array of designer shades, sure to please even the most decerning interior designers.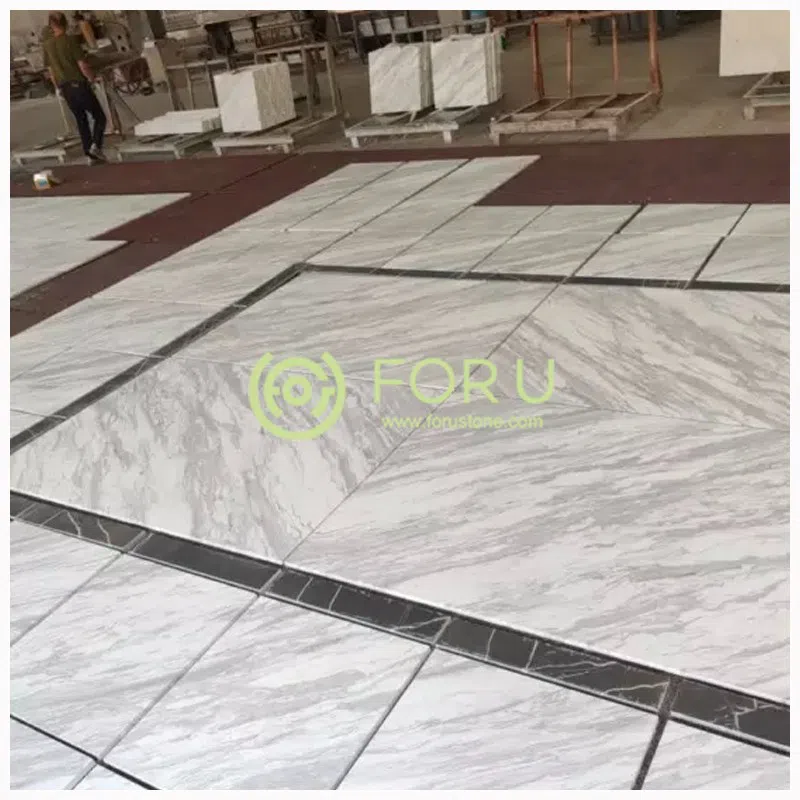 Volakas Marble Tile with Authentic and naturally textured for your commercial and residential projects. Suitable for flooring and cladding systems can be combined with light brown colors and other forms of Delta Stone Collection products such as mosaics, moldings, etc.
Basic Information | Volakas Marble | ForU Stone
| | |
| --- | --- |
| Warranty: 3 years | Name: Volakas Marble Tiles |
| After-sale Service: Online technical support | Stone Form: Cut-to-Size Project Tiles |
| Project Solution Capability: total solution for projects | Marble Name: Volakas White Marble |
| Application: Floor, Wall, Countertops, Stairs, Columns | Surface processing: Polished |
| Design Style: Modern | Grade: Grade AAA |
| Place of Origin: Greek | Usage: Villas, Private Houses, Hotels, and Office |
| Brand Name: FORU STONE | Size: Customised Size |
| Marble Floor Thickness: 10, 12, 16, 18, 20 mm | Material: White Marble |
| Marble Type: White Marble, Marble Tiles, Marble Flooring | Marble Tiles Size: To Be Advised |
Volakas Marble Flooring Tiles | Sizes Details | ForU Stone
Volakas Honed Marble Tile
Size
Slab: 2800 x 1800mm, 2800 x 1600mm, 2600 x 1600mm, 2500 x 1500mm, 2400 x 1400mm, 2400 x 1200mm.
Tile: 305 x 305mm, 305 x 610mm, 610 x 610mm, etc.
Cut-to-size: 300 x 300mm, 300 x 600mm, 600 x 600mm, etc.
Other sizes as per customized request.
Surface
Polished, Honed, Flamed, WaterJet, Leathered.
Package Detail
1) Slab: plastic inside + strong seaworthy wooden bundle outside
2) tile: foam inside + strong seaworthy wooden crates with reinforced straps outside
3) Countertop: foam inside + strong seaworthy wooden crates with reinforced straps outside
Quality Assurance: During the whole production process, from material choosing, and fabrication to package, our quality assurance people will strictly control each single and every process to ensure quality standards and punctual delivery.
Delivery Time: 7 days per container.Min Order: 1 Slab.
Price Item: FOB, CIF & DDP. or we can ship as client request.
Payment: 30% Deposit before production, 70% Balance before shipping.
Photos | Volakas Marble Flooring Tiles | ForU Stone
Mineralogical Composition
Calcite
9 % w
Dolomite
91 % w
Quartz
Physical Mechanical Properties
Apparent Specific Weight
2825,00 kg/m³
Absorption Coefficient
0,19 %wt
Compressive Strength (dry c.)
139,00 MPa
Modulus of Rupture (dry c.)
10,00 MPa
Abrasion Resistance
Quality Control | Volakas Marble Slabs and Tiles | ForU Stone
Quality Control
1) Surface Polished 90° up by the auto-polishing machine.
2) Thickness tolerance: -1/+1mm or -2/+2mm.
Package: Fumigated wooden crates.
Experienced QC will inspect all products before the package.
Packages | White Marble Slabs & Tiles | ForU Stone Factory
About ForU Stone Marble Tile Sizes
Available Sizes
Our factory can produce different sizes of tiles and different thicknesses as 1cm, 1.2cm, 1.5cm, 2cm, and 3cm regarding your project's requirements. Common slab thicknesses are 2cm and 3cm.
Common imperial sizes are:
12×12, 12×18, 12×24, 16×16, 16×24, 18×18, 24×24, 24×36, 32×32, 36×36, 40x40inch…
Common metric sizes are:
30×60, 40×40, 40×60, 40×80, 60×60, 60×90, 80×80, 90×90, 100x100cm
Even though we have the latest technological equipment, we always advise suitable thicknesses considering materials hardness and usage.
If you're interested in our volakas white marble tiles, welcome to buy the quality products at an affordable price with us. As one of the leading Marble Tiles manufacturers and suppliers in China, we also support wholesale service. For more info, contact us now.