Luxury Natural Marble Onyx Marble Stone Glass Composited Tiles
With the arrival of composite natural Onyx Marble substances, the indoor layout has entered a new technology of creativity and practicality. This progressive fabric embodies the aesthetics of genuine Onyx Marble but also offers unparalleled practical advantages, poised to reshape the modern ornament market.
Since its advent in 2008, the Onyx Laminated Glass Panel has become an embodiment of sophistication in interior layout. This revolutionary fusion magnifies Onyx Marble's natural splendor by merging it with the electricity of glass. The aggregate retains the inherent charm of Onyx Marble Laminated Glass Tile while showcasing its outstanding elegance and nobility. The result is a beautiful, precise aesthetic that provides a hint of luxury to any space and gives any room a touch of luxury.
Advantages of Composite Glass Tiles with Natural Onyx Marble
Onyx Marble Laminated Glass Tile has many benefits over natural Onyx Marble. First and significant, it's cheaper, making it reachable to a much broader range of purchasers. Additionally, composite Onyx Marble is much less complicated to work with than natural Onyx Marble, making it an extra realistic preference for interior designers. It's also more significant, long-lasting, and immune to scratches and stains. This makes it an ideal fabric for high-site visitor areas, including kitchens and lavatories.
FOR U STONE: A Leader in Composite Onyx Marble
FOR U STONE is at the vanguard of the Onyx Marble Glass Composited Glass Tile revolution. With substantial revel in glass processing and composite manufacturing, they've delivered a mixed natural Onyx Marble product based totally on a tumbler base plate. This modern product is a testament to their spirit and commitment to excellence. With a sprawling 10,000 square meters processing plant, plentiful stock, and new gadgets imported from Italy, FOR U STONE guarantees the best and consistency in all their products.
Composite Onyx Marble: A Versatile Material for Any Space
One of the most significant benefits of Natural Onyx Stone Laminated Glass Tile is its versatility. It can be used in various programs, from kitchen countertops to bathroom walls and flooring. It can also create stunning accent walls, adding a touch of luxury to any space. Its unique aesthetic makes it a super material for cutting-edge, minimalist designs and conventional, ornate interiors.
The Natural Onyx Laminated Glass Panel is a sport changer in interior design, offering a lower-priced, practical, and beautiful alternative to the Natural Onyx Marble. With its many blessings and precise aesthetic, it is no wonder that it is becoming increasingly famous amongst interior designers and house owners alike. FOR U STONE's commitment to exceptional innovation ensures that Onyx Marble Composited Glass Tile will continue to play a full-size role in the future of interior layout play a whole part in the interior layout's future.
Products Description
Wholesale Translucent Onyx Marble Laminated Glass Panel For Indoor Floor and Wall Projects

Surface Finishing

Polished, Honed, Flamed, Sandblasted, Rough hammered, Bush hammered, Rough picked, etc.

Edge Available

Polished, Bush Hammer, Flat, Flamed, Eased, Beveled, Bull Nose, Ogee, Cove, Dupont, laminated, non-laminated, etc.

Size

Slab:
1800(up) x 600(up)mm
1800(up) x 700(up)mm
2400(up) x 1200(up)mm
2800(up) x 1500(up)mm etc or Customized size

Title:
305 x 305mm
400 x 400mm
457 x 457mm
600 x 600mm Or Customized size

Thickness

10/15/18/20/25/30mm etc

Usage

Indoor/Outdoor Decoration, For floor or wall, Countertops, Vanity tops
Marble Plus Glass Panels
Characteristics of Onyx Marble Glass Composite Panels:
Enhanced Strength: The composite nature of this fabric notably improves bending and shear power, extensively lowering breakage throughout transportation and installation.

Superior Anti-pollutants: Composite panels, with their dense glass backing, provide superexcellent resistance to discoloration and stains.

Color Consistency: As the authentic Onyx Marble Composited Panel is segmented into more than one piece, the consistency in pattern and color turns almost identical, ensuring a uniform appearance.

Simplified Installation: The composite cloth is lighter, stronger, and more cohesive, ensuring a smoother and more secure installation procedure.
Main Advantages of Onyx Marble Laminated Glass Backlit Tile:
Translucency Perfected: The thinness and glass base of the composite Onyx Marble make it more translucent, ensuring higher light penetration and consequences.

Economic Viability: Composite Onyx Marble, being thinner, reduces the original value by around 30%, making luxury much lower priced.

Here are some of the benefits of using onyx marble composite glass panels:

Beauty: Onyx marble composite glass panels are stunningly beautiful. The natural veining of the onyx marble is enhanced by the backlighting, creating a truly unique and mesmerizing effect.

Durability: Onyx marble composite glass panels are very durable. The glass substrate protects the onyx marble from scratches, chips, and stains.

Versatility: Onyx marble composite glass panels can be used in various applications. They are a popular choice for both residential and commercial projects.

Easy to clean and maintain: Onyx marble composite glass panels are easy to clean and maintain. Simply wipe them down with a damp cloth and mild soap.
Applications Beyond Boundaries
The Onyx Laminated Glass Panel from FOR U STONE is not just limited to excessive-cease mansions. Its versatile nature makes it appropriate for various projects, whether real property kitchens, business countertops, wall claddings, or floorings. Its beauty elevates the ambiance of lodges, villas, places of work, hospitals, shops, sports activities, venues, and more significantly, marking its footprint throughout various sectors.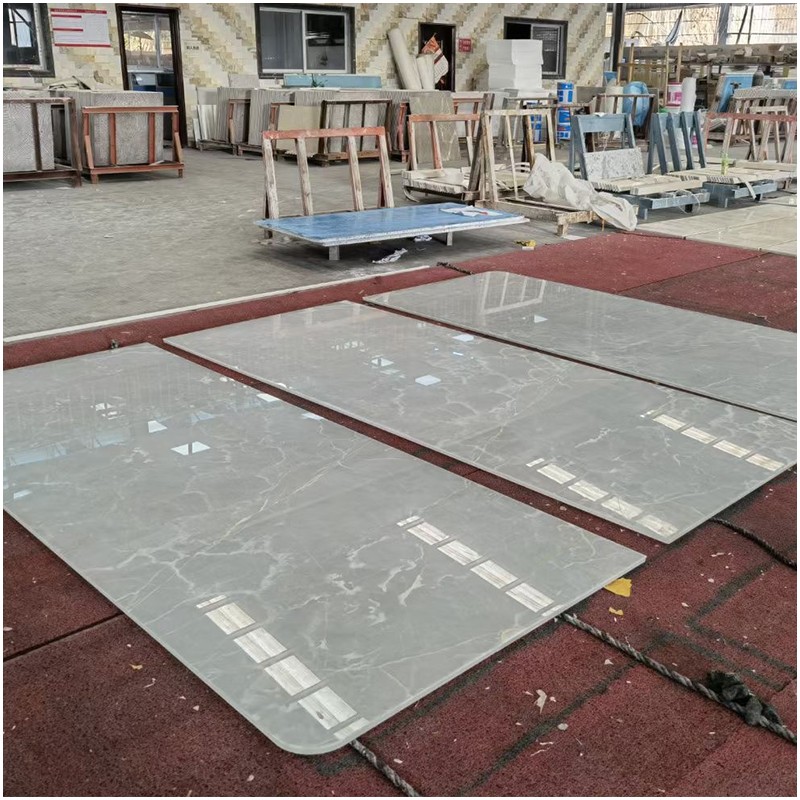 Onyx Marble Tiles and Countertops Factory

The Onyx Laminated Glass Panel and its variations, consisting of Onyx Glass Tiles and Onyx Marble Glass Composited Panel, represent the subsequent section in indoor layout. This precise combination of luxury and practicality, nurtured through FOR U STONE's information, promises to redefine spaces, encapsulating the appropriate amalgamation of aesthetics and characteristics.