Top Quality Natural Polished Beige Travertine Marble Slabs For Sale
Beige travertine is a natural stone that is quarried in Italy. It's widely acknowledged for its smooth, beige color and its natural veining. Beige Italian travertine is a famous desire for diffusion of initiatives such as countertops, vanities, flooring, and walls. It is also a famous desire for outdoor programs, along with pool decks and parties. With Italy as its prime supplier, this beige travertine stone has carved its niche throughout global interiors and exteriors.
The particular styles and beige backdrop make beige travertine a favorite amongst architects. Delicately mild, with shades ranging from alabaster white to creamy ivory, it exudes sophistication. Due to its travertine nature, even in its lighter colorings, it enjoys varied intrinsic patterns. An offshoot of the mild beige spectrum, this variation includes a touch of heat, resonating with spaces that are looking for elegance and comfort.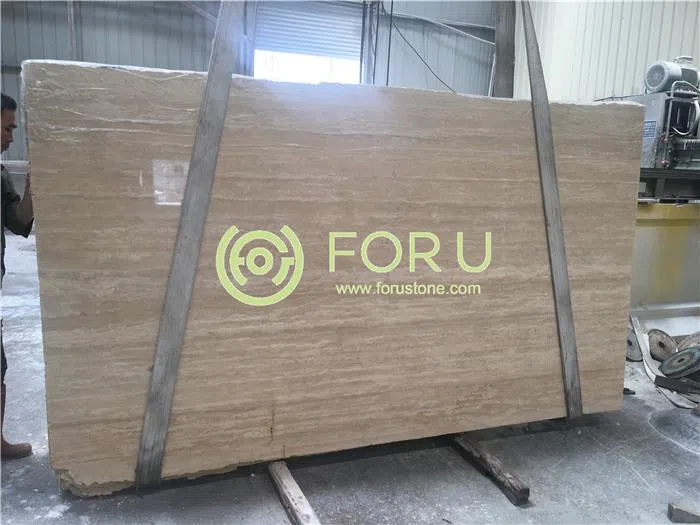 Echoing the wealthy Roman history, this variety, used appreciably in historical Roman edifices, now graces modern-day homes, blending antiquity with modernity. As the name shows, this top-class grade hails from the heart of Italy and is identified globally for its remarkable first-class and aesthetic environment.
Beige Roman travertine is a famous choice for those searching for a natural but sophisticated appearance. Its tender beige coloration and natural veining make it a versatile stone that can be used in a variety of settings. From traditional to trendy, beige travertine can be adapted to match any layout style.
In terms of indoor packages, beige travertine slabs are a famous choice for countertops, vanities, flooring, and partitions. Its natural splendor and sturdiness make it an ideal choice for excessively visited areas. It's also a famous desire for outside programs, which include pool decks and patios. Its non-slip surface makes it perfect for regions that might be exposed to water. Beige travertine stone is a natural stone that is formed from limestone. It is characterized by its porous floor and natural veining. The stone is shaped over heaps of years through the buildup of sediment in warm springs and limestone caves. As a result, every piece of beige travertine is specific, with its own wonderful sample and color variant.
One of the advantages of Roman beige travertine is its potential to resist heat. This makes it an excellent choice to be used in kitchens, where it can be used for countertops and backsplashes. The stone is also proof against scratches and stains, making it a sensible preference for areas with high traffic.
In addition to its practical blessings, the Italian Navona beige travertine is also famous for its aesthetic appeal. The stone's natural veining and specific patterns make it a favorite among architects. Its gentle beige color and warm undertones make it a flexible stone that can be utilized in a variety of layout styles.
Regarding preservation, beige travertine marble calls for a little care to preserve its quality. The stone has to be sealed regularly to protect it from stains and scratches. It also needs to be wiped clean with a neutral pH purifier to keep it from destroying the floor.
Ordinary beige travertine is a natural stone that offers both splendor and practicality. Its precise styles and warm undertones make it a flexible stone that can be utilized in a variety of settings. From indoor applications like countertops and flooring to outdoor packages like pool decks and patios, beige travertine is a famous preference for its durability and aesthetic appeal. With its origins in Italy, this top-class stone is identified globally for its unheard-of niceness and undying splendor.
Basic Info
| | | | |
| --- | --- | --- | --- |
| Model Number: | Beige travertine marble | Stone Name: | Beige travertine marble |
| Surface Finishing: | Polished | Brand Name: | Xiamen For U Stone Imp. & Exp. Co., Ltd. |
| Place of Origin: | China | Marble Type: | Calcite |
| Stone Form: | Big Slab | Usage: | Wall Cladding |
| Size: | Customized | Material: | 100% Natural Marble |
| Name: | Beige travertine marble | Thickness: | 20mm |
| Surface: | Polished Finish | Type: | Marble |
| Application: | Decoration Material | Color: | Beige |
| Product name: | yellow beige travertine marble | | |
Products Specification
Specifications of marble tiles:
Size

pcs/
carton

cartons(pc)/
carate

m2/
crate

kgs/
carte

M2/
Container

Tons/
Container

305×305 x10mm 12″ x 12″ x 3/8″

10

46cartons

42.79

1240

900

26.08

406 x 406x 10mm 16″ x 16″ x 3/8″

6

30cartons

29.67

860

900

26.08

457 x 45x10mm 18″ x 18″ x 3/8″

6

30cartons

37.6

1090

900

26.08

300 x 600 x 20mm 12″ x 24″ x 3/4″

x

100pcs

18

1044

450

26.1

600x600x 20mm 24″ x 24″ x 3/4″
Product Details
Beige travertine marble slabs find their application in a myriad of projects:
Real Estate Ventures: The beige travertine touch in kitchens and bathrooms elevates property value, marrying functionality with luxury.

Commercial Edifices: Ideal for malls, sports arenas, and offices, the stone's durability meets elegance, providing a perfect foundation for business environments.

Leisure and Hospitality: Hotels, resorts, and villas adorned with beige travertine exude opulence, ensuring guests are enveloped in luxury.

Educational and Healthcare Facilities: Institutions benefit from the travertine's aesthetic appeal and its ease of maintenance.
Experience Travertine at its Finest with FOR U Stone
We invite you to our showroom in Tehran, where the magic of beige travertine unfolds in all its glory. From the "Beige Tumbled Travertine Tile" perfect for classical home designs to the sophisticated slabs for modern edifices, every piece tells a tale of the earth's marvelous artistry.
Quality Control
Quality control

Strictly checked by QC.
Surface flatness:+/-0.3mm
Control color variation
Cut and fabricated accurately
Delivery, Shipping, And Service
Packing and Loading about Polished Beige Travertine Marble Slab
Standard Packing Quantity

1cm tile :10pcs/box,31crates/container,27TONS
1.5cmtile:264pcs/crate,28crates/container,27TONS
2cm tile: 200pcs/crate,28 crates/container,27TONS
3cm tile: 132pcs/crate, 28crates/container,26TONS
2cm slab:450m2
3cm slab:300m2
FAQ
| | |
| --- | --- |
| Q | : Where is your factory? |
| Q | : What is the location of your company? |
| A | :Xiamen, Fujian, China. |
| Q | : Where is your branch office? |
| A | : In Shuitou. |
| Q | : What are your main products? |
| A | : Our main products are granite countertops, big slabs, small slabs, tiles, countertops, steps, risers, skirting, windowsill, mosaics, fireplaces, columns, paving stones, cube stones, curb stones, etc. |
| Q | : Are you a trading company or manufacturer? |
| A | : Manufacturer and Trading. |
Beige travertine, with its historical roots and timeless appeal, promises to remain a favorite for epochs to come. Whether you're seeking to infuse a touch of history or modern elegance into your space, beige travertine stands ready to exceed expectations. Celebrate the union of nature and architecture with this unparalleled stone.
If you're interested in our beige travertine marble slabs for sale, welcome to buy the quality products at an affordable price with us. As one of the leading Travertine Slabs manufacturers and suppliers in China, we also support wholesale service. For more info, contact us now.