Customized Beige Travertine Solid Coffee or End Tables
With their charmingly simple and sculptural designs, these tables are an artistic exploration of shapes and forms. Their minimalist aesthetics and refined sophistication subtly reference the revered columns of Ancient Greece. The vintage travertine coffee table, in particular, is a nod to the grandeur of past eras while seamlessly fitting into contemporary spaces. These tables are a harmonious blend of tradition and modernity, carved from nature's bounty and crafted for your convenience.
A Symphony of Shapes: Tailored to Your Taste
The array of Solid Travertine Coffee Table offered allows you to customize your spaces to match your taste. Whether you choose a beige travertine coffee table as a centerpiece for your living room, a smaller version to complement a lounge chair, or an elegant nightstand, these tables fit seamlessly into any setup. You can mix and match different sizes and colours, creating a striking ensemble that echoes your personal style.
Living Stories: Celebrating Uniqueness
The travertine end table and travertine stone coffee table bring the captivating individuality of each travertine stone into your living spaces. Each table carries a distinct character, with the patina adding new chapters to their individual stories. The unique attributes of each piece, crafted in Italy, echo the rich cultural heritage and exceptional craftsmanship that the country is renowned for.
Bespoke Luxury: Creamy Warn Colours Customised Tables
The customised Travertine side table or coffee tables are available in luxurious creamy warn colours. Their understated elegance and artistic design lend a touch of class to your interior spaces, making them ideal for rooms of all sizes. These pieces, easy to place and move, work like subtle pieces of art enhancing the aesthetic appeal of your home or office.
Basic Info
Model NO.

Beige Travertine

Folded:

No

Feature:

Adjustable (other)

Type:

Living Room Furniture

Specific Use:

Coffee Table, End Table, Side Table, Sofa Table

Mail packing:

Y

General Use:

Home Furniture

Design Style:

Modern

Application:

Home Office, Living Room, Dining, Hotel, Apartment, Office Building

Product name:

Living Room Coffee Table Modern Round White Marble Top Coffee Table

Material:

Solid Travertine

Place of Origin:

China

Appearance:

Modern

Q:

50 pcs

Brand Name:

Xiamen For U Stone Imp. & Exp. Co., Ltd.

Delivery time:

40-50 days upon deposit

Color:

Beige

Main material:

Full Travertine Body

Payment terms:

T/T 30% 70%, money gram, western union

Usage:

Living Furniture Modern Coffee Table

Style:

Modern Living Room Furniture

Function:

Living Room Dining Room

Shape:

Oval, Square, Nesting
High Customized Travertine Tables
Customized Sizes of Travertine Tables
Luxury Travertine Coffee Table Living Room Furniture Round Table

Size

75x75x25cm / Customized

Material

Beige Travertine / Others

Finish

Polished/Honed

Our Service

OEM / ODM

Our Advantages

Professional manufacturer of natural stone products with 15 years' experience.

Professional quality control system.

Thoughtful Presale service, medium-sales service, and after-sales service.

3 own factories for different production lines.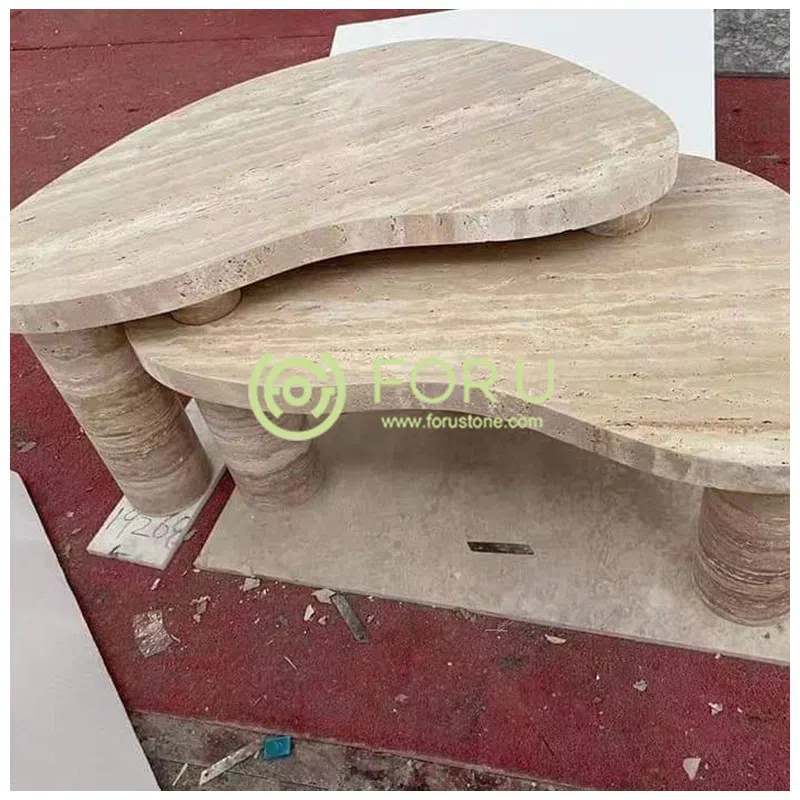 The Versatile Elegance: Suitable for Various Interior Decoration Projects
Designed with a keen eye for detail and crafted to perfection, these tables are a versatile choice for various interior decoration projects. Be it real estate kitchen and bathroom projects, commercial building floor, wall covering facade projects, or enhancing hotel, villa, apartment, office building, hospital, school, mall, sports venues, leisure facilities, supermarket, warehouse, workshop, park, farmhouse, courtyard kitchen and bathroom projects, the round travertine coffee table, round travertine dining table, travertine marble coffee table, and travertine round table cater to every need.
What sets the travertine end table collection apart is the unique personality of each stone. The variations in the natural stone result in a diverse array of patterns and textures, rendering each table truly unique. Over time, the patina contributes to the table's evolving story, adding an intriguing dimension to its charm. Celebrate the diversity and character of these tables as they breathe new life into your living spaces.
A Symphony in Stone: The ForU Collection
The extensive range of the ForU collection, made in Italy, includes the travertine marble coffee table, the round travertine coffee table, and a variety of sizes of the travertine round table. This stunning collection has been designed to cater to a wide range of applications – from the round travertine dining table that serves as the heart of your dining room to the compact yet striking travertine stone coffee table, perfect for accentuating a lounge chair or serving as an elegant nightstand.
Customise Your Own Elegance
Be it the Luxury Creamy Warn Colours Customised Travertine Side or Coffee Table, every piece from ForU Stone promises to enhance your interior spaces with its elegance. These pieces are versatile enough to complement rooms of all sizes and are easy to position, making them as subtle and impactful as a piece of art.
Beige Travertine Tables
Beige Travertine Livingroom Tables
Beige Travertine Round Tables
Travertine Tables in High-end Interior Projects
Whether you're working on a Real Estate Kitchen and Bathroom project, Commercial Building Floor and Wall Covering Facade Project, or looking for unique pieces for hotels, apartments, office buildings, schools, and more – the travertine tables are the perfect choice. Wall panels, floor tiles, stairs, paving, wall cladding, countertops, and vanities are available in various sizes, offering endless possibilities for your interior decoration projects.
Customized Travertine Tables Factory
Quality Control of Natural Stone Tables
For U Stone products are manufactured in compliance with the strict quality standards in the industry. In other words, we keep a top-quality level in the industry. Please feel free to ask us for samples or visit our factory to check our product quality. We are committed to continuously improving our product quality and are responsible for any quality problems. We provide free replacement or refund for any shipments with quality problems.
Delivery, Shipping, And Service
Packing and Loading about travertine tabletop
Slabs Packing: Standard Fumigated Bundles.
Countertop Packing: Padded with Foamed Plastic and Using Export Crates.
Size: 20 ft container 40 ft container
FAQ
Q 1. Where is your main factory?
Shuitou, Fujian province, China
Q 2. What are your main products?
Countertops, Vanity Tops, Granite Tiles, Stair, Skirting, Window Sills, Big slabs, Small slabs, mosaic tiles.
Q 3. What is your MOQ?
Our MOQ is usually 100 square meters.
Q 4. What is your delivery time?
Normally, within 15-45 days after we receive the deposit.
Q 5. What is the shipping port?
Xiamen
Q 6. What are your payment terms?
We accept T/T 30% deposit, 70% balance before loading, or L/C at sight.
Q 7. What are the main markets for your products?
North America, Europe, Australia, East Asia, the Middle East, etc.
The world of Travertine Centre Tables is a journey into the depths of time, resurfacing with pieces that echo the brilliance of past epochs and the charm of modern design. Crafted from the vibrant travertine marble, each table is not just a functional piece of furniture but a story – an individual personality carved in stone. Explore this collection and invite a piece of history into your spaces, enhancing them with timeless elegance and unparalleled sophistication.
If you're interested in our solid travertine coffee table, welcome to buy the quality products at an affordable price with us. As one of the leading Travertine manufacturers and suppliers in China, we also support wholesale service. For more info, contact us now.