Natural Ture Marble Stone Concave Shape Thin Mosaic Wall Tiles
The Natural Marble Concave Mosaic Tiles, an offering from the renowned FOR U STONE mosaic tile factory, are a testament to tasteful interior design. This series boasts sculpted, concave natural marble shapes that deliver an alluring undulating surface. The variety of marbles incorporated in this product line brings forth a sense of subtle classicism. Akin to an artist's toolkit, these tiles create a dynamic visual play that's both captivating and timeless.
Our Ture Marble Concave Thin Mosaic Tiles provide a 3D effect, adding a unique textured touch to your decor. Available in several exquisite variations such as elevated green marble, jade green, Calacatta Gold Marble, Indian Dark Green Marble, Norwegian Rose Pink Marble, and more, they embody class and versatility.
The Calacatta Gold Concave Marble Mosaic Tiles, particularly, are in a league of their own. Renowned for their stunning veining, they truly reflect the essence of Calacatta marble, effortlessly elevating the aesthetic appeal of your spaces.
Our Concave Shape Marble Mosaic Tiles are ideal for a broad range of applications. From enhancing the look of real estate kitchen and bathroom projects to adding a touch of class to commercial building countertops, vanity tops, wall, and floor coverings, these tiles are a versatile choice.
FOR U STONE's Natural Marble Concave Bathroom Mosaic Tiles offer a perfect blend of durability and elegance. Available in multiple sizes, these tiles are a prime choice for wall panels, floor tiles, stairs, paving, wall cladding, countertops, and vanities. Their suitability for hotels, villas, apartments, office buildings, hospitals, schools, malls, sports venues, leisure facilities, supermarkets, warehouses, workshops, parks, farmhouses, and courtyard kitchens and bathroom projects, is a testament to their adaptability and superior quality.
Each Ture Marble Concave Wall Mosaic Tile is cultivated and glamorous, embodying the distinct sensibility of the FOR U STONE factory. Whether used as an accent or applied with maximalist abandon, these tiles contribute an understated sophistication to any setting.
Our Natural Marble Concave Shape Mosaic Tiles are an elegant solution for both internal and external decoration and construction. They lend a serene look to any space, complementing various architectural styles. Furthermore, our Natural Marble Mosaic Wall Panel is an innovative and stylish addition to your walls, adding an entirely new dimension to them.
Standard Sizes of Natural Marble Mosaic Tiles
| | |
| --- | --- |
| | |
| | |
| | Engineering scheme and design |
| | |
| | |
| | |
| | 12″ x 12 ⅜" x ½" overall sheet, 1/4″x6″x1/2″ individual tiles; straight rectified (20 pieces per sheet with a fixed 1/16″ grout joint) |
| | |
| | | | |
| --- | --- | --- | --- |
| | | | About 7-30 days after receiving |
| | | | BV, TUV, SASO, SONCAP, COC |
| | Polished, Honed, Leathered | | |
| | Carton Packing Or Wooden Pallets | | |
3D Ture Marble Mosaic Tiles
The emergence and increasing popularity of concave shape true marble mosaic as a trend in interior design, particularly for bathroom walls and other interior walls, can be attributed to several reasons.
Firstly, the mosaic's concave design adds a three-dimensional aspect to walls. This plays into the 2023 trend of textured tiles, where designers and homeowners are opting for tiles with more irregular and shifting surfaces over smooth ones. The concave mosaic tiles offer a unique form of texture, adding depth, dimension, and visual interest to an interior space. This texture not only pleases the eye but also engages the sense of touch, creating a multi-sensory experience.
Secondly, the mosaic aspect of these tiles is significant. Mosaics, due to their smaller size and the numerous pieces involved, allow for a high degree of customization and personal expression. They can be arranged in countless patterns and designs, providing an opportunity for homeowners and designers to inject personality and creativity into their spaces.
The true marble material also plays a significant role in the popularity of these mosaic tiles. Marble has long been associated with luxury and elegance. By incorporating this material, even bathrooms and other functional spaces in the home can exude a high-end aesthetic. The timeless appeal of marble also ensures that while the shape and arrangement of the mosaic may be trendy, the overall design remains classic and enduring.
Additionally, the trend reflects a shift in color preferences in tile design. As indicated by the International Surface Event 2023, there is a move towards warmer and bolder colors in tile collections. True marble can showcase a variety of warm earthy tones, thus aligning with the current trend.
The concave shape true marble mosaic also aligns with the general direction of home design trends for 2023. A focus on personality-driven decor, color that evokes a positive mood, and natural elements have been highlighted for the year. The concave marble mosaic, with its unique shape, natural marble material, and potential for colorful designs, hits all these notes, making it an appealing choice for homeowners and designers.
Lastly, as the world continues to grapple with the aftermath of the pandemic, homes have become not just living spaces but also sanctuaries of comfort and tranquility. The concave shape true marble mosaic, with its intricate patterns and soothing marble material, can create a calm, spa-like atmosphere, particularly in bathrooms, enhancing the sanctuary-like feel of the home. This can provide a sense of relaxation and retreat in daily living, contributing to its popularity.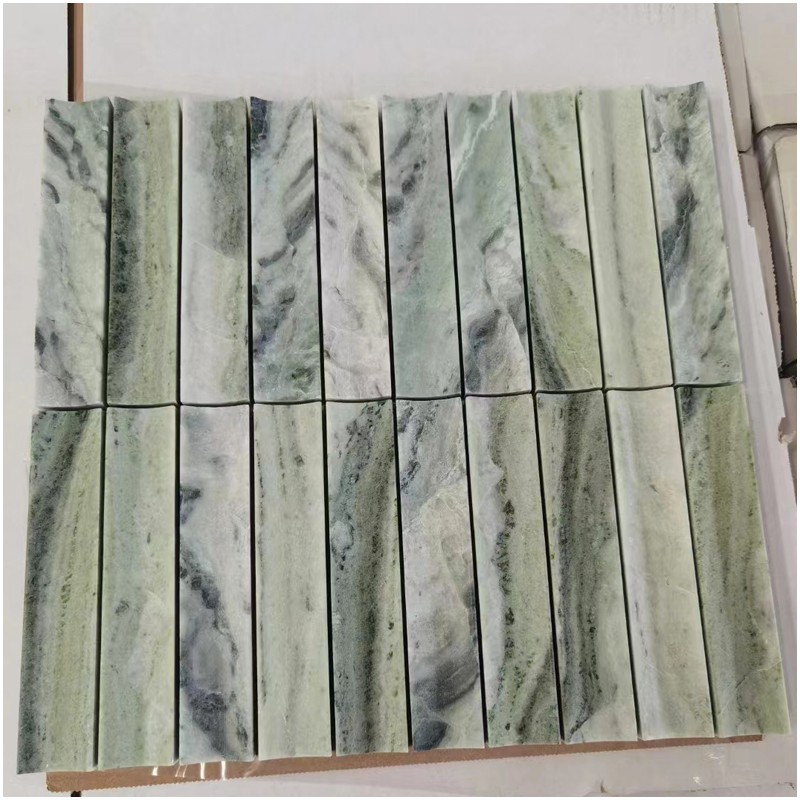 Jade Green Marble Concave Mosaic Tiles
Concave Indian Green Marble Mosaic Tiles
Pink Marble Concave Shape Mosaic Tiles
The rising trend of concave shape true marble mosaic in interior design can be attributed to its textured and dimensional appeal, the customizable nature of mosaics, the timeless luxury of marble, the alignment with current color and design trends, and the enhanced sanctuary-like feel it can bring to homes.
Natural Marble Mosaic Tiles Factory
FOR U STONE stands as an eminent entity in the sphere of interior building furnishings, particularly focusing on marble, granite, travertine mosaic tiles and bathroom products. Our passion for interior design, decoration, and comfortable living has led us to keep up with and often preempt the trends in modern fittings design.
Our dedicated team emphasizes a consistent and thorough scouting process to identify the best manufacturing partners known for their unerring quality, precision in production, and commitment to timely deliveries. With an unrivaled knack for identifying or developing unique, in-demand models or materials, we go above and beyond to cater to the individual needs of our clientele.
Our primary responsibility is to stay informed about the ever-changing market trends, establishing a close and consistent connection with cutting-edge research laboratories in the field. We are involved in the ceramic tile industry, shower enclosure, marble, granite, sanitary ware, faucet and fittings sectors, maintaining a well-rounded view of the market that pays equal attention to quality, design, and price.
Our comprehensive product range draws inspiration from the varied market tendencies across the globe, making our collection as diverse as the clients we serve. Our offerings, specifically our Natural Marble Mosaic Collection, exemplify our commitment to high-quality, trendy, and affordable solutions that meet our customers' diverse needs.
Today, we take immense pride in our record of fulfilling our clients' requirements, ready to meet any possible request from markets worldwide. As FOR U STONE, we are dedicated to constant improvement, working diligently and responsibly to elevate our service level, ensuring our customers always find what they are looking for in our collections.
The Natural Marble Concave Mosaic Tiles from FOR U STONE are an embodiment of understated luxury, sophistication, and enduring charm. Add a touch of elegance to your spaces with our high-quality mosaic tiles, and enjoy the difference it makes to your decor.