Amazonite Green Exotic Quartzite Slabs
Amazonite Quartzite is a beautiful natural stone that is unparalleled in its beauty. The base of those slabs radiates a captivating mixture of turquoise that's complemented by contrasting taupe and white veins. This mixture of colors gives the Amazonite Quartzite Slab a unique, water-like look; it is simply breathtaking. Measuring in at a trendy 2 CM/3CM thickness, the Jumbo Quartzite slabs are polished to perfection, ensuring a sparkling surface that mirrors the brilliance of the mineral itself.
One of the signature functions of Brazilian Quartzite Amazonite is its lovely blue tones, which can be a result of potassium feldspar. The stone is also infused with quartz and diverse mafic minerals, which make it stick out in different geological classifications. Although it is often loosely termed "hard granite," it honestly stands in a class of its own.
The Amazonite Green Stone is predominantly quarried in Brazil, tracing its lineage to the Amazon River vicinity. Traditionally, neighborhood Amazonians cherished Amazonite and even original earrings from this exclusive mineral. Today, its scarcity, blended with its captivating aesthetics, makes it a coveted and top-rated choice within the stone marketplace.
One of the most surprising capabilities of Amazonite Green Quartzite is its visible beauty and flexibility. The stone's hanging shade palette of dramatic turquoise and green waves intertwined with mild strokes of taupe and white veins makes it a great desire for those pursuing luxury with a tinge of nature's wasteland. Its use, however, isn't always restrained by myself. Amazonite green exotic quartzite graces the entirety of bar tops, accent walls, floors, and outside facades, thanks to its resilience against elements, which includes freezing temperatures.
Amazonite quartzite slabs are a super preference for every person trying to add herbal beauty and elegance to their home or business. Whether or not you are designing a kitchen, bathroom, or outdoor living space, these slabs are sure to affect you. So why wait? Get your hands on some Amazonite quartzite slabs today and experience the splendor of this beautiful herbal stone for yourself!
Dimension of Brazilian Luxurious Quartzite Stone
1. Customized size and design
2. Strict with inspection
3. Timely delivery
Material

Brazilian Luxury Green Quartzite-Amazonite

Surface Finish

Polished

Below are common sizes, customer designs are available

Popular item

Slabs

Size

1800(up) x 600(up)mm

2400(up) x 1200(up)mm

2800(up) x 1500(up)mm etc.

Thickness

15mm, 18mm, 20mm, 25mm, 30mm, etc.

Payment

30% advance T/T, the balance will be L/C at sight

Usage

For internal and external decoration and construction.

wall panel, floor tile, stairs, paving, wall cladding, countertop, and vanity top are available.

Quality

Standard

1) Polished degree 80°- 100°.

2) Thk tolerance: -/+0.5mm for countertop and big slab

3) Surface flatness tolerance: +/-0.3mm

4) Diagonal tolerance: +/-1mm.
Glossy Surface of Natural Quartzite Slabs
Trusted by architects and homeowners alike, FOR U STONE's Amazonite Quartzite Stone collection brings Brazil's heart to global interiors. Every Amazonite green quartzite slab is polished to perfection, capturing the stone's raw essence while ensuring a smooth finish. From wall claddings, staircases, and countertops to intricate mosaics, the applications are as limitless as one's imagination. Ideal for diverse spaces like hospitals, schools, malls, and luxury apartments, Amazonite quartzite stands as a testament to nature's grandeur and human craftsmanship.
Applications and Uses of Amazonite Quartzite
The durability and beauty of Amazonite green exotic quartzite are unmatched, making it a sought-after choice for:
Countertops: Especially as kitchen countertops, where its resilience stands against daily wear, while its aesthetics elevate the ambiance.

Wall Panels & Cladding: Its polished sheen makes it an ideal choice for accent walls, both in residential and commercial spaces.

Flooring: Be it in luxury villas or upscale commercial venues, Amazonite exotic quartzite tiles promise durability with a touch of opulence.

Exterior Applications: Its robustness allows it to withstand freezing temperatures, making it apt for outdoor installations.
Brazilian Amazonite quartzite is a lovely and versatile stone that is ideal for a variety of interior tasks. Right here are a number of the reasons why designers pick it out for luxurious and current indoor initiatives:
Specific splendor: Brazilian Amazonite quartzite is known for its lovely beauty. The stone is characterized by its colorful, inexperienced shade with hints of yellow and brown. This gives the stone a unique appearance.

Sturdiness: Brazilian Amazonite quartzite is a very long-lasting stone. It can stand up to scratches, stains, and different styles of damage. This makes it a good desire for high-traffic regions, which include kitchens and lavatories.

Luster: Brazilian Amazonite quartzite has a stunning luster that could make it look like it's miles sparkling. This makes it an awesome choice to be used in regions in which the stone might be exposed to herbal light.

Renovation: Brazilian Amazonite quartzite is noticeably low-renovation. It no longer requires unique care or cleaning, making it an excellent choice for busy families.

Flexible: Brazilian Amazonite quartzite may be utilized in a variety of ways, including for countertops, flooring, walls, and backsplashes. This makes it an awesome preference for tasks in which a selection of substances is needed.

steeply-priced: Brazilian Amazonite quartzite is a steeply-priced stone that can add a touch of elegance to any area. This makes it an excellent desire for indoor projects where the aim is to create a costly and sophisticated ecosystem.
Luxury Quartzite Stone Factory
Quality Control
1/ Gloss degree 45 or up
2/ Thickness tolerance: ( ±1mm)
3/ Diagonal tolerance: ( ±1mm)
4/ Surface flatness tolerance: ( ±0.3mm)
Quality Assurance: During the whole production process, from material choosing, to fabrication to packaging, our quality assurance people will strictly control every process to ensure quality standards and punctual delivery.
All our products are fully inspected one piece by one piece.
Delivery, Shipping, And Service
Packing and Loading about gray quartzite countertops
| | |
| --- | --- |
| Package | (1) Slab: Seaworthy wooden bundles; |
| | (2) Tile: Styrofoam boxes and seaworthy wooden pallets; |
| | (3) Vanity tops: Seaworthy strong wooden crates; |
| | (4) Available in Customized packing requirements; |
| | All the above packages will be fumigated and stamped for export orders; |
| | 2cm slabs: 15-18 pcs / 75 sqm / 4100kgs per bundle |
| | 3cm slabs: 10-13 pcs / 50 sqm / 4100kgs per bun |
FAQ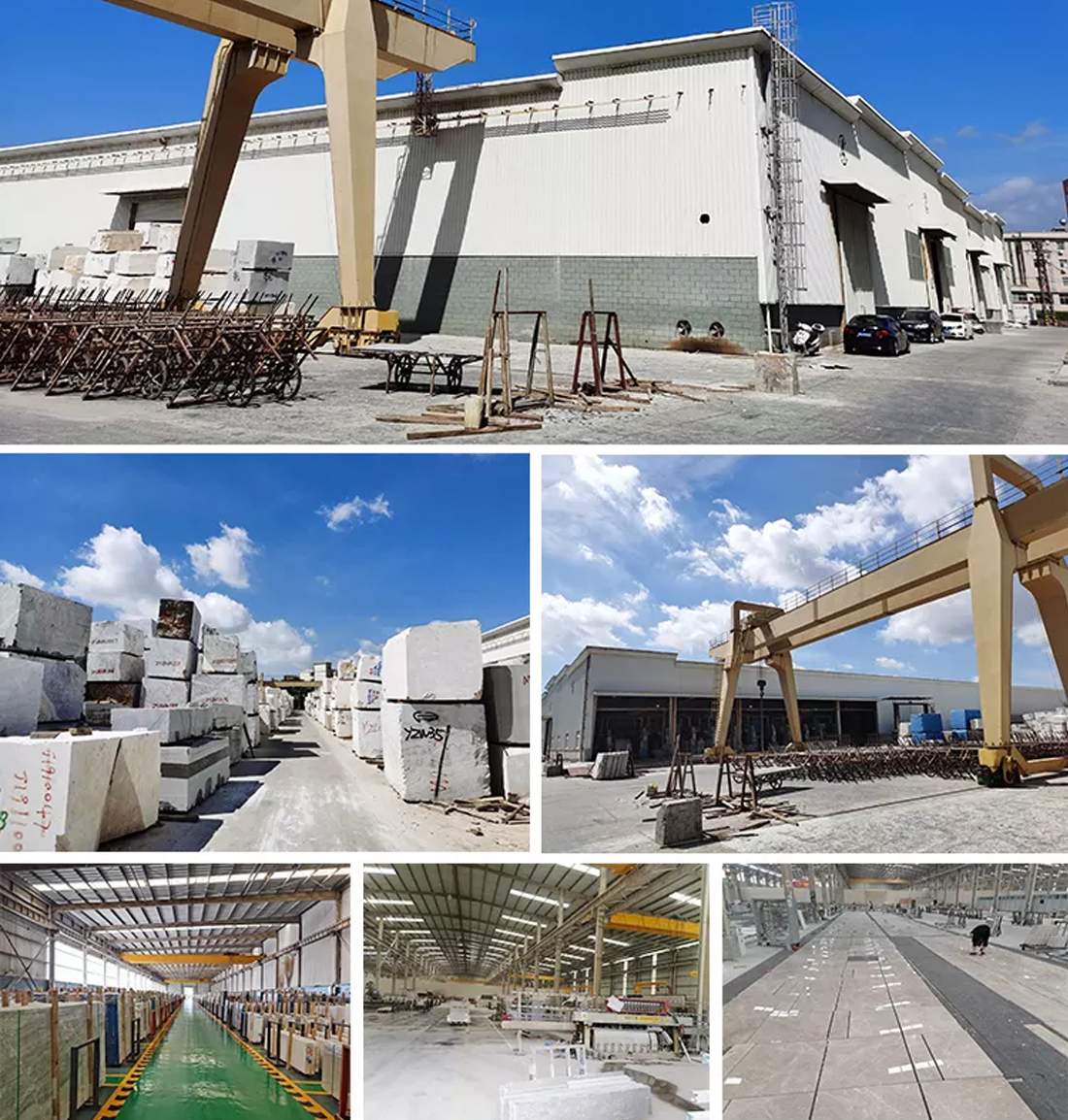 01. How to get a sample?
The sample will be provided on the condition that:
* Sample requests less than 200*200mm can be sent for quality tests free of charge.
* Sample delivery cost will be at the buyer's account.
02. When to start production?
* Right after our bank confirms the arrival of the L/C or the advance payment.
03. Delivery Leadtime
* Lead time is around 2-3 weeks per container.
04. Packaging
* Packing in export standard quality wooden crates hardboard carton boxes or pallets based on request.
05. Guarantee & Claim?
* Replacement or repair will be done when any manufacturing defect is found in production or packaging.
FOR U STONE brings Amazonite quartzite's grandeur to various initiatives, catering to both inner and external ornament and construction needs. Whether it is for a lavish inn foyer, a serene sanatorium hall, or a fashionable residential kitchen, FOR U STONE ensures the fineness of Amazonite quartzite, be it in the form of slabs, tiles, stairs, or maybe columns.
From residential to industrial areas, which include workplace homes, faculties, department shops, and sports activity venues, FOR U STONE's offerings promise unprecedented splendor and durability.
Embrace the magic of Amazonite Brazilian quartzite stone, a tribute to nature's artistry, and increase your area's aesthetics to new heights. Whether you are envisioning a grand countertop or a sublime wall panel, Amazonite quartzite promises to turn your imaginative and prescient ideas into facts.

If you're interested in our Amazonite Green quartzite, welcome to buy quality products at an affordable price with us. As one of the leading Exotic Quartzite Slab manufacturers and suppliers in China, we also support wholesale service. For more info, contact us now.