Beige Moca natural limestone stone to create an elegant and pleasant immersion experience center of 1500 square meters.
Project Name: Greenland Spiegel Bay
Address: Jing'an City, Jiangxi Province
Project Area: 1500 SQM
Material: Moca Cream Limestone
Application: Indoor Wall Cladding, Floor Paving
Surface: Honed
The Zen culture is profound and profound, conveying the power to purify people's hearts.
The designer implanted the rich Zen culture and natural heritage of Jing'an into the design of Minggong Bay, showing the charm of Zen beliefs through the space with the eyes to the heart.
The designer uses Zen philosophy as a spatial guideline, allowing visitors to gradually understand the subtlety of Zen philosophy and the aesthetic beliefs conveyed by the traditional Eastern spiritual world as the space shifts.
Creating with Moca Limestone with Large Sizes of Wall Cladding Panels, and Flooring Tiles, to match the Zen Aesthetics.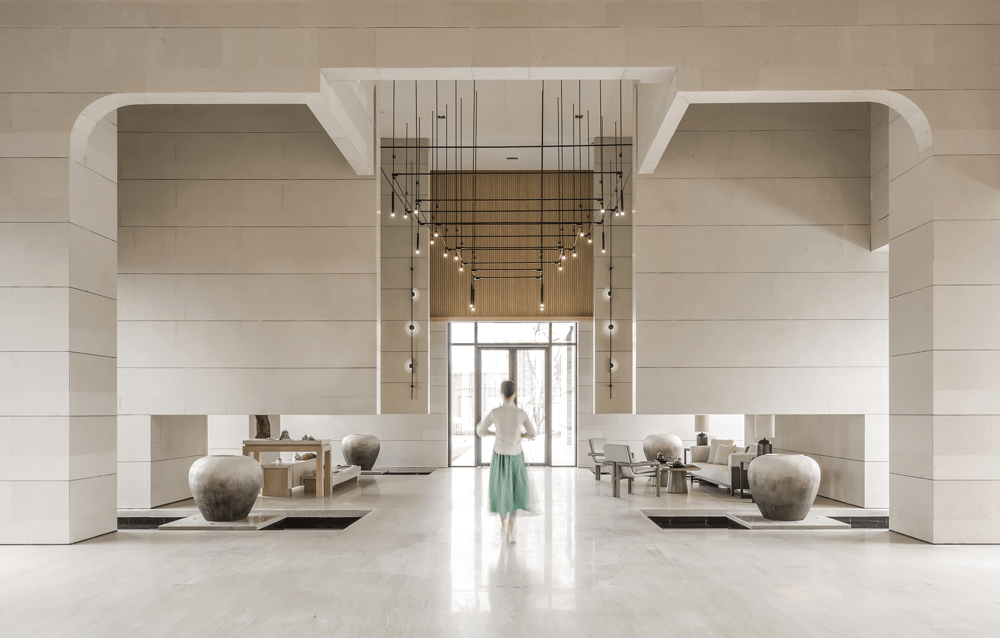 The designer uses classical oriental symmetrical aesthetics to stabilize the proportions of the space, and then brings a sense of majesty to the space through the imposing height.
The clean and simple walls and white space soothe the mind and reveal the power of tranquility amidst the waves.
The interior space is made of only one kind of natural stone, making the space infinitely larger and more visually impactful. The same stone brings a sense of interior space, and the meaning expressed by the space can be reflected one by one.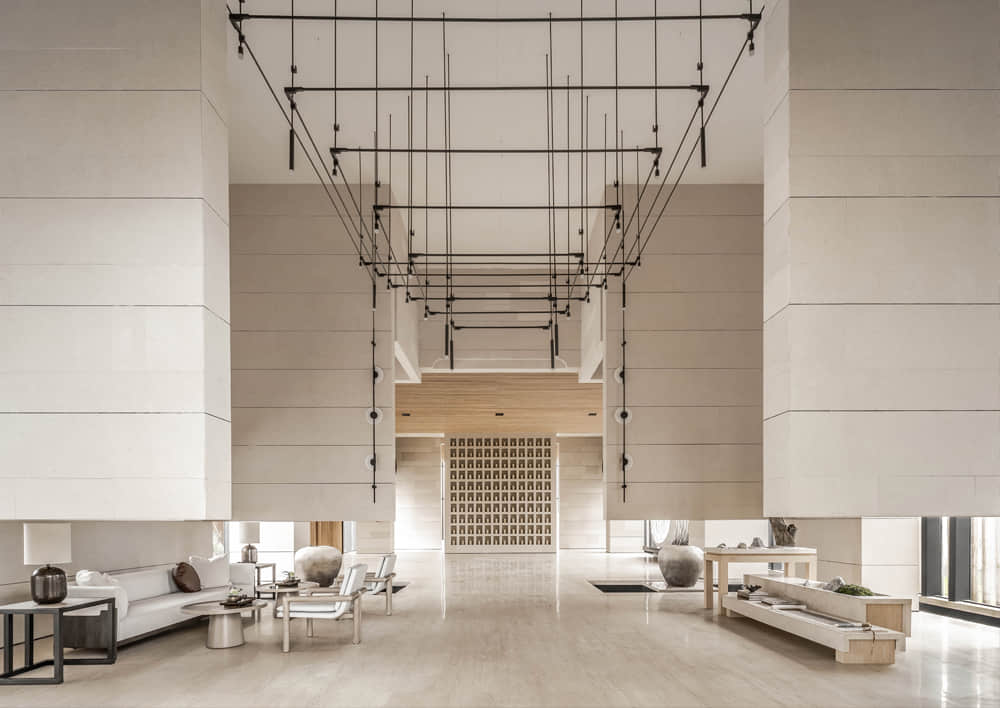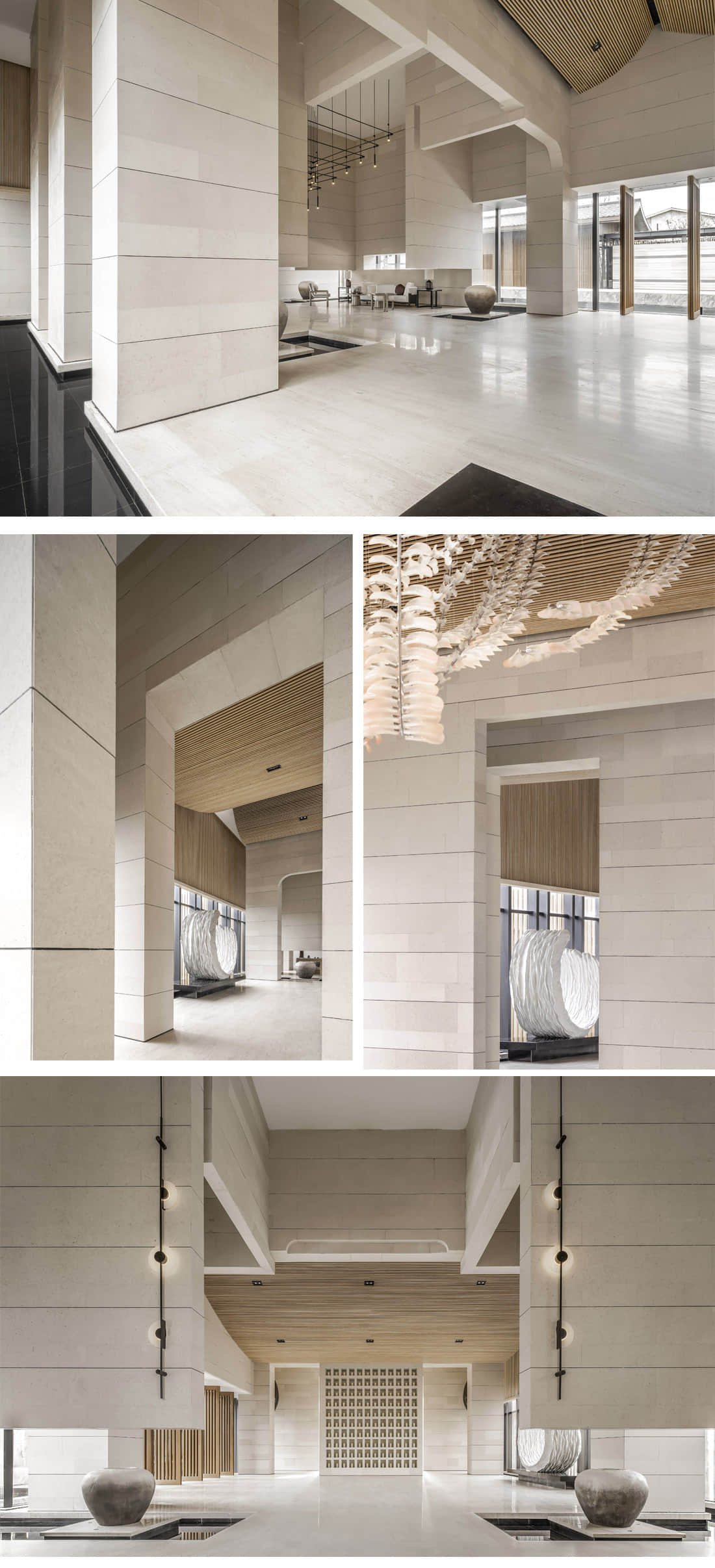 The space makes extensive use of symmetrical Chinese structural aesthetics, or pairs of four corners, or two opposite each other, one step at a time, so that people can experience the elegance and delicacy of Chinese structural aesthetics, and feel the comfortable and ironic visual feeling
More information of Moca Cream Limestone
Crema Moca limestone has a clear yellow color with a fairly even base. It is the grain that changes the aesthetics of stone. Crema Mocha is a  less dense limestone than its neighbor Moreanos, so it is recommended for interior use. Unfortunately, there are several Portuguese companies that sell other limestones under the name Crema Mocha. The major difference between these limestones and crema mocha is the degree of absorption, which is higher than that of real stone, so "fake" crema mocha is not recommended for use on outdoor floors and in some cases. Reliability may be severely compromised. genuine product.
Moca Cream Classic limestone is an excellent limestone that can be used for a variety of cladding applications As you can see in the gallery on this page, this limestone is used for different types of cladding (straight, curved) Its parallel dark beige streaks do a great job of building cladding and are in great demand for this type of work. In addition to siding, it is also used for masonry, flooring, and siding.