Luxurious and High-End Decor Material For any Mansions, Villas, Hotels, Restores, and Private Houses Natural, Luxurious, and Backlit of precious stones such as beautiful and rarity. the Semi-Precious Stones collection skilfully enhances the deluxe interior of modern architecture.
Naturally, Luxurious Stone Is Born To Exist For High-end Luxury Designs
Semi-precious stones are highly prized for their rare and precious materials, as well as their vibrant colors, ever-changing textures, unique patterns, and crystal-clear luster.
In today's increasingly popular stone decoration industry, high-end decoration demands for stones are also rising. Decorative celebrities, upscale clubs, and luxurious homes are even more inclined towards precious semi-precious stones, creating a luxurious effect in interior decoration.
The Rarity and Uniqueness of Semi-Precious Stones
Handcrafted Luxury for High-End Designs
Semi-precious mineral specimens are typically found in small pieces, but whole semi-precious stone slabs are carefully crafted by skilled artisans who handpick individual samples and piece them together one by one. Each natural semi-precious stone slab is meticulously arranged and assembled by experienced craftsmen, showcasing the luxurious feel of the stone. Semi-precious stones already exude a sense of luxury on their own, but with innovative designs such as adding lighting, slab combinations, waterjet mosaics, and other techniques, they can add an even more spectacular layer of luxury.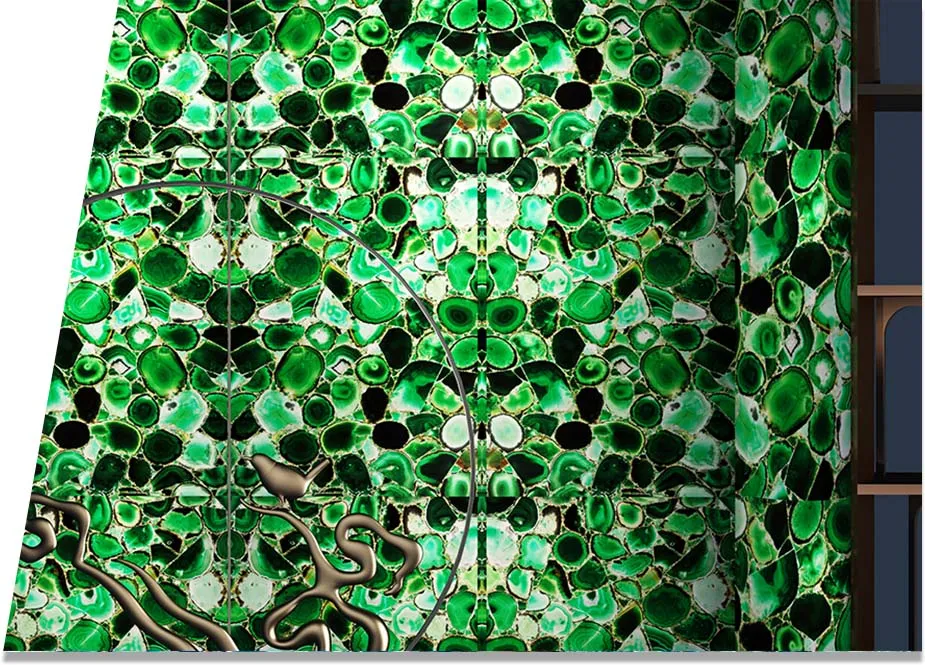 The Varieties of Semi-Precious Gemstone
Semi-precious stones are highly valued for their extremely rare and precious materials, rich and colorful colors, unpredictable textures, unique patterns, and sparkling transparency. So, what types of semi-precious stones are used in high-end residences or private clubs? FOR U STONE offers a full range of transparent semi-precious stone products, such as Agate, Tiger Eye Stone, Natural Quartz, Malachite, Petrified Wood, Obsidian, Red Emerald, Blue Aventurine, Sodalite Blue Jasper, Lapis Lazuli, and Amethyst.
Application | Backlit Semi-Precious Stone
Feature Wall | Countertops | Tables
Semi-precious stones, like other luxury stones, can be used for interior spaces such as accent walls, living room floors, kitchen islands, and vanity tops, as well as for furniture tops and hanging decorations. The semi-precious stones used in decorative stone veneers are primarily used in the jewelry industry, and their rarity and preciousness make them a unique and natural choice. With majestic patterns, high hardness, glossy textures, and exquisite craftsmanship, semi-precious stone veneers are stunningly beautiful and leave a lasting impression. They are suitable for high-end interior decoration in hotels, clubs, bars, private mansions, and can also be used for high-end furniture veneers.
As stone decoration becomes increasingly popular, the demand for high-quality stones in high-end decoration has also increased. Decorations in prestigious clubs and luxurious homes prefer precious semi-precious stones to create an atmosphere of luxury and extravagance.
3 Top Natural Crystal Translucent Slabs
Jumbo Slabs | Stairs | Columns | Feature Wall | Countertops | Tables
Semi-precious crystal and quartz slabs are precious and rare due to their material, natural unique colors, grand patterns, high hardness, high gloss, solid and delicate texture, and transparency. Combined with LEO lighting strips, they create a stunning and captivating, breathtaking, and captivating effect, making them an excellent material for high-end interior decoration, such as in hotels, clubs, bars, private villas, and high-end furniture. These characteristics make semi-precious translucent crystal products an excellent choice for innovative designs, providing endless possibilities for designers to explore. Incorporating semi-precious stone veneers into designs can showcase their noble and luxurious qualities. As people become more familiar with luxury stone materials and seek personalized design styles, semi-precious translucent quartz is applied in interiors, bathrooms, and furniture, gradually gaining recognition and leading a new direction in high-end interior decoration.
Other Luxurious Gemstone Collection
Tiger Eye | Malachite | Sodalite Blue Jasper | Petrified Wood
Processing Semi-Precious Stone Slabs
Semi-precious gemstone slabs are composed of natural gemstones and minerals. These semi-precious gemstone minerals typically exist in small pieces in nature, and artisans hand-select and bind them together using resin. While epoxy provides additional flexural strength to the resulting slab, processing semi-precious gemstone slabs is still highly demanding. Special cutting discs are required when cutting the slabs, and polishing the edges can be done in the same manner as standard granite. However, the machining speed must be halved, and manual water polishing is necessary due to the minerals present in the semi-precious stone block. It is essential to avoid using harsh cleaning agents like ammonia or bleach on semi-precious stones. Instead, mild or neutral cleaning agents are appropriate. Semi-precious stones should be stored away from direct sunlight and kept at temperatures between 10°C (50°F) and 40°C (104°F).
Other Luxurious Gemstone Collection
Kitchen | Bathroom | Living Room
Light Luxury Lifestyle with Agate Tables Sets
The semi-precious stone table is expensive, but it is also worth the money. Life needs to be lit, but it also needs texture. It is a very enjoyable thing to integrate the magical gemstones of nature into your life. Semi-precious stone composite decorative panels can be used not only on walls but also on furniture. The most commonly used ones are countertops, bar counters, and sinks. One of the biggest advantages of the semi-precious stone composite plate is that it can be designed very well. You can combine gemstones according to your own creative design so as to make your own unique work. Semi-precious stone series luxury tabletops can be applied to kitchen countertops, bathroom sinks, coffee tables, etc. It is not only a magic weapon to enhance the sense of luxury in the interior space but also to radiate the owner's pursuit of a high-quality life. We provide a wide range of table products, from simple round and rectangular tables to various artistic dining tables.
Agate | Quartz |Malachite | Lapis Lazuli
FOR U STONE is a specialist in the production of exquisite semi-precious stone decorative slabs and cladding tiles, offering premium solutions for high-end feature wall decoration, countertops, and bar counters. Our luxurious gemstone slabs and high customized backlit covering tiles are widely used to elevate the aesthetic appeal of various spaces, including villas, hotels, clubs, bars, cafes, specialty stores, and even bathroom fountains and kitchens. With a wide range of customization options, including size, shape, and other engineering requirements, we ensure that our clients receive tailored solutions that perfectly fit their unique needs.