Engineered Quartz Manufactuer
Quartz Jumbo Slabs | Customized Countertops
For those seeking a beautiful and durable surface that is both functional and aesthetically pleasing, For U Stone is proud to offer engineered calacatta quartz slab surfaces. With our high-quality quartz jumbo slabs and customized countertops, you can have the beauty and durability of natural stone, with the added benefits of engineered materials. Our artificial quartz stone is incredibly popular due to its versatility, durability, and low-maintenance requirements. It is an ideal material for kitchen countertops, backsplashes, bathroom vanities, and a variety of other home and commercial surfaces. Choose For U Stone for your next home or commercial project and experience the beauty and durability of engineered quartz stone. Contact us today to learn more about our products and services.
WHAT IS ENGINEERED QUARTZ?
Quartz is a naturally occurring mineral found in the Earth's crust. It is a hard, crystalline mineral made of silicon and oxygen atoms, with a chemical formula of SiO2. Quartz is one of the most abundant minerals in the world, and it comes in a wide range of colors and varieties. While quartz is found in nature, it can also be engineered and manufactured to create quartz slabs and countertops. The process involves crushing and mixing quartz with resins, pigments, and other materials to create a durable and beautiful engineered quartz stone.
The resulting mixture is then poured into large molds and compressed under high pressure to create large slabs. These slabs are then cut and polished to create the finished product, which can be used for countertops, walls, and other surfaces. Jumbo slabs are larger than standard-size slabs, making them ideal for larger surface areas or for creating seamless countertops with fewer visible seams. Engineered quartz offers many advantages over natural stone, such as increased durability, resistance to stains and scratches, and a wider range of colors and patterns to choose from.
Engineered quartz offers many advantages over natural stone, such as increased durability, resistance to stains and scratches, and a wider range of colors and patterns to choose from.

Roughly 90-94% ground quartz, which is a naturally occurring mineral found in the earth's crust.

6-10% resins, pigments, and various compounds. The resins used in engineered quartz can be either unsaturated polyester resin or polymethylmethacrylate resin (acrylic resin). Pigments and other compounds are added to give the quartz its desired color and pattern.

When these components are mixed and subjected to high pressure and high temperature, they create an extremely durable and long-lasting material that is ideal for a variety of applications, including countertops, flooring, and wall cladding. Additionally, because artificial quartz is an engineered stone, it is more consistent in color and pattern than natural stone, making it a popular choice for homeowners and designers alike.
Discover the Benefits of Quartz Countertops: Durability, Low Maintenance, and Versatile Design
Quartz stone slabs for countertop designs offer a myriad of benefits, making them a popular choice among homeowners and designers. Not only are they extremely durable, but they also require minimal maintenance. Unlike other natural stone surfaces, such as granite and marble, quartz countertops do not require sealing and are nonabsorbent, which means they are resistant to staining and bacteria buildup.
In addition to its functional advantages, artificial quartz is also highly versatile in terms of design, offering a wide range of colors, patterns, and textures to suit any style preference. And while they are scratch resistant, it is recommended to use pot holders and trivets to protect the surface from knife marks.
Quartz countertops are also sensitive to sudden temperature changes, but with proper care, they can last a lifetime. While they are not approved for outdoor use, they can be installed in outdoor kitchens that have full overhead protection from the elements.
Standard sizes of quartz slabs and countertops vary depending on the manufacturer and supplier. However, some common sizes are:
3600×1800mm ( 142" × 71" )
3200×1600mm ( 126" × 63" )
3000×1500mm ( 118" × 59" )
3000×1400mm ( 118" × 55" )
For Kitchen: 25″×96″, 25½"×96″, 26″×96″, 25½"×108″, 26″×108″, 28″×96″, 28″×108″, or custom sizes.
For Bathroom: 25×19×3/4″, 31×19×3/4″, 37×19×3/4″, 43×19×3/4″, 49×19×3/4″, or custom sizes.
It's important to note that some manufacturers may offer additional sizes, and custom sizes may also be available. When selecting quartz slabs or countertops, it's best to consult with the manufacturer or supplier to ensure the desired size is available.
What Are the Quartz Countertop Edges Profiles?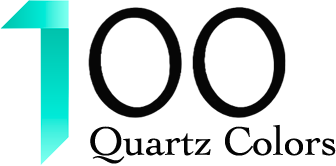 FOR U Stone offers over 100 stunning colors of quartz slabs suitable for a wide range of home and commercial applications. Our quartz slabs are perfect for creating beautiful countertops, vanity tops, walls, tables, and floors in residential properties. They are also ideal for use in commercial applications such as reception counters, windowsills, work counters for fast food establishments, tables for bars, floors, and steps. With such a wide range of colors to choose from, our clients can easily find the perfect quartz slab to complement their decor and design style.
FOR U STONE's Calacatta Quartz Collection offers a stunning Italian marble pattern look that is both exquisite and unique. Featuring a clean white base and bold, through-body veining, this luxurious and classic white quartz is perfect for creating stunning and eye-catching white quartz countertops, work tables, and waterfall islands in kitchens, as well as backsplashes, showers, and floors in both residential and commercial designs. Whether you're looking to add a touch of elegance and sophistication to your home or create a stunning statement piece in a commercial space, FOR U STONE's Calacatta Quartz Collection is an excellent choice.
In recent years, the Marble Pattern Quartz series has remained the most popular choice in the market. Aside from the Calacatta Quartz Series, various other quartz stones feature striking marble veins, which have gained favor from both local and international designers and construction contractors. These marble-look quartz stones are widely utilized in residential properties, shopping malls, and hotels. Among the popular choices are Pietra Gray, Carrara White, Marquina Black Quartz, and many others. Our factory consistently introduces new and innovative marble designs and quartz stones every quarter, providing a diverse range of options for our overseas clients to choose from.
Pure color quartz is a timeless classic that has remained popular in the market due to its versatility and durability. With crystal dots or glass fragments, this quartz stone style has found widespread use in both home decoration and engineering projects. Pure color quartz boasts a wide range of colors and styles, making it an excellent choice for creating modern or traditional kitchens and bathrooms. This durable material is perfect for discerning homeowners who want a countertop that will stand the test of time. Its rich colors inspire creativity and allow you to express your unique style. Choose pure color quartz for a classic and sophisticated look that will elevate any space.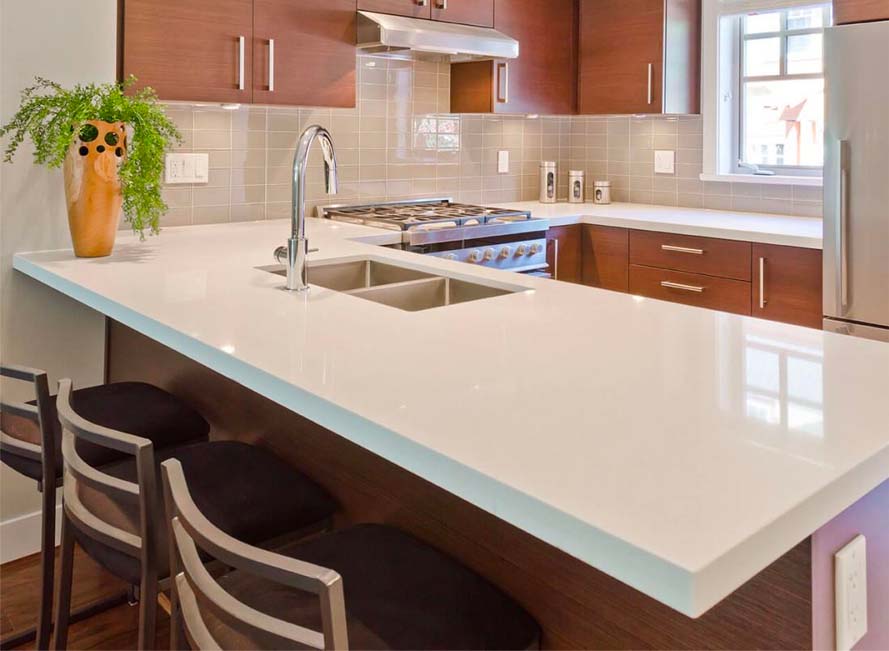 The Main Usages of Man-made Quartz Slab
Quartz slabs are also used for flooring and wall cladding in both residential and commercial settings. Their durability and resistance to stains and scratches make them an excellent choice for high-traffic areas. They can be used for interior and exterior applications, including facades, wall panels, and paving. Additionally, quartz slabs are increasingly used in furniture design, such as coffee tables, side tables, and shelving. Overall, the versatility and durability of man-made quartz slabs make them a popular choice for a wide range of applications.
1: Flooring: Quartz slabs are durable and long lasting, making them an excellent choice for flooring in high traffic areas such as shopping malls, hospitals, and airports.
2: Wall cladding: Quartz slabs can be used to create stunning feature walls in residential and commercial buildings. Its durability and low maintenance make it an ideal choice for this application.
3: Tabletops: Quartz slabs can be cut into custom sizes and shapes to create beautiful tabletops for dining tables, coffee tables, and other furniture pieces.
4: Stairs: Quartz slabs can be used to create durable and slip-resistant stairs for both indoor and outdoor applications.
5: Fireplace surrounds: Quartz slabs can be used to create stunning fireplace surrounds that are heat-resistant and easy to clean.
While kitchen and bathroom countertops are the most common applications for quartz slabs, they can also be used for a variety of other surfaces, such as tabletops, reception desks, floors, walls, and even outdoor spaces. Additionally, quartz slabs are also popular in commercial settings like shopping malls, restaurants, hotels, and offices.
Professional Quartz Slabs and Countertop Factory | FOR U STONE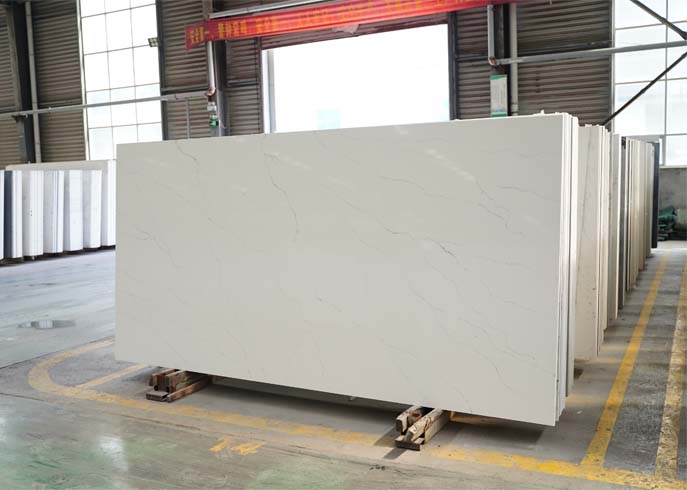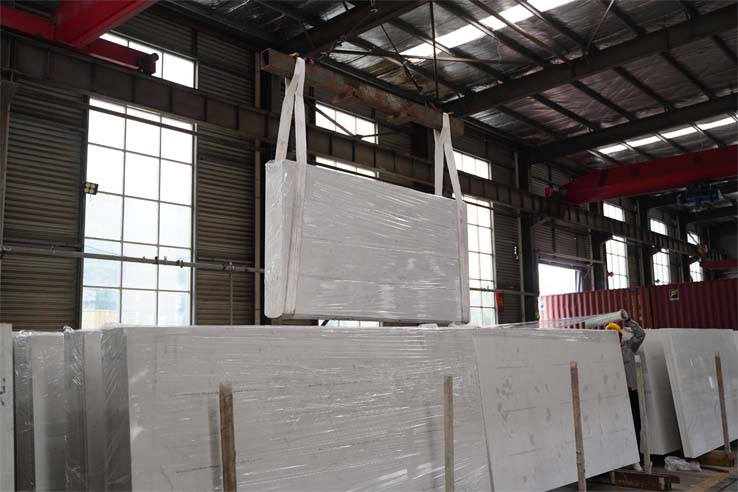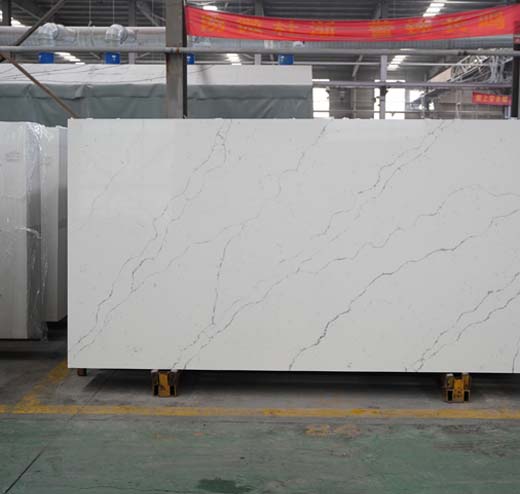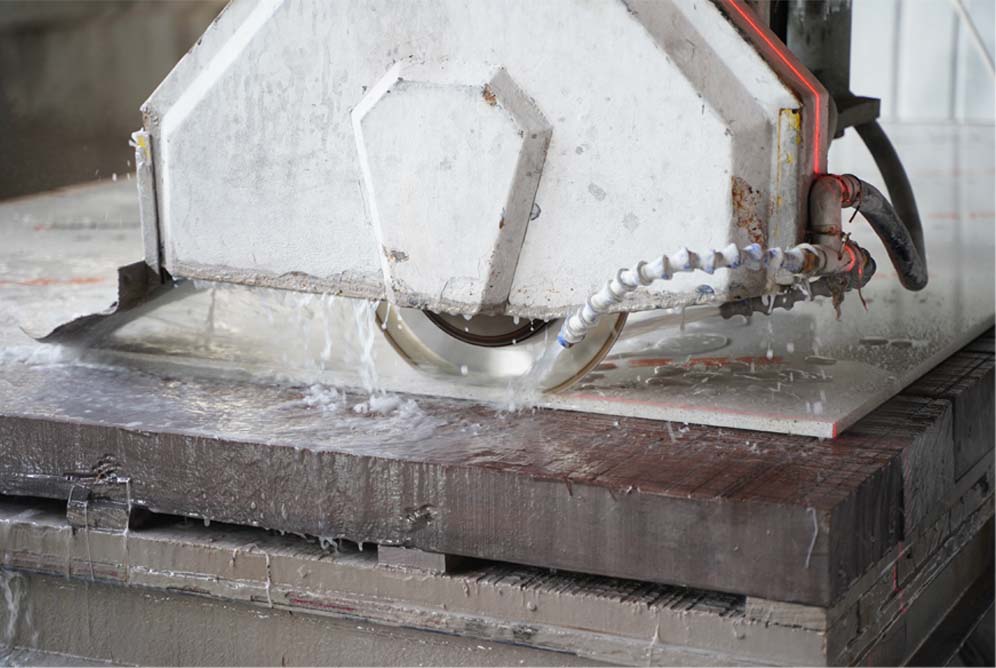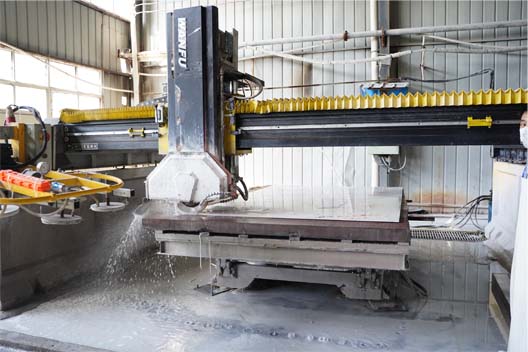 The Benefits of Choosing a Leading Quartz Slab and Countertop Factory
Some potential benefits of choosing a leading quartz slab and countertop factory include:
1: High Output: A reputable factory can produce 10,000+ square meters of large boards and 1000-3000 sets of kitchen and bathroom countertops per month, ensuring that they can meet the demands of even the largest projects.
2: Customization: The color and texture of the quartz slabs can be customized according to the sample provided by customers, providing a personalized touch to the final product.
3: Complete Production Process: From the processing of quartz stone raw materials to the semi-finished products of large plates and customized tabletop products, all aspects of production are handled by experienced workers with over five years of experience in the factory.
4: Quality Certifications: Leading quartz factories will have quality certifications such as NSF, Greenguard, Greenguard Gold, CE, and ISO9001, ensuring that the products meet rigorous safety and quality standards.
5: Wide Range of Applications: Quartz slabs can be used for various applications such as Kitchen Countertops & Wall Slabs, TV Background Walls, Door Frames and Window Frames, Windowsills, Thresholds, Bathroom Walls, Reception Desks, Stairs, Flooring, Bar Tops, and Pillars.