Calacatta Gold Marble Effect Nano Glass Stone For Construction Projects
Nano Glass Calacatta Gold is an excellent choice for those who desire the elegance and sophistication of natural calacatta gold Italian marble with an affordable cost and fewer maintenance requirements. Its unparalleled durability, unique natural marble vein patterns, and low maintenance make Nano Calacatta Gold Glass Slabs an attractive and practical option for a wide range of interior design projects. FOR U STONE provides jumbo sizes of Nano Glass Panel for one-piece kitchen island tops, worktops, and bench tops for any hotel and residential requirements. This artificial stone(Nano Crystallized Stone) is extremely dense and hard, making it virtually impossible to chip or break, even with heavy use.
-The Calacatta Nano Quartz/Crystallized Collection is ideal for creating luxurious kitchen countertops and white kitchen designs.
Calacatta Gold Vein Matched Crystallized Slabs
Nano Glass Calacatta Gold Panels
One of the most significant benefits of Marble Effects Crystallized Stone or other pure color Nano Glass Panel is its incredible durability. Unlike natural marble, which is prone to chipping, scratching, and cracking, Nano Glass Calacatta Gold is highly resistant to damage, making it an excellent option for high-traffic areas or areas prone to wear and tear.
Specification of Crytallized Quartz Panel
| | |
| --- | --- |
| Project Solution Capability | Total solution for projects |
| Application | Intertior |
| Design Style | Marble Effects |
| Place of Origin | China |
| Factory | FOR U STONE |
| Model Number | Nano Crystallized Glass Stone |
| Stone Form | Big Slab |
| Stone Name | Nano Crystallized Glass Stone |
| Type | Nano Crystallized Glass Stone Slab |
| Product Name | Nano Crystallized Calacatta Gold Slab |
| Finished | Polished |
| Color | White and golden pattern |
| Size | 2600x1500x18mm |
| Usage | Interior Wall/Flooring Tiles |
| Certificate | CE+ISO9001 |
| MOQ | 100Square Meters |
| Package | Fumigated Wooden Crate |
Over 10000 SQM Processing Plante
20000 SQM Jumbo Crystallzied Slabs Warehouse
3 Professional Compsited Lines
Jumbo Slabs Photos of Crystallized Stone
Calacatta Gold Nano Glass Slabs
Nano Calacatta Gold Crystallized Slabs
Another advantage of Calacatta Nano Glass Panel is its unique and stunning veins, which are reminiscent of the natural calacatta Italian marble. The veins are beautifully arranged in a subtle pattern, creating a harmonious and sophisticated look that is perfect for modern and classic interior design styles alike. The Marble Effect Nano Crystallized Stone comes in a wide range of colors, allowing homeowners and designers to choose the perfect shade to complement their decor.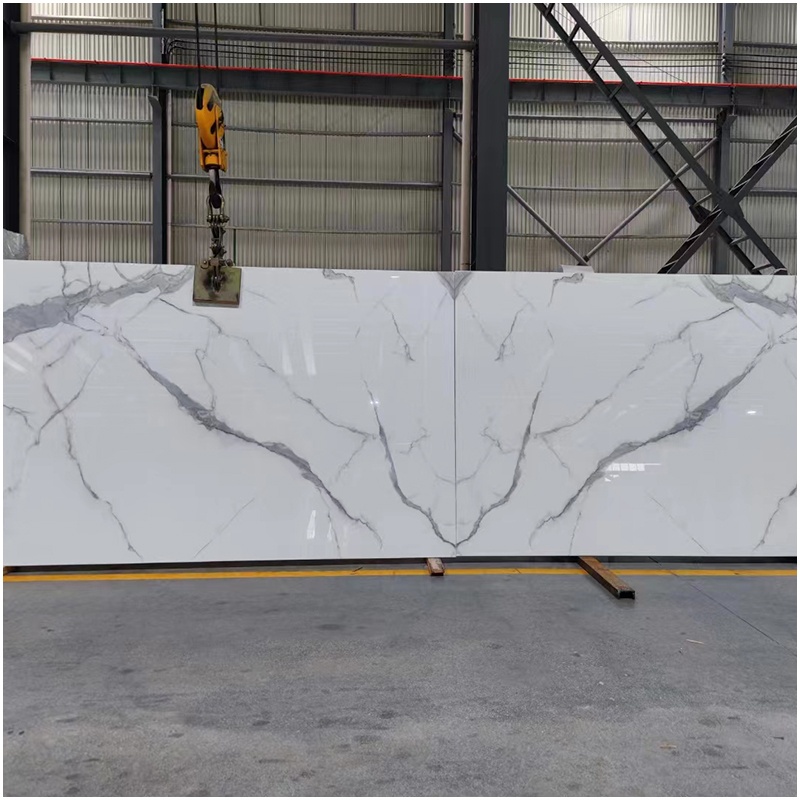 Calacatta White Marble Nano Glass Stone
FOR U Stone provides Calacatta White Crystallized Marble Slabs as large as 2800x1600mm and 3000x1500mm to fit different commercial construction requirements. In new interior fashion, our Calacatta Marble Nano Glass Stone is welcome in some furniture designs, like nest coffee tables, end tables, and dinner tables.
Blue Agate Nano Crystallized Slabs
Nano Crystallized Glass Stone like Blue Agate Effect is widely used in indoor and outdoor walls, floors, columns, countertops, and furniture decoration. It is glossy, soft, and sparkling and is not prone to water absorption or pollution. 3D inkjet Nano Crystallized Stone is a popular interior decoration material that can elevate the luxury and sophistication of any space.
Factory and FAQ
Is nano glass stone a suitable material for kitchen countertops?

Absolutely. Nano Glass countertops are not only aesthetically pleasing, but they are also highly durable and non-porous, making them a great option for kitchen use.
Does Crystallized Stone need to be sealed?
No, nano glass crystallized is naturally non-porous and does not require any sealing.
Will Nano Crstallized countertops scratch easily?
Not at all. Nano Glass is highly resistant to scratching and chipping, making it a practical and long-lasting choice for countertops.
Can glass crystallized stone withstand heat?
Yes, glass is heat-resistant. However, it is recommended to use caution and not place extremely hot items directly on the surface.
FOR U Stone focuses on manufacturing crystallized glass stone products as well as natural marble products. We have regular stocks of Nano, Nano3, and porous-type crystallized glass stone slabs as well as crystallized glass stone slabs available. And we are working with partnering factories to offer our esteemed customers the best quality marble products.
We have been supplying our crystallized glass stone products as well as marble products to North America, South America, India, Southeast Asia, the Middle East, etc.