Calacatta Nano Crystallized Glass Book Matched Slabs
Nano Glass Calacatta White Slabs is a new type of artificial stone with a natural white marble pattern. Inspired by Italian Calacatta white marble, a marble-effect nano glass stone has been developed. This artificial marble-effect stone has super high surface finish and uniform texture. Replace natural calacatta marble for use in interior design.
What is Nano Cystallized Stone?
Artificial Nano Glass or Nano Crystallized stone is a new type of high-end green building decoration material made from natural inorganic materials using advanced technology and two high-temperature firing processes.
It has a flat and clean surface, uniform color, clear and elegant marble effect texture or purest colors, soft and crystal-clear luster, brilliant and colorful color, hard and delicate texture, non-absorbent and stain-resistant, acid and alkali resistant, weather-resistant, environmentally friendly, and non-radioactive, and other excellent qualities that natural stone cannot match.
The Application of Nano Crystallized Stone
Nano Glass Stone Panel has various specifications and colors, including flat and curved ones, can be used for interior and exterior walls, floors, columns, countertops, and furniture decoration in any location where stone construction and decoration are needed. Nano Calacatta Marble Slabs are one of the most welcome colors in FOR U STONE Factory, as its grey pattern and clean white base color, easy to create a unique and bookmatched-vein decoration for feature walls, countertops, and indoor floor and building external facade wall.
FOR U Stone provides jumbo sizes of Nano Calacatta Crystallized Marble Slabs as large as 2800x1600mm and 3000x1500mm to fit different commercial construction requirements. In new interior fashion, our Calacatta Marble Effects Crystallized Stone are welcome in some furniture designs, like nest coffee tables, end tables, and dinner tables.
Base Data of Nano Crystallized Stone
| | | | |
| --- | --- | --- | --- |
| Stone Name: | Calacatta Nano Glass Panel | Factory: | Xiamen For U Stone Imp. & Exp. Co., Ltd. |
| Place of Origin: | China | Model Number: | Nano Glass Calacatta White Slabs |
| Type: | nano crystallized glass stone | Port: | Xiamen Port |
| Thickness: | 18mm | MOQ: | 100 M2 |
| Finished: | Polished, Honed, Leathered etc. | Keywords: | Nano Glass Calacatta White Slabs |
| Service: | OEM/ ODM accepted | Application: | Construction & Multi-Family, Hospitality, Real Estate etc |
| Thickness tolerate: | +/-1mm | Moh's hardness: | Grade 6 |
Video of Nano Crystallized Stone Factory:
FOR U STONE runs top 3 nano crystallized panels, one is Calacatta Marble Crystallized Panel, Super White Nano Glass Panel, and Abosolut Nano Crystallized Stone. We also stock 20000 SQM Large Slabs in our factory, and are ready to process into countertops, wall panels and other construction decor items.
Specification of Nano Crystallized Stone
Product Name:
Artificial Nano Glass Calacatta White Slabs
Colour:
white
Materials:
94% quartz crystal, 5% resin, color pigments and others.
Specification:
Cut-to-size: 600x600mm, 300x300mm, 600x300mm etc
Slabs size: 3200x1600mm; 3000×1400 mm; 2440x760mm etc
Vanity top: 22″x25″, 22″x31″, 22″x37″, 22″x49″, 22″x61″, 22″x73″
Island: 72″x36″, 96″x36″, 96″x40″, 108″x44″
Surface:
Polished or customized
Thickness:
15mm, 18mm, 20mm, 30mm
Application:
Wall cladding, table tops, island, bar tops, shower stalls, etc.
Packing:
Seaworthy wooden crate, pallet
Quality control:
Colour tone control, safe packing.
Calacatta Marble Effect Nano Crystallized Panel
Nano Glass Calacatta White Slabs For Building Material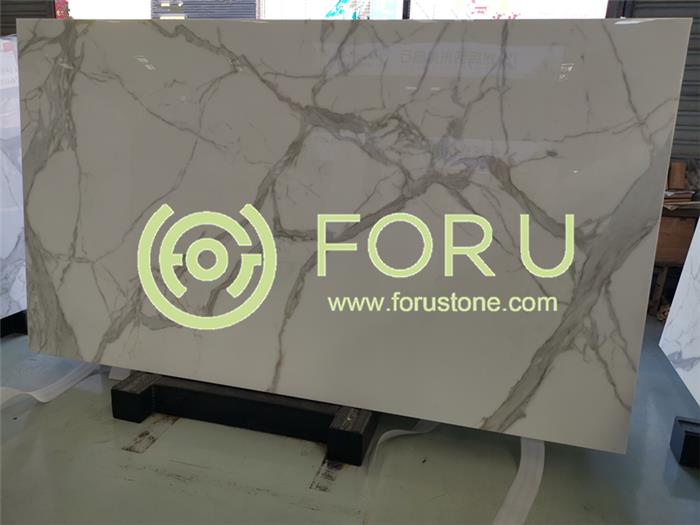 Calacatta Marble Nano Glass Panel
Calacatta White Crystallized Stone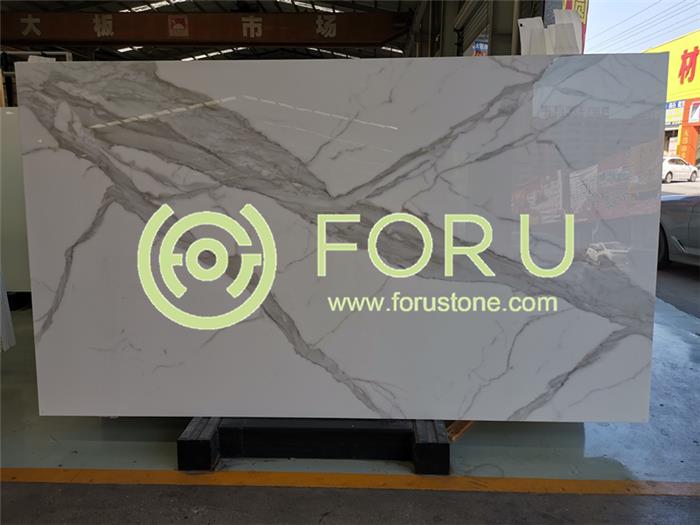 Best Nano Calacatta White Marble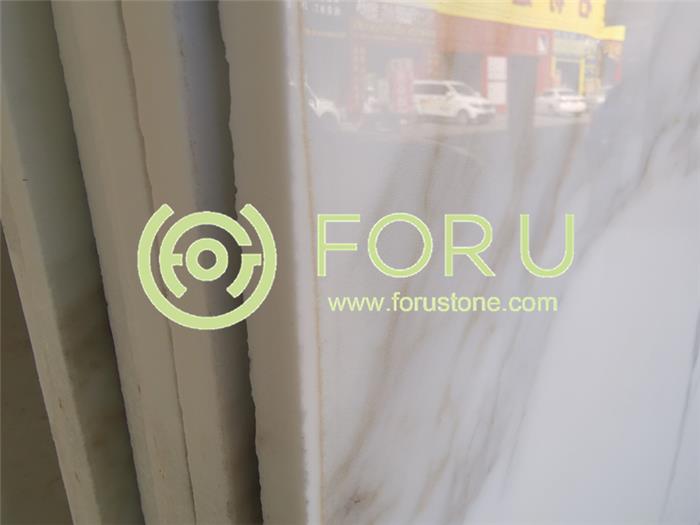 Calacatta White Nano Glass Panels
In recent years, Calacatta White Nano Crystallized Slab has gained popularity as a preferred decorative material in many areas. It is widely used in public buildings, such as airports, hospitals, and subways, as well as in residential areas, such as villas and apartments.
Pure White Nano Glass Panel
This pure white artificial microcrystalline stone is the earliest product for building decoration materials, and it is also people's first impression of microcrystalline stone. It is as pure as snow, comparable to natural crystal white marble, and has a wide range of applications.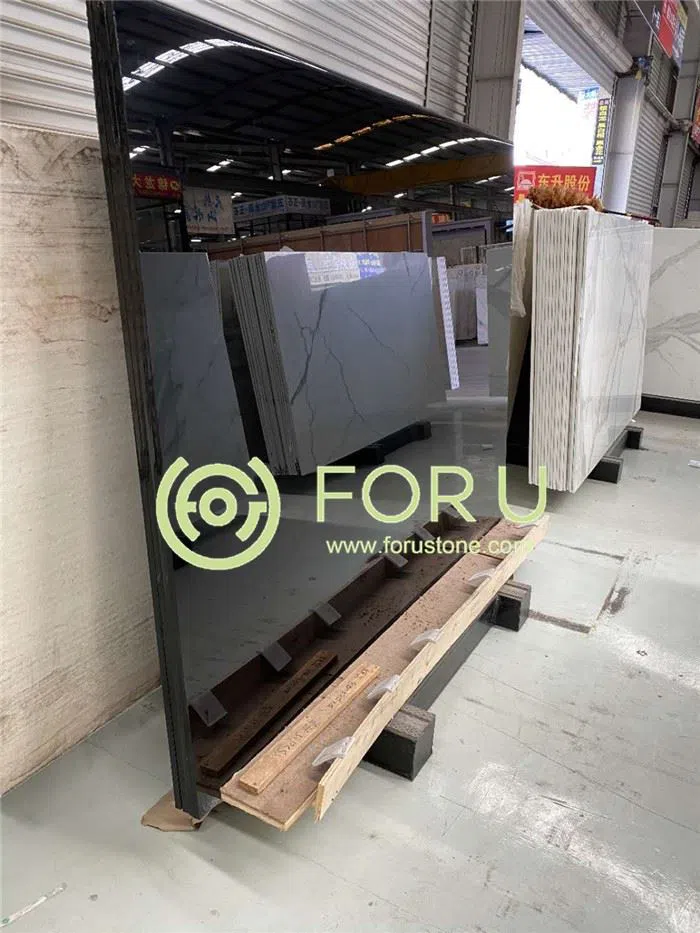 Pure Black Nano Crystallized Slabs
Pure black microcrystalline stone is a versatile building material that can be combined with other light-colored artificial stones and natural stones. No matter which color it is matched with, it can make your indoor and outdoor projects uniquely attractive.
Crystallized Stone Panel and Countertop Factory
Quality Control
1>Natural glossiness must reach 90 degrees or up.
2>Thickness tolerance: +1mm.
3>Diagonal tolerance: +1mm.
4>Surface flatness tolerance: +0.3mm.
5>Adjacent edge verticality tolerance: +0.5mm.
Packing and Loading about Nano Glass Calacatta White Slabs
In the business, we assure to send inspecting, packing photos to our customers, so customers can follow up the business smoothly and easily. Also, loading photos to our customers, to make sure everything is safe enough during the shipping.
FAQ
Q1: Are you a trading company or manufacturer?
A: Both.
Q2: How to get product quotation and category?
Please select your favourite products on our product page. Then you can fill your detailed contact info in the inquiry form. Our sales will contact you with quotation and product category accordingly.
Q3: Do you accept retail orders? What is the MOQ required?
A: Yes, we accept retail orders. MOQ is negotiable, free to contact us for discussion.
Q4: Can you provide samples?
A: Yes, you could get a free sample from us. You only need to afford the courier fee. We can ship your sample via DHL, UPS, Fedex, TNT, EMS etc. Please feel free to contact us for details.
Q5: Do you make customized designs?
A: Yes. We can make different sizes as per clients' drawings and pictures.
Contact Me
For more specific information about natural marble,please feel free to contact me.
If you're interested in our nano glass collected white slabs, welcome to buy the quality products at an affordable price with us. As one of the leading Nano Glass manufacturers and suppliers in China, we also support wholesale service. For more info, contact us now.