Chinese Suppliers Nano Pure White Crystallized Glass Marble Stone Slab Price Artificial Stone
In the sphere of modern architectural and interior design, there is an ongoing quest to unite aesthetics and durability. The pursuit of an ideal material that fulfills both these parameters often ends at natural stones like marble or granite. However, there is a new beacon of splendor and strength, shimmering with promise – the artificial crystallised stone.
Crafted with precision by FOR U STONE, a leading manufacturer in the southeast of China, the crystallised marble glass and nanoglass products redefine luxury and longevity. With their roots planted firmly in the rich heritage of crystallised glass manufacturing since 2000, FOR U STONE's expertly engineered artificial crystallised stone captures the essence of refinement and resistance. The manifestation of this brilliance is most pronounced in its breathtakingly pure white avatar.
-Luminary Opulence: Unveiling the Brilliance of Artificial Crystallised Glass Marble Stone
Heralding a new dawn in the realm of sophisticated materials, this nano pure white glass marble slab is nothing short of an art piece. Its captivating pure white expanse is a vision of grandeur, evoking a sense of serene calm and clean minimalism. The color, a natural byproduct of its manufacturing process, imbues the stone with an ethereal quality that elegantly complements any design scheme.
Basic Info
| | | | |
| --- | --- | --- | --- |
| Warranty: | NONE | Stone Form: | Big Slab |
| After-sale Service: | Online technical support | Product Name: | Artificial Stone |
| Project Solution Capability: | Graphic Design | Color: | White |
| Application: | Hotel | Material: | 93% Natural Quartz |
| Design Style: | Modern | Usage: | Home/Hotel |
| Place of Origin: | Fujian, China | Thickness: | 18mm/12mm |
| Brand Name: | Xiamen For U Stone | Size: | 3000*1600mm/2800*1600mm |
This type of artificial nano glass is ideal for bathrooms and kitchens, as its surface is not porous, unlike naturally occurring stones. Individual nano glass repair marble countertops have a much better hardness and durability than conventional marble, which can cause a lot of damage to the surface of the countertop. There are a variety of different types of natural stone such as granite, marble and granite that can be cut to any size. To facilitate the logistical process, you can use tiles instead of concrete.
Good Prices Nano Crystallized Marble Slabs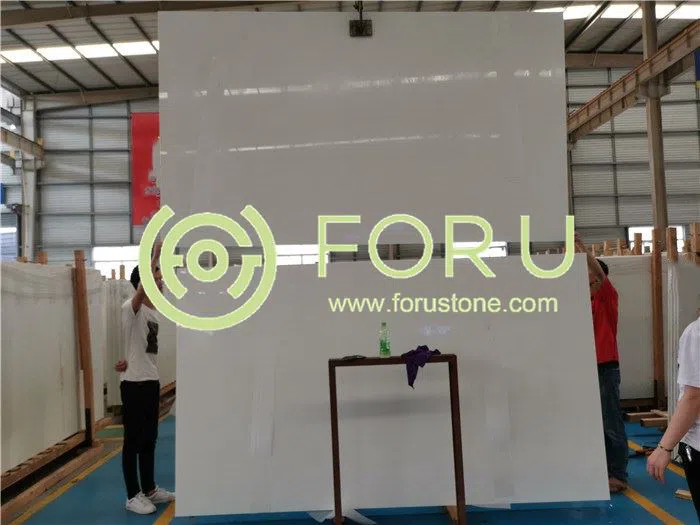 But the appeal of this crystallised stone extends beyond its luminous appearance. At its heart, this material is a symbol of unprecedented resilience and reliability. The Pure White Nano Crystallized stone boasts an impressive score of 6.0 to 7.0 on the Mohs scale, reflecting its superior hardness. It not only rivals but exceeds the durability of traditional materials like marble or granite. With its remarkable compression, flexural, and rupture strength, the crystallised stone stands unyielding against various forms of damage, be it physical impact or chemical influence.
Further enhancing the stone's practicality, its surface is nonporous. This property presents a significant advantage, particularly in kitchen and bathroom applications. Unlike natural stones with their porous surfaces prone to staining and bacteria harboring, the crystallised stone's impermeable surface eliminates these concerns. Whether it's spillages, high-heat, or abrasive substances, this resilient material retains its immaculate appearance and hygiene with minimal effort.
The artificial crystallised marble stone's allure is not confined to its surface. Its structural integrity and adaptability allow it to be cut into any size and shape, expanding its application possibilities. From kitchen countertops, bathroom vanity tops, flooring, walls, facades, and windowsills to column, its versatility covers both interior and exterior spaces. Even more impressively, this stone can be fashioned into various forms such as tiles, making it an ideal choice for logistical and design flexibility.
Yet, the wonders of this crystallised stone don't end with its visual allure and enduring strength. Being chemically inert, it offers a safe choice for applications where interaction with food and human contact is frequent. This feature, coupled with the stone's minimal water absorption rate and radiation-free nature, assures its status as a healthy and environmentally friendly material.
The Pure White Nano Crystallized Marble's aesthetics and practicality are not limited to horizontal surfaces alone. The non-porous surface proves just as effective and stunning when used in vertical applications. Interior and exterior walls, facades, column cladding – the opportunities for incorporating this material into your design are plentiful and transformative. Furthermore, the stone's resistance to heat, cold, and moisture makes it a prime candidate for outdoor applications, unaffected by the elements, retaining its immaculate appearance through seasons and years.
Nano-crystallised glass Marble not only offers a wealth of benefits in its application but also in its processing and installation. The stone can be cut, drilled, carved, and polished with the same techniques and equipment used for natural stones. This ease of manipulation allows for customisation in design and installation, meeting precise requirements and unique visions.
Nano Glass Marble Factory
Quality Control
Quality Guarantee
Our quality control division is well-established to implement strict and scientific quality control procedures. (including thickness tolerance, color vary, angle tolerance and finishing face). Relevant records were kept well, which is approved by SGS Auditors.
Packing and Loading about Nano Artificial Marble
Packaging
1. Slab: plastic inside + strong seaworthy wooden bundle outside
2. Tile: foam inside + strong seaworthy wooden crates with reinforced straps outside
3. Countertop: foam inside + strong seaworthy wooden crates with reinforced straps outside
4. sink/ mosaic/ cut-to-size:
foam & carton box inside + strong seaworthy wooden crates with reinforced straps outside
Shiping: Xiamen Port.
We have our own shipping company. We can offer you the best service and price for the shipment.
FAQ:
1, What is your time making samples?
Usually we will take 3-5 days to make the samples.
2, What is your MOQ?
Our MOQ is usually 1 square meters.
3, What is your delivery time?
The time of delivery is 15 days after we receive the deposit.
4, What is the shipping port?
We ship the goods via Xiamen port and can also be any port in China.
5, What are your payment terms?
We accept 30% T/T in advance, 70% in the period of shipment.
6, What is the location of your company?
Our head office is in Xiamen, China. Our quarry is located in KAMASHI, Africa and we also have a factory in the biggest stone trade.
city Shuitou Town, Fujian Province, China. If you would like to have a visit, you are very welcome.
7, What are your main products?
Our main products are marble slabs, bench tops, cremation urns and carved crafts etc., and we also offer OEM services.
Pure White Mano-crystallized glass Marble from FOR U STONE is more than just a material; it's a manifestation of a better future, where design and functionality, elegance and durability, human needs, and environmental care coalesce. It is the answer for the discerning and conscious consumer, looking for the epitome of design, utility, and sustainability in their choice of surface materials.
Contact Me
For more specific information about natural marble,please feel free to contact me.