Hot Sale Four Season Green Onyx Natural Stone Slabs For Luxurious Interior Projects
The Four Season Green Marble, a captivating variant of the onyx family, boasts a remarkable allure that invites admiration and appreciation. Dyed in soothing shades of green, this stone embodies the vitality of nature, symbolizing growth, abundance, and a harmonious balance. This gemstone serves not just as a visual treat, but as a symbol of physical healing, stimulating creativity, and fostering a sense of relaxation.
Also known as Les Quatre Saisons Marble, the stone's rich color spectrum and complex structure make it a true marvel of nature. Quarried in the picturesque Pyrenees region of France, this exquisite stone presents an intriguing interplay of colors and patterns that reflect the changing seasons. With its unparalleled depth and richness of color, the Four Season Green Marble offers an unrivaled aesthetic that sets it apart from other natural stones.
Four Season Quartzite(Exotic luxurious Marble), another variant of this exceptional marble, embodies the very essence of nature's design. Renowned for its durability and strength, this quartzite variant makes for a perfect choice for bathrooms and kitchens, promising longevity and timeless appeal. With its deep and rich colors, the Four Season Quartzite adds a touch of elegance and sophistication to any space it adorns.
Exploring the applications of Four Season Marble Slabs, one cannot overlook their versatility. Be it for constructing majestic columns, paving luxurious floors, or adding a high-end touch to walls and staircases, this French Green Marble makes a mark everywhere. Not just limited to residential spaces, this luxury marble has also been the choice of many commercial establishments, including hotels, villas, and malls, adding a unique aesthetic appeal to their interior decor.
The use of Four Season Marble Countertops in kitchen and bathroom spaces has gained significant popularity. Beyond their practical benefits, these countertops serve as a centerpiece, adding a luxurious touch to these functional spaces. Moreover, Four Season Marble Tables make for an elegant furniture piece that blends functionality with aesthetics, making a striking statement in any room.

Basic Info
| | | | |
| --- | --- | --- | --- |
| Model Number: | Four Season Green onyx marble Slab | Stone Name: | onyx |
| Surface Finishing: | Polished | Brand Name: | Xiamen For U Stone Imp. & Exp. Co., Ltd. |
| Marble Type: | Calcite | Stone Form: | Big Slab |
| Place of Origin: | Fujian, China | Type: | Marble |
| Thickness: | 3/4″, 5/8″ | Gloss of green onyx: | Above 85 |
| Stone Density: | 2.68g/cm3 | Size of green onyx: | 2.4m up *1.2 m up |
| thickness tolerance: | ± 1mm | Usage: | decoratives for walls, floors, fireplace etc |
| Stone Density: | 2.68g/cm3 | stone Surface Treatmen: | polished, honed… |
Basic Sizes of Luxurious Natural Marble
1. Material:

Four Season Green onyx marble

2. Color:

Blue

3. Finishing:

Polished, Honed, Antique, Sandblasted, etc.

4. Available Sizes:

Slab:

2400upX1200upX15/520/30mm

Tile:

305X305*10mm/20mm, 305X610X10mm, 610X610X10mm, Etc.

Cut-to-size:

457X457X10mm, 300X300X20mm, 300X600X20mm, 600X600X20mm, etc.

5. Package

Slab:

Plastic inside+ strong seaworthy wooden bundle outside.

Tile:

foam inside + strong wooden creates with reinforce straps outside.

6. Lead time:

7-10 days for one container after receiving the deposit.

7. Samples:

Free samples are available

8. Usage:

Hotel, commercial, residential, plaza, etc.
High Quality Four Season Exotic Marble Slabs
The preference for Four Seasons Marble Wall Tiles, Floor Tiles, Kitchen and Bathroom Countertops in luxury hotels, mansions, and villas can be attributed to several factors.
Firstly, the Four Seasons Marble exudes an unparalleled sense of luxury and sophistication. The unique color palette and intricate patterns of this marble echo the changing seasons, creating a captivating aesthetic appeal. This luxury marble can instantly elevate the ambiance of any room, making it a preferred choice for premium establishments.
Secondly, the Four Seasons Marble Polished Slab is highly versatile and can be used in various applications such as wall tiles, floor tiles, and countertops for kitchens and bathrooms. This broad range of usability makes it a practical choice for designing different spaces within a hotel, mansion, or villa.
Thirdly, the Four Seasons Marble's superior durability makes it a reliable choice for areas exposed to high traffic or usage, such as the floors and countertops in hotels and mansions. Its resistance to wear and tear ensures that it maintains its pristine appearance for a long time.
In terms of cost, the Four Seasons Marble is more expensive than other natural marbles for several reasons. It is quarried from a specific region in France, which adds to its exclusivity and cost. Additionally, the intricate patterns and unique color variations of this marble require a higher level of craftsmanship to properly extract and shape the stone. This meticulous craftsmanship, coupled with the marble's inherent beauty and durability, contributes to its higher price point.
Overall, Four Seasons Marble is a prestigious choice for luxury establishments looking to create an environment of elegance and sophistication. Its unique aesthetics, versatility, and durability make it a worthwhile investment, despite its higher cost compared to other natural marbles.
Four Seasons Marble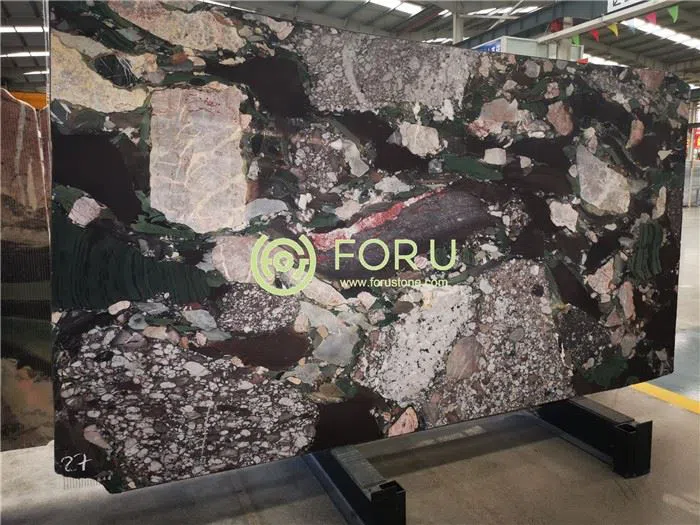 Luxury French Marble
Four Seasons Polished Marble
Luxury Four Season Exotic Marble
Luxury Green Marble Factory
Quality Control
1>Natural glossiness must reach 90 degrees or up.
2>Thickness tolerance: +1mm.
3>Diagonal tolerance: +1mm.
4>Surface flatness tolerance: +0.3mm.
5>Adjacent edge verticality tolerance: +0.5mm.
Precise Cutting by infrared-ray-cut machine.
Delivery, Shipping And Service
Packing and Loading about Four Season Green onyx marble
Standard Packing Quantity

1cm tile: 10pcs/box, 31crates/container, 27TONS
1.5cmtile: 264pcs/crate, 28crates/container, 27TONS
2cm tile: 200pcs/crate, 28 crates/container, 27TONS
3cm tile: 132pcs/crate, 28crates/container, 26TONS
2cm slab: 450m2
3cm slab: 300m2
FAQ
Can you send a sample for reference?
It will depend on the products you need. For the small products, such as tiles, pavers and small animal sculptures etc. We are pleased to send samples for your inspection. As for the large stone products, we are sorry that we cannot send samples, but trial order is acceptable.
The shipping charges for the samples are in the buyer's account.
How to solve quality problems after sales?
(1) Send us pictures/video of the issue that occurred.
(2) Claim the insurance by contacting the insurance agent near you.
After we confirm the problems, such as being caused by machines, carving, etc. Within three days, we will draw up a satisfying program for you.
Do you also make customized designs?
Yes. We can make different sizes as per clients' drawings and pictures. We also provide CAD designs on request of customers.
How long can my order be finished?
It will depend on your order quantity and the complexity of products you purchased. Normally one container order needs 14 – 25 days.
Four Season Green Marble, with its mesmerizing green tones and symbolic meanings, is more than just a natural stone. It is a piece of art, a representation of nature's design, and a symbol of luxury. Be it in residential spaces or commercial establishments, this French marvel never fails to impress, transforming every space into a sight of timeless elegance and sophistication.