Brazilian Luxury Exotic Macaubas Blue Quartzite Slabs
The Blue Macaubas Quartzite is a stunning instance of the artistry of nature. Quarried from the distinguished Macaubas region, this luxury quartzite stone is more than just an easy rock. Its blue tones are delivered to lifestyles through the dominant mineral, dumortierite, which offers it its trademark color and turns it into a true masterpiece. The lustrous sun shades of blue in Azul Macaubas Quartzite are sincerely breathtaking, and the sporadic light veining provides a further touch of magic to this already lovely Brazilian Natural Stone.
Searching for Blue Macaubas Quartzite Slab is like watching a piece of art; every piece has a personal, precise tale to tell. The oceanic narrative that emerges from the waves crashing upon sandy seashores is captured in each slab of this tremendous unique. It is as though the exotic quartzite stone is alive, drawing you in with its staggering beauty and transporting you to a tropical paradise with its harmonious combination of blue Macaubas Brazilian quartzite, and mild veining.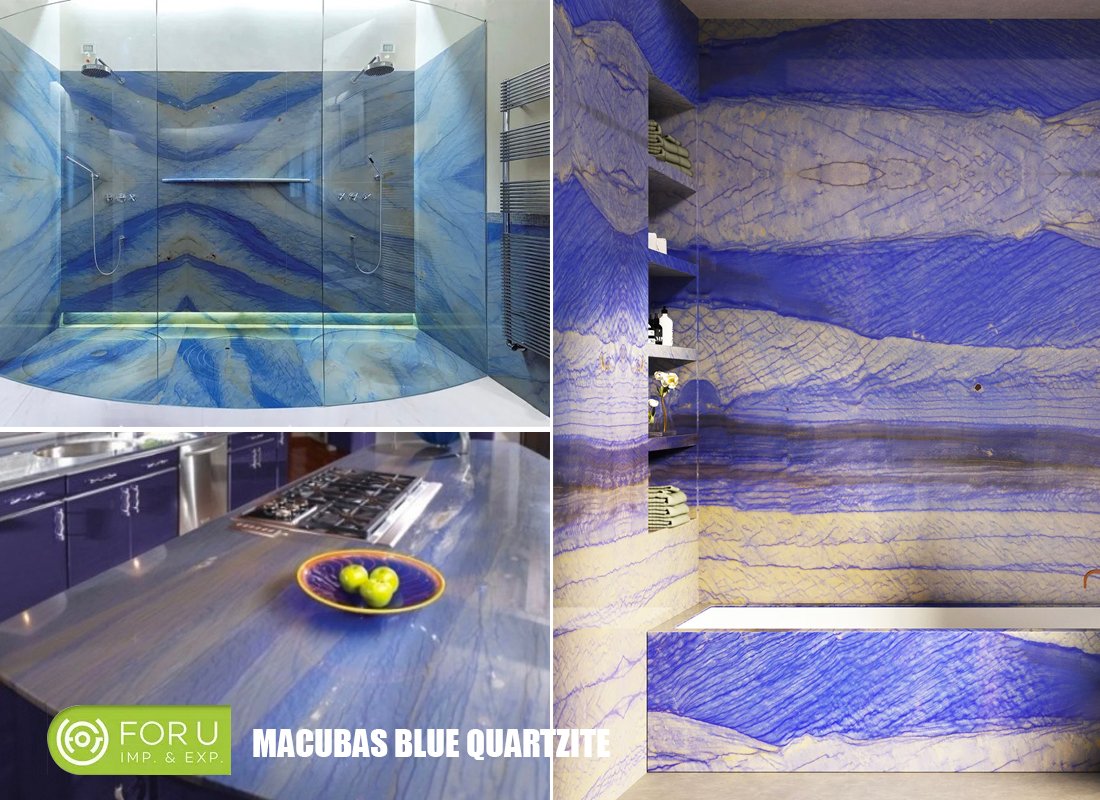 The shades of the Blue Macaubas quartzite range from deep blues that remind you of the midnight sky to lighter, more airy sunglasses that seize the essence of sunlight hours. The colors are so vivid and natural that it is hard to consider that they are now not painted on. This stone is a piece of nature's artistry, and it is clear why it is so highly valued.
Not only is it beautiful, but Azul Macaubas Exotic Quartzite Slab and Tile is also enormously durable. It's a famous desire for both commercial and residential projects because it may withstand heavy use and is proof against stains and scratches. It's also warmth-resistant, making it a wonderful choice for kitchen countertops and different regions where warmth is a problem.
With regards to designing with Blue Macaubas Exotic Quartzite, the options are limitless. It's a versatile fabric that can be utilized in a variety of applications, from countertops and flooring to wall cladding and out-of-door landscaping. Its hanging blue coloration is perfect for developing an assertion piece in any room, and it pairs well with an extensive range of different colors and substances.
Finally, the Blue Macaubas quartzite is a real masterpiece of nature's artistry. From its wealthy blue tones to its sporadic light veining, this stone is a celebration of Earth's unique bounties. Its oceanic narrative and harmonious combination of colors create a vision of tropical paradise, making it the right desire for anybody trying to upload a hint of magic to their domestic or business space. With its sturdiness and flexibility, Luxury Quartzite Azul Macaubas is positive to stay a popular choice for years yet to come.
Standard Sizes of Exotic Quartzite
Exotic Quartzite Size

Slab: 2800 x 1800mm, 2800 x 1600mm, 2600 x 1600mm, 2500 x 1500mm, 2400 x 1400mm, 2400 x 1200mm.

Tile: 305 x 305mm, 305 x 610mm, 610 x 610mm, etc.

Cut-to-size: 300 x 300mm, 300 x 600mm, 600 x 600mm, etc.

Other sizes as per customized request.

Surface

Polished, Honed, Flamed, WaterJet, Leathered.

Package Detail

Slab: plastic inside + strong seaworthy wooden bundle outside.

Tile: foam inside + strong seaworthy wooden crates with reinforced straps outside.

Countertop: foam inside + strong seaworthy wooden crates with reinforced straps outside.

Quality Assurance

During the whole production process, from material choosing, and fabrication to packaging, our quality assurance people will strictly
Control each single and every process to ensure quality standards and punctual delivery.

Delivery Time

7 days per container.

Min Order

1 Slab.

Price Item

FOB Xiamen, China. or we can ship as the client requests.

Payment

30% Deposit before production, 70% Balance before shipping.
Unique and Luxurious Brazilian Quartzite Slabs
The splendor of the Blue Macauba Quartzite Polished Slab is not limited to its visible appeal. Its sturdy and resilient nature makes it the pinnacle pick out for numerous projects. Whether you envision a grand front hall with Blue Macaubas quartzite slabs underfoot or dream of an expansive kitchen island, this stone guarantees lasting elegance. It's by far the preferred desire for:
Kitchen Spaces: Blue Macaubas quartzite countertops provide resilience against daily wear and tear, while Macaubas blue quartzite tiles grace floors and backsplashes with unmatched elegance.

Bathroom Designs: Azul Macaubas quartzite countertops, when paired with blue Macaubas quartzite wall tiles, evoke a spa-like serenity. Their resistance to moisture and chemicals makes them ideal for these spaces.

Commercial Establishments: From hotel lobbies adorned with azul Macaubas slabs to office spaces gleaming with blue Macaubas Brazilian quartzite underfoot, the stone's versatility is evident.

External Facades: Blue Macaubas quartzite's weather resistance makes it a favorite for outdoor wall cladding, imparting a timeless aesthetic.
Dimensions and Sizing:
Blue Macaubas quartzite is available in various sizes to cater to unique project needs. Slabs are typically available in sizes ranging from 60x60cm to 160x320cm, ensuring flexibility in design and application. For specific applications like countertops, tiles measuring 30x30cm, 40x40cm, 60x60cm, and 80x80cm are popular choices. Customized dimensions can also be accommodated based on project specifications.
Blue Macuabas quartzite is a beautiful and versatile stone that is perfect for a variety of interior projects. Here are some of the reasons why:
Unique beauty: Blue Macuabas quartzite is known for its stunning beauty. The stone is characterized by its deep blue color with hints of green and yellow. This gives the stone a unique and eye-catching appearance.

Durability: Blue Macuabas quartzite is a very durable stone. It can withstand scratches, stains, and other forms of damage. This makes it a good choice for high-traffic areas, such as kitchens and bathrooms.

Luster: Blue Macuabas quartzite has a beautiful luster that can make it look like it is glowing. This makes it a good choice for use in areas where the stone will be exposed to natural light.

Maintenance: Blue Macuabas quartzite is relatively low-maintenance. It does not require special care or cleaning, making it a good choice for busy households.

Versatile: Blue Macuabas quartzite can be used in a variety of ways, including for countertops, flooring, walls, and backsplashes. This makes it a good choice for projects where a variety of materials are needed.

Luxurious: Blue Macuabas quartzite is a luxurious stone that can add a touch of elegance to any space. This makes it a good choice for interior projects where the goal is to create a luxurious and sophisticated atmosphere.
Luxurious Quartzite Slabs and Countertops Factory
About FOR U STONE | Leading Stone Manufacturer in China
With over 15 years of unwavering commitment to top-notch quality and customer service, FOR U STONE stands proud as a premier supplier in the stone industry. Our fundamental principles revolve around providing a comprehensive, one-stop service, prompt delivery, and unsurpassed quality in our products.
We understand that the journey to excellence begins at the source, and thus, we have spent years forging strong, reliable alliances with an array of domestic quarry owners. These relationships allow us to ensure the impeccable quality of our products right from the outset.
Our pursuit of perfection doesn't stop there. We are constantly striving to augment our processing technology and management skills, thereby facilitating eco-friendly and precise cuttings in our state-of-the-art factory. Spanning an impressive 6000 m2, our facility stands as a testament to our dedication to environmental stewardship and precision.
At FOR U STONE, our sales team is more than just a group of colleagues – we are a family. This close-knit bond fosters a collaborative environment, where we work hand-in-hand to provide not only competitive prices but also tailor-made solutions that cater specifically to our clients' needs. With us, you can be assured of a professional partner who is dedicated to bringing your vision to life most efficiently and cost-effectively as possible.
Revel in the luxurious elegance of FOR U STONE's Blue Macaubas Quartzite collection. This uncommon gem of nature offers unprecedented sturdiness and capability, making it best for both business and home spaces. From vanity tops to expansive flooring projects, Brazilian Luxury Quartzite Blue Macaubas exemplifies the zenith of layout and functionality. Its unique mixture of colors and styles will add a hint of sophistication to any room. Investing in this collection is an investment in high quality and splendor to close for years yet to come. Allow every area to echo with the beauty of Blue macauba quartzite and raise your design to the next stage.