Cristallo Bianco Exotic Backlit Quartzite Slabs
Cristallo Quartzite Slabs are a natural marvel that has captured the eye of interior designers and designers alike. With its luminous white backdrop and intricate gray and orange veining, this Brazilian Quartzite stone is a masterpiece that exudes timeless elegance and natural splendor.
Cristallo quartzite is available in various versions with unique attributes and traits. This stone promises to transform any undertaking from the serene and natural Cristallo White Quartzite to the exciting and mysterious Cristallo Iceberg Quartzite. In this specific manual, we delve into the unique features of Cristallo Quartzite, its numerous variations, length specifications, and extraordinary versatility.
Cristallo quartzite Stone is a tremendous stone that is complete in both individual and status. The stone boasts a crystalline panorama of quartz deposits and glowing specks of crystal, giving it a smooth and ethereal color palette that brings an experience of calm and sophistication to any software. The reputedly jagged movement of gold(rusty yellow) and grays in various directions all through the stone is a testament to the natural beauty of Cristallo Quartzite Slabs.
One of the most brilliant capabilities of the Cristallo quartzite Polished Slab is its transparency. When the proper mild is carried out on the stone, it turns out to be even more lovely, giving it a unique and beautiful look.
Usages of Cristallo Quartzite Slabs
Cristallo quartzite Stone is a flexible stone that can be utilized in various undertakings. Its attributes make it a high-quality desire for flooring, wall cladding, countertops, and backsplashes. The stone's durability and resistance to scratches and stains make it suitable for high-site visitor regions, ensuring it keeps its natural splendor for future years.
Cristallo quartzite is available in diverse sizes and thicknesses, making it easy to apply to any undertaking software. The stone may be reduced and customized to meet any layout requirement, ensuring it seamlessly integrates into any architectural or interior layout assignment.
The Cristallo Quartzite Slabs have captured the hearts of many interior designers. Its timeless elegance, natural beauty, particular attributes, and versatility make it a first-rate desire for any project. Whether you're looking to create a serene and pure space with Cristallo White Quartzite Slab or an exciting and mysterious area with Cristallo Iceberg Quartzite, this stone guarantees to transform your challenge into a masterpiece.
Dimension of White Quartzite Stone
Tile

Slab

Kitchen Countertop

Vanity Top

12″x12″

(305X305 or 300X300)

1000(up)*600(up)

96″x36″

25″x22″

24″X12″

(610X305 or 600X300)

1000(up)*700(up)

96″x25 1/2″

31″x19″/22″

24″x24″

(610X610 or 600X600)

1000(up)*900(up)

96″x16″

37″x19″/22″

18″X18″

(457X457)

1800(up)*1200(up)

78″x36″

49″x19″/22″

400*400

2400(up)*1200(up)

78″x25 1/2″

61″x19″/22″

800*800

According to
your request

72″x36″

73″x19″/22″

According to your request

As per your drawing

Thickness: 10mm; 12mm, 15 mm; 18 mm; 20 mm; 25 mm; 30 mm; 35mm; 40mm; 45mm; 50mm; etc.
16mm Brazilian Quartzite Backlit Slab
Cristallo White Quartzite Epitomizing purity, this variant provides a serene white base, making it the perfect canvas for contemporary and minimalist designs. Enriched with more pronounced veining, this selection is for those seeking a bit of drama without compromising elegance. Characterized by its translucent qualities, this variety gives the illusion of depth, akin to gazing into a frozen wonderland. Cristallo Exotic Quartzite Slabs for those who dare to be different; the exotic version offers intricate patterns, guaranteeing a statement piece.
Quarries Information: Directly sourced from the heart of Brazil, this variant promises authenticity and robustness, perfect for heavy-duty applications.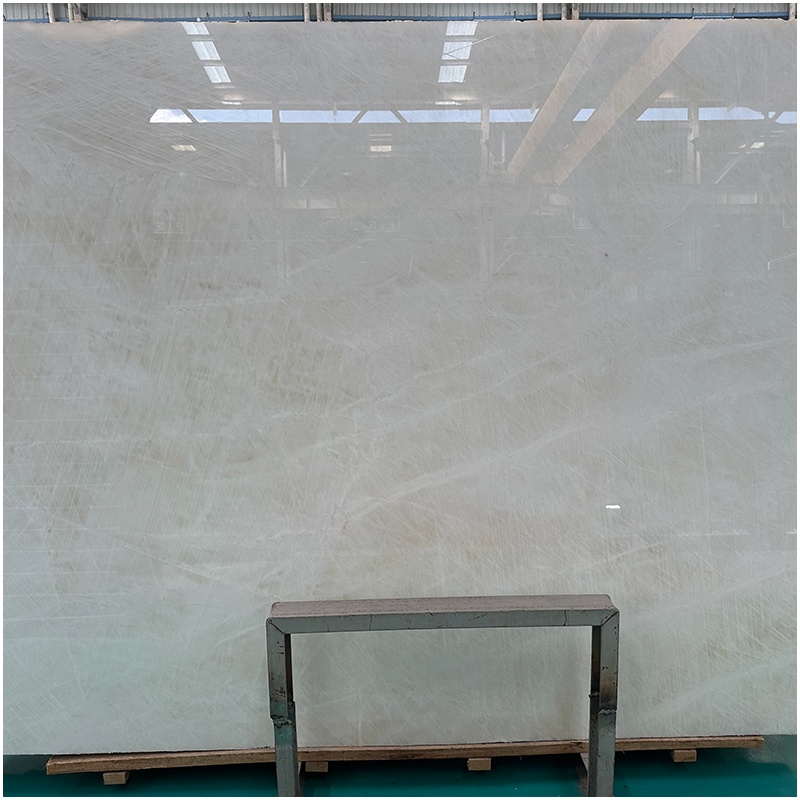 Cristallo Bianco Quartzite is versatile and available in many sizes to cater to diverse needs. Whether you're looking for expansive slabs for grand countertops or smaller, bespoke pieces for intricate detailing, this stone doesn't disappoint.
Slabs: Available in 2 and 3-CM thicknesses, catering to varying structural needs. Specific dimensions include 113×74 and 128×72, ensuring grandeur in spaces.

Tiles: Ranging from the expansive to the compact, one can opt for sizes suitable for floor and wall applications, ensuring design continuity.

Custom ents, Cristallo Quartzite, can be tailored to project dimensions for those unique project dimensions, guaranteeing a perfect fit every time.
Cristallo Quartzite Slab is a highly versatile natural stone that can be utilized in diverse projects or applications. It's acknowledged for its toughness and aesthetic appeal, making it a famous preference for countertops in kitchens and bathrooms. It is also superb for including a hint of elegance to both indoors and exterior walls. The stone is best for outside areas, pool surrounds, and patio floors, imparting style, and sturdiness. Moreover, it's an excellent choice for external facades for residential or industrial homes presenting safety and aesthetic elevation. Cristallo Quartzite is likewise a fave for specialized projects in lodges, workplaces, shops, and comfort villas, effortlessly integrating into any area and making it stand out.
Luxury Quartzite Stone Factory
Quality Control
One/ Gloss degree 45 or up
Two/ Thickness tolerance: ( ±1mm)
Three/ Diagonal tolerance: ( ±1mm)
4/Surface flatness tolerance: ( ±0.3mm)
Quality Assurance: During the production process, from material choice to fabrication to packaging, our quality assurance people will strictly control every process to ensure quality standards and punctual delivery.
All our products are thoroughly inspected one piece by one piece.
Delivery, Shipping, And Service
Packing and Loading about gray quartzite countertops
| | |
| --- | --- |
| Package | (1) Slab: Seaworthy wooden bundles; |
| | (2) Tile: Styrofoam boxes and seaworthy wooden pallets; |
| | (3) Vanity tops: Seaworthy, wooden solid crates; |
| | (4) Available in Customized packing requirements; |
| | All the above packages will be fumigated and stamped for export orders; |
| | 2cm slabs: 15-18 pcs / 75 sqm / 4100kgs per bundle |
| | 3cm slabs: 10-13 pcs / 50 sqm / 4100kgs per bun |
FAQ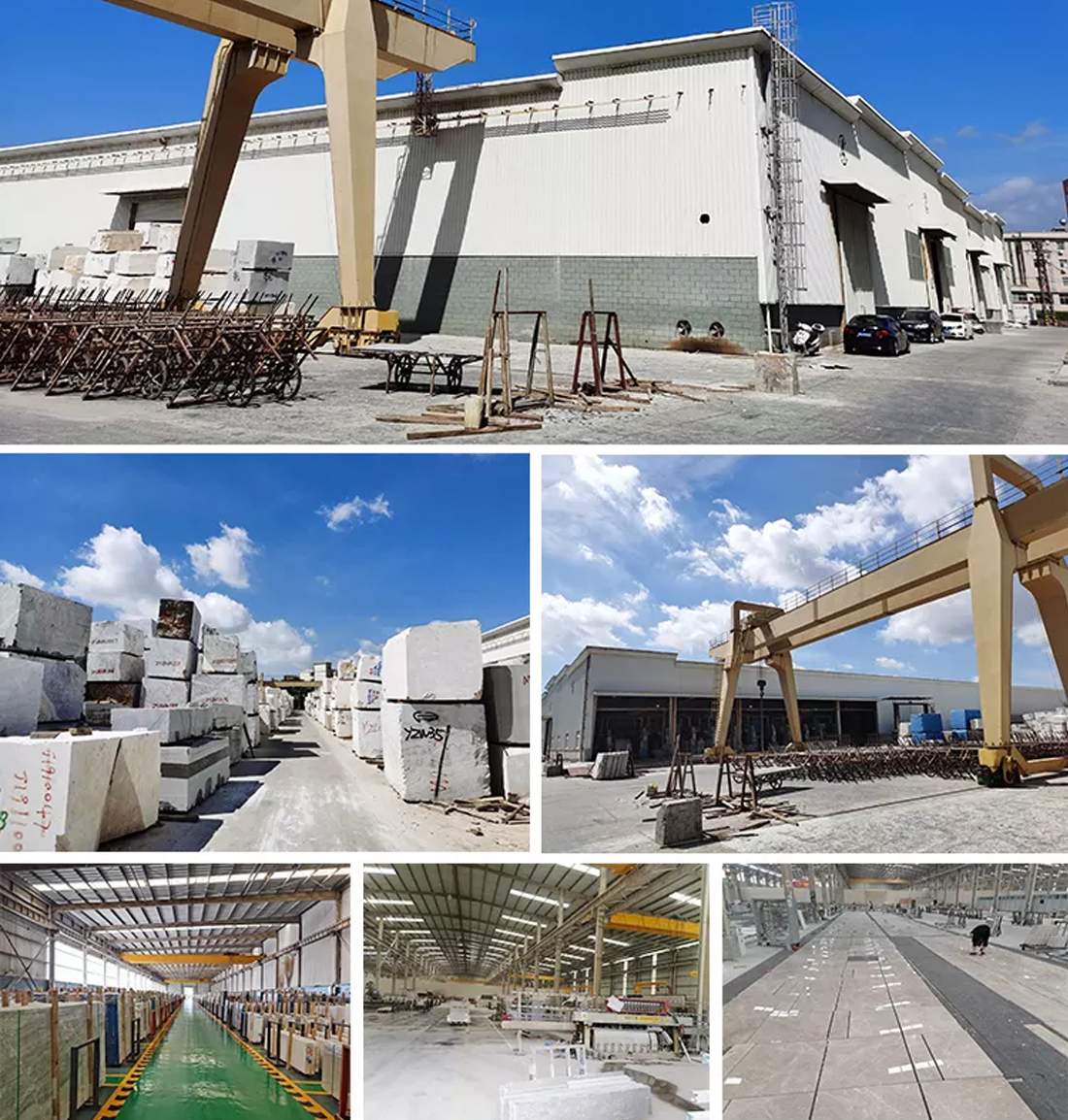 01. How to get a sample?
The sample will be provided on the condition that:
* Sample requests less than 200*200mm can be sent for quality tests free of charge.
* Sample delivery cost will be at the buyer's account.
02. When to start production?
* Right after our bank confirms the arrival of the L/C or the advance payment.
03. Delivery Leadtime
* Lead time is around 2-3 weeks per container.
04. Packaging
* Packing in export standard quality wooden crates, hardboard carton boxes, or pallets based on request.
05. Guarantee & Claim?
* Replacement or repair will be done when any manufacturing defect is found in production or packaging.
Its variations, from the ethereal Cristallo Bianco Quartzite to the vibrant Cristallo Exotic Quartzite, promise to cater to every design palette. This coupled with its size versatility and broad application spectrum makes it an invaluable asset for any design project. When quality, aesthetics, and functionality intertwine, Cristallo Quartzite emerges as the unequivocal choice.

Suppose you're interested in FOR U STONE's luxury and popular decoration materials like Brazilian White Cristallo Quartzite slabs, tiles, tables, and countertops. In that case, you are welcome to buy quality products at an affordable price with us. As one of China's leading Backlit Cristallo Quartzite manufacturers and suppliers, we also support wholesale service. For more info, contact us now.