Calacatta Golden Italian Marble Slab for Cut-to-Size Tiles and Countertops
The allure of Italy has always been a blend of its rich history, its vibrant culture, and its legendary artistry. A pivotal piece of that artistry, and indeed the epitome of Italian elegance, is captured within the Calacatta Oro Golden Marble. This natural wonder, extracted from the heart of Italy's Carrara area, has been the cornerstone of high-end interior projects worldwide, becoming synonymous with luxury and sophistication.

From the moment the first rays of sunlight dance across its shimmering surface of Calacatta Gold Marble, one cannot help but be entranced by its hypnotic beauty. An exquisite blend of a crisp white backdrop, traversed by warm, grey veins and pale gold hues, weaves a canvas of unparalleled allure. This natural stone's vibrant interplay of colors is a visual treat, a vivid display of earth's deep-seated artistry frozen in time and carved into existence.
Ideal for a wide array of applications, this versatile stone takes on many forms, breathing life into living rooms, transforming bathrooms into personal spas, and staircases into grand entrances. The Calacatta Borghini Marble Slabs are an exquisite sight to behold, whether as a centerpiece in deluxe hotels, the highlight of an upscale mall, or the elegant countertop in private galleries.
Exploring the various forms of this stunning marble, one is introduced to the Calacatta Gold Honed Marble. This marble variant bears a polished finish, which allows its natural beauty to shine forth uninhibited. Its bold veins create a subtle, yet captivating contrast, a sight that's truly mesmerizing in any light.
The Colacatta Golden Marble Slabs embody the same natural elegance but offer a slightly different perspective. These slabs feature the familiar white backdrop and gold veins, but with a unique pattern that sets them apart, making them a popular choice among luxury apartments and mansions.
The Calacatta Oro Marble Slabs, on the other hand, capture the essence of their Italian roots with a distinct touch of grandeur. Perfect for applications that require a sense of opulence and luxury, these slabs are often found gracing the floors of high-end boutique stores and casinos.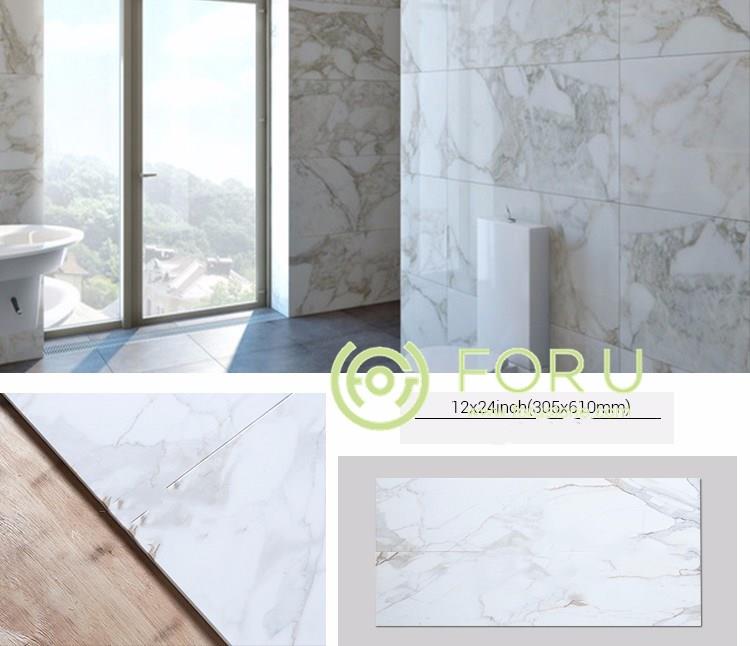 If you're considering bringing a slice of Italian luxury into your home, consider the Clacatta Gold Marble Tiles. These tiles retain all the natural beauty of their larger counterparts, making them a popular choice for many residential projects. Their compact size and versatility allow them to be incorporated into various spaces, from bathrooms to kitchens, adding a touch of elegance wherever they're used.
Likewise, the Calacatta Gold Marble Vanity Tops and Calacatta Gold Marble Countertops are a testament to the stone's versatility. Infusing spaces with an indelible touch of class and sophistication, they highlight the warm and inviting atmosphere that this stone naturally exudes.
Offering variety in design and installation, the Calacatta Golden Marble Slabs, available in sizes of 2950 x 1800 x 20mm, add a touch of flexibility to any architectural project. This flexibility extends to the range of coordinating wall tiles, floor tiles, and mosaic tiles available. These offer endless possibilities to match the aesthetic requirements of any designs of Hotels, Mansions, Villas, Private House, Residences, and other commercial building projects.
Reflecting the subtle beauty of its Italian roots, Calacatta Gold, also known as Calacatta Oro, is a stunning natural stone famed for its distinctive white base and delicately woven veins of gray and gold. Its captivating aura, akin to the allure of the picturesque Carrara region from where it originates, creates an ethereal ambiance in any living space, be it residential or commercial. With its refined aesthetics, this stone is the perfect embodiment of luxury, transforming bathrooms, living rooms, and staircases into regal masterpieces.
Every slab of Calacatta Oro Marble is a work of art, rich in shimmering threads and ribbons of fawn that traverse through its surface, embodying the true splendor of this elegant stone. Measuring at an impressive 2950 x 1800 x 20mm, each slab is meticulously crafted, resonating with an innate elegance that is hard to match.
The Calacatta Gold Honed Marble, with its satiny smooth finish, subtly reflects light to create a serene, welcoming aura, perfect for luxurious hotels, stately mansions, and upscale villas. Its pristine elegance also finds a place in cozy apartments and private houses, effortlessly elevating their style quotient. From the glitzy world of malls and boutique stores to the grandeur of resorts and casinos, the presence of Calacatta Gold is palpable, infusing spaces with its distinct touch of opulence.
Basic Info
| | | | |
| --- | --- | --- | --- |
| Model NO.: | Calacatta Gold Marble Slab | Color: | Gold |
| Marble Usage: | Wall, Floor, Ceiling | Marble Certification: | CE, TUV, ISO |
| Marble Application: | Living Room, Bathroom, Dining Room, Outside, Kitchen | Payment: | 30%/T in Advance, 70% Before Shipment |
| Marble Sheet Size: | 12″X12″ | Product Name: | Calacatta Marble |
| Mounted: | Mesh on The Fiber | Finish: | Polished/Honed |
| Joint: | 2 mm | Trademark: | For U |
| Delivery: | 7-15 Days After Deposit Received | Shipping Way: | 1) by Sea 2) by Air 3) by Courier |
| Packing Details: | Paper Bag + Wooden Crate | HS Code: | 6802109000, 6802109000 |
| Transport Package: | Carton Packing with Wooden Pallet | Specification: | Grade A |
| Origin: | China | | |
Specification of Italian Marble
| | |
| --- | --- |
| Item Number | Carrara gold marble |
| Material | Marble +glue+Procelain tile base |
| Size/Dimensions | 600*600mm |
| Thickness | Base tile thickness: 9mm+marble thickness: 3/5mm |
| Surface | Polished |
| Glossiness | 85 degrees |
| Color | volakas |
| Deliver Time | 10-25 days after receiving a deposit |
| Package | Export standard carton with wood pallet |
| Payments | T/T, L/C, D/P, NEGOTIABLE |
| Usage | Wall & floor |
Natural Luxury Italian Marble Slabs
The Colacatta Golden Marble Slabs and Clacatta Gold Marble Tiles from the Calacatta series have become a preferred choice for a range of high-end interior projects. Renowned for their unique charm and versatility, these materials can complement any interior style decoration. Furthermore, Calacatta Gold Marble Countertops and Calacatta Gold Marble Vanity Tops are favorites in the realm of interior design. They exude an indomitable charm, making them a go-to option for enhancing the luxury quotient of a space.
Calacatta Gold Marble
Calacatta Golden Marble
One cannot discuss the Calacatta series without mentioning the famed Calacatta Borghini Marble Slabs. Recognized for their dramatic gray and gold veining against a creamy white background, these slabs encapsulate the opulence and timeless beauty of the natural product.
At FOR U STONE, we believe in providing not just products, but experiences. Our Calacatta Oro Marble Slabs and Calacatta Oro Golden Marble personify this belief. Every slab is a testament to our dedication to quality and our commitment to creating spaces that tell a story of timeless elegance.
Luxury Marble Floor and Wall Tiles Factory
Quality Control
The quality of all products is strictly under our control, so we could make sure that what we offer to you is a superior and quality product. From the beginning of production to the examination of finished goods, we all try our best to avoid any mistakes carefully.
Delivery, Shipping And Service
Packing and Loading about

Calacatta Gold Marble Slab
Packing & Delivery

Regarding product packing and loading, we also do a safe way. We are rich.

experienced and professional team to handle product packing, space

Availability and stacking in container, ensure that the goods you receive

And you expect are the same.

Packing details

1) Inner packing: Cartons or foamed plastics (polystyrene).

2) Out packing: Seaworthy wooden crated with fumigation.

Delivery detail

1) Delivery Time: 10~15 days after the order is confirmed.

2) Shipping Port: Xiamen Port, China
FAQ
Can you send me a free sample?
Yes, a free sample can be sent for test quality
When we place an order, can I visit your factory to inspect goods?
Yes, we are welcome to you come to visit us.
Does FOR U STONE ship worldwide?
Calacatta Gold is more than just marble; it is an embodiment of Italian elegance, a piece of art that has the power to transform spaces. Whether it is the classic Calacatta Gold Italian Marble or its variants like the honed or the Borghini, each slab and tile carries a piece of Italy's timeless beauty, waiting to grace your interiors. So, if you aspire to bring home a slice of this Italian opulence, we invite you to discover the world of Calacatta Gold at FOR U STONE today.
At present, we ship container orders worldwide from China. The options for shipping pallet quantities vary from product to product. More details,please contact us.
If you're interested in our calacatta gold marble, welcome to buy the quality products at an affordable price with us. As one of the leading Marble Wall Cladding manufacturers and suppliers in China, we also support wholesale service. For more info, contact us now.