Italian Calacatta Oro White Marble Slabs For Indoor Wall and Vanity Tops
Among the best natural marbles the sector has to provide, Calacatta Oro Gold Marble from FOR U STONE Natural Marble Factory stands in a league of its own. This stone embodies luxury in its purest form, with its glorious golden veins contrasting with a milk-white backdrop. Every slab consists of a legacy of Italian craftsmanship, and when utilized in layout, it instructs interest, making a statement of refinement and fashion.

Quarries from the Carrara quarries, Calacatta Oro Marble, is famed for its unique golden veins that provide it its call, which interprets to Gold Calacatta. Occasionally, those veins subtly fade, gracing the stone with delicate ivory tints. This dynamic play of colors imparts warm temperatures to the rock, setting it apart from its counterparts.
Embracing Warmth and Elegance
The smooth yellows and ambers redecorating the Calacatta Oro Marble Tiles floor carry unparalleled warmth. The high polished satin finish, juxtaposed with shaded gold veins, renders a classy; this is high-priced and welcoming. This marble effect enhances spaces, best for interiors that desire a hint of sophistication, reflecting an inherent feel of fashion.
The Epitome of Luxurious Design
With its excellent chromatic traits, Calacatta Oro Italian Marble is a pinnacle desire for upscale interior design initiatives. From opulent residing rooms to spa-like toilets, the presence of this stone elevates the atmosphere. Given its grandeur, this marble must remain the point of interest after use, commanding the admiration it rightly merits.
Calacatta Oro Marble from Wild Range is a stunning white marble with dramatic gold veining. It is quarried in Italy and is a popular choice for excessive-stop constructing programs, such as:
Countertops: Due to its splendor and sturdiness, Calacatta Oro Marble Countertop is a widespread desire for countertops. It is likewise immune to heat and moisture.




Flooring: Calacatta Oro Marble Flooring Tile can be used for floors to create a high-priced and fashionable look. It is likewise proof against wear and tear.




Wall cladding: Calacatta Oro Marble may be used for wall cladding to add a hint of luxury and class to any room.




Fireplace surrounds: Calacatta Oro Marble Stone is a famous desire for hearth surroundings because of its sturdiness and heat resistance.




Other architectural features: Calacatta Oro Marble can also be used for several architectural functions, including stair treads, windowsills, and columns.




Here are a few unique examples of the way Calacatta Oro Marble from Wild Range may be used in exclusive forms of homes:
Residential buildings: Calacatta Oro Marble is a popular preference for countertops, flooring, and wall cladding in luxurious houses. It can also be used for fireside surrounds and other architectural features.




Commercial buildings: Calacatta Oro Marble is likewise a widespread preference for countertops, floors, and wall cladding in business homes, along with accommodations, restaurants, and workplace homes. It can also be used for fireside surrounds and other architectural capabilities.




Institutional homes: Calacatta Oro Marble is likewise used in institutional buildings, hospitals, schools, and authority homes. It is a durable, sanitary stone that is easy to clean and keep.




Religious buildings: Calacatta Oro Marble is likewise utilized in spiritual homes, including church buildings, mosques, and temples. It is a durable and stylish stone that can create an experience of peace and calmness.
No matter what kind of construction, Calacatta Oro Marble from Wild Range is a versatile and elegant stone that may create lovely and durable finishes.
Products Description
| | |
| --- | --- |
| Marble Factory | For U Stone |
| Surface Finishing | Polished |
| Marble Type | Calcite |
| Stone Form | Big Slab |
| Material | Italy Calacatta Gold Marble |
| Type | Marble |
| Colors | white marble with grey and gold veins |
| Usage | interior & exterior decoration |
| Thickness | 14mm/15mm/16mm/18mm/20mm/25mm |
| Size | Any size can be customized. |
| Finished | polished, honed, acid-washed, antique, etc. |
| Product | Slab, cut-to-size tile, mosaic, strips, carving, block column |
Luxury Natural Italian Marble Slabs
Calacatta Oro Marble Polished Slabs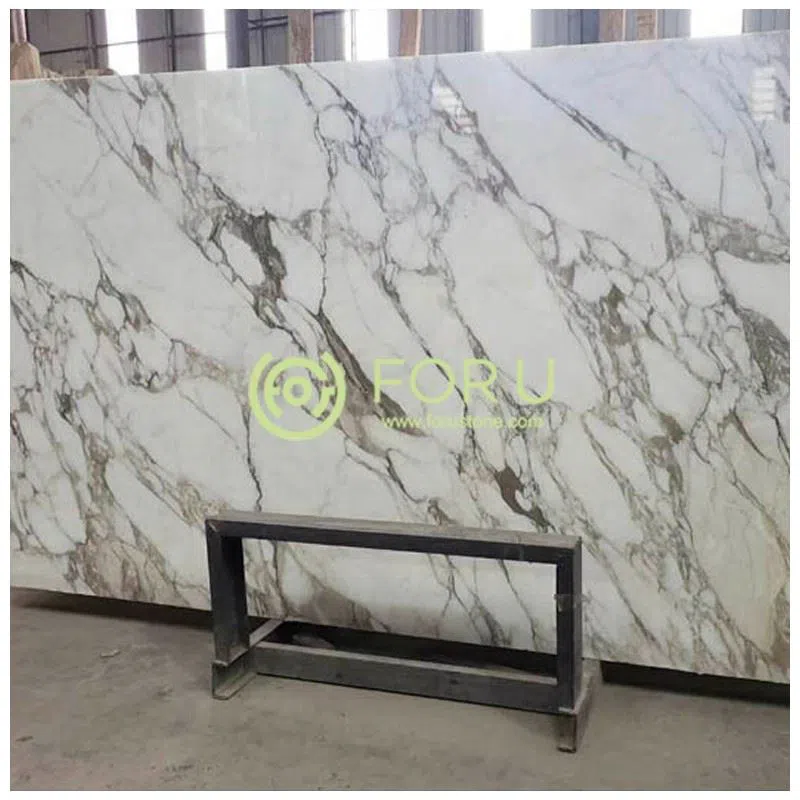 Calacatta Oro Marble Stone
Calacatta Gold Marble Slab
Calacatta Oro Gold Marble is a beautiful white marble with golden beige veining running through the jumbo slab surface. Calacatta Oro Gold Marble looks well next to fireplaces and in bathrooms, and it has a classy design that will add value to your property. The stunning veins that flow through this white marble stone create a strong statement.
This is one of the best materials the planet has to offer. It is quarried in Italy, like many other delicate varieties of marble. Adding Calacatta Oro Marble to your property will not only make it more beautiful, but it will also boost its worth. This is especially useful if you plan to sell your property in the future, as Calacatta Oro Slab surfaces are among the most popular among homeowners.
Choose High-Quality Natural White Marble From FOR U STONE
ForU Stone provides Calacatta Oro White Marble from Jumbo Slabs, Cut-to-Size Floor or Wall Tiles, and Kitchen and Bathroom Vanity Tops for different commercial estate projects of world wild markets. This luxurious Italian Calacatta Marble Collection is suitable for fine works and luxury: the grain of gold on a white background makes the marble Calacatta Gold ideal for bathrooms, living rooms, and staircases.
Raw Marble Large Blocks
Wire-cut surfaces on one or more surfaces
Slabs in thicknesses of 2 and 3 cm are available for immediate delivery. On request, sizes 4, 5, 6, 8, 10, and 12 cm are available.
The surface has been polished. In massive quantities and upon request: Brush Hammered, Brushed, Rough, Honed, Resinated, Flamed, Rough, Honed, Resinated, Flamed
Material that introduces striking chromatic changes.
Large quantities of material are usually available.
Luxury Italian Marble Factory | FOR U STONE
FOR U STONE, dedicated to high quality and elegance, brings the Calacatta Oro Gold Marble to the forefront, tailored for brilliant real estate endeavors. Whether for kitchen countertops in a bustling business area or conceitedness tops in a luxurious restroom, FOR U STONE guarantees versatility in application. Each piece echoes top-class craftsmanship, from wall panels and floor tiles to staircases and paving. This series, ideal for diverse settings consisting of villas, hotels, workplaces, or even enjoyment centers, encapsulates the essence of Italian luxury.