Chinese Black and White Panda Marble Slabs For Feature Wall Projects
Panda White Marble, also known as White Panda Marble, is a coveted material that showcases a timeless beauty and remarkable visual impact. With its white backdrop and prominent black veins, this Chinese Black and White marble is highly sought after for its ability to create stunning and distinctive looks in various applications.
Panda White Marble slabs are available in polished finishes, accentuating the natural beauty and unique patterns of this exquisite stone. These slabs are typically 20-30mm thick, making them suitable for a wide range of interior decoration projects. Whether you're designing an elegant kitchen countertop, a luxurious vanity top, or a captivating feature wall, Panda Marble slabs provide the perfect canvas to bring your vision to life. The sizes of China Calacatta Marble Panda White Marble Slabs For Wall Feature can vary, with lengths ranging from 1.5 to 3 meters and heights from 1.2 to 2 meters, offering flexibility in customization and installation.
For those seeking a more intricate and detailed look, Panda White Marble Tile is also available in tile form. These Panda Marble tiles allow for precise placement and create visually appealing patterns when properly installed. Panda White Marble tiles are ideal for bathroom floors, shower walls, and other interior applications. The size options for Panda White Marble Floor tiles may vary, offering versatility in design and installation.
When it comes to kitchen and bathroom countertops, Panda White Marble delivers a timeless elegance. Its contrasting black veins on a white background provide a striking and sophisticated aesthetic. If you already have a white-themed kitchen, Panda White Marble countertops seamlessly blend in, adding a touch of luxury and style. The durability of this marble ensures long-lasting beauty that withstands daily use and complements a range of design styles.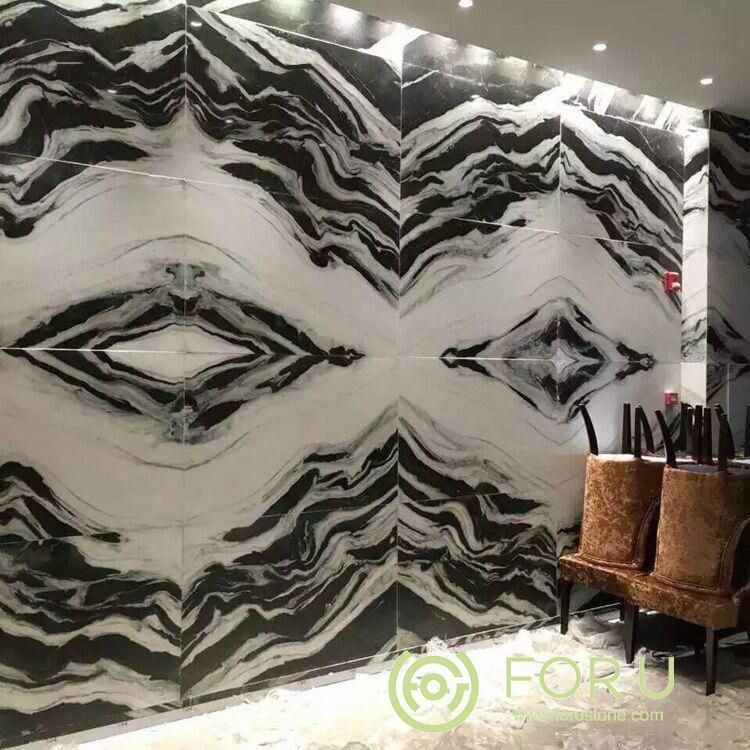 China Calacatta marble panda white marble slabs for wall feature
Polished Natural China Panda White Marble Tiles and Slabs
Panda White Marble Tiles

Panda White Marble

Marble Tiles and Slabs
Specification of Panda Marble
| | |
| --- | --- |
| Product Name: | China Whie Marble Tiles And Slabs Panda White Marble Flooring Tile Wall Panel |
| Item No.: | FOR -PANDA WHITE MARBLE |
| Stone Type: | Marble |
| Material Name: | Panda White |
| Finish: | Polished |
| Other Available Finish: | Honed, Acid-Washed, Water-Jet, Sandblasted, Chiselled, Sawn… |
| Application: | For Wall and Floor Tiles, Skirting, Tread & Riser, Window Sills, Countertops, Vanity Tops, Tub Surrounding… |
| Sizes For Tiles: | 12"x12", 12×24, 18×18, 24×24, 36×36, 6×24, 4×12, 3×9, 3×6… |
| Sizes For Cut-To-Size: | 300x300mm, 300x600mm, 400x400mm, 400x600mm, 400x800mm, 600x900mm, 800x800mm, 900x1200mm |
| Sizes For Big Slabs: | 1200x2400mm up |
| Sizes For Half Slabs: | 1800upx600/700/800/900mm |
| Available Thickness: | 16-18mm, 20mm, 30mm, other custom thickness available upon request. |
| Quality Standard: | ● Glossiness: 95 degrees or up ● Thickness Tolerance: +/-0.5mm (for tiles), +/-1mm (for slabs) ● Diagonal Tolerance: +/-1mm ● Surface Flatness Tolerance: +/-0.3mm ● Adjacent Edge Verticality Tolerance: +/-0.5mm |
| MOQ: | 50SQM |
| Delivery Time: | 15-30 days after receiving deposit, depending on order quantity. |
| Monthly Capacity: | 10 containers of marble tiles & slabs |
| Payment Terms: | T/T, L/C at sight, Western Union, Paypal |
| Price Terms: | FOB, CF, CIF, DDU |
Panda Marble Slabs on Sales
A Panda White Marble feature wall tile is a stunning and captivating addition to any interior space. With its unique blend of white and black colors, this marble creates a striking focal point that exudes elegance and sophistication. Whether used in residential or commercial settings, a Panda White Marble feature wall is guaranteed to leave a lasting impression.

The natural beauty of Panda White Marble Wall Tile lies in its distinctive veining pattern. The bold black veins effortlessly flow across the white
background, resembling the iconic markings of the panda, after which it is named. This intricate and free-flowing design adds a touch of artistry and allure to any space, creating a visual masterpiece that demands attention.
Installing a Panda White Marble feature wall instantly transforms an ordinary room into a luxurious haven. The timeless appeal of this marble ensures that it never goes out of style, making it a perfect choice for those seeking both contemporary and classic aesthetics. Whether used in living rooms, bedrooms, dining areas, or even commercial spaces like hotels or restaurants, the Panda White Marble feature wall elevates the overall ambiance with its graceful and sophisticated allure.
Aside from its striking appearance, Panda White Marble is also highly durable and long-lasting. This natural stone is known for its resilience, capable of withstanding the test of time and maintaining its pristine condition even in high-traffic areas. Its durability makes it an excellent choice for feature walls, ensuring that they remain beautiful and intact for years to come.
Moreover, the versatility of Panda White Marble allows for endless design possibilities. The wide range of available sizes and finishes provides the freedom to create customized feature walls that perfectly suit any space and design vision. Whether you prefer large-format slabs for a seamless and uninterrupted display or smaller tiles for a more intricate pattern, Panda White Marble caters to all design preferences.
Embracing the beauty of nature, a Panda White Marble feature wall brings a sense of harmony and tranquility to any room. The contrasting colors and graceful veins create a captivating visual symphony, adding depth and dimension to the space. Whether used as a backdrop for artwork, a focal point in a living area, or an accent wall in a bedroom, the Panda White Marble feature wall effortlessly blends art and nature to create a truly mesmerizing environment.
Panda Marble Factory
Panda White Marble continues to captivate homeowners, designers, and architects with its stunning appearance and versatile applications. From slabs to tiles and countertops, this magnificent natural stone brings an air of timeless elegance to any interior space, making it an excellent choice for those seeking both beauty and durability.
If you're interested in our china calacatta marble panda white marble slabs for wall feature, welcome to buy the quality products at an affordable price with us. As one of the leading White Marble Series manufacturers and suppliers in China, we also support wholesale service. For more info, contact us now.