Semi Precious Green Gemstone Slabs Malachite For Interior Projects
Malachite Semi Precious Slabs are known for its unique metaphysical healing properties, making it an excellent choice for those who want to incorporate gemstone energy into their home or commercial space. Malachite Green Slab is said to be the color of personal growth and abundance of the spirit, and it is believed to bring a lesson in sustainability. This gemstone is also known as the stone of transformation, and it is said to bring energy and focus to new growth while purging off any negativity or emotional blockages.
Our malachite slabs are expertly crafted in a flower pattern, which requires exceptional craftsmanship to achieve the vibrant and elegant look that this gemstone is known for. We offer a range of designer pattern options, including solid, marble base, granite base, and acrylic base, to meet our clients' specific requirements.
Our malachite gemstone stone is opaque by nature, which means that our design pattern slabs and tiles cannot be backlit. However, the stunning natural patterns and colors of green malachite slabs are more than enough to make a bold and beautiful statement in any space.
In addition to its metaphysical healing properties, malachite green gemstone slab is also known to have several physical health benefits. It is said to be a diuretic stone that can help to cure kidney and gallstones, fight osteoarthritis, strengthen memory, and treat epilepsy, travel sickness, and vertigo. Malachite is also believed to help in the healing of fractures, swollen joints, tumors, torn muscles, and broken bones. It enhances the immune system and stimulates the liver to release toxins.
Wide Range Interior Application of Malachite Gemstone
FOR U STONE offers malachite slabs, tiles, and surfaces in a range of sizes, thicknesses, and surface types to meet the needs of our clients. Our malachite products are perfect for high-end luxury countertops, table tops, backsplashes, and many other interior applications in residential homes, villas, hotels, clubs, bars, coffee houses, franchised stores, bathroom fountains, kitchen rooms, and similar applications.
Semi-precious malachite slabs are highly sought-after by those seeking to create truly unique and luxurious interior designs. Malachite is a semi-precious gemstone that is prized for its stunning green color and intricate patterns. It is a rare and exotic material that is not commonly found in traditional interior design projects.
The beauty of malachite lies in its unique patterns, which are created by natural formations of copper carbonate crystals. Each slab is truly one-of-a-kind, making it a highly prized material for those looking to create a truly exclusive interior design. This exclusivity is a key factor in why malachite is so popular among the wealthy.
Basic Info of Semi Precious Gemstone
| | | | |
| --- | --- | --- | --- |
| Place of Origin: | China | Stone Form: | Big Slab/tile |
| Surface: | High polished | Delivery: | Usually by sea, by air. |
| Usage: | Wall cladding decoration, Countertops, Vanity Tops, etc. | Type: | Gemstone slab |
| Thickness: | Malachite Gemstone | Package: | Export wooden cartons with safety foam |
| Payment Terms: | T/T 30% Deposite, balance before documents | Whatsapp: | 0086-13655955495 |
1. Brand: Xiamen For U Stone Imp. & Exp. Co., Ltd.
2. MOQ: At least 50 square meters
3. Code: Green Gemstone, Malachite Green Semi Precious Stone
4. Slab: (100-1600)mm X (200-3200)mm X 20mm (100-1600)mm X (200-3200)mmX 30mm
5. Tile: 800x800mm, 600x600mm, 300x300mm, 300x600mm
FOR U STONE's gemstone slab collection is a very luxurious and natural material for home and 5 star hotel decoration. Here we have some different colors agate and quartz( all natural ones). Well, semi precious stone agate stone are offering. Please feel free to contact us for more information.
Luxury Semi Precious Gemstone Slabs and Designs
Malachite Semi Precious Stone is often used to create high-end luxury countertops, backsplashes, and other decorative surfaces in residential homes, villas, hotels, clubs, bars, coffee houses, franchised stores, bathroom fountains, kitchens, and other similar applications. Its luxurious appearance adds an elegant touch to any space and elevates the overall aesthetic of the room.
Moreover, malachite stone slab is believed to have healing properties and has been used in various cultures for centuries to promote physical and emotional healing. It is thought to enhance the immune system, stimulate the liver to release toxins, and promote emotional risk-taking, among other benefits. These metaphysical properties of malachite further add to its allure and appeal.
In summary, semi-precious malachite slabs are a rare and exotic material that is highly prized for its beauty, uniqueness, and healing properties. Its use in high-end interior design projects is a symbol of exclusivity, luxury, and sophistication, which is why it is so appealing to the wealthy. Its natural patterns and colors add elegance and character to any space, making it a truly exceptional material for those who appreciate the finest things in life.
Semi-precious stones are considered a luxury for interior decoration projects. These stones are rare and valuable, often coming from remote and exotic locations around the world. This makes them a symbol of exclusivity and uniqueness, which appeals to those looking for something special and unique for their homes or commercial spaces. semi-precious stones are often seen as a statement piece, adding a touch of elegance and sophistication to any space. Whether used as a bold accent or as a subtle complement to other design elements, these stones can elevate a room's overall look and feel, making it feel more luxurious and inviting.
Flower Pattern Malachite Gemstone Slabs
Green Malachite Gemstone Slabs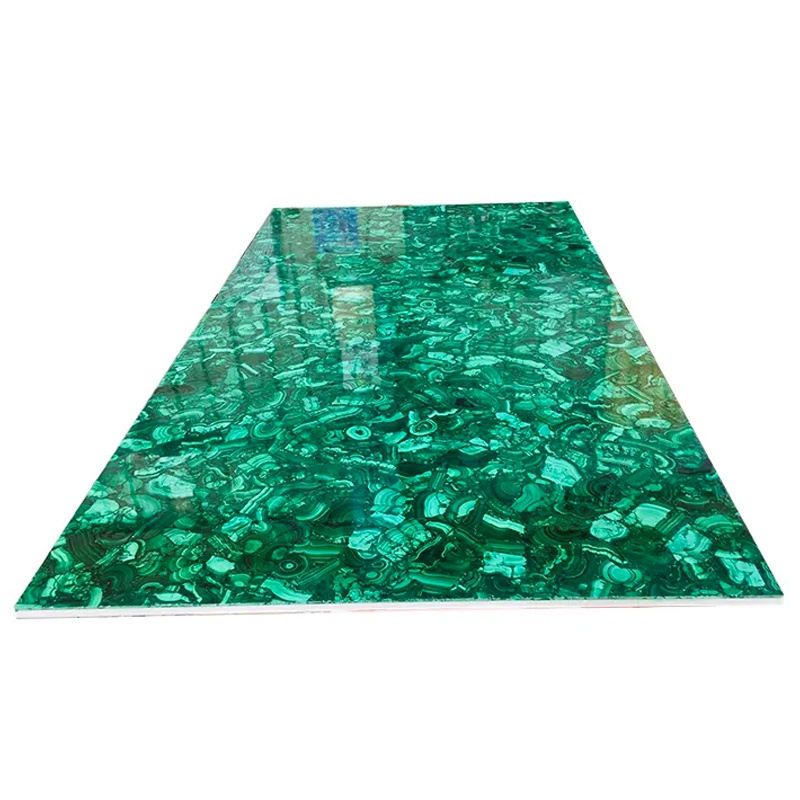 Semi Precious Gemstone Slabs
Semi Precious Gemstone Slabs Countertop Factory
Quality Control
1. Well packed to prevent damage during long distance transportation
2. High solution detailed photos and free samples will be able to verify our quality.
3. All our products are insurance. If the tiles are broken during transition, our after sales will sort out the reasons and will sure you'll be properly compensated.
Packing and Loading
1. Packing detail: Padded with foamed plastic and packed in fumigated wooden bundles, reinforced with metal straps outside.
2. Delivery detail: 10-20 days after deposit received, based on the requirement of the order.
FAQ
Q1: What is your time making samples?
A2: Usually we will take 1~3 days to make the samples.
Q2: What is your delivery time?
A2: The time of delivery is one week after we receive the deposit.
Q3: Do you provide samples? Is it free or extra?
A3: Yes, we could offer the sample for free charge but do not pay the cost of freight.
Q4: What are your payment terms?
A4: We accept 30% T/T in advance, 70% in the period of shipment.