Chinese Famous White and Black Panda Marble Slabs
Chinese Natural Stone Panda White Marble Slabs Book Match For Wall can be used for a variety of home and industrial projects including kitchen tops, bathrooms, and fireplace cladding both indoors and outdoors. FOR U Stone offers excellent Panda Marble Slabs for any residences, hotels, mansions, and commercial estate projects with indoor floor, wall, and stairs usage.
Panda Marble Slabs for Creating unique and luxurious Countertops in Residences Kitchen and Bathroom spaces, or Hotel, Office buildings, Mall's washrooms, is also worth it. For this Chinese Panda Marble is beautiful and you cannot find the same marble colors in the world. The Black veins of Panda Marble Polished Slabs are very different from each block, which makes this Chinese white and black marble so unique.
For any interior decoration designs and building decor projects, black and white is always a winning combination. Not only is it an elegant and timeless choice, but you can also change the color of the elements without too much worry as black and white go with everything. For this reason, this color scheme is always the most popular, and many people choose white or black marble countertops for their kitchens. And now, Chinese Panda Marble Polished Slabs contain a black pattern, and white basic background on a large slab, and meet any book-matched and vein-matched designs. White Panda Marble is a beautiful stone that has been rapidly gaining popularity in recent years. Bring the benefits and elegance of natural white and black marble countertops to your table with a beautiful and original design that incorporates both black and white.
Black and White Panda Marble comes from China. It is called a panda because it has a white background and a series of large black veins. This beautiful contrast is unique and perfect for those who want the timeless elegance of marble but prefer a bolder pattern.
Usages of Panda Marble | FOR U STONE
FOR U STONE's high quality White Panda Marble can be used on many types of surfaces. Most people choose this Chinese Natural Marble material for their kitchens because it gives them brightness and style without making a bold color statement. If you choose to buy a white panda marble kitchen countertop, it will be the star of your kitchen, so we recommend plain floors and smooth walls, and a limited amount of decorations and details. Otherwise, the combination may look overloaded. While FOR U STONE provides high-quality Panda Marble products for departments, squares, Hotels, and luxury residential in Europe, America, Southeast Asia, the Middle East, Oceania, etc.
According to interior designers, Panda's white marble gives any room a noble, stylish feel and lightness.
Basic Size Details of Panda Marble | FOR U STONE
Marble tile, marble slab, marble floor tiles, marble stone of Chinese Panda Marble

Polished marble slab natural marble slab grey(gray) marble tile

600up×1800up×20~30mm, 700up×1800up×20~30mm,

1200up×2400~3200up×20~30mm, or custom sizes

305×305mm(12″×12″), 300×600mm(12″×24″), 400×400mm(18″×18″), 600×600mm(24″×24″), 610×300mm(24″×12″), 800×800mm(31″×31″), 700×1200mm(27″×47″), 600×1200mm(24″×47″), or custom sizes

25×19×3/4″, 31×19×3/4″, 37×19×3/4″, 43×19×3/4″, 49×19×3/4″, 61×19×3/4″, 25×22×3/4″, 31×22×3/4″, 37×22×3/4″, 43×22×3/4″, 49×22×3/4″, 61×22×3/4″, or custom sizes

Edge: 3/4″eased, 3/4″ full bullnose, 3/4″ogee, 3/4″threshold, 3/4″demi bullnose, 3/4″ DuPont edge

25″×96″, 25½"×96″, 26″×96″, 25½"×108″, 26″×108″, 28″×96″, 28″×108″, or custom sizes

Edges: 1/4 bullnose, waterfall, ogee, scotia, half bullnose, top bullnose, double scotia, Flat, Double bullnose, double Dupont, double Dupont full, etc.

Thickness: 10mm, 12mm, 16mm, 17mm, 18mm, 20mm, 30mm, etc.

Size tolerance: ±0.5mm ~ ±1mm

Glossiness: 90 degrees polished or up

A strict QC control system ensures every piece is strictly checked before packing.

Italian grey, Carrara white, oriental white, crema Marfil, panda white, etc

30% pre-deposit via TT, the balance paid by TT after the cargo prepared

15~20 days since your confirming order
The Features of Panda Marble
–High density, high hardness;
–High resistance to heat, scratches, water, and fading;
–High durability;
–Stable in colors and flowers;
–Suitable for all kinds of projects, such as worktops, counters, vanity, table, reception desk, etc.
1000+ SQM or 60 buddles of Panda Marble Slab Inventory | FOR U STONE
Project Cut-to-Size Tiles of Panda Marble
Panda Marble Tiles are especially good in big spaces, as it captures the natural light and the beautiful pattern glows at its best. The natural properties of Panda White Marble Tiles make it a wonderful insulator and very resistant to impacts and crashing, so this floor could last a lifetime. In addition, the beautiful patterns of Chinese black and White Panda Marble will certainly give a stylish and modern look to any interior space, like a hotel lobby, hallway, shopping mall center, and other commercial building projects.
Panda Marble Commercial Residences Projects | FOR U STONE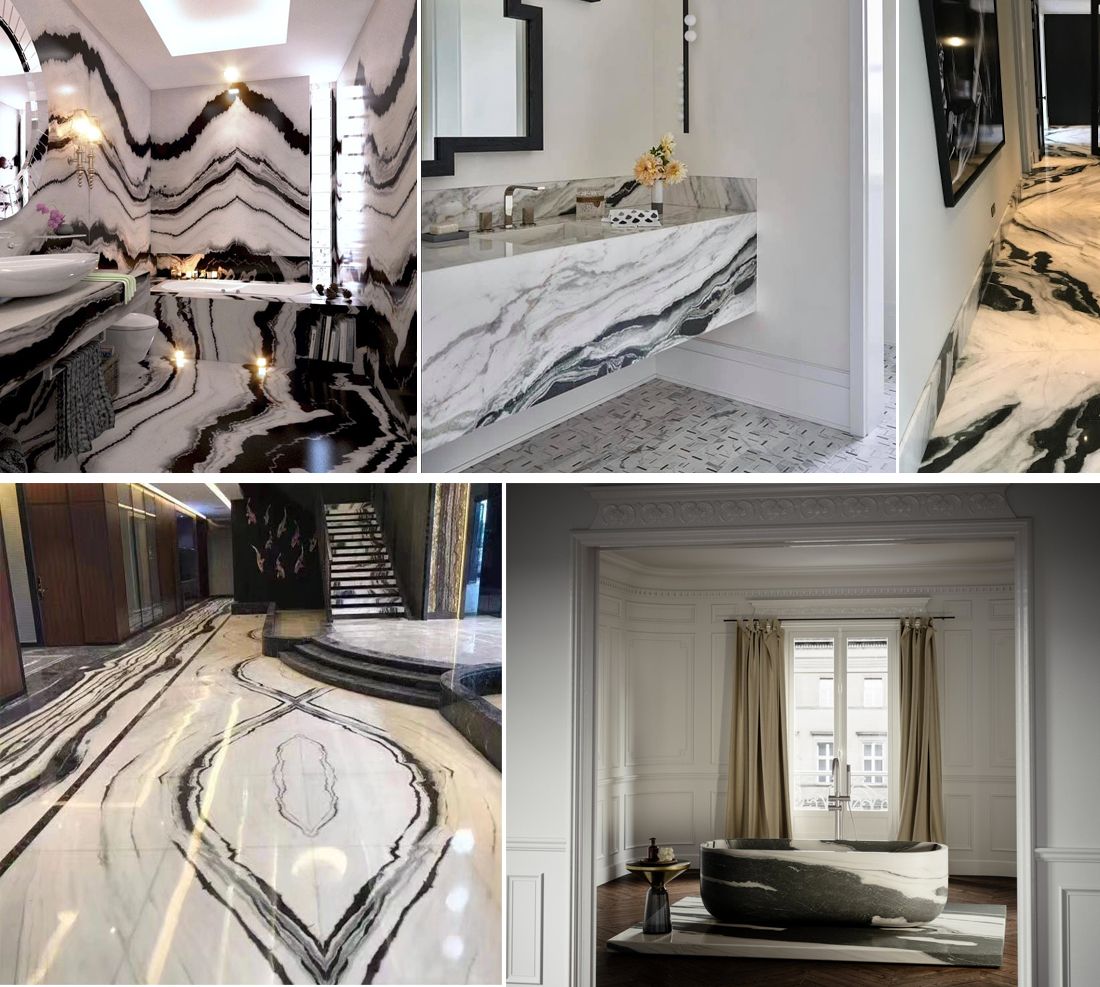 Natural Marble Panda White represents the opposite elements in nature with its elegant and contemporary appearance with its design accompanied by black and white.
Panda Marble Factory in China | FOR U STONE
FOR U STONE supplies stone materials from all around the world. Material includes granite, marble, slate, sandstone, pebble, travertine, limestone, onyx, artificial stone for flooring tile, wall tile, countertops, decoration, and hardscaping.
If you're interested in our Chinese natural stone panda white marble slabs book match the wall, welcome to buy quality products at an affordable price with us. As one of the leading marble manufacturers and suppliers in China, we also support wholesale service. For more info, contact us now.