Luxurious White Marble Flooring and Wall Tiles in Egeo Ondulato Marble
In the realm of opulence and sophistication, Egeo Ondulato White Marble Tiles reign supreme. Originating from the heart of Greece, these Ondulato White Marble Tiles exude timeless allure, seamlessly blending into a plethora of environments, from plush residences to modern offices. Their unique charm and visual appeal add an unmatched depth of character to any design project, with applications extending beyond traditional interior spaces to include yachts, offices, hospitals, schools, and a myriad of other spaces.
Egeo Ondulato White Marble Tiles are revered for their inimitable beauty, defined by a soft beige base, light pink undertones, and white wave-like patterns. Their stunning aesthetic appeal is matched by their exceptional durability and resistance to wear, making them the preferred choice for high-traffic areas, such as shopping malls, and other public places, where their grandeur remains undiminished even under rigorous conditions.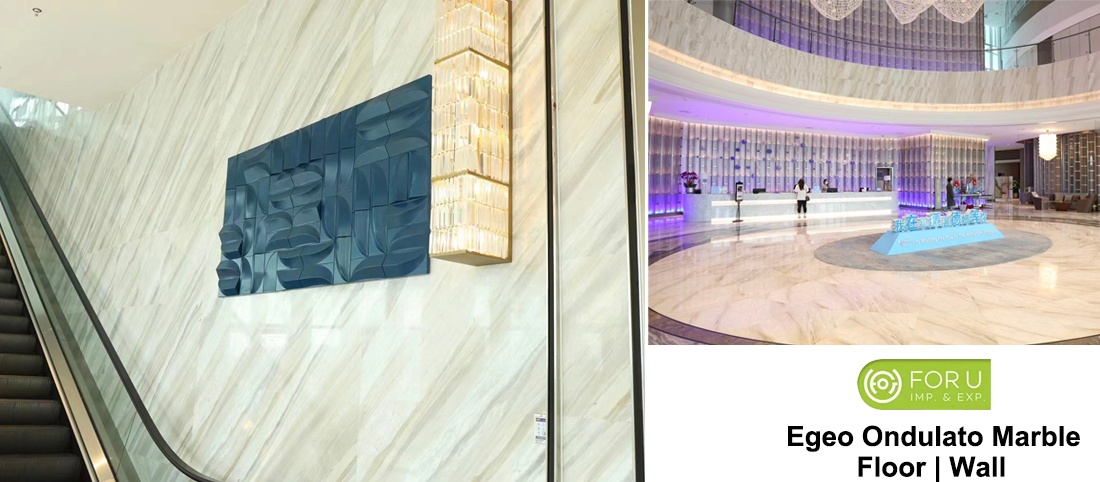 Exquisite Craftsmanship for Unmatched Precision
The creation process of these exquisite tiles begins at the quarry, where the marble, chosen for its exceptional quality, undergoes a transformative journey to become sophisticated, lightweight solutions. Leveraging state-of-the-art CNC technology and skilled craftsmanship, the inherent beauty of the marble is preserved, ensuring that each White Ondulato Marble Tile epitomizes grace and functional appeal.
A Harmony of Functionality and Aesthetic Appeal
The versatility of Egeo Ondulato Marble Tiles extends beyond their exceptional aesthetics, gracing a wide array of applications such as wall cladding, flooring, staircases, and countertops, among others. These tiles are more than just beautiful – they're functional, adaptable, and durable. Whether in a hotel lobby, a luxurious villa, a modern apartment, or a bustling hospital, these tiles bring a touch of Greek elegance to any setting.
Basic Information of Natural White Marble
| | |
| --- | --- |
| Warranty: 3 years | Name: Ondulato White Marble |
| After-sale Service: Online technical support | Stone Form: Cut-to-Size Project Tiles |
| Project Solution Capability: total solution for projects | Marble Name: Greek White Egeo Ondulato Marble |
| Application: Floor, Wall, Countertops, Stairs, Columns | Surface processing: Polished |
| Design Style: Modern | Grade: Grade AAA |
| Place of Origin: China | Usage: Villas, Private Houses, Hotels, and Office |
| Brand Name: FORU STONE | Size: Customised Size |
| Marble Floor Thickness: 10, 12, 16, 18, 20 mm | Material: 100% Natural White Marble |
| Marble Type: Marble Tiles, Marble Flooring, Marble Paving Slabs | Marble Tiles Size: To Be Advised |
Dimension of Greek Marble Floor and Wall Tiles
Ondulato White Marble Floor and Wall Tiles

Exterior Wall Cladding, Interior Walls, Interior Floors, Shower Walls, Tub Surround Walls, Kitchen Counter Tops & Vanity

Tops, Flooring Tiles, Slabs, Landscapes etc..

Wall Cladding Panels: 1200x600mm, 600x600m, 1200x300mm Thickness: 18mm, 20mm, 25mm

Customized specifications are available

Interior Wall Panels: 1220x2440mm, 1520x2440mm, 1600x3000mm Thickness: 8mm, 15mm, 25mm

Customized specifications are available

Kitchen Tops: 96″/108″/120″ x 26″/36″/42″ Bath Vanity Tops: 27″/36″/48″/60″/72″ x 22″/24″

Thickness: 3/4″, 1-1/4″

Customized specifications are available

Flooring Tiles: 12″x12″, 12″x24″, 24″x24″ Thickness: 8mm, 10mm, 12mm, 15mm, 20mm

Customized specifications are available

Slabs: Length: 2400mmup ~ 3000mmup Width: 1200mm~2000mm Thickness: 18mm, 20mm, 30mm…

Stone Sink: 400~600×300~400mm Thickness: 120-150mm

Customized specifications are available

Polished, Honed, Flamed, Sandblasted, Waterjet, Brushed, Antique…

High Intensity, Durable, Stronger, Grout Less, Seamless, Book-Matched Veins, Lower Labor Costs

15~25 days after receiving the deposit
Hotels and Private House White Marble Floor and Wall Tiles in Ondulato Marble
Egeo Ondulato White Marble for Kitchen and Bathroom Projects
The inherent versatility and robustness of Egeo Ondulato White Marble Tiles make them ideal for kitchen and bathroom projects. With a water absorption rate of just 0.07%, these tiles are perfect for areas exposed to moisture. Their ability to withstand both internal and external environments, paired with their stunning aesthetic, means they can transform these spaces into elegant and stylish settings.
Revolutionizing Interiors: The Egeo Ondulato Marble Advantage
Egeo Ondulato White Marble Tiles are not just limited to flooring or wall applications. They can elevate the aesthetics of a wide range of spaces, including staircases, countertops, and vanities. Their adaptability allows them to be the star of a room, catching eyes and turning heads wherever they are installed. Additionally, they serve as an excellent choice for exterior applications, imbuing any building or structure with a sense of grandeur and opulence.
The Calacatta Ondulato Marble: Luxury at Its Finest
The Calacatta Ondulato Marble from Greek Quarry is a remarkable manifestation of Italian elegance. Renowned for its distinct veining that weaves its way through a dazzling white canvas. Whether it adorns a lavishly designed living room or an executive office space, the Calacatta variant promises to infuse a touch of sophistication to any setting.
Greek White Marble Tiles: Versatility Meets Style
In response to the evolving needs of modern architecture and interior design, we have curated an extensive selection of Greek White Marble Tiles. Our Ondulato Greek Marble Tiles, for example, are precisely cut to accommodate diverse design requirements. From intricate detailing in smaller spaces with our 30x30cm tiles, to making grand statements in larger areas with slabs measuring 60x120cm, our product range embraces a wide spectrum of applications. These include, but are not limited to, flooring, wall cladding, and countertops, extending the possibilities for stunning design outcomes.
Unleashing Boundless Possibilities with Varied Dimensions
The power of our Greek White Marble Floor Tiles lies not only in their stunning aesthetics but also in their versatility. The array of sizes available opens a world of opportunities for design enthusiasts. Smaller dimensions, like the 30x30cm tiles, are perfect for intricate detailing and mosaic applications. In contrast, the larger 60x120cm slabs offer grandeur and drama to any space, making them ideal for both residential and commercial settings. Whether it's a modestly sized bathroom seeking some sparkle or a luxurious lobby demanding the spotlight, our Greek White Marble Tiles rise to the occasion.
Chinese White Marble Floor and Wall Tiles Factory
Quality Control
1) Surface polished 90° up by the auto-polishing machine.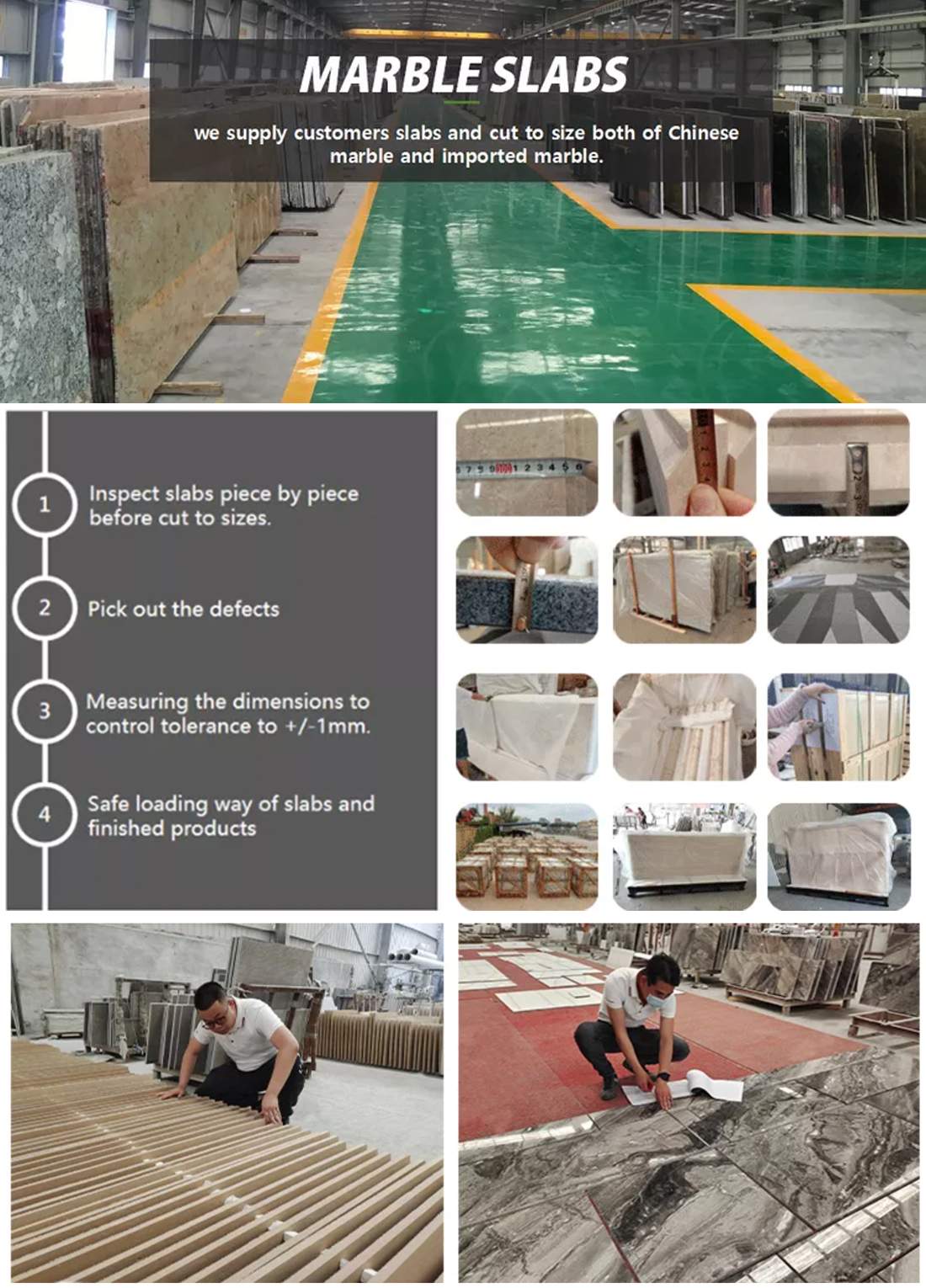 2) Thickness tolerance: -1/+1mm or -2/+2mm.
Package: Fumigated wooden crates.
An Experienced QC will inspect all products before the package.
FAQ: Why Choose ForU Stone
We have specialized in granite & marble prefabricated products for more than 20 years, providing solutions to over 50,000 projects so far. Our lines include commercial, residential, hospitality, retail vanity tops, and more. Our collections range from slabs, countertops, vanity tops, cut-to-size tiles, stair panels, window sills, and stone vessels to porcelain sinks, and more.
Our advantages:
We are familiar with the project layout, which will save you time from the dull and dry work.
We are good at box-vanity-top, which passes the drop test so that you can express directly to your customers and save you from worrying about the safety of transportation ever.
We can assemble the vanity, vanity top, sinks, and faucets and ship them as a whole.
Custom-made and OEM are available
We assure a 10-15 day delivery time for a MOQ of 20 GP
Most of our porcelain sinks are certified with CUPC
We have ISO9001-2000 approval.
We depend on our aggressive workers, teamwork, competitive quality, service, homey corporate culture, and focus on details in search of excellence. We are proud of them.
Egeo Ondulato White Marble Tiles combine timeless beauty with resilience, versatility, and style, making them an outstanding choice for a range of design and architectural projects. Whether you are revamping a hotel, refurbishing an office, or simply looking to add a touch of luxury to your home, these tiles are the embodiment of Greek elegance, delivering an unparalleled visual charm and enhancing the aesthetic appeal of any design project. Breathe life into your projects with the timeless elegance of Egeo Ondulato White Marble Tiles.
Embrace the allure of these masterpieces, and let their intrinsic elegance transform your architectural dreams into reality. Their eternal charm and high-grade resilience make them an investment worth making for a timeless and luxurious appeal. So, take a step towards architectural magnificence with Egeo Ondulato White Marble Tiles, a true epitome of grace, durability, and unrivaled elegance.
If you're interested in our wooden marble tiles, welcome to buy the quality products at an affordable price with us. As one of the leading Marble Tiles manufacturers and suppliers in China, we also support wholesale service. For more info, contact us now.