Tundra Grey Marble Indoor Polished Tiles For Floor and Wall
Tundra Grey Marble Tiles are an intriguing hue in terms of style. As previously said, it moves around the world of interior finishes seeking a friend. In other words, because it matches so well with more dramatic color splashes, it's a terrific hue to use as a backdrop neutral. Tundra Gray Marble is an excellent choice for indoor and external areas seeking a subtle distinction via tranquil and distinguishing tones.
-A Cool Colors of Tundra Grey Marble For Stairs and bathroom Floor/ Wall Application | FOR U STONE
The natural grey tone marble selection of Tundra Gray Marble Tiles reflects a preference for reinterpreting old notions in a more current manner and adapting them to distinct but also global and modern settings. Gray marble is able to set trends and vanguard thanks to a chromatic spectrum that includes pearl tones, grayish ocher, and silvered.
Using the Tundra Grey Honed Marble Tile on walls and floors will produce an immersive natural color effect room evocative of an Italian style bathroom, while its matt surface will soften lighting and provide a peaceful sensation to enjoy at the end of a long day. Because of the properly made rectified edges, these grey marble tiles may be fitted with the tiniest of grout seams to give the project a seamless appearance. This excellent Tundra Grey Marble Floor Tile will provide a traditional and timeless living environment in any setting, from an open plan living area to a tiny bathroom.
Basic information about Grey Marble Tiles
| | | | |
| --- | --- | --- | --- |
| Stone Name: | Tundra Grey Marble Tiles | Brand Name: | Xiamen For U Stone Imp. & Exp. Co., Ltd. |
| Place of Origin: | China | Model Number: | Tundra Grey Marble Tiles |
| Usage: | Floor Tile, Wall Decoration | MOQ: | 50M2 |
| Surface Finishing: | Honed, Polished, Antique, Leather, Pickling brush | Water Absorption: | 0.03% |
| Size: | As per your requirement | Compressive Resistance: | 135MPa |
| Stone Form: | Tile, Cut-To-Size, Big Slab | Thickness: | 15mm, 18mm, 20mm, 25mm, 30mm |
| Marble Type: | Calcite, Dolomite | Keywords: | Tundra Grey Marble Tiles |
This Tundra Grey Marble From FOR U STONE Factory is a popular choice in recent days. Thanks to its soft light grey colour and natural look, it can be used for kitchen floors and walls. Moreover, Natural Marble Tundra grey can be used for creating furniture as a component material.
Natural Grey Marble Project Tiles | Photos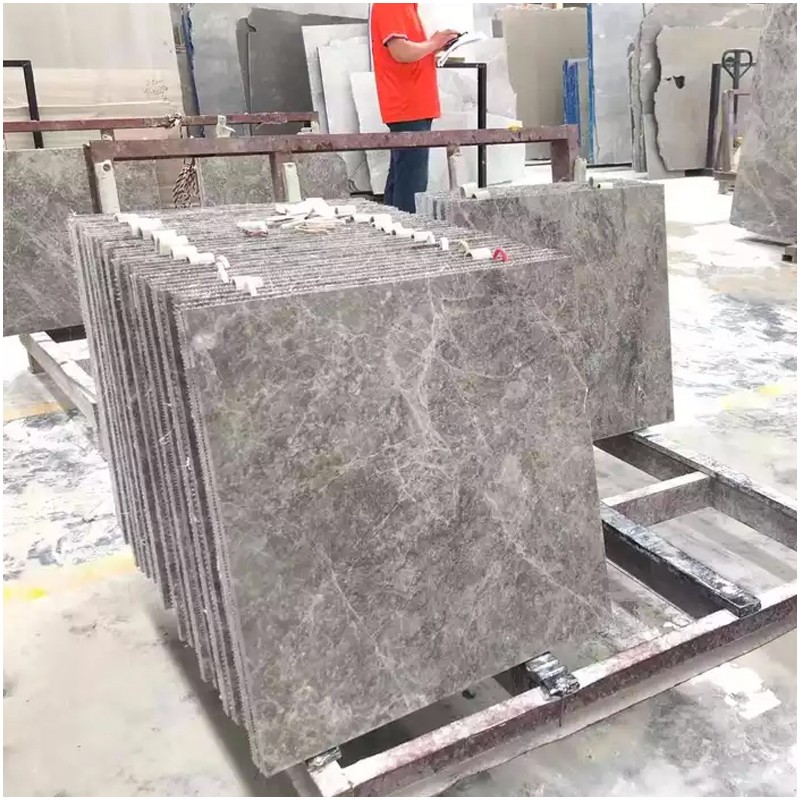 Tundra Grey Marble Polished Tiles may be used to create an attractive aesthetic in any room of your home or business. It looks great in bathrooms, showers, kitchens, and on a façade. The unusual grey tones and veining of Tundra Grey will enhance any modern or classic design.
Marble Specification | FOR U STONE
Product Name:
Tundra Grey Marble Slabs, Tundra Grey Marble Tiles For Floor Covering, Wall Cladding
Common Sizes:

Tiles: 305 x 305mm or 12" x 12",

400 x 400mm or 16" x 16",

457 x 457mm or 18" x 18",

600 x 600mm or 24" x 24" etc

Slabs: 1800(up) x 600(up)mm 2400(up) x 1200(up)mm 2800(up) x 1500(up)mm etc

Vanity Tops: 25″ x 22″, 31″ x 22″, 37" x 22″,

49" x 22", 60" x 22"

Countertops: 96″ x 26″, 76″ x 36″, 98" x 26″,

108″ x 26″

Application:
Wall, floor, TV background wall, stairs, countertop, etc.
Thickness:
15/18/20mm, can be customized.
Samples:
Free samples are available
Packing:
Paper carton with wooden pallets. Paper bag + Film protection + Wooden crate
Shipping time:
7-15 days after receiving the deposit
Tundra Grey Marble Paving Slab is a grey-toned natural stone variety. The surface of these TundraGrey marble tiles is finely polished, with stunning grey patterns. This lovely marble tile is an excellent choice for modern decor. These grey marble tiles are commonly used in hallways, bathrooms, and living rooms for residential and Commercial Building Indoor Space.
Grey Marble Recommendations | FOR U STONE
Grey marble tiles are an excellent choice for residents and commercial buildings. Architects and builders utilize a variety of light color varieties of these items. Natural Grey Marble is one of the most popular of these materials. The magnificent Grey Marble is a one-of-a-kind substance. It offers a lot of features. With white veins on a natural light blue surface, it may be used in a variety of settings across your home.
Cinderella Grey Marble Tiles
Cinderella Marble Tiles from For U Stone with soft and delicate and ultra-high gloss, soft light creates a romantic and elegant style, quiet taste, giving people infinite reverie, and 115 degrees of ultra-high gloss makes it more charming, no worries about light corrosion, and no worries about cleaning. This excellent combo exemplifies the allure of Gower gray.
Cinderella Marble Tiles are commonly utilized as the finishing material for monumental structures, hotels, exhibition halls, libraries, other public buildings, and different high-class clubs' inside walls, columns, floors, and stair treads.
Pietra Grey Marble Floor and Wall Tiles
Pietra Grey Marble Floor Tile is a highly decorative material that is primarily used for buildings with high architectural decoration requirements, such as decorative materials for monumental building interior walls and columns, hotels, exhibition halls, shopping malls, libraries, and other large public buildings, as well as stair railings, service desks, door faces, window sills, and so on.
Whatever its use, Pietra Grey Marble Floor Paving Tiles may simplify and clean the overall vision, create a low-key and natural living experience without over-decoration, and use its features to win a sensitive existence.
Grey Marble Slabs and Tiles Factory | FOR U STONE
Quality Control
The quality of all products is strictly under our control, so we could make sure that what we offer to you is a superior and quality product. From the beginning of production to the examination of finished goods, we all try our best to avoid any mistakes carefully.
Packing and Loading about Tundra Grey Marble Tiles
Thin tile–packed with carton or polyfoam and then packed in fumigated wooden crates.
Cue to size tile–Packed with fumigated wooden crates and used plastic film or foamed plastic.
Slab–Packad by strong wooden bundle with plastic film to prevent dust and rain.
FAQ | For U Stone Marble Factory
Q.Can I purchase just one box of tile before I place my full order?
A. We're unable to sell individual boxes of tile due to shipping costs. The cost to safely ship one box of tile can be more than five times the amount of the actual tile.
To see our tiles in person before you buy, check out our free sample. We'll send you free samples right to your doorstep.
Q.How much breakage should I expect with an order?
A. It is not unusual to have 2% – 3% of the tile broken. Any amount up to 10% is still considered acceptable. These damaged tiles can be used for the cuts you will need to make. If breakage is above 10%, we would ask you to have it noted on the logistics receiving document and take pictures. Please make a claim with us within 10 days of receiving the order.
Q.when can I contact you?
A. We are "open" 24 hours a day, 7 days a week! We generally answer e-mail and confirm orders all days of the week from 9:00 am to 5:00 pm China Time. We always try to respond to all our e-mails just as quickly as possible.
Q.Can you make custom colors?
A. Yes, we can match and OEM most colors and designs.
Contact Me
For more specific information about natural marble,please feel free to contact me.
If you're interested in our tundra grey marble tiles, welcome to buy the quality products at an affordable price with us. As one of the leading marble manufacturers and suppliers in China, we also support wholesale service. For more info, contact us now.