The Tops 5 Most Expensive Natural Marble From China Quarries
Many well-known marbles available on the market now come from overseas and imported marbles usually come from international locations, which include Italy, Iran, Turkey, and Greece, which are famous for their marvelous marbles.
Regarding high quality, modern domestic and a small gapThe current domestic and imported stones have a small gap regarding high quality. Still, the charge is tons cheaper, mainly because the imported stone's coloration and texture are richer in trade and decoration.
But we also have loads of lovely high-give which-give-upp marble in China with a unique texture and texture to draw customers from everywhere globally. Today, we introduce you to China's five most expensive natural marbles.
#1 White Beauty Marble | Ice Cold Jade Green Marble

White Beauty Marble is one of the most pricey marbles in China. It is one of Yunnan's most well-known green marbles with a mild, inexperienced color, rugged stone, and cute blended texture. Because it is mine, the price is luxurious. Raw slabs may be bought for up to 1,000 RMB/SQM, and spliced slabs may be up to 2,000 RMB/SQM. The primary color combination is black, white, and green, evenly distributed, with blackish, greenish, and other differences in the slab, one of the most popular green marbles. Ice Cold Jade Green Marble cracked lines in the messy with its chapter, clear spirit into a poem, Yingjie jade, modern and refined temperament infused with elegance, so that people feel comfortable and comfortable, interpreting a different elegant light luxury style.


Panda Marble Slab is a white marble from Sichuan with a quality texture, white coloration, complex texture, and black and white interlaced with the same texture as the panda. While resembling an ink painting, Panda White is interpreting fashion. A world of black and white, creating this touch of modern super color space, pure and clean, like a leaping note, is playing a song of life! In the home of Panda White Marble Decor, it is like being between the landscape, walking in the ink. Here, we open up a space that belongs to us; we can think about nature, explore life, calm down, find the meaning of life, a hint of Zen, or a kind of inner world of peace and calm.
Due to the shortage of excellent slab manufacturing, the charge is likewise steeply-priced; the fee can be up to 2000 RMB/SQM.


Oriental white is produced in Sichuan white marble; purchasers favor its white shade and clean texture. Known as the Chinese marble commercial enterprise card, its floor is rugged, easy to process, and widely utilized in high-grade production and ornament.
Oriental white marble has a natural and smooth texture, delicate and solid texture organization, a rich sense of hierarchy, soft and light color, and different surface textures, showing various style effects.
It is a fine product of Oriental white marble, known as the "Chinese marble business card" or "Oriental magic white," comparable with Italian Carrara White and Greek Aristo White.
The outstanding slabs are also very luxurious, and the rate may be up to 3,000 RMB / SQM.
#4

Oriental Calacatta White Marble

Calacatta Oriental marble from Sichuan. Its call is slightly cottage; however, its pleasure is satisfactorily advanced; its texture is specific, known as the pearl of the white marble. Because of its confined manufacturing of extraordinary slabs, the charge variety of this variety is pretty massive, with the very best price of up to 2000 RMB/ SQM.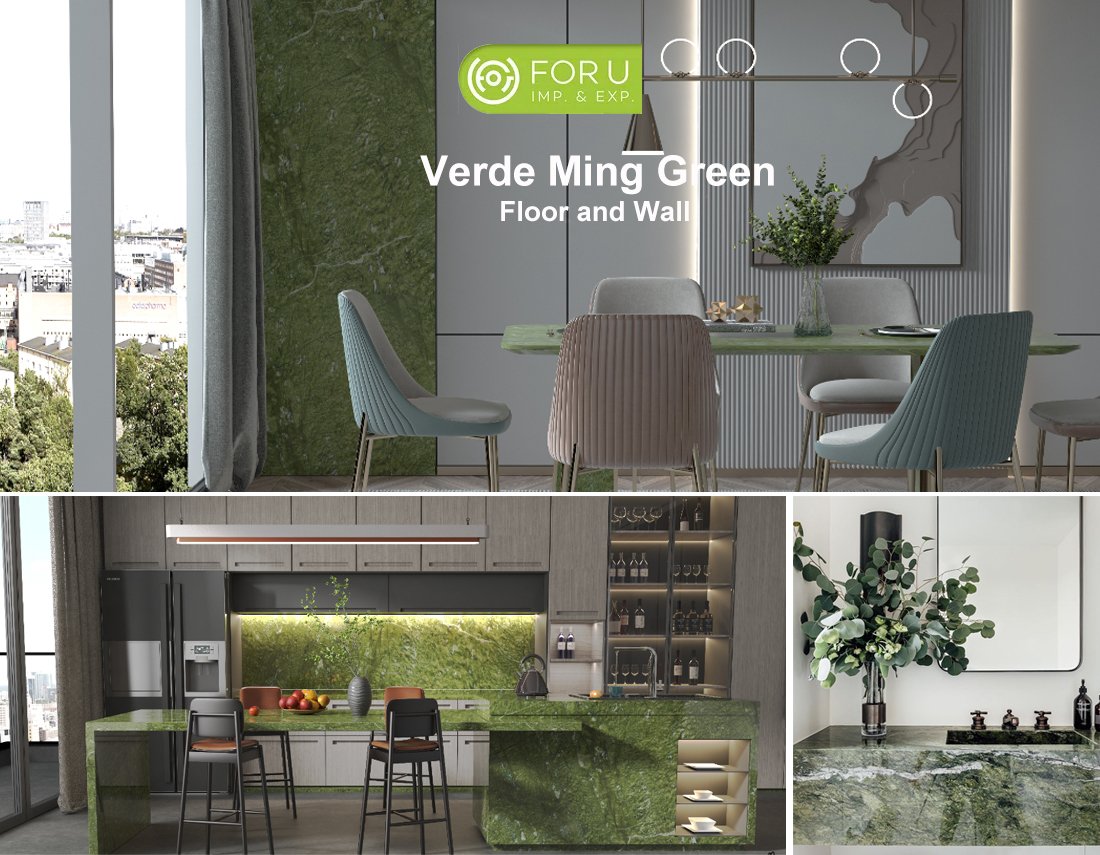 Ming Green Marble comes from Liaoning. Its vivid, inexperienced color and delicate texture have made it one of the most sought-after green varieties in recent years. The manufacturing is scarce due to its restrained mining time; the rate is high, and excellent slabs are sold for up to 1,000 RMB/SQM.
These 5 varieties of marble are unique excessive-end marble stones in China; their extraordinary grain and texture is breathtaking. These six marbles are worth noticing if you need to use top marble for your ornament.

Related Products