Brazilian Marinace Verde Exotic Granite Slabs For Flooring and Countertops
An interior design is like a symphony, where each element, each note, contributes to the whole, creating a harmony that leaves an unforgettable impression. At the heart of this symphony, often stands a maestro, a striking feature that brings everything together. In the world of high-end interior design, this maestro can often be found in the form of the verde Marinace granite countertop, a distinctive touch of charm that fills the room with an air of subtle, refined elegance.
The Verde Marinace Exotic Granite is reminiscent of a timeworn, cobblestone road, where each stone holds a secret, a story untold. This rare granite is a stunning conglomerate of blacks, grays, and golds. Its intriguing pattern almost seems to be telling a tale of a journey through time, of mountains that rose and rivers that ran, as if each pebble was a moment, a heartbeat of our planet, captured forever in stone. This blend creates a unique aesthetic, a tribute to nature's diverse palette and its extraordinary ability to create beauty in the most unexpected forms.
However, the allure of the Brazilian Green Marinace Granite isn't just in its visual appeal. The stone's durability makes it an excellent choice for various applications in both residential and commercial settings. Granite has long been revered for its toughness and resistance to elements. Its ability to withstand heat, scratching, and stains make it a preferred material for exterior cladding, countertops, flooring, and landscape features.
Our Marinace Green Granite Slabs, with their unmatched charm and strength, have found their way into diverse architectural projects. From deluxe hotels, plush villines, to swanky apartments and private residences, this versatile material adapts beautifully to different interior styles. It also graces the floors and walls of upscale malls, boutique stores, resorts, and casinos, adding a touch of sophistication that only the finest natural stone can provide.
The enchanting Palladium Arte Quartzite Slabs are another popular choice for high-end architectural projects. These slabs, with their striking patterns and shades, lend a distinctive character to any space. Their strong, durable nature makes them a fitting companion to our verde Marinace granite, complementing each other in strength and elegance.
What Size of Granite Tiles which processed in FOR U STONE Factory
At FOR U STONE, we offer the Marinace Green Brazilian Granite Slabs and the Palladium Arte Green Quartzite in a variety of sizes, catering to the diverse needs of our clients. Our premium quality slabs are available in sizes of 2 & 3 cm. For floor tiles, popular sizes include 305 x 305mm (12″ x 12″), 400 x 400mm (16″ x 16″), 457 x 457mm (18″ x 18″) and 600 x 600mm (24″ x 24″). These sizes are available in various thicknesses, including 10mm, 12mm, 15mm, 18mm, 20mm, 2.5mm, and 30mm.
Model NO.

Aquarius Granite, River Pebble Granite

Stone Form:

Cut-To-Size Project Tiles

Sample:

Freely

Model Number:

Black Granite Indoor/ Outdoor Tiles

Place of Origin:

Fujian, China

Brand Name:

Xiamen For U Stone Imp. & Exp. Co., Ltd.

Usage:

Floor, Wall, Stairs

Granite Density (kg / m³):

3.0

Color:

Red, Blue, Grey, Black, Green

Stone Name:

Aquarius Granite

Thickness:

1cm 2cm 3cm 4cm and etc.

Product name:

Palladio Granite

Finished:

Flamed, Polish, Honed, Bushhammered. Sandblasted, etc

Granite Tiles Size:

600x600mm 1200x600mm and Customized Size

Granite Slab size:

240cm Up*60up/70up*20mm/30mm

Granite Factory location:

Shuitou town

Surface Quality:

Polished, Honed, Flamed+Brushed
Granite Slabs and Tiles Sizes
New Popular High Polished Colorful Pebble Granite Slab for outdoor paving and indoor countertop flooring design
Product Name:

Tile, Cut-to-size, Random small slab, Gangsaw slab, Steps and riser,

Countertops, Vanity top, Kitchen tops, Sink, Sculpture, Garden items, etc.

Finishing:

Polished, honed, flamed, machine sawn, flamed + brushed, antique, pineapple,

Chiseled, Sandblasted, Water jet, etc.

Sizes:

1)Tile -12″x12″x3/8″, 16″x16″x3/8″, 300x600mm, 600x600mm, 30x90mm, etc.

2)Gangsaw slab – – 150upx250upx2/3/4cm;

3)Small slab — 60/70/80upx180~300×2/3/4cm;

4)Countertop — 96″/108″x26″/36″x2/3cm; as customers' designs.

Packing:

Strong seaworthy wooden crates or wooden bundles

Quality:

1) QC follow from block cutting to packing, check one by one.

2) Thickness tolerance +/-1mm, (+/-0.5mm for thin tiles)

3) polishing degree from 70~95 according to different markets.

MOQ:

50 SQM

Production lead time:

10-25days after order confirmation

Payment:

T/T 30% deposit

Target market:

Western Europe, Easter Europe, USA, North America, South America, Caribbean area,

Australia, Eastern Asia, Middle East, South-east Asia, etc.
Unique Granite Slabs in Factory
Marinace Verde Granite Slabs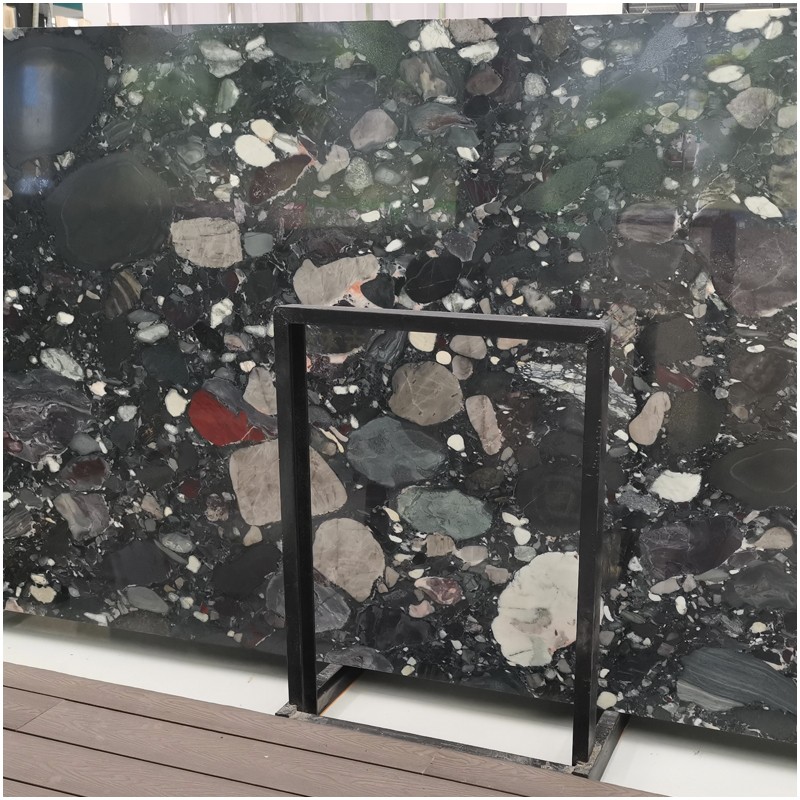 Marinace Exotice Granite
Whether it's the glinting surface of a Pebble Granite Slabs(Marinace Verde Granite) Slab catching the sunlight, or the quiet charm of a Verde Marinace Brazilian Granite Stone countertop accentuating the warmth of your kitchen, every piece from FOR U STONE infuses spaces with an indelible touch of class and sophistication. It's not just about beautifying spaces, but also about creating lasting impressions, and memorable experiences wrapped in the unparalleled beauty of nature's artistry.
The Marinace Green Granite Tiles are another testament to the stone's versatility. Their unique patterning, enhanced by expert finishing techniques, lends a captivating allure to any space they inhabit. Whether polished to a high sheen or honed to a subtle glow, these tiles, like a masterful brushstroke, complete the canvas of your architectural design.
For those in pursuit of that distinctive touch, our Verde Marinace Exotic Granite expands the horizon of design possibilities. Its natural composition exudes an organic aura that can breathe life into any interior or exterior application. Whether wall cladding transforms a mundane exterior into a charming façade or a flooring solution that becomes a talking point, this versatile material blends utility with aesthetics in a seamless symphony.
When you choose the Brazilian Green Marinace Granite or the Palladium Arte Green Quartzite, you are not simply selecting a material for your project. You are embracing a piece of Earth's history, a physical testament to time and transformation. The allure of these natural stones, their inherent durability, and their potential to revamp any space make them an essential addition to both residential and commercial projects.
From large scale commercial settings to the intimacy of private homes, our offerings serve a multitude of applications. Be it the upscale malls looking to elevate their architectural game, or boutique stores aiming to create a unique shopping experience, the Verde Marinace Granite Slabs offer a touch of elegance and refinement. In resorts and casinos, the Palladium Arte Quartzite Slabs add to the environment's opulence, contributing to the spaces' overall ambiance.
Every piece from FOR U STONE carries with it an assurance of quality and commitment to excellence. With us, you get more than a product; you get an experience. From deluxe hotels and plush villas to private residences and commercial buildings, our offering aligns with various interior style decorations, becoming a testament to refined taste and grandeur.
Brazilian Exotic Granite Factory
1/ Gloss degree 45 or up
2/ Thickness tolerance: ( ±1mm)
3/ Diagonal tolerance: ( ±1mm)
4/ Surface flatness tolerance: ( ±0.3mm)
All our products are fully inspected one piece by one piece.
1) Slabs with wooden bundles;
2) Tiles and other cut-to-size products with wooden crates or pallets;
3) Pebble stones and stone chips should be packed with PVC or woven bags;
4) All the wooden packaging should be Treated and Marked in compliance with ISPM 15;
5) We can load 18-27tons of goods in a 20-foot container, the cargo weight depends on different countries' raw;
6) We can ship the cargo by vessel, truck, train, or airplane.
FAQ
1. Do you provide free samples? How many samples can I take?
At ForU Stone samples are free, and we encourage our clients to take up to ten samples per visit.
2. What materials can I find at your facilities?
ForU Stone carries slabs of granite, quartz, quartzite, marble, soapstone, slate, limestone, and travertine. Our Ridgefield Park yard has the largest selection, also offering slabs of gemstone, porcelain, and glass.
3. Why should I see a slab in person?
Since every slab of natural stone is completely unique, we recommend visiting one of our facilities to see slab patterns and variations in person.
We invite you to join us on this journey through the ages, through the metamorphosis of elemental forces to the creation of a material that is as durable as it is beautiful. Unleash the power of design with the Verde Marinace Brazilian Granite Stone and Palladium Arte Green Quartzite, where elegance meets endurance, and style meets substance. Let us create together, spaces that are as unique as they are timeless, as memorable as they are enchanting.
In the grand design of your architectural symphony, let these stones be the maestro, the element that brings everything together, that leaves an indelible mark on every visitor's mind, a melody that stays long after the last note has been played.
If you're interested in our copacabana granite slab, welcome to buy the quality products at an affordable price with us. As one of the leading Granite Slabs manufacturers and suppliers in China, we also support wholesale service. For more info, contact us now.