Greece Popular Ariston Pure White Marble Polished Marble Slabs Ariston White Marble
Unveiling a white backdrop, the Ariston Greek Marble, colloquially known as "The Elegant Gentleman," has long established its prominence in the realm of ornamental stones. Holding a global reputation for its superior quality, this Greek treasure has been hailed as the epitome of opulence and is renowned for enhancing the aesthetic appeal of interior decoration projects around the world.
Though popularly recognized as Marble Ariston White, this marble carries an array of commercial names that vary from region to region, crafted by the hands of Greek quarriers, suppliers, and wholesalers. Whether it's known as Ariston Blanco Dolomite, Kynos White Marble, Granitis of Drama, or the Elegant Gentleman, its superior quality remains consistent, irrespective of its nomenclature.
Part of the beauty of this luxury Kynos White Marble lies in its variety. Its natural patterns and vein colors vary from darker to lighter shades, thereby providing unique and distinct options for designers and architects. In its Extra quality, known as Ariston Extra, this marble showcases an almost pure white dolomite, exuding a pristine charm that can elevate any space it adorns.
The Ariston Polished Marble Slabs serve as an embodiment of nature's exquisite art, revealing unique patterns that further enhance their inherent beauty. Skillful surface elaboration by proficient manufacturers can accentuate this marble's allure, adding an indelible touch of luxury and elegance to the spaces it graces.
Moreover, the versatility of this natural white marble goes beyond its standalone usage. It harmonizes splendidly with a variety of other building materials such as granite, limestone, sandstone, wood, glass, or metal, offering the opportunity to craft a unique aesthetic narrative for each project.
Whether it's a grand hotel, a luxury mansion, an upscale villa, an imposing office building, a bustling mall, a serene spa, a picturesque resort, or an elegant boutique store, the use of White Marble Tiles ensures a design that is both classy and timeless. This Greek marble's exceptional quality and stunning aesthetics make it an ideal choice for premium interior decoration projects demanding an aura of sophistication.
Basic Info
| | | | |
| --- | --- | --- | --- |
| Model Number: | Ariston White Marble | Stone Name: | Ariston White Marble |
| Marble Type: | Dolomite | Stone Form: | Tile |
| Place of Origin: | Fujian, China (Mainland) | Brand Name: | Xiamen For U Stone Imp. & Exp. Co., Ltd. |
| Surface Finishing: | Polished | Material: | 100% Natural Marble |
| Marble Size: | Customized Size | Marble Usage: | Indoor |
| Marble Color: | white, grey, black, blue, pink, yellow, brown… | Marble Thickness: | 12mm/14mm/16mm/18mm/20mm/30mm etc |
| Marble Finished: | polished, honed, sanded etc | Marble Application: | floor tile, backsplash, wall tile, lines, border etc |
Common Sizes of Ariston Marble
Product marble

New Ariston Marble

Marble

Color

White, with less grey veins

Available Size

Tiles: 60cm*60*1.8 45cm*45cm*1.8,80cm*80cm*2.0cm Only do cut to size

Marble

Thickness

18mm, 20mm etc

Finished Products

Applicable to airports, shopping malls, hotels, villas, office buildings, the Office

Major Market

China, USA

Payment Terms

T/T, L/C, 30% deposit, 70% balance should be paid before shipping

Premium Quality White Ariston Marble Slabs
Ariston White Polished Marble Slabs
Ariston Marble Slabs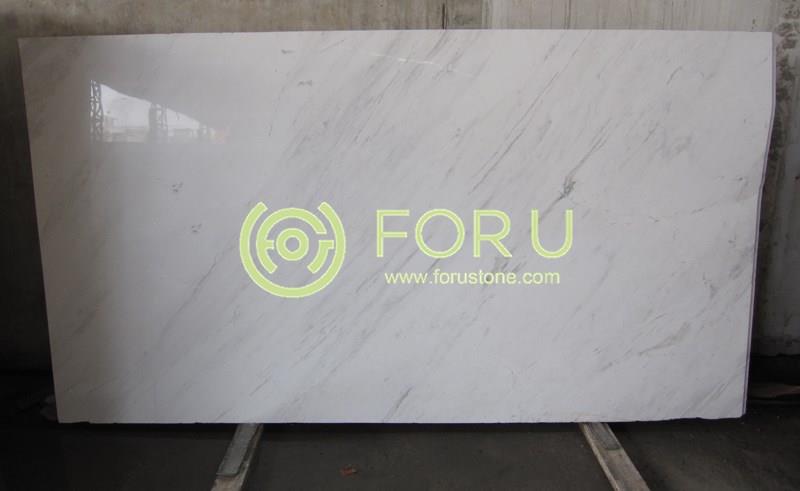 Polished Ariston Marble
Ariston marble slabs are widely welcomed by designers, builders, and slab wholesalers for several compelling reasons:
High-Quality Appearance: Ariston marble, with its fine-grained white background and delicate veining, is strikingly beautiful. This high-end white marble creates a luxurious and stylish aesthetic, elevating the overall appeal of any interior or exterior space. This unique coloring and high standard look not only enhance the value of a property but also win high praise from users.

Versatility in Applications: Ariston marble slabs are incredibly versatile and can be used in a variety of applications. These include interior wall and floor applications, monuments, countertops, mosaic, fountains, pool and wall capping, stairs, and window sills. This adaptability makes Ariston marble slabs a favorite choice for designers and builders who aim to create stunning and diverse architectural designs.

Durability: Despite its delicate appearance, Ariston marble is durable and long-lasting. This quality makes it ideal for high-traffic areas in both residential and commercial buildings. Its longevity and ability to withstand varying conditions make it an excellent investment, ensuring it is in high demand among builders and wholesalers.

Availability and Accessibility: Ariston marble slabs are globally accessible due to the strong network of suppliers and manufacturers around the world. This widespread availability guarantees a steady supply of this sought-after material, making it a popular choice for wholesalers who require consistent access to high-quality marble.

Customizable: Ariston marble slabs can be tailored to specific sizes and finishes, meeting the unique requirements of various design projects. This ability to be custom-fit to precise specifications is highly appreciated by designers and builders, ensuring that each project retains its distinctive character.
Ariston marble slabs are beloved by designers, builders, and slab wholesalers for their unparalleled beauty, versatility, durability, availability, and customizability. These qualities make Ariston marble a coveted material in the world of construction and interior design.
Professional White Marble Factory
Quality Control
Quality Standard
1)Thickness tolerance (length, width, thickness): +/-1mm; sheet thickness tolerance: +/-0.5mm
2)Polished degree: above 85 degree
3)No variation, no crack, no mark
Delivery, Shipping And Service
Packing and Loading about Ariston White Marble
Packing:
– Soft paper between polished faces
– In a strong wooden crate
– Wooden crate follows customer's requirement to be suitable for discharging and storing.
– The wooden crate's moisture is below 25% and disinfected.
FAQ
1, What are your main products?
Our main products are graniteslab, countertop, tiles, stairs, window sill coping, pool coping stone, paving stone, curbstone, stone sinks, tombstone, and so on. And also we offer OEM services.
2, How about the samples?
We could send you the samples but the freight is charged. After the order is confirmed, we would pay back the express fee. Please be rest assured of that.
3, Can you do the specially designed products or customer items?
Yes. You can tell us your size or give us your drawing; we can process the products according to your requirement.
4, Where's the loading port?
Xiamen.
Any inquiry or interest ,please do not hesitate to contact me!
Ariston Greek Marble, with its captivating elegance and unmatched quality, has become synonymous with luxury interior design. Its unique characteristics not only enhance the value of any space but also narrate a story of Greek heritage and craftsmanship. Whether it is for its durability, aesthetic appeal, or its versatility, choosing Ariston Marble is an investment in timeless elegance and enduring luxury.