Product Details
Breccia Sarda Polished Marble Tiles For Indoor Flooring Projects
Breccia Sarda Marble Tiles are perfect for Flooring and Wall Cladding Applications, and suitable for interior or sheltered exteriors. Breccia Sarda Marble is a traditional and classic decoration material for any indoor project. It is also known as the Diano Reale Marble.
Breccia Sarda Marble Tiles are a uniform and compact marble, with a characteristic chromatic appearance, whose background color varies from beige to hazelnut-cream and to brown, characterized by a rather 'cloudy and wild' design in which both the dark veins and the background mass are varied.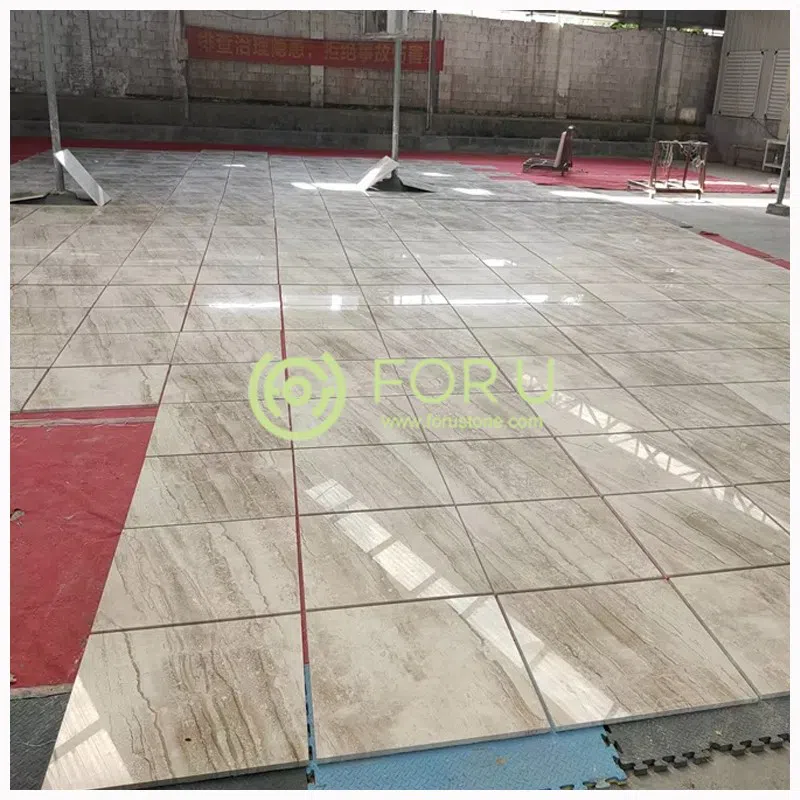 The Physical Mechanical Characteristics of Breccia Sarda Nuvolato Marble
compressive strength (Kg/cm²): 2048
after freezing (Kg/cm²): 1454
ultimate tensile strength (Kg/cm²): 152
coeff. of thermal expansion (mm/m°C): 0.0039
Water absorption (%): 0.4
impact test/min. fall height (cm): 34
frictional wear test (mm): n/a
bulk density (Kg/cm³): 2620
quarry location: Italy
color: Beige
brand: n/a
This Breccia Sarda Beige Marble is often used to clad the walls and floors of exquisite bathrooms, hotel foyers, and also in luxury kitchen island benches. Slabs are often booked to match polished (mirror image) for added effect. (An appropriate sealer and maintenance program should always be considered when using any marble in a kitchen top or high-traffic area).
Basic Information | Crema Marfil Marble | ForU Stone
Breccia Sarda Marble Floor Tile is a creamy, beige marble with distinctive irregular veining which creates a beautiful pattern across the surface. Marble is extremely dense and hardwearing and offers timeless elegance to a variety of interior settings.
| | |
| --- | --- |
| Warranty: 3 years | Name: Breccia Sarda Marble Indoor Floor Tiles |
| After-sale Service: Online technical support | Stone Form: Cut-to-Size Project Tiles |
| Project Solution Capability: total solution for projects | Marble Name: Breccia Sarda Marble |
| Application: Floor, Wall, Countertops, Stairs, Columns | Surface processing: Polished |
| Design Style: Modern | Grade: Grade AAA |
| Place of Origin: Italy | Usage: Villas, Private Houses, Hotels, and Office |
| Brand Name: FORU STONE | Size: Customised Size |
| Marble Floor Thickness: 10, 12, 16, 18, 20 mm | Material: Diano Reale Beige Marble |
| Marble Type: Beige Marble, Marble Tiles, Marble Flooring | Marble Tiles Size: To Be Advised |
Beige Marble Tiles | Sizes Details | ForU Stone
1. Product name: Breccia Sarda Marble Indoor Floor Tiles
2.Popular Marble Flooring Tile Size
305 x 305 x 10mm -12" x 12" x 3/8" ; 457 x 457 x 12mm -18" x 18" x 1/2"
400 x 400 x 12mm -16" x 16" x 1/2" ; 300 x 600 x 12mm -12" x 24" x 1/2"
400 x 400 x 20mm -16" x 16" x 3/4" ; 300 x 600 x 20mm -12" x 24" x 3/4"
400 x 600 x 20mm -16" x 24" x 3/4" ; 600 x 600 x 20mm -24" x 24" x 3/4"
or customized.
3. Popular Marble Slabs Size:
Strip slabs—(180-300)*(60-90)*2/3/4cm
Gangsaw slabs—(240-300)*(120-180)*2/3/4cm
4. Tolerance:
+/-0.5mm for 1cm thick tiles
+/-1mm or 1.5mm for a thickness of more than 1cm
5. Product thickness:10-60mm or as per your requirement
6. Colour: Beige, based on samples.
7. Surface: Polished, Flamed, Honed, Sandblasted, Brushed, Bushhammered, Grooved, etc.
8. Usage: wall tile, wall cladding, floor tile; and also used for airport, metro, shopping mall, hotel.
9. Price terms: FOB Xiamen port or any China port, CNF, CIF
Photos | Breccia Sarda Marble Flooring Tiles | ForU Stone
Quality Control | Italian Beige Marble Slabs and Tiles | ForU Stone
Quality Control
1) Surface Polished 90° up by the auto-polishing machine.
2) Thickness tolerance: -1/+1mm or -2/+2mm.
Package: Fumigated wooden crates.
Experienced QC will inspect all products before the package.
Packages | Beige Marble Slabs & Tiles | ForU Stone Factory
Basic Information of ForU Stone
ForU Stone is a well-known supplier of natural granite, marble floor, and wall materials. Our selection includes a wide range of limestone, wood, slate, marble, and terrazzo, as well as real porcelains. It has lately expanded to include unique bathroom pieces, custom furniture, and complementing accessories. Our emphasis throughout our collections is on natural and frequently handmade creations with distinct texture and form. Our designs are popular in residences and commercial settings and are frequently specified by architects and interior designers both in the United States and abroad.
If you're interested in our breccia sarda marble tiles, welcome to buy the quality products at an affordable price with us. As one of the leading Marble Tiles manufacturers and suppliers in China, we also support wholesale service. For more info, contact us now.