Greece luxury Ionia Marble Egeo Ondulato White Marble Floor and Wall Project Tiles For Villas and Hotel Lobby Projects
The Egeo Ondulato Marble Tiles exemplify the timeless attraction of natural stones, paying homage to ancient Greek architecture yet similarly perfect to cutting-edge aesthetics. The Greek Ondulato marble's elaborate and particular sample guarantees every tile provides an extraordinary visible appeal, improving the classy enchantment of any layout mission for walls, flooring, countertops, or ceiling installations.
The manufacturing of Egeo Ondulato White Marble Tiles is carefully selected for its exceptional quality and is meticulously converted into sophisticated, lightweight answers. This transformation leverages state-of-the-art CNC technology, ensuring the most beneficial precision and efficiency while retaining the stone's splendor. Skillful craftsmanship enhances the end product, developing a solution specific to each interior floor and wall project. The result is a variety of Ondulato Marble Tiles that perfectly fuse capability with aesthetic attraction.
-Egeo Ondulato Marble: An Epitome of Grace and Durability for Interior and Exterior Designs
The flexibility of the Greek luxurious ionia marble ego Ondulato white marble villa venture extends their utility versatility. They can grace the walls and ceilings of grand hotels, luxury villas, flats, and business buildings. Further, their sturdiness also makes them appropriate for excessive-traffic regions like shops, colleges, hospitals, and sports activities venues.
In addition, those White Marble Tiles are ideal for adorning the interiors of cell structures, including yachts, lifts, and planes, to the cautiously advanced lightweight backing solutions.
Basic Info
Model NO.:

Ionia marble egeo Ondulato White marble

Size:

2400upx1200up mm

Density:


2

.8(g/cm³)

Thickness:

18mm

Technics:


Natural



Business Type:


Manufacturer



Trademark:

For U

Stone

Origin:


Greece



Quality:

Control by Our Experienced QC Team

Thickness Tolerance:

+/-1mm for Slab, +/-0.5mm for Tile

Service 1:

Welcome Specified Size and Surface Finish

Service 2:

Supply The Photo of Products and Container Loading

Delivery Time:

Within 15 Days, When Order Confirmed

Sample Request:

Free Sample with Freight Paid by Customer

Transport Package:


Strong Wooden Bundle



Specification:


SGS, CE, High Export Standard



HS Code:

68029190

Customized and Standard Sizes Of Natural White Marble Floor and Wall Tiles
Products

Greek luxury Ionia Marble Egeo Ondulato White Marble

Finishes

Polished, Honed, Sandblasted, Brushed, Bushhammered, Grooved, etc.

Size

Popular Tile Size

305 x 305 x 10mm -12″ x 12″ x 3/8″; 457 x 457 x 12mm -18″ x 18″ x 1/2″

400 x 400 x 12mm -16″ x 16″ x 1/2″; 300 x 600 x 12mm -12″ x 24″ x 1/2″

400 x 400 x 20mm -16″ x 16″ x 3/4″; 300 x 600 x 20mm -12″ x 24″ x 3/4″

400 x 600 x 20mm -16″ x 24″ x 3/4″; 600 x 600 x 20mm -24″ x 24″ x 3/4″

or customized.

Popular Slabs Size:

Strip slabs—(180-300)*(60-90)*2/3/4cm

Gangsaw slabs—(120-180)*(240-300)*2/3/4cm

Tolerance:

+/-0.5mm for 1cm thick tiles

+/-1mm or 1.5mm for a thickness of more than 1cm
Greek Natural White Marble
Greece's luxurious Ionia Marble Egeo Ondulato White Marble slabs
The Egeo Ondulato Marble Floor Tiles are available in numerous sizes to suit specific assignment necessities. Interior ornament initiatives commonly call for tiles measuring around 300x300mm, 300x600mm, 600x600mm, and 800x800mm. However, sizes such as 1200x1200mm or larger may be applied for larger spaces like hallways or spacious living rooms.
For wall cladding or outside façade programs, the Egeo Ondulato White Marble Tiles can be custom reduced to favored dimensions, adhering to the unique architectural demands of the undertaking.
Ondulato White Marble | Residences
Ondulato Marble Tiles | Hotels
Ondulato Greek Marble | Bathroom
Ondulato Marble Columns | Villas
The Ondulato Marble Floor Tiles boast the durability required for flooring paving slabs. Despite their lightweight nature, these natural marble tiles demonstrate tremendous strength, comparable to their conventional stone counterparts. Further enhancing their practicality, the tiles may be quickly dismantled and reinstalled in a particular region, making them an excellent choice for dynamic environments.

Similarly, the Ondulato White Marble Wall Tiles and Greek White Marble Tiles are best for attaining striking wall designs. They harmoniously mix with diverse décor factors, and their natural sheen provides an elegant finish to the partitions. In areas like kitchens and lavatories, where moisture resistance is essential, the Natural White Marble Tiles are a high-quality desire, way to their potential to withstand various humidity tiers.
Luxurious Marble Interior Designs in Villas Projects with Ondulato Greek Marble Tiles:
Calacatta Ondulato Marble introduces a hint of luxury into any area. The elegant white background interwoven with gray veins of this range captures attention instantly. It's a favored desire for luxurious residential projects or industrial sites in search of a style announcement.

Further enriching our product range is the Calacatta Ondulato Marble, a variant of this brilliant stone that brings a touch of Italian luxury to the table. Known for its wonderful veining in opposition to a pristine white backdrop, the Calacatta variation gives a unique answer for layout enthusiasts seeking a hint of Italian elegance in their projects.

As a part of our commitment to provide complete answers, we additionally offer White Marble Floor Tiles and White Marble Wall Tiles, perfect for lending a spacious and shiny ambiance to any area. Those Natural White Marble Tiles' reflective floor complements mild distribution, fostering colorful and alluring surroundings.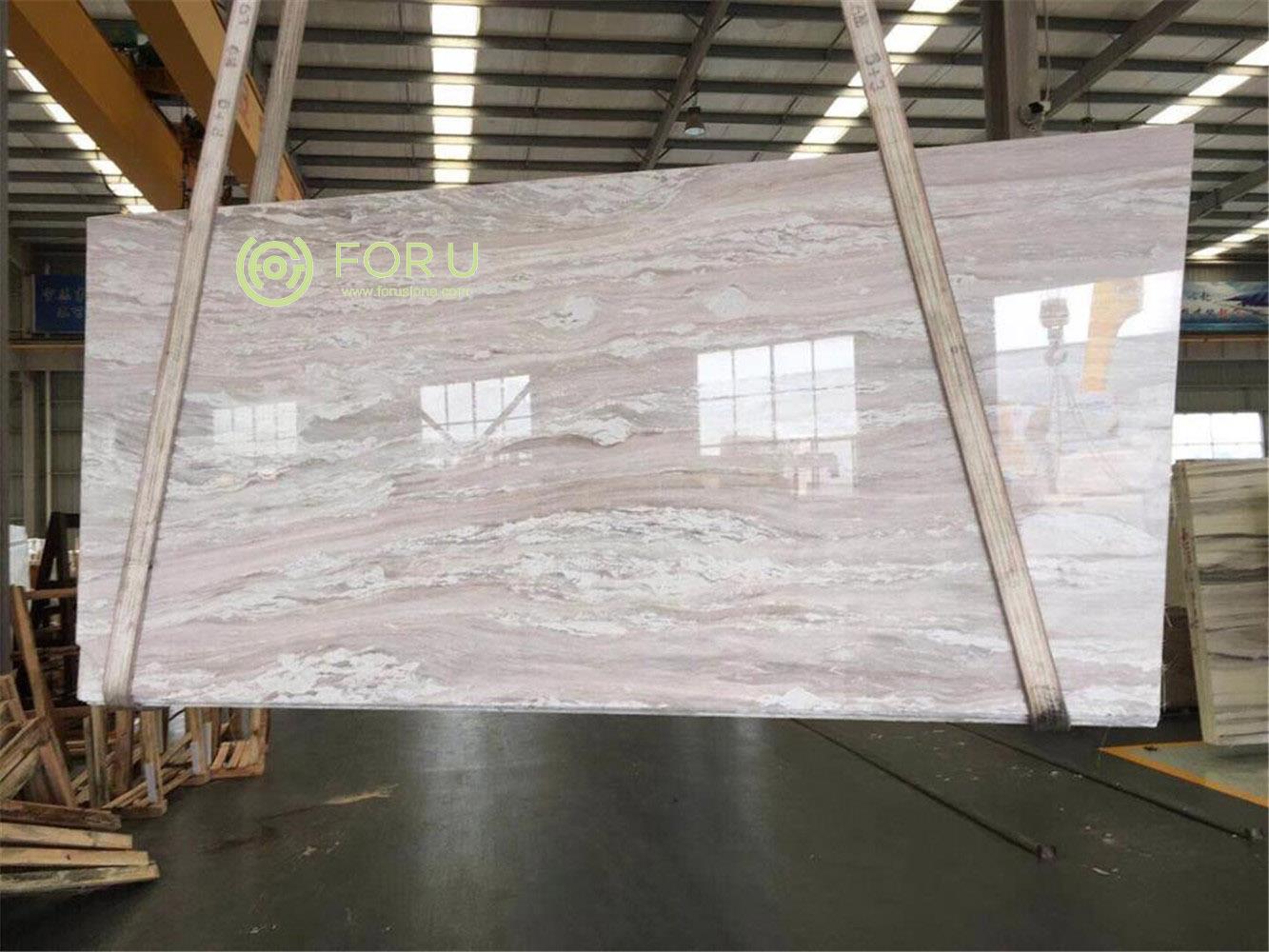 Ondulato White Marble Slabs
Ondulato Marble Slabs
Ondulato Marble Polished Slabs
Professional Marble Floor and Wall Tiles Factory
Quality Control
The quality of all products is strictly under our control, so we can ensure that what we offer you is a superior and quality product. From the beginning of production to the examination of finished goods, we all try our best to avoid any mistakes carefully.
FAQ
1. Q: Where is the shipping port?
A: We ship the products via Xiamen port. Or any other port, depending on your needs.

2. Q: Do you have OEM service?
A: Yes, we offer OEM service.

3. Q: What is your delivery time?
A: Usually 15-20 days after receiving a 30% deposit
No matter the complexity of your architectural or design project, our versatile marble tiles range can adapt to your specific needs. Whether it's the grace of our Egeo Ondulato Marble Tiles, the crisp elegance of Ondulato White Marble Tiles, or the grandeur of our Calacatta Ondulato Marble, each product promises to transform spaces into artistic representations of luxury and style.
Embrace the warmth and character of Egeo Ondulato Marble Tiles, a testament to nature's inherent beauty and elegance.
If you're interested in our Greek luxury Ionia marble ego wanted white marble villa project, you are welcome to buy quality products at an affordable price with us. As one of China's leading White Marble Series manufacturers and suppliers, we also support wholesale service. For more info, contact us now.