FOR U STONE Calacatta Super Jumbo Quartz Slabs are available in Standard, Normal, and Super Jumbo sizes. Calacatta Marble Look Quartz is the star among quartz countertops. It's great for high-end residential, hospitality, and commercial projects. Our Engineered Calacatta Quartz large slabs are beautiful, unique pieces of stone that will add a magnificent look to a kitchen, bathroom, or any bar imaginable.
Material: Calacatta White Marble Look Quartz
Standard Slab Size: 3200x1600mm, 2800*1400mm, 3000*1400mm
Thickness: 6mm, 8mm, 10mm, 12mm, 15mm, 18mm, 20mm, 30mm
Surface: Polished, Honed
MOQ: 80 pcs or one full 20'GP
Quartz Factory: FOR U STONE
Packages: Strong Wood Buddles
Payment: T/T, L/C
Usages: Tabletop, countertop, bar table, wall panel,worktops, reception desk, window sill, special design products
Calacatta Quartz Slab: The Advantages of Choosing This Luxurious Material for Your Home
Calacatta quartz slab is a popular choice among homeowners and interior designers looking for a high-end, luxurious material for their kitchen and bathroom countertops. This material is a man-made quartz that mimics the look of natural Calacatta marble, but with a number of added benefits. In this article, we will explore the advantages of calacatta quartz slab and why it is an ideal choice for your next home renovation project.
Durability and Longevity
One of the main advantages of calacatta quartz slab from China factory is its durability and longevity. Unlike natural marble, quartz is a non-porous material that is resistant to scratches, stains, and heat. This makes it an ideal choice for high-traffic areas such as kitchen and bathrooms, where spills and splashes are common. With proper care and maintenance, a calacatta quartz slab can last for many years and retain its beauty and shine.
Low Maintenance
Another advantage of calacatta quartz slab from manufacturer is its low maintenance. Unlike natural marble, which requires regular sealing and polishing, quartz is virtually maintenance-free. It can be easily cleaned with a damp cloth and mild detergent. Additionally, since it is non-porous, it does not require sealing or resealing to protect it from stains. This makes it an ideal choice for busy homeowners who want a beautiful and functional kitchen or bathroom without the hassle of constant upkeep.
Wide Range of Design Options
Calacatta quartz slab from supplier comes in a wide range of design options, from the traditional white and gray veining to bolder, more contemporary patterns. This means you can easily find the perfect color and design to match your personal style and existing decor. In addition, since it is a man-made material, it can be fabricated into a variety of shapes and sizes to fit your specific needs and space constraints.
Hygienic
Calacatta quartz slab is also hygienic, which makes it an ideal choice for kitchen and bathroom countertops. Since it is non-porous, it does not absorb liquids or bacteria, making it easy to clean and sanitize. Additionally, it is resistant to mold and mildew, which can cause health problems if left untreated.
Cost-Effective
While calacatta quartz slab is a high-end material, it is actually more cost-effective than natural marble. It is less expensive than natural marble and it is also more durable and low-maintenance, which can save you money in the long run. Additionally, since it is a man-made material, it is readily available, which can help keep costs down.
In conclusion, calacatta quartz slab is a luxurious, high-end material that offers many advantages over natural marble. It is durable, low-maintenance, hygienic, and offers a wide range of design options. Additionally, it is cost-effective, which makes it an ideal choice for homeowners looking to renovate their kitchen or bathroom. When considering the type of material for your next home renovation project, calacatta quartz slab is definitely worth considering.
Calacatta White Engineered Quartz Slabs
Calacatta White Quartz Slab is a kind of Marble Look man-made stone, which has been the market focus in recent years. Other marble-look quartz includes statuario quartz, Nero Marquina quartz, Pietra grey quartz, panda black or panda white quartz, and some with marble veins and patterns, which are available in FOR U Stone Engineered Quartz Factory now. Providing 100+ different quartz colors for the world wild market.
Calacatta Quartz Slab has the advantages of super impact resistance, non-slip function, fire retardant, and noise prevention. It is suitable for large-scale indoor tiles applications, including kitchen tiles, countertops, vanity, building materials, etc. This quartz slab is non-porous, and its low water absorption is very practical and functional for home use, especially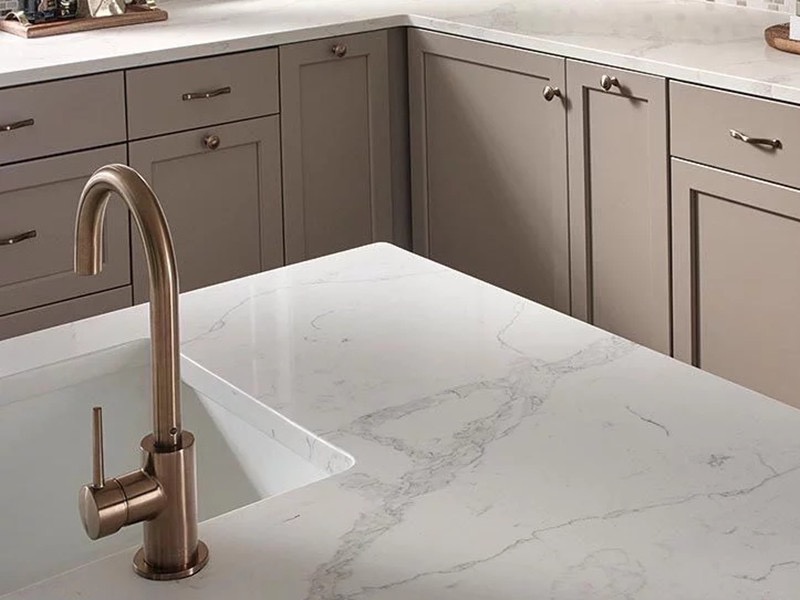 when moping the floor or near the bathroom, you don't have to worry about water stains on the floor.
Engineered Quartz with Natural White Calacatta Marble effect will give you even more than the real one; although marble is very beautiful, it has some characteristics that are not great options for kitchens. With Calacatta Classic Quartz you can have the best of both worlds; the beauty that marble gives and the mechanical characteristics of quartz. While the Calacatta Bianco Quartz, the white marble looks like man-made stone and has a wild range of colors, as the veins or patterns are very different, as the Calacatta Marble Quartz can be customized with any shape of veins or veins' colors as our client's likes. Less vein, more vein, thin strips, thick strips, or other special patterns, which you can imagine. As a factory, we have 50+ White Calacatta Quartz Slabs, with aviouse grey or black strip veins. Synonymous with elegance and sophistication, Calacatta Quartz Stone is considered one of the most desirable worktops available today. As an engineered stone, quartz is durable and resistant to heat and stains. So it can withstand daily wear and tear efficiently and the wide range of attractive colors and patterns make it a perfect way to dress up in your kitchen.
Calacatta Quartz Slab is widely used for interior wall cladding and building material. It has good cutting performance and can be well-matched with different room decors. This glass also has an outstanding elastic limit and can fit different arcs, not easy to deform and crack in a variety of environments. If you're looking for a reliable and cost-effective stone decoration for your house or office, this quartz slab can be your never-wrong choice!
Calacatta Engineered Quartz is mainly for residential kitchen islands and commercial countertops. The bolder (thick) veins go through the countertops and connect to the waterfalls. It looks amazing!
Basic Information of Calacatta Quartz Stone | FOR U STONE
| | | | | | |
| --- | --- | --- | --- | --- | --- |
| Certification: | ISO9001 | Quality Control: | Inspect One by One | Service: | Matching Colors |
| Model NO.: | Artificial Quartz Stone | Sample: | Provide Free(100*100mm) | Size: | Customized |
| Usage: | Commercial, Kitchen, Bathroom | The hardness of Quartz Stone: | 7 Mohs, Knife Cut No Scratch | HS Code: | 6810999000 |
| Thickness: | 20mm/30mm | Trademark: | For U | Advantage: | Non-Porous and Scratch Resistant |
| | |
| --- | --- |
| Products | Calacatta Marble Quartz Collection from FOR U STONE |
| Application | kitchen countertop, vanity, tile, building, etc |
| Color | pure color, sparkling colors, small chip colors, natural colors |
| Composition | 93 % pure quartz powder, with 7 % resins, color pigments, and others. |
| Capability | 15000m2/month |
| Slab Size | 3000x1400mm (Max. 3200*1600mm) |
| Customized | customer size and color are ok. |
The pure white base color ebullient atmosphere and light dreamy elegant gray tone texture such as the morning light dawn when the Eastern sky, is pure, mysterious, and elegant. White Calacatta Quartz's texture is crystal warm, texture indistinct, and changing, the " stone world of Hermes ". Versatile and uncomplicated, classic and elegant, in the space to create a timeless style.
Product Parameters of Calacatta Quartz Stone
Product Name
Factory Wholesale Calacatta Quartz Stone Slabs For Countertops
Feature

Non-porous, Scratch-resistance, High stain-resistance, High heat-resistance, Maintenance-free

Material

93% Natural Quartz + 7% Resin ( 7 Mohs)

Size

Standard: Max 3200x1600mm, Min 2800*1400mm

3000*1400mm

Thickness

Standard: 20mm, 30mm,

Other: 6mm, 12mm, 15mm, 18mm, please check with us.

Color

More than 100 Hot Sale colors to choose from.

Galaxy Color, Pure Color, Multi-Color, Vein Pattern Color, Calacatta Color, Zircon Color, and Marble-Like Color.

Welcome, contact us as a colorist.

Surface Finish
Polished High Glossy
Inspect
Strict inspection of the system, 100% inspection one by one
MOQ

Normally 30 slabs per color

For colors in stock, no MOQ limitation can mix several colors in one container.

Gross Weight

20mm 48KG/SQM

30mm 72KG/SQM

Load Quantity

One 20 Ft container loads 7 bundles.

20mm, each bundle max load 15 pcs, 105pcs one 20 ft container

30mm, each bundle max load 10 pcs, 70 pcs one 20 ft container

Load quantity according to your port weight limit

Certificate

NSF

Fabrication

We also specialized in processing the finished countertop, vanity top

Customized Size, Edge, Thickness, Color, Free CAD Design.

NO MOQ, one set also can process.

( L shape, U shape Countertop + Kitchen Island)

Delivery time is 15-30 days.
The First Reason You Should Consider the Quartz Stone for your next kitchen and bathroom countertops.
Artificial Quartz stone has all the benefits of other stones without its drawbacks, non-porous, stain-resistant, extremely durable, heat-resistant, and hard-wearing. Marble, granite, or natural solid stone surface… are scratched and stained easily, and require frequent maintenance. So quartz stone is more and more popular to be a reliable choice for countertops, vanity tops, and other tops.
Calacatta Quartz Jumbo Slabs In FOR U STONE Factory
The 2nd Reason You Should Consider Calacatta Quartzite Kitchen Countertops for coming residence kitchen projects.
Calacatta Quartz is a very durable quartz. These quartz pieces are thick, and natural and make a great statement that Calacatta quartz is widely used due to its stain and scratch-resistant properties. Quartz has these properties because it is very hard, durable, and easy to clean and maintain. This allows us to use this material in many different places, such as bathrooms, kitchens, and dining rooms.
Kitchen and Bathroom Projects with Calacatta White Quartz
In today's hectic daily life, every household is looking for convenient and effortless ways to keep things organized. And the kitchen is the busiest place with activities like cooking, spills, and handling hot food… So its maintenance needs the most attention. While the White Calacatta Quartz Countertops need less time for daily care and have long years serves.
This is where quartz suppliers come into play. Variants like Calacatta White Quartzite Countertops have a subtle background with beautiful thick streaks. Quartz is also superior to other natural stone countertops because it does not require sealants. As such, it remains in high demand among homeowners, architects, and professional designers. With this incredible-looking engineered stone, you get to have the perks of natural Calacatta marbles, excluding its shortcomings. Also, any renowned quartz slab supplier would recommend it as a perfect kitchen countertop that any residential or commercial setting could have.
Quartz Countertop Edges Profiles
Another 3 top sale colors of quartz slab are popular in the USA and Austria markets, etc.
Extra information on Man-made Quartz Stone | FOR U STONE
1. Products: Slab, tiles, countertops, vanity tops, vanity sink, strips, window strips, column, fence, stone border, water jet pattern, mosaic, carving, fireplace, monuments…
2. Finish: polished, honed, antique…
3. Usage: Widely used in interior decoration, floor, wall, countertop…
4, Related names: Chinese black marble, Nero Marquina marble, Marquina black marble
5. FOB Price: Get the Latest Price
6. Port: Xiamen, China
7. Production Capacity: 10000 Sqm/Month
8. Min.Order: One container
9. Payment Terms: L/C, T/T
Our service
1. The best payment condition;
2. All orders are to be delivered within 14 days;
3. The quality level including packing standard is the best and most stable;
4. The price is the most competitive;
5. All inquiries/questions are to be replied to within 24 hours.
Quality Guarantee
Our workers inspect each slab with 10 years of experience to make sure all slabs are without holes, cracks, or black spots, sending pictures of each slab before shipping Send packing list before shipping Send pictures of loading before shipping.
Packing and Loading
FOR U STONE artificial quartz stone contains up to 90% natural quartz. As a non-radioactive artificial stone, artificial quartz is usually used in interior decoration. For kitchens, bathrooms, and laundry at home or as part of a cutting-edge commercial project, FOR U STONE has a design solution that you will be truly proud of. With its power and superior flexibility, artificial quartz is resistant to abrasion, scratches, chipping off, breaking, high temperatures, frosting and defrosting, chemical products, acid, and dissolvent.