Polished Volga Blue Granite for Slabs/Tiles/Countertop & Vanity Top
The Volga Blue granite is a marvel of nature's artistry. Its severe blue colors, fused with a durable charter, make it stand out among natural granite stones. Originating from the rich quarries of Ukraine, this granite variety has emerged as an image of luxury and resilience. Even though many human beings consider that there is only one quarry for Volga Blue granite, the truth is some distance from that. The region boasts dozens of quarries, each with its unique attributes. These quarries unfold out, imparting versions in textures and capabilities that make everyone wonderful.

At our agency, we have a giant enjoyment with those quarries, ensuring that we provide only the pleasant and most specific Volga Blue granite slabs. We understand the importance of selecting the right quarry to source our granite from, as it impacts the quality and beauty of the final product. Our group of professionals cautiously selects the quarry to provide the most stunning Volga Blue Polished granite for our clients, ensuring that every slab is of the highest quality.
The splendor of Volga Blue granite is unmistakable. It possesses a deep black backdrop punctuated with the aid of a captivating blue iridescence, which seems to shimmer like a starlit nighttime sky. The Volga Blue Granite stone seems like it houses fragments of shattered glass, but it's these very blue mineral deposits that intensify its splendor. The "Volga Blue Extra Granite" variant amplifies this beauty, boasting richer attention to blue mineral deposits. It is no wonder that this granite variety has become synonymous with luxury and is quite fashionable among architects, designers, and house owners alike.
Basic Info
| | | | |
| --- | --- | --- | --- |
| Model NO.: | Volga Blue granite | Unified Catalogue: | Black Granite Tile |
| Form: | Big Slab | Technics: | Natural |
| Certification: | ISO9001, SGS | Usage: | Flooring Tiles |
| Service: | Top Quality, Competitive Price, Excellent Service | Other Granite Colors: | Black, Red, Green, Brown, Pink, Yellow, Beige |
| Quality Standard: | Polished Degree up to 85% | Thickness Tolerance: | +/-1mm for Slabs |
| Trademark: | For U STONE | Transport Package: | Wooden Crate |
| Specification: | SGS | Origin: | Fujian |
| HS Code: | 68029390 | | |
High-Quality Volga Blue Granite
Volga Blue granite is a true classic among the labradorites, with its black background color and intense bright blue iridescence. Volga Blue granite creates truly elegant interiors, exteriors, bathrooms, and countertops. Our company enjoys an exclusive agreement with a new quarry of this granite. Today, the Volga Blue granite that we supply is considered to be the highest quality of its kind in several parameters (details provided further).
Similar to its stunning splendor, Volga Blue granite tile is likewise enormously durable, making it the correct choice for excessive-visitors areas. It's proof against scratches, heat, and stains, making it ideal for use in kitchens, bathrooms, and out-of-door spaces. Its sturdiness additionally makes it a famous choice for business projects, together with hotels, restaurants, and workplace homes.
The Volga Blue granite polished tile is a testament to nature's artistry and an image of luxury and resilience. Its precise blue iridescence, blended with its sturdiness, makes it a popular choice for both residential and industrial tasks. At our agency, we take pride in offering the simplest, highest-quality, and most specific Volga Blue granite, ensuring that our customers get hold of a product to beautify the splendor and cost of their belongings.
Specifications and Offerings of Volga Blue Granite
Volga Blue Granite Tile: Perfect for flooring, our tiles come in various sizes catering to diverse needs, making them ideal for spaces ranging from expansive halls to cozy rooms.
Volga Blue Granite Polished Slabs: These are ideal for large-scale installations, offering a continuous, seamless look. Their polished finish ensures a glossy, mirror-like surface, reflecting luxury.
Volga Blue Granite Countertops: A popular choice for kitchens, these blue granite countertops are not only visually appealing but also offer robust resistance to daily wear and tear.
Volga Blue Granite Kitchen Countertops: Specifically designed for kitchens, they bring in a touch of luxury, making every cooking experience a delightful one.
Volga Blue Granite Wall Tiles: Transform your walls into art pieces with our range of wall tiles. Their unique blue shimmer adds an element of depth to any space.
Volga Blue Granite Slabs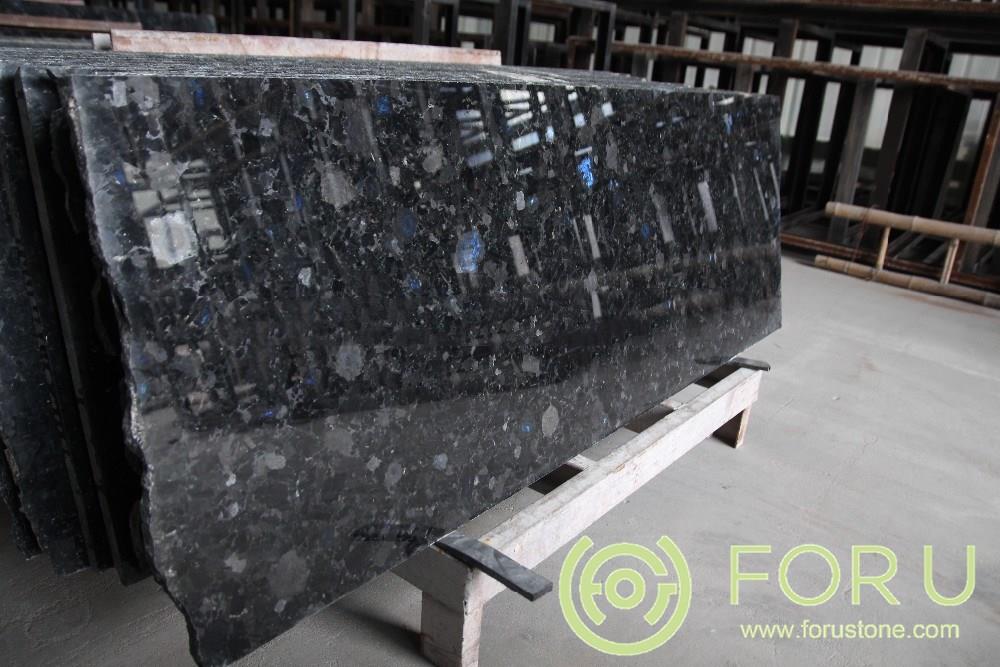 Volga Blue Granite Polished Slabs
Volga Blue Granite Floor Tiles
Volga Blue Granite Tiles
Applications Across Projects
Volga Blue granite, with its inherent beauty, finds applications in a plethora of projects. From the heart of homes, and kitchens, to expansive commercial spaces, its presence is undeniable. Here's where our granite can make a mark:
Real Estate Ventures: Homes equipped with Volga Blue granite kitchen countertops or bathroom vanity tops instantly see an uplift in their aesthetic appeal.

Commercial Spaces: Malls, sports venues, and office buildings can benefit from granite's durability and elegance, be it in the form of wall cladding, floor tiles, or even countertops.

Leisure Facilities: Luxury hotels, villas, and spas can use granite for staircases, paving, or even high-end dining tables, ensuring guests are surrounded by luxury.

Educational and Healthcare Institutions: Schools and hospitals can incorporate granite in wall panels, ensuring a blend of beauty and hygiene.
Professional Blue Granite Floor and Countertops Factory
Quality Control
Quality Standard
1)Thickness tolerance (length, width, thickness):+/-1mm; sheet thickness tolerance:+/-0.5mm
2)Polished degree: above 85 degree
3)No variation, no crack, no mark
Delivery, Shipping, And Service
Packing and Loading Volga Blue granite
packing&delivery
Regarding product packing and loading, we also do safe ways. We have a rich experienced and professional
team to
handle product packing, space availability, and stacking in containers, and ensure that the goods you receive and you expect are the same.
packing detail
1) Inner packing: Cartons or foamed plastics (polystyrene).
2) Out packing: Seaworthy wooden crated with fumigation.
delivery detail
1) Delivery Time: 10~15 days after the order is confirmed.
2) Shipping Port: Xiamen Port, China
FAQ
1. Q: Where is the shipping port?
A: We ship the products via Xiamen port. or any other ports depending on your need.

2. Q: Do you have OEM service?
A: Yes, we offer OEM service.

3. Q: What is your delivery time?
A: Usually 15-20 days after receiving a 30% deposit
Contact US
If you're interested in our Volga blue granite slab, welcome to buy quality products at an affordable price with us. As one of the leading Blue Granite manufacturers and suppliers in China, we also support wholesale service. For more info, contact us now.