Translucent Blue Agate Large Slab for Table Top and Wall Panels
Blue Agate Slab is polycrystalline, with a glassy and oily luster on the surface, with a natural texture and smooth gradation of color, giving it a strong sense of character, and a unique band. The backlit blue agate gemstone slab is made of natural agate slices, and the surface adopts high-strength polishing technology, which is smooth and delicate. Since each piece of raw material is genuine, the entire gemstone slab is unique. The unique texture and backlit effects of Blue Agate Stone Slabs have been favored by many designers, and it is a unique artwork.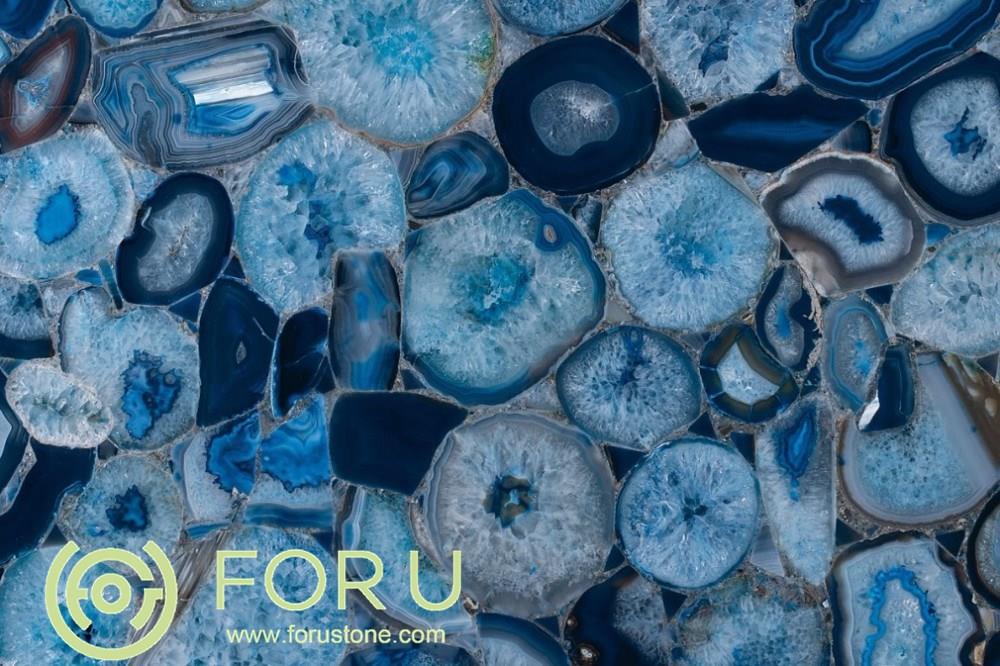 Blue Agate Backlit Slab is a famous crystal that allows you to express yourself freely. The meaning of this blue gemstone slab is calmness and strength. Semi-precious Agate Slabs cater to all types of designs from classic to contemporary. It is very effective in instilling contentment and peace. Available in an attractive color palette of agate slabs that give your interior a sophisticated and timeless look.
Blue Agate Semi-precious Stone Slab's attraction goes beyond its visual beauty. It adds warmth and style to any home or office. Blue Agate slabs are known as talismans with excellent healing properties.
A slab of semi-precious blue agate stone adds charm and luxury to the room in which it is placed. FOR U STONE is one of the leading suppliers of a wide range of high-quality blue agate stone collections in China. The blue agate translucent slabs we offer are high-quality Blue agate slabs. In the Semiprecious stone, slabs are used in various applications, including countertops, fireplaces, exterior walls, chairs, and kitchen and bar counters. Blue is considered a pair of peace and anger flames. The blue agate gemstone slabs are blind with many movements and colors.
Basic Info of Luxury Semi Agate Slabs
Model NO.:

Blue

Agate Gemstone



Size:

120cm up*200 cm up

Density:

2.7(g/cm³)

Thickness:

18mm

Technics:

Natural

Stone:

Natural Semi-precious Stone

Service 1:


Welcome Specified Size and Surface Finish



Service 2:

Supply The Photo of Products and Container Loading

Trademark:


FOR U

Transport Package:

Wooden Crates

Specification:

A quality

Origin:


China.

HS Code:

6802211000


This stone is a type of chalcedony with bright blue streaks running through it (sometimes it appears white). There is no denying that blue agate is a beautiful stone.
Products Specification of Blue Agate Gemstone Backlit Slab
Thin Backlit Tile

300x300x10mm, 305x305x10mm, 400x400x10mm, etc.

Cut-to-size Tile

400x400x15/20/30mm, 500x300x20/30mm, 600x300x20/30mm

600x600x20/30mm etc.

Skirting

600~1000×80/100x10mm etc.

Stair

1000~1500×300~330×20/30mm, 1000~1500×130~170x20mm, etc.

Slab

1220*2440mm or customized

3000*1500mm

Countertop

1800x560x20/30mm, 2100x560x20/30mm, 2400x560x20/30mm, etc.

Size Tolerance

±1mm

Usage

Indoor & outdoor walls, stairs, countertops

Finish

Polished is the best option

Edge Finish

Polished, round, bevel, chamfer, honed, full bull-nose, half bull-nose, ogee, laminated, irregular, etc.

Certificate

CE

Quality Assurance

During the whole production process, from material choosing, and fabrication to package, our quality assurance people will strictly control each single
and every process to ensure quality standards and punctual delivery
Backlit Blue Agate has long been said to aid stability and balance. It promotes the release of negative emotions and promotes positive energy. Our Blue Agate surface offers another color option for introducing this fascinating stone into your environment. Warm and cold tones with a unique blue agate circular pattern add elegance to both traditional and contemporary designs.
FOR U STONE manufactures and exports resin-bonded aqua blue agate stone slabs in various shades and sizes. A blue agate plate made from natural agate is an unusual idea for a modern kitchen.
Semi-precious Blue Agate Stone Backlit Slabs | Photos
Our bold blue agate and geode stone slabs are crafted using the best semiprecious stones and come with a guarantee for the finest craftsmanship and quality. Our Blue Agate Slab Surfaces offer another color option to introduce this intriguing stone to your environment.
Standard size in centimeters and Feet-240×90 centimeters | 8×3 feet
Customization Possible – Yes
Thickness – 8mm, 12mm, 20mm
Edge – Standard, Bevel (1/4″, 3/8″, 1/2″), Bullnose (Radius), Full Bullnose, Demi Bullnose (waterfall), Reverse Bevel, Double Bullnose, Ogee
Surface Finish – Glossy
Form – Slab, Tile, and customs
Material – Agate and geode
Application – backsplashes, benchtops, kitchen islands, wall panels, kitchen countertops, backlit countertops, accent
Color – Aqua Blue, Bold Blue, and other shades of blue
Blue Agate Gemstone Project Gallery | FOR U Stone
-A Wild Range of Blue Agate Backlit For Interior decoration projects, from wall, table, floor, and countertop designs.
Semi-Precious Blue Agate Slabs are used in various applications such as countertops, fireplaces, exterior walls, chairs, kitchens, bar counters, etc. Blue is considered as a pair of peaceful and furious flames opposite. The blue agate stone slab is blind with lots of movement and color.
The Quality and Package by FOR U STONE
The quality of all products is strictly under our control, so we could ensure that what we offer you is a superior and quality product. From the beginning of production to the examination of finished goods, we all try our best to avoid any mistakes carefully.
Delivery, Shipping, And Service
Packing and Loading Blue Agate stone slabs
Packing & Delivery

♦ Packing Detail

1) Inner packing: Cartons or foamed plastics (polystyrene).

2) Out-packing: Seaworthy wooden crates with fumigation.

♦ Delivery Detail

1) Delivery Time: 25~40 days after the order is confirmed.

2) Shipping Port: Foshan Port, China
Basic FAQ of Agate Stone Slabs
Q1. Where should the agate stone large slab be used?
A: All semi-precious stones must be used indoors, such as in kitchen worktops, bathrooms, vanity tops, and floor tiles, which are not exposed to direct sunshine.
Q2. Why should we use agate stone other than natural stone?
A: Compared with natural stone, agate stone has higher density and hardness, less water absorption, is more durable and less maintenance and has a better consistent color tone.
Q3. How should the Agate Polished Slabs be stocked temporarily?
A: The luxury agate stone slabs must not be exposed to the sunshine directly, and slabs must be erected.
If you're interested in our blue agate stone slabs, you are welcome to buy quality products at an affordable price with us. As one of the leading Semi Precious Stone manufacturers and suppliers in China, we also support wholesale service. For more info, contact us now.