Calacatta Viola Purple Vein Marble Slabs From Turkish Quarry
Originating from the famed marble mines of Turkey, the Calacatta Purple Turkish Marble, also referred to as Calacatta Breccia Purple Marble, brings a distinctive, vibrant touch to both interior and exterior design projects. A relative of the Italian Calacatta Viola Marble, it exudes an aura of luxury while presenting a noticeable difference in vein and base color characteristics.
An elegant showcase of nature's artistry, the Purple Marble Slabs boast deep, dark purple veins intricately woven into a white canvas. Unlike its Italian counterpart, the Turkish Breccia Viola Marble possesses a less intense yet equally captivating purple texture sprawling generously around blocks of pure white. This distinction sets it apart, giving it a unique appeal that is enchanting and endlessly versatile.
Breccia Purple Marble Slabs
Turkish Purple Marble Slabs
The Calacatta Rosa Marble's charm lies in its ability to make a bold statement across different applications. From bathroom surfaces, floorings, and walls to vanity tops and stair coverings, its distinct purple veins and white base provide a delightful visual contrast, making it a fitting choice for both contemporary and classic styles.
The elegant Viola Calacatta Turkish Marble offers not just captivating beauty but also a competitive price advantage, a combination that has made it a preferred choice among designers and builders. Its versatility enables it to seamlessly fit into diverse interior styles, imbuing a sense of luxury and sophistication in each setting.
Sizes information About Turkish Marble
Marble Item:

Turkish Calacatta Viola Marble Slabs For Indoor Floor and Wall Projects

Marble Size:

1)Big slab: 2400 upx1200up mm, thickness 1.6cm, 1.8cm, 2.0cm.




2)Vanity top: 25 "x22", 31 "x22", 37 "x22", 49 "x22", 61 "x22″, etc. Thickness 3/4″, 1/4" Any drawing can be customized.




3)Countertop: 96″x26″, 108″x26″, 96″x36″, 72″x36″, 72″x36″, 96″x16 "ect Thickness 3/4″, 1/4" Any drawing can be made.




4)Stair Step: 100-150×30-35×2/3cm Riser100-150×12-17×2/3cm

Tile:




1) 305 x 305 x 10mm or 12″ x 12″ x 3/8″




2) 406 x 406 x 10mm or 16″ x 16″ x 3/8″




3) 457 x 457 x 10mm or 18″ x 18″ x 3/8″




4) 300 x 600 x 20mm or 12″ x 24″ x 3/4″




5) 600 x 600 x 20mm or 24″ x 24″ x 3/4″ ect custom sizes.

Quality details:

1) Polished degree: 95 degrees or up.




2) Thickness tolerance: +/-0.5mm.




3) Diagonal tolerance: +/-1mm.




4) Surface flatness tolerance: +/-0.3mm.




5) Adjacent edge verticality tolerance: +/-0.5mm,




Precise Cutting by infrared-ray-cut machine.

Surface Finish:

Polished, flamed, honed, bush hammeredsandblast, chisselled.
Products Description
The versatility of this Purple Natural Marble makes it a sought-after choice for a myriad of upscale projects. Whether it's adorning the walls and countertops of luxury hotels and private residences or providing an exquisite finishing touch to villas, mansions, and commercial buildings, the Turkish Natural Marble never fails to impress. Its stunning aesthetic adds a hint of luxury to any project, ensuring an outcome that is as unique as it is elegant.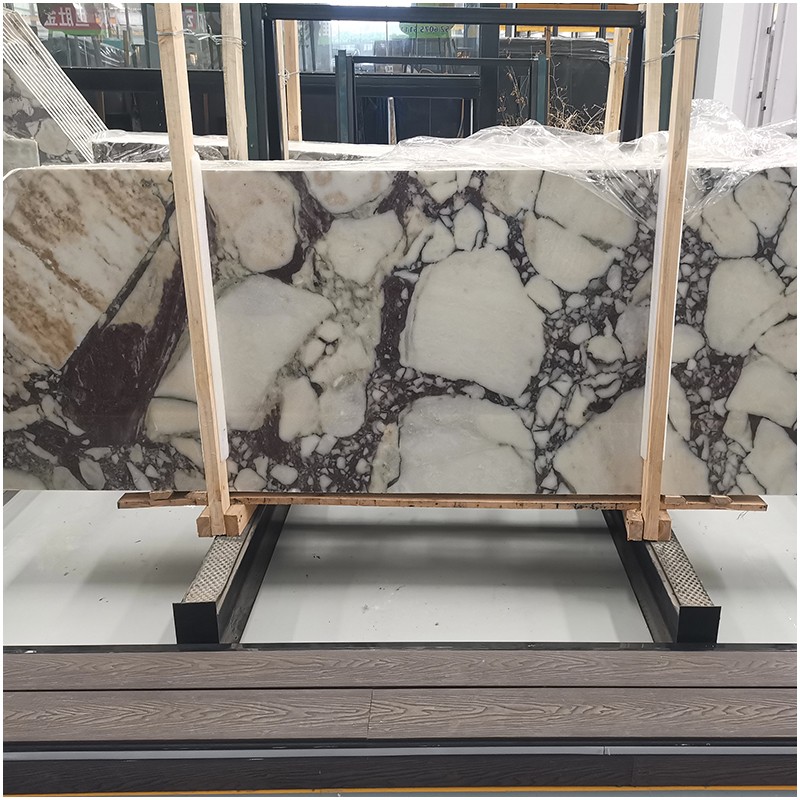 Calacatta Viola Turkish Marble Slabs
Cheap Prices Calacatta Viola Marble
For slab sizes, it's stated that each stone is unique and sizes will vary upon availability. The average slab size is reported to be around 80" x 40" to 120" x 70". Standard stock thickness is typically ¾" and 1 ¼" for most materials, but 2" and other thicknesses may be available upon request.
For floor tiles, stairs, and countertops, no specific sizes were found in the search results. However, it's important to note that Breccia Viola can be processed into different finishes, including polished, sawn cut, sanded, rock-faced, sandblasted, and tumbled, and is recommended for both interior and exterior wall and floor applications, monuments, countertops, and more.
Please reach out to a professional stone supplier or a manufacturer for specific size details and customization options for Breccia Viola Marble. They can provide you with more accurate information based on your specific needs and project requirements.
Products Description
Packing and Shipping: Ensuring Safe Delivery of Marble Products from FOR U STONE
Effective packaging is crucial for the safe transportation and delivery of products to customers. At FOR U STONE, we adopt a meticulously designed packing process to ensure that our marble products reach you in pristine condition.
Cut to Size Tiles: Each tile is carefully separated by a foam membrane, with polished surfaces facing each other, to prevent any possible scratches or damages during transit. These tiles are then secured in a choice of a Styrofoam box or a carton box. For additional protection and sturdiness, we encase the packed tiles in a wooden crate that has been duly fumigated. The crate is then reinforced with durable plastic for optimal protection.

Irregular Tiles: Just as with the cut-to-size tiles, irregular tiles are also safeguarded with a foam membrane placed between the polished faces. The tiles are then accommodated in either a Styrofoam box or a carton box. Each packed box is then placed in a fumigated wooden crate for superior security during transportation. This crate is further reinforced with robust plastic for enhanced protection.

Large Slabs: In the case of large slabs, each polished face is isolated with a foam membrane to prevent potential harm. These secured slabs are then packaged in a robust, fumigated wooden crate. The crate is then wrapped with a tough layer of plastic for added strength and protection during the shipping process.

Extra-Large Slabs: Our extra-large slabs are given additional attention, ensuring they are well-protected. Similar to the other products, these slabs are packed into a choice of a Styrofoam box or a carton box, and then encased in a fumigated wooden crate. This robust crate is strengthened further with a durable plastic wrapping, ensuring optimal protection during transportation.
At FOR U STONE, we prioritize not just the quality of our products but also the quality of our packaging. By adhering to strict ISO standards, we ensure that our packaging is not only reliable and safe but also eco-friendly. We believe that good packaging is an essential part of delivering satisfaction to our customers, and we take every measure to uphold that belief.
Calacatta Purple Turkish Marble is not just a slab of stone. It's a piece of art, a timeless beauty that tells a story. Whether you're looking to create a stunning backdrop for a modern interior or add a touch of elegance to a classic design, this marble offers a unique blend of beauty, durability, and versatility. So, let the Calacatta Purple Turkish Marble weave its magic and bring your vision to life.