Crema Marfil Marble Tile For Luxury Hotel Lobby and Washroom Projects
Marble has been a symbol of luxury and class for hundreds of years, and Crema Marfil marble is no exception. This different marble from Spain is prominent using its creamy beige color and one-of-a-kind veining, making it a fave among designers, architects, owners, and extras. Crema Marfil floor tiles are versatile and may be used in residential and industrial areas.
Crema Marfil marble tiles provide unheard-of sophistication, whether hooked up as a floor tile or a wall masking. The stripes and color versions give every tile its identity, making it a popular choice for designers and homeowners trying to create a unique look. The sharp or polished end of each tile brings out the natural charm of marble and makes your area luxurious and timeless.
One of the most essential benefits of Cream Marfil Floor Tiles is its sturdiness. Marble is a long-lasting material that can resist lengthy-term use and is ideal for excessive-site visitors' areas consisting of hallways, entryways, and living spaces. Natural Beige Marble is also scratch and stain-resistant, making it clean to hold and easy.
The undying elegance of Crema Marfil marble tiles in a cutting-edge design
In interior design, marble is an undying lifestyle and is in fashion. Crema Marfil Spanish Marble Tiles are one exceptional instance, with a creamy beige coloration and unique stripes hinting at any region's beauty. This natural marble is a famous cloth among designers who want to create a modern-day and complicated look, an excellent way to stand the check of time.
One of the most significant advantages of Crema Marfil marble tiles is its versatility. It may be used in one-of-a-kind environments from conventional to modern. As such, it is popular among designers who need to create a cohesive look in a space. The precise stripes and shade versions on each tile make it smooth to create a customized appearance that showcases the homeowner's fashion and persona.
Crema Marfil Marble Flooring Tile is their durability. Marble is a trendy material in excessive site visitors regions because it is durable and can resist growing older. In addition, this marble is scratch-resistant and easy to preserve and maintain.
Crema Marfil marble tiles are perfect for developing your space's undying and elegant appearance. Whether you want to create a traditional or present-day appearance, these tiles are bendy sufficient to fit any design style. Crema Marfil floor tiles are an investment in maintaining your area stunning for years because of their sturdiness and smooth healing.
Product Specification of Crema Marfil Marble
| | | | |
| --- | --- | --- | --- |
| Warranty: | Three years | Product Name: | Crema Marfil Polished Marble Tiles |
| After-sale Service: | Online technical support | Stone Name: | Crema Marfil Marble |
| Project Solution Capability: | Graphic Design | Color: | Marble |
| Application: | Hotel/Villa/Apartment/Office Building/Hospital | Thickness: | 18mm/12mm |
| Design Style: | Modern | Size: | 3000*1600mm/2800*1600mm |
| Place of Origin: | Fujian, China | Style: | Morden |
| Brand Name: | Xiamen For U Stone | Keywords: | Crema Marfil Marble |
| Stone Form: | Marble Tiles | Material: | Spanish Crema Marfil Marble |
Specification of Natural Marble
Size

Slab: 2800 x 1800mm, 2800 x 1600mm, 2600 x 1600mm, 2500 x 1500mm, 2400 x 1400mm, 2400 x 1200mm.

Tile: 305 x 305mm, 305 x 610mm, 610 x 610mm, etc.

Cut-to-size: 300 x 300mm, 300 x 600mm, 600 x 600mm, etc.

Other sizes as per customized request.

Surface

Polished, Honed, Flamed, WaterJet, Leathered.

Package Detail

Slab: plastic inside + strong seaworthy wooden bundle outside.

Tile: foam inside + strong seaworthy wooden crates with reinforced straps outside.

Countertop: foam inside + strong seaworthy wooden crates with reinforced straps outside.
Crema Marfil Floor Tiles are classic Spanish cream marble. Crema Marfil Marble is available in a variety of sizes and thicknesses. These are polished marbles with finely textured surfaces. Crema Marfil Floor Tiles are utilized for flooring as well as wall decoration.
Crema Marfil Marble Floor Tiles is a comprehensive informational website dedicated solely to the Crema Marfil marble. It is the beginning point for any company or individual seeking trustworthy information about this beige marble from Spain. Crema Marfil Honed Marble Tile can be your starting point if you want details on this marble or a trusted provider.
Crema Marfil Polished Marble Tiles: The polishing procedure highlights the natural stone color, adding brightness and luminosity to the architectural environment where this marble will be put.
HONED CREMA MARFIL: A matt appearance can be obtained by rubbing this stone with sandstone. Because the first polishing layer is applied to the rock, this finish is not as hard as the raw one.
BRUSHED CREMA MARFIL: By aging this stone, we may get a delicately wrinkled brightness that is as beautiful as the passage of time itself.
Products Description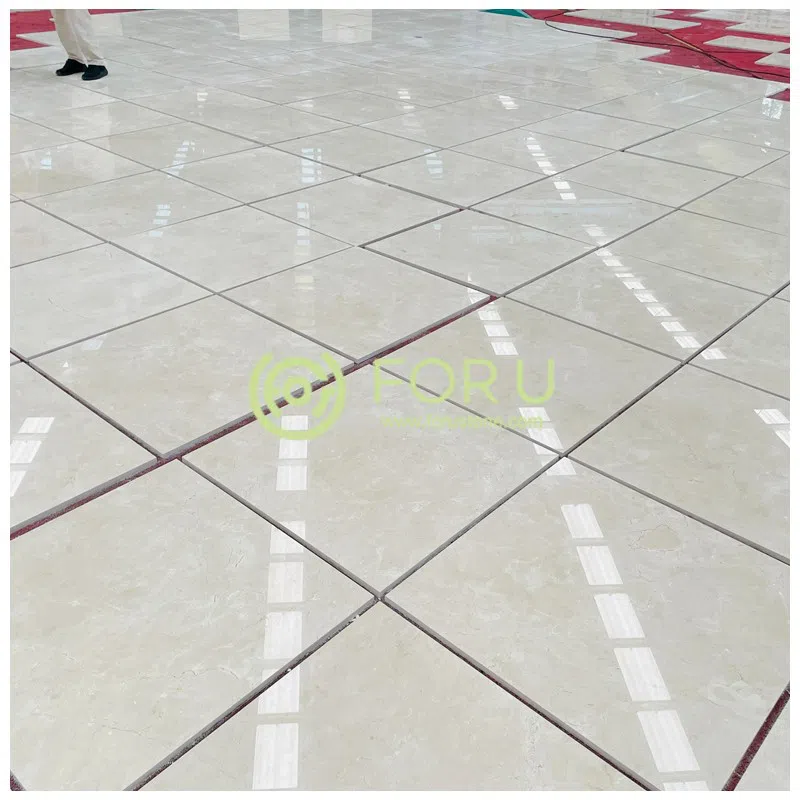 Versatility in Design: Sizes and Finishes
Crema Marfil marble tiles are available in several sizes, from as small as 3×6 to larger dimensions like 24×24. This size range guarantees flexibility in design, allowing house owners and designers to apply them in extraordinary packages. Furthermore, the stone's finishes, inclusive of polished for a high gloss look or honed for a more excellent matte look, provide alternatives to cater to specific tastes and undertaking requirements.
Applications: Beyond Just Floors and Walls
While Crema Marfil is renowned as a preference for floor tiles, its applications go beyond that. It can be used for cladding, countertops, fireplaces, and vanities. Due to its sturdiness and aesthetic appeal, this marble suits numerous commercial areas: offices, bars, lavatories, and buying facilities. Crema Marfil Marble's versatility shines in a high-quit resort, a bustling industrial hallway, or a serene domestic setting.
Installation Insights: Ensuring Longevity
Ensuring compatibility amongst all setup materials is crucial while operating with Crema Marfil or any natural stone. This consists of the substrate, adhesive, and grout. Following established tips and inspecting materials in advance can ensure a successful setup method maximizes the stone's durability.
Crema Marfil Selections: Quality and Pricing
Crema Marfil is to be had in diverse choices, with the 'Select' being the cleanest and highest quality. While it's the most coveted, its higher price point may deter a few. The 'Semi-pick' offers a more excellent marbled appearance with distinct veining, making it popular amongst many. Lastly, the 'Classic' is the most powerful choice, offering the mentioned veins of red and yellow that upload a person to the surface.
Project Inspiration: Crema Marfil in Commercial Settings
Crema Marfil is a super choice for business projects for resort lobbies, workplace homes, or sports activities venues. Given its durability and versatile aesthetics, it's no wonder that Crema Marfil is desired for internal and external decoration in diverse institutions, consisting of schools, shops, and amusement centers.
Natural Marble Stone Factory In China | FOR U STONE
Quality Control of Marble Tiles
Raw material quality control
All raw materials like quartz sandy, natural marble powder, resin, etc. Through 36 procedures to strictly control raw material quality. To guarantee, artificial marble and quartz stone are competitive products in our company.
Delivery, Shipping, And Service
Packing and Loading about Natural White Marble
Packing &

Delivery

Regarding product packing and loading, we also do a safe way. We are rich.

experienced and professional team to handle product packing, space

availability, and stacking in containers ensure that the goods you receive

and you expect to be the same.

Packing details

1) Inner packing: Cartons or foamed plastics (polystyrene) for white stone marble
2) Out packing: Seaworthy wooden crated with fumigation.

Delivery detail

1) Delivery Time: 10~15 days after the order is confirmed.
2) Shipping Port: Xiamen Port, China
FAQ
Q: What is your time making samples?
A: Usually, we will take 1~3 days to make the samples.
Q: How long is your delivery time?
A: Generally 15-20days after deposit, subject to quantity
Q: Do you provide samples? Is it free or extra?
A: We could send you the samples, but the freight is charged. After the order is confirmed, we will pay back the express fee.
Please rest assured of that.
Q: What are your main products?
A: Our main products are countertops, tiles, stairs, window sill coping, pool coping stone, paving stone, curbstone, stone sinks, etc.
And also we offer OEM services.
Crema Marfil marble tiles, with their undying appeal, versatility in design, and a wide variety of programs, continue to be a favorite choice amongst design connoisseurs. Whether revamping a space or embarking on a brand new task, this Spanish marble guarantees to supply beauty and capability in exact measure.
If you're interested in our crema marfil floor tiles, you are welcome to buy quality products at an affordable price with us. As one of China's leading Marble Tiles manufacturers and suppliers, we also support wholesale service. For more info, contact us now.