Polished Bianco Dolomiti White Marble Slab for Hotel Bathroom Floor Tiles
Dolomite Marble Slabs' Usage Areas: Backsplash, Floor Tile, Wall Tile, Bathroom Floor, Bathroom Wall, Shower Wall, Shower Floor, Outdoor Wall, Commercial Floor. Bianco Dolomite Marble Slab is tougher than marble and resists acids and etching better than marble or calcite. The Dolomite Marble Slabs are stunning and are ideal for use in kitchens, baths, and floors. It complements any style.
Dolomite White Marble Slabs differ from other marble stones in that they are tougher than the majority of them.
Bianco Dolomite White Marble is the perfect enhancement for any interior space. Complement your design with refined elegance by using this tile in your interior spaces. Natural White Marble provides endless decor possibilities. Bring into your home elegant appeal with marble. Marble adds sophistication to interior spaces and provides endless design possibilities.
Design and functionality collide with this natural marble. Complement your interior with detailed marble, with the option to combine matching mosaics. Bianco Dolomiti marble offers a contemporary feel with the ability to adapt to changing interior styles. A very simple, linear striped style combined with cool tones creates a relaxed and clean slate. Elevate the mood of your next interior design project with Dolomite Marble.
Why Choose Turkish Dolomite Marble?
1, The Turkish White Dolomite Polished Marble brings a contemporary look to any residential or commercial project.
2, This marble is for indoor use only. Not recommended for outdoor use Can be used for both wall and floor applications
3, Our white marble tiles are perfect for floors and walls in bathrooms, kitchens, showers, living rooms, hallways, lobbies, and more.
Basic Information | Bianco Dolomite Marble | ForU Stone
| | |
| --- | --- |
| Warranty: 3 years | Name: Dolomite Marble |
| After-sale Service: Online technical support | Stone Form: Marble Gangsaw Slabs |
| Project Solution Capability: total solution for projects | Stone Name: Marble Bianco Dolomite |
| Application: Floor, Wall, Countertops, Stairs | Surface processing: Polished |
| Design Style: Modern | Grade: Grade AAA |
| Place of Origin: Turkey | Usage: Villas, Private Houses, Hotels, and Office |
| Brand Name: FORU STONE | Size: Customised Size |
| Marble Slabs Thickness: 16, 18, 20, 30 mm | Material: 100% Natural White Marble |
| Marble Type: White Marble Slabs for Interior Projects | Slabs Size: 2400upx1200up, 2600upx1400 mm |
-Bathroom Interior designs with Bianco Dolomite White Marble Floor and Wall Tiles | FOR U STONE
With its bright white background color and warm gray streaks, the White Dolomite Marble Slab is the epitome of luxury for any indoor floor and wall application, such as residential and hotels. A reflective polished surface accentuates the visual movement, while a stacked mosaic pattern brings geometry to the design and can be used in a variety of residential and commercial wall and floor applications, including kitchens, bathrooms, showers, and outdoor increases.
Dolomite White Marble Slabs and Cut-to-Size Tiles | Sizes Details | For U Stone
Specification of Dolomiti Marble
Marble Slabs and Tiles
Size
Slab: 2800 x 1800mm, 2800 x 1600mm, 2600 x 1600mm, 2500 x 1500mm, 2400 x 1400mm, 2400 x 1200mm.
Tile: 305 x 305mm, 305 x 610mm, 610 x 610mm, etc.
Cut-to-size: 300 x 300mm, 300 x 600mm, 600 x 600mm, etc.
Other sizes as per customized request.
Surface
Polished, Honed, Flamed, WaterJet, Leathered.
Package Detail
Slab: plastic inside + strong seaworthy wooden bundle outside.
Title: foam inside + strong seaworthy wooden crates with reinforced straps outside.
Countertop: foam inside + strong seaworthy wooden crates with reinforced straps outside.
Quality Assurance
During the whole production process, from material choosing, and fabrication to package, our quality assurance people will strictly
control each single and every process to ensure quality standards and punctual delivery.
Delivery Time
7 days per container.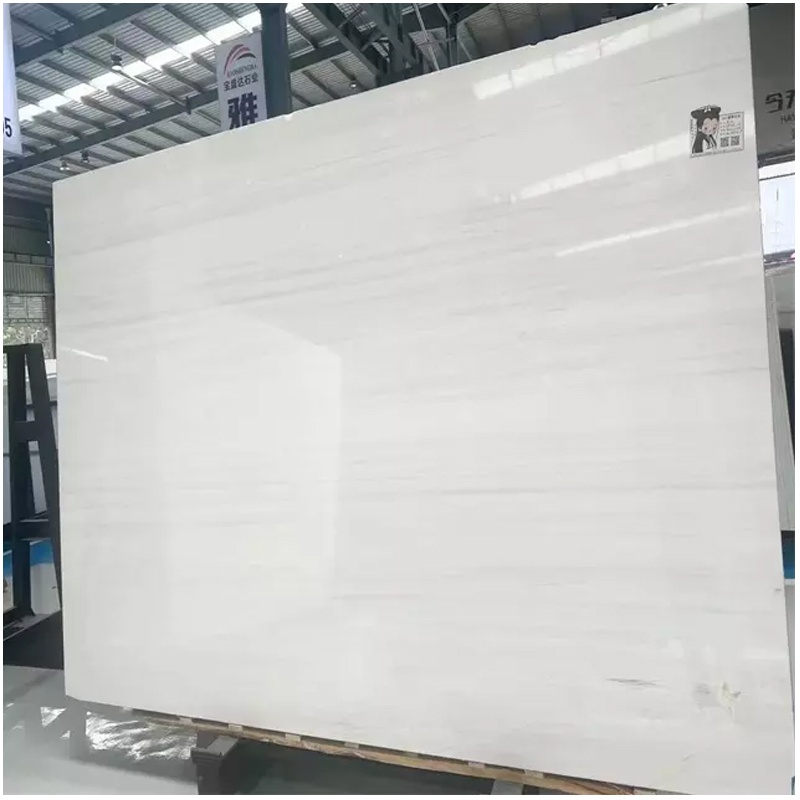 Customized Dolomiti Marble Project Tiles For Commercial Building Interior
Bianco Dolomite Marble Tile is stately and elegant, yet clean and modern. Each piece of marble in this collection is hand-selected to ensure the highest quality and is professionally cut and finished in a variety of sizes, from cut-to-size tiles to mosaics. Dolomite White Marble Tile for flooring or as a backsplash tile in both home and business environments. Whether opting for a Bianco Dolomite white tile, this elegant pattern is a fashionable option for your interior installations, and it has everything you need to create gorgeous designs that last a lifetime.
More Natural White Marble Collection | ForU Stone
White Marble has always been the first choice for residential and commercial building projects. Amazing strength and great aesthetics with natural white marble. Using white marble in construction has many advantages. This makes them a prime choice among contractors, builders, architects, homeowners, and more. Natural White Marble is mainly used in architecture and construction in America, Asia, and Europe. FOR U STONE provides 50+ different white marble materials, like Calacatta White, Statuario White, Carrara White, Volakas White, and other white marble colors from the world's wild quarries. Here we would like to recommend you 2 white marbles which are luxurious and popular for indoor use.
1-Ariston White Marble Slabs and Tiles | FOR U STONE
-Ariston White Marble Tiles for Floor and Wall -Ariston White Polished Marble Slabs for Tiles and Countertops
Ariston White marble for interior space with polished surface used for both marble floors or marble walls, including touches of enhanced inside the shape of marble benchtops, a marble splashback, or a marble kitchen island.
-The most expensive white marble-Sivec Marble
The luxurious and elegant Sivec White Marble is very similar to Turkish Dolomite Marble but more compact in structure. It is particularly suitable for interiors such as flooring, wall coverings, tops for bathrooms, and columns.
Chinese Professional White Marble Factory | ForU Stone
Quality Control
1) Surface polished 90° up by the auto-polishing machine.

2) Thickness tolerance: -1/+1mm or -2/+2mm.
Package: Fumigated wooden crates.
An experienced QC will inspect all products before the package.
FAQ: Basic Information of ForU Stone
1. Our primary market for Sculpture & Carving:
USA market, European market, Canadian market, mid-east market, Asian market sculpture.
2. Stone Carving Style:
European style, American style stone carving, Traditional Chinese style, etc
3. Material that ForU Stone Can Supply:
Marble, Granite, Chinese granite, imported granite, granite and marble slabs, stairs, slate, travertine, quartz, mushroom stone, sandstone, sinks, tombstones, fireplaces, pebbles, cubes, curbs, mosaics, pillars, waterjet, patterns, fountain, sculpture, etc.
4. Color:
white, black, red, green, yellow, pink, brown, gray, etc.
5. Finished:
Hand-Carved
6. Surface finished:
polished, honed, flamed, bush, hammered, sandblasted, chiseled, etc.

Our quality control system includes automatic detection and manual inspection, and we adopt a leading international technology. We have an experienced QC team with more than 10 people. They will carefully detect the stone quality and specification piece by piece, monitoring every production process until packaging is complete, to ensure product safety in the container.

If you're interested in our dolomite marble slabs, you are welcome to buy quality products at an affordable price with us. As one of the leading Marble Slabs manufacturers and suppliers in China, we also support wholesale service. For more info, contact us now.